Civil rights movement veteran the Rev. Gilbert Caldwell made his way to the podium with the help of a walker at a Black Lives Matter rally in the New Jersey township of Willingboro.
More than 1,000 marched through the streets of the town of about 30,000 to protest the violent death of George Floyd in police custody. The protest in Willingboro was one of many around the U.S. taking place away from large cities and involving United Methodists.
Caldwell, 86, a retired United Methodist pastor and veteran of the civil rights movement, has survived two operations for a brain tumor and has paralysis in his right leg and foot. He came anyway, and was introduced by Greater New Jersey Conference Bishop John Schol.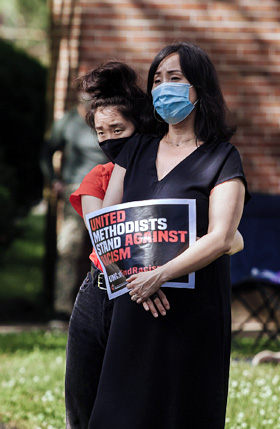 A woman holds a sign that reads "United Methodists stand against racism" during a June 7 Black Lives Matter rally at St. Paul United Methodist Church in Willingboro, New Jersey. Photo by Aaron Wilson Watson.
Caldwell was moved that the crowd at this protest in suburbia included all races.
"The white persons (attending the rally) among black persons suggested to me that this is a turning point," Caldwell said. The "multiracial response" was "very, very encouraging to me."
The Rev. Lan Wilson, director of worship for the Greater New Jersey Conference, said the Willingboro protest was peaceful.
"It was very spiritual," he added.
Floyd died in Minneapolis May 25 after a white police officer pressed his knee on his neck for more than eight minutes. During the ordeal, Floyd pleaded for his life, saying that he was having a hard time breathing. His death ignited protests
around the U.S.
and
across continents
.
The protests in many different cities and towns across multiple days and weeks is a new development, said Jeremy Pressman, associate professor of political science at the University of Connecticut, who studies protests.
"These are broad, sustained, local protests, often organized and led by youth."
Pressman said he suspects a generational change is happening.
"A recent New York Times-Siena College poll showed 67% of 18- to 29-year-olds had a 'very favorable' view of the Black Lives Matter movement," Pressman said. "That generation may just be more supportive of both equality and diversity."
Massive protests have led to significant policy changes in the past, Pressman said.
"We are now seeing some policy change," he said. "One lingering question is how deep such changes will go. Past evidence suggests massive protests lead to significant changes in policy and at the ballot box."
Sioux Falls, South Dakota, with a population of about 184,000, was the site of a Black Lives Matter protest in mid-June. Others have followed.
"I'll be candid in saying this has been a topic where I feel I've stood on the sidelines in the past," said the Rev. Adam Weber, lead pastor and founder of Embrace Church in Sioux Falls, which has thousands of members who meet on four campuses. The majority of his congregants are white.
"I don't want to stand on the sidelines anymore," he said.
Weber, who is white, has a 12-year-old African American son, Wilson.
"He wanted to drive past the second (rally) just to see it," Weber said. "So we drove through that several times and I watched him process his feelings."
The June 31 rally in Sioux Falls was the largest gathering he's seen there, Weber said. It has inspired him to rethink his approach to racism.
"Politics divides, and oftentimes it has been a political issue," Weber said. "But it's not really a political issue. It's a humanity issue. That's been a shift that's taking place in my own soul."
Weber has sought out Black speakers for his church, and so far
Carlos Whittaker
and the
Rev. Derwin Gray
have visited. He has broadcast Instagram chats and plans Facebook Live conversations about race.
"What needs to change in me?" Weber said. "That's what I've been praying about in my soul. What needs to change in the church I pastor? What needs to change on the block that I live? The racism that exists around me? That's the stuff I want God to highlight in my own soul."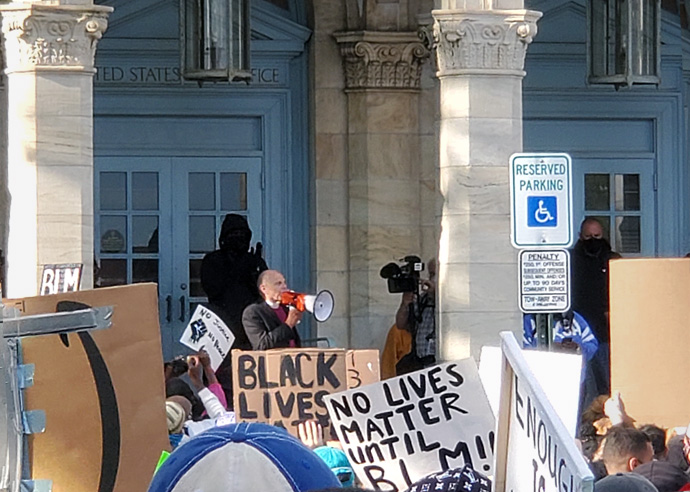 The Rev. Felicia Hopkins, superintendent of the Amarillo District in the Northwest Texas Conference, attended a Black Lives Matter rally in that city. She said Floyd's death may have prompted a new generation of activists.
"I'm just old enough to say I was 8 years old when Martin Luther King died," she said. "What you're seeing is a movement of people who are invested in this from a different vantage point."
She said the racial makeup of the protest crowd in Amarillo was about 60% Black and other minorities and 40% white.
"In smaller communities … I think you're seeing more diversity in some of the protests, which is really what has to happen."
Subscribe to our
e-newsletter
Like what you're reading and want to see more? Sign up for our free daily and weekly digests of important news and events in the life of The United Methodist Church.
The church must respond to humanitarian issues, Hopkins said.
"Oh, my goodness, what a ripe harvest this is for us to stand and to show love for our neighbor, and to treat our neighbor like ourselves and really speak truth to power," she said.
One town of about 10,000 saw protests after the mayor posted on Twitter and Facebook about Floyd: "If you can say you can't breathe, you're breathing."
A May 29 protest was held in Petal, Mississippi, with the goal of getting Mayor Hal Marx to resign. It was unsuccessful.
"Initially it was about asking the mayor to resign," said the Rev. Jonathan Crabtree, pastor of Asbury United Methodist Church in Petal. "Then it merged into a Black Lives Matter rally. After that weekend, the citizens in the city began to organize unity walks. I think they've had two of those so far."
Crabtree, who attended the May 29 rally, said his church would be part of the solution. Youth from Asbury have been forging relationships in downtrodden parts of Petal, Oak Grove and Hattiesburg for more than a decade through a program called Base Camp. There are also plans to train church members on how to have the crucial conversations necessary for racial reconciliation.
"I think Petal will pave the way for true unity to happen," he said. "And I think we will model that for the rest of the country and the rest of our state. Because we are such a small tight-knit community that if something hurts someone, everybody knows about it and we're going to do our best to alleviate that pain and to help to heal."
Caldwell, who marched with the Rev. Martin Luther King Jr. and attended many of the major civil rights gatherings in the 1960s, is cautiously optimistic.
"I will not get to the promised land with my Black family and those who are our allies," he said. "But they, if they keep these moments alive, (may find) a semblance of MLK's beloved community will be visible."
Patterson is a UM News reporter in Nashville, Tennessee. Contact him at 615-742-5470 or

[email protected]

. To read more United Methodist news, subscribe to the free Daily or Weekly Digests.
---
Like what you're reading? Support the ministry of UM News! Your support ensures the latest denominational news, dynamic stories and informative articles will continue to connect our global community. Make a tax-deductible donation at ResourceUMC.org/GiveUMCom.