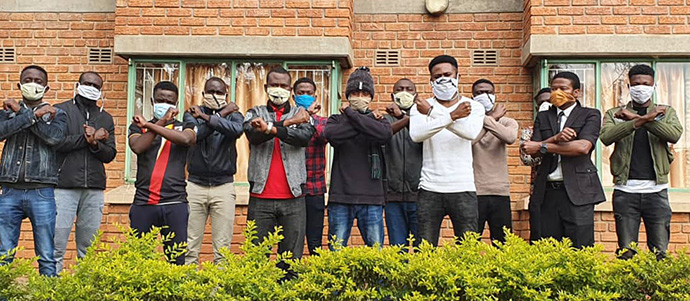 Following the May 25 killing of George Floyd by American police officers, the International Students Association at Africa University has condemned racism in the U.S., likening it to tribalism that the group says is rife on the African continent.
In a document titled "A Public Statement on Racism and Abusive Police," the students write, "Many of us have seen aggressive tactics used against unarmed civilians and we have witnessed the victimization that tribalism like racism ignites as one ethnic group acts superior to another."
"In Africa we have seen racism manifesting in the form of tribalism where a certain tribe considers itself more superior over others," said Filibus Bakari Auta, president of the International Students Association.
Auta, a divinity student from Nigeria, said there are 520 languages and over 300 tribes in his country, but one majority tribe holds most of the political and influential positions. That tribe has declared that all other tribes are their subjects and is performing ethnic cleansing.
Auta described armed mobs attacking villages and towns, killing and maiming people considered to be of minority tribes.
"This is very similar to what is happening in the United States, where white people view themselves as superior humans over blacks. That is why black people are senselessly killed every now and then," he said.
Fiston Okito, acting president of the Africa University Students Representative Council, said Africans do not consider others from different tribes as equals.
"In the Democratic Republic of Congo, The United Methodist Church started in the rural area dominated by my tribe, the Tetela, but when the church grew and expanded into the city of Kasai, some tribes felt they were inferior because we outnumbered them," he said.
Okito pointed to church leaders who teach that "everyone has a role to play so that we become like one family."
Lami Joseph, an accounting major from Nigeria, said tribalism seeps into many facets of daily life in Africa. Employers often only hire candidates from their tribe or who speak their language. Women are not allowed to marry outside their tribe, and doing so could lead to conflict between the families. Scholarships may only go to students from a specific tribe.
"School authorities should enroll students from different tribes and languages equally," she said. "We need to focus on people's potential rather than their background. We need to enlighten people on the consequence of tribalism and also enact laws that will guide the division of resources and all citizens must abide by the laws."
Danjuma Barde, a divinity major from Nigeria, said Africa's colonial past instilled the practice of majority rule, a problem that persists today.
"In Nigeria, a vice president was forced out of office after the death of the president just because he is from a minority tribe. We are seeing such treatment in our states down to the districts," he said. "I don't see any difference with what the black race is facing in the Western world.
"Therefore, for us to have confidence in accusing white men about racism, we Africans ought to start advocating for equal rights starting from our families — nursery schools through to universities and colleges — because our tribes are brainwashing their wards or children with the idea of being superior than others," Barde said.
The United Methodist Church's Social Principles condemn racism, ethnocentricism, tribalism and any ideology or social practice based on false and misleading beliefs or ideologies that one group of human beings is superior to all other groups.
The Rev. Neal Christie, a staff executive with the United Methodist Board of Church and Society, said the church is addressing tribalism in Nigeria and other regions of Africa.
"Too often, minority tribes face institutional discrimination, social rejection or political party manipulation at the hands of the so-called majority tribes," he said, so the agency leads trainings with local churches, mosques and ecumenical communities where the majority of its members belong to a particular tribe and others are considered minority tribes.
These trainings involve candid discussions regarding the social cost of tribalism that fuels competition for land resources or access to education and healthcare, and to promote an understanding of sustainable development and justice in unity and diversity.
Christie said the trainings, which they've held for the past 10 years, have led to the removal of tribal identity in employment and in admission to United Methodist primary schools in rural Northeast Nigeria.
"GBCS has contributed in the understanding that language differences exist to benefit and bless society rather than to promote division and ethnic privilege," he said, calling the agency's work "an act of faith."
"Church and Society prioritizes listening to and learning from the direct experiences of those communities that have been neglected and marginalized. This is true for minority tribes and true for black and brown communities who resist the impact of racism and white supremacy," said Christie.
"It is good that students at Africa University have picked this issue and started the debate," said the Rev. Lloyd Nyarota, an Africa University alumnus and Zimbabwean pastor serving in Canada. "The university is a place we hope ideas to solve some of our challenges as the African church will come from. The church always looks at people and their relationship with Christ and not about where they come from in terms of tribes."
Nyarota appreciates that the students have drawn the parallels of what is happening in the Western world to the African context.
"The African concepts of humanity — Unhu in Shona (Zimbabwean language) and Ubuntu in Zulu (South African) — teach us that tribalism is a foreign-promoted idea; it is not part of who we are," he said. "Just like racism is learned, tribalism is also taught to people."
Chikwanah is a communicator of the Zimbabwe East Conference.
News media contact: Vicki Brown at (615) 742-5470 or [email protected] To read more United Methodist news, subscribe to the free Daily or Weekly Digests.
---
Like what you're reading? Support the ministry of UM News! Your support ensures the latest denominational news, dynamic stories and informative articles will continue to connect our global community. Make a tax-deductible donation at ResourceUMC.org/GiveUMCom.