Faced with a back-to-school season like no other, the Rev. Chrissy Ruehl told her husband: "Somebody should do something."
After hearing the same refrain from the mayor and school superintendent in Savannah, Georgia, the United Methodist deacon realized God was calling her to be that somebody.
She soon found other area clergy, including her Presbyterian husband, felt the same call to help schools in the pandemic. Together, they formed RISE (Religious Institutions Supporting Education), an interfaith coalition that is transforming six houses of worship into virtual learning centers. One of those six sites will be Isle of Hope United Methodist Church, where Ruehl is minister of children and families.
"I pitched the idea during a staff meeting and really felt everyone was on board," she said. "It's really become a ministry for our whole staff. We realize this is the need right now, and this is how we can help right now."
All across the United States, educators and parents are scrambling to reduce the threat of COVID-19 while ensuring children get the child care and education they need. In response, United Methodist churches are working with school districts
to stand in the gap
created by the coronavirus.
How you can help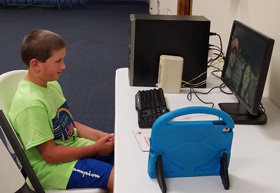 A student uses a computer at Robbinsville United Methodist Church in North Carolina. The church is providing Internet access to students. Photo by the Rev. Eric Reece.
As a pastor, mother and school board president, the Rev. Eilidh Lowery (pronounced like Hayley) has ideas for what United Methodists can do to help students and educators in these times.

"It's all about knowing about what your community needs," said Lowery, senior pastor of the Southeast Portland Parish, a collaboration of two United Methodist churches. "So, the first step is calling your school district."

But she added that there are some simple ways to help your neighbors.

• If you live in an apartment building, she said, you could talk to your service provider about sharing your Wi-Fi with neighbors without internet.

• Many youngsters live in noisy households where it is a challenge to focus on lessons. Donations of good, new headphones help block distractions.

• Send cards to let teachers and other school employees know how much you appreciate them. "Saying 'We see you, we know how hard you're working, and we're praying for you,' could go a long way," Lowery said.
Make no mistake: The virus can infect children, and just like adults, they can spread it to others. More than 380,000 U.S. children have tested positive for COVID-19 since the onset of the pandemic, according
to an analysis by the American Academy of Pediatrics and the Children's Hospital Association
. These infections imperil both the children themselves and the adults in their lives.
With that in mind, many school districts — including the Savannah-Chatham County Public School System — are starting the year with virtual learning only. Other school districts are trying a hybrid approach with select days of in-person and online-only classes.
But these plans lead to other challenges. Many families don't have computers or even access to the internet for online lessons. Many parents — including essential workers — have no child-care support beyond what schools provide. The American Academy of Pediatrics and teachers' associations also
have emphasized that children learn best in a classroom
.
"What I see is people really, really doing their best and that there are not any good answers," said the Rev. Eilidh Lowery,
a United Methodist pastor
and president of the Portland, Oregon, school board. The Portland district is also starting online.
She said United Methodists have a role to play in loving people who are facing tough decisions as well as
responding to inequities that the pandemic has only exacerbated
.
United Methodists are stepping up in a variety of ways. They are
providing meals
for youngsters stuck at home, letting teachers know they are held in prayer, and adapting existing ministries to current needs.
Prescott United Methodist Church in Arizona is converting its longtime back-to-school distribution of backpacks, socks and shoes to provide youngsters with laptops instead.
Denise Woolsey, lay leader of the congregation's Shoes from the Shepherd ministry, came up with the idea and is working to obtain 75 to 100 laptops for children identified by the district.
"I've seen the huge digital divide that's occurring between students who have the ability to get computers, and those who don't," said Woolsey, a business professor at the local community college.
The Rev. Patti Blackwood, a deacon and the church's congregational care minister, said the church's anonymous donor who has long funded the backpack and shoe distribution readily agreed to support this year's computer ministry.
"The donor said he and his wife don't care what goes to the children as long as we serve children who have a need, and they know this comes from Christian people," Blackwood said. The Prescott congregation plans to adorn each laptop with a cross and flame sticker.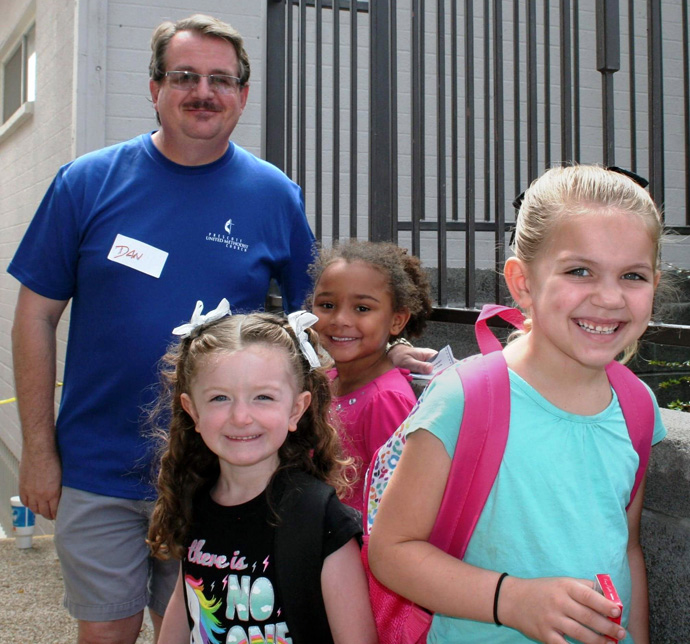 Other churches have the resources to welcome students to their facilities.
Ruehl, the mother of a rising kindergartner and second-grader,
drew up the plan for virtual learning centers
in the Savannah area. The goal is to offer a place for students to get online lessons with adult supervision while also maintaining health protocols and
following the child-safety requirements of safe sanctuaries
.
Isle of Hope United Methodist Church plans to have 42 students spread over four parts of the building. The groups of 10 to 11 students will each have their own bathrooms and outdoor space. All participants will be required to wear masks, remain at least 6 feet apart, and undergo daily temperature checks.
Retired teachers have volunteered to offer tutoring, and other members have volunteered to lead enrichment activities like cooking lessons and science experiments.
"People are excited, and we feel that we can keep them safe by staying in pods and trying to do much as we can outside," Ruehl said.
The Texas Conference has embarked on a similar, but far more extensive, program in partnership with the Houston School District,
the eighth largest in the country
.
At this point, at least 16 Houston-area United Methodist churches are committed to be a remote-learning site for at-risk children in the district, said Rev. Jill Daniel, who leads the conference's Sanctuaries of Learning. Other churches and individual United Methodists in the area are providing financial support and volunteers.
Trinity United Methodist Church, the oldest African American church in the city, plans to be one of the learning sites. The church is celebrating its 155th anniversary this year.
The Rev. Ed Jones III, the church's senior pastor, said the congregation takes inspiration from its early members, many of whom were the first Black doctors, lawyers and educators in the area. He hopes some of the students the church serves will become similar pioneers.
"Our commitment is to be a church that helps create 'first' opportunities," Jones said.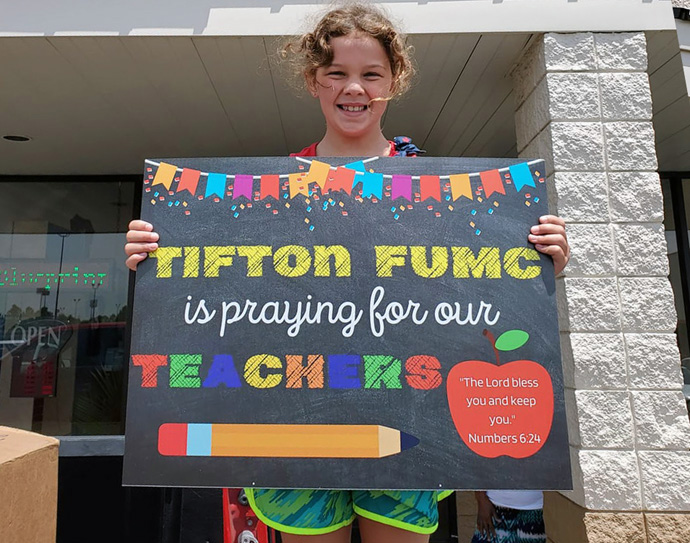 In mountainous rural western North Carolina, Robbinsville United Methodist Church's longtime partnership with the school district is already bearing new fruit in what the Rev. Eric Reece calls an "internet desert."
Fewer than half of the households
in surrounding Graham County have access to broadband internet. When schools shuttered in March, Robbinsville United Methodist Church worked with the
NC Rural Center
to provide 14 hotspots that Graham County Schools could distribute across this district of 1,150 students.
Subscribe to our
e-newsletter
Like what you're reading and want to see more? Sign up for our free daily and weekly digests of important news and events in the life of The United Methodist Church.
When the pastors are at the church, Reece said, parents can drop off their students to use the church's Wi-Fi for homework. "We're just using word of mouth," he said, adding that the school district knows the church is there if anyone needs help getting on Wi-Fi.
The partnership with the Robbinsville congregation is "a huge blessing," said Angie Knight, superintendent of Graham County Schools. "This particular project allows many of our kids, mostly from families of high need, to have the tools to access their academics this year."
Ruehl, the Savannah minister, acknowledged that needs are high and sometimes can be overwhelming. However, she also has seen the relief churches bring just by doing whatever God empowers them to do.
Ruehl recently called a single mom on the wait list to let her know a spot had opened up for her child in the program.
"She started crying on the phone because she had just sat down to fill out an application for food stamps," Ruehl said. Now, the mom would not have to choose between paying for food and child care while she worked.
"She was overwhelmed to hear, 'You got in.'"
Hahn is a multimedia news reporter for United Methodist News. Contact her at (615) 742-5470 or

[email protected]

. To read more United Methodist news, subscribe to the free Daily or Weekly Digests.
---
Like what you're reading? Support the ministry of UM News! Your support ensures the latest denominational news, dynamic stories and informative articles will continue to connect our global community. Make a tax-deductible donation at ResourceUMC.org/GiveUMCom.