St. John's United Methodist Church in Baton Rouge, Louisiana, sits on what its lead pastor calls "the corner of wealth and poverty."
On one side of the church is the Louisiana State University campus and its surrounding affluent homes. On the other side are working class Hispanic neighborhoods.
"Our mission field is both the affluent and the immigrant struggling to make ends meet," said the Rev. Lane Cotton Winn.
Of course, as economic hardship caused by COVID-19 drags on, it's even more vital to reach out to those neighbors who were already struggling.
Economic disparity existed long before the coronavirus appeared, but the pandemic has exposed and exacerbated the reality that so many are barely getting by in one of the wealthiest nations on the planet.
St. John's runs The Shepherd's Market food pantry, a member agency of the Greater Baton Rouge Food Bank that offers clients meat, dairy and produce in addition to canned or boxed items.
The pantry was closed for just two days after the initial coronavirus shutdown order.
"We knew neighbors would become even more desperate as the shutdown continued so we put in a safety protocol for volunteers to be able to reopen," Winn said. "For a while we were one of the only pantries operating."
The pandemic and its economic ripples have brought out the widening gap between the "haves" and the "have nots." Once businesses began closing or transitioning to work from home, hourly workers whose jobs couldn't be performed from home were among the first casualties.
"We want people coming to the market to know they're not alone in this," she said. "They're met with smiling eyes in masks, people praying for them."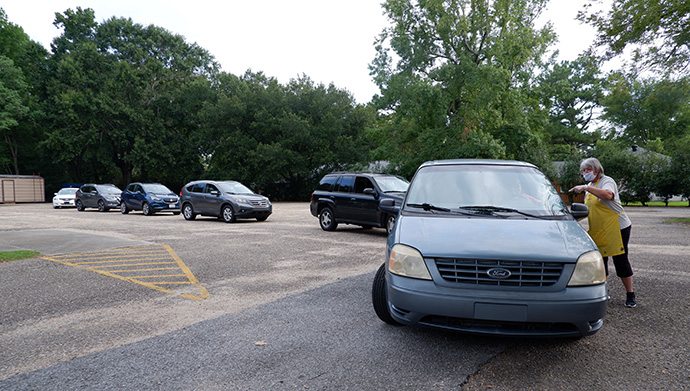 Like St. John's, Old West Church in Boston is situated at a confluence of great scarcity and great wealth: A large homeless population resides blocks from the city's financial district.
The Rev. Sara Garrard said that's common in Boston, describing it as "one of the most split cities in the nation along economic lines."
Old West only has about 30 members, but raised money to help care for its congregation and community, most being at or below the poverty line.
"As a pastor, I do whatever is asked and try to make it happen," Garrard said. "Rather than organize regular initiatives, it's more doable for us to address needs on an individual basis as they arise, like someone who can't afford groceries that week or can't pay their rent that month."
One ongoing initiative altered due to COVID-19 was a weekly dinner that usually serves 75-125 unhoused people. They couldn't have that many people inside the building, but they shifted from serving a plated meal inside to giving out pre-packaged meals. They're currently doing it twice a week, which Garrard said will be financially challenging.
It is impossible to ignore how closely economic and health disparity are linked to racial disparity.
Data from the Centers for Disease Control and Prevention lists Hispanics and Latinos as 31.8% of U.S. COVID-19 cases, despite being only 18.5% of the U.S. population. African Americans make up 20% of total cases, but 13% of the population. The hospitalization rate for Black and Hispanic Americans is more than four times higher than for whites.
U.S. Surgeon General Jerome Adams has said that people of color are "socially predisposed to coronavirus exposure."
Problems stemming from lack of health benefits or proper access to health care to issues like increased exposure due to relying on public transportation or living in multi-generational housing are often the culprit.
In the case of immigrants, concerns over being undocumented — or even just perceived as undocumented — could prevent them from seeking medical care or help with finances or basic needs.
Winn said she saw a big decrease in Hispanic clients at The Shepherd's Market and thinks it is due to fear of the paperwork the church is required by their grants to fill out.
Garrard said the pandemic also creates concerns for international students.
When campuses had to suddenly close, many international students had nowhere to live in the U.S. but feared not being allowed to return if they went home. A controversial Trump administration policy would've forced all international students out of the country if their classes were conducted solely online. That policy has been rescinded, but still bars new international students from coming to the U.S. for online-only education.
"What's being done to international students is a great injustice inflicted because of COVID-19," she said.
Garrard educated herself on visa regulations — "certainly not something I learned in seminary, but these students need local advocacy."
She expressed similar concerns over queer students who had to leave closed campuses and return to potentially unwelcome or even dangerous homes.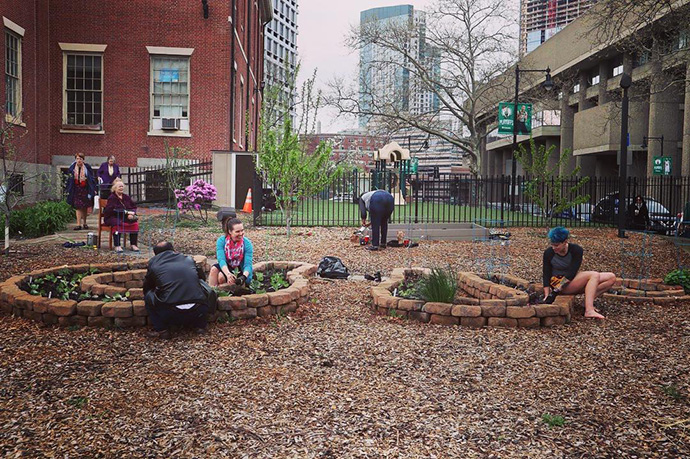 A stark illustration of the racial divide in the effects of COVID-19 can be found in the household of the Rev. Ronnie Bell, pastor of Cumberland United Methodist Church in Indianapolis. Bell's predominantly white congregation has not experienced any cases of the virus; the Latino congregation his wife pastors has seen seven or eight.
Bell, who is African American, cited a conference call Indiana Bishop Julius C. Trimble held with pastors of majority Black churches, and all of them reported at least one case of COVID-19 in their congregation.
His church partners with other area churches to run the Community Outreach Ministry Eastside, a ministry that supplies food and other items like personal hygiene and household cleaning necessities and diapers.
"We've definitely seen an increase in awareness of the number of hourly, essential and service workers who've been furloughed or laid off. There's increased traffic and need for more volunteers," Bell said.
He sees the pandemic's disparity as another example of a system that works against people of color, describing institutional racism as a second pandemic afflicting the nation.
"If you're Black, we've known this reality for all of our lives. Thank God that society is stepping up and no longer denying the realities that we live daily," he said.
Bell said he's impressed by church response to needs arising from the pandemic, but hopes the church can also focus on bigger institutional issues like racism and poverty.
"Churches are wonderful responders to problems flowing downstream," he said, "but how do we work for structural change here in Indianapolis and everywhere?"
The Native American community has also been hit hard by the health and economic effects of the coronavirus. American Indians and Native Alaskans are hospitalized at rates more than five times that of white people. Just 1.3% of the U.S. population, that group in some states accounts for a majority of the deaths.
Robeson County, North Carolina, home to the Lumbee Tribe, has 10 times the rate of COVID-19 than surrounding counties, according to Gary Locklear, a home missioner for the North Carolina Conference.
Locklear said the numbers are likely due to the number of meat processing plants and industrial animal farms in the county. The plants didn't close and employees considered essential workers had little option but to continue working in the close quarters.
"We're paying for what happened early on," he said.
Subscribe to our
e-newsletter
Like what you're reading and want to see more? Sign up for our free daily and weekly digests of important news and events in the life of The United Methodist Church.
The county was already one of the poorest in the state, so taking a further financial hit has been hard to bear.
"This community has been impacted more by the virus because of systemic racism," said Steve Taylor, a home missioner and conference director of connectional ministry. "It's a long-term issue of finding and caring for marginalized communities. Why haven't we seen these issues already dealt with?"
Organizations run by the Lumbee Tribe have set up free drive-thru testing sites at area churches. They've also partnered with companies that donated food and water, personal protective equipment and educational materials to give to people getting tests.
Taylor mentioned the conference has set up $150,000 in grants to churches for pastoral and congregational support and another $150,000 for direct help to churches responding to community needs, but he calls that amount "just a drop in the bucket."
The Rev. Ken Locklear, superintendent of the Gateway District, which includes Robeson County, says many families in the area are living check to check and month to month already.
"Because of the community's economic history, it's so hard for families to get ahead and it amplifies their anxiety and stress level," Locklear said.
He points to another problem confronting churches as they try to support their struggling communities: How many churches are struggling themselves.
"A lot of our churches are at the brink with their budgets, the reality that if the member of that one family that supports the church dies, the whole financial status of that church could change. It doesn't take much to break that budget," he said.
Garrard said that for Old West Church, "the next 18 months is a crapshoot as to whether we can stay open."
Their building is designated as historic and currently needs about $5 million in renovations, which dwarfs the church's $250,000 annual budget.
Operating on such a razor-thin margin made the church ill equipped to absorb a blow like COVID-19 is delivering. A daycare that rented space in the building provided some revenue, but the lockdown forced it to close, cutting off vital funds.
"Actually, 2020 was the first time in years that we were looking at starting the year with a small surplus," Garrard said. "Most small churches like ours deal with the constant possibility of closing in normal times. It's incredibly stressful."
Despite the financial downturn, the congregation's giving has increased.
"People barely capable of buying bread and milk are still trying to tithe, but I'm discouraging that," she said.
While Winn doesn't have the same worries about her church's future, she is concerned about having enough food to care for the growing number of clients depending on The Shepherd's Market. A significant increase may require them to reduce the quantities they offer or run the risk of running out of certain items — especially meat and dairy.
"This pandemic has brought to light the incredible disparity between the haves and have nots, and the need for injustice to be addressed," she said. "People of faith are called to shine light on the things that need to change and help to bring that change about."
Butler is a multimedia editor for UM News. Contact him at 615-742-5470 or [email protected]. To read more United Methodist news, subscribe to the free daily or weekly digests.
---
Like what you're reading? Support the ministry of UM News! Your support ensures the latest denominational news, dynamic stories and informative articles will continue to connect our global community. Make a tax-deductible donation at ResourceUMC.org/GiveUMCom.