On April 30, the White House announced that the U.S. had officially vaccinated 100 million adults. St. Mark's United Methodist Church in Charlotte, North Carolina, helped reach that mark.
The same day of that significant milestone, St. Mark's hosted a vaccination clinic, administering around 400 doses. It is one of 15 Charlotte-area United Methodist churches to serve as a vaccination site. The effort, organized by the Metro District of the Western North Carolina Conference, has led to approximately 3,800 vaccinations so far.
"Because the churches are in the community, there is a trust factor," said the Rev. Stephanie Moore Hand, who has a doctorate in ministry and serves as the district's vitality strategist. "Sixty percent of the population does not attend church, but in a crisis, they run to the church. It is a safe space for people to come."
The Rev. Otto Harris, pastor at St. Mark's, said the clinics are in line with Methodist tradition and Wesleyan heritage.
"This is contributing to the well-being of our neighbors, and we count it a great privilege to be a small part of the solution," he said.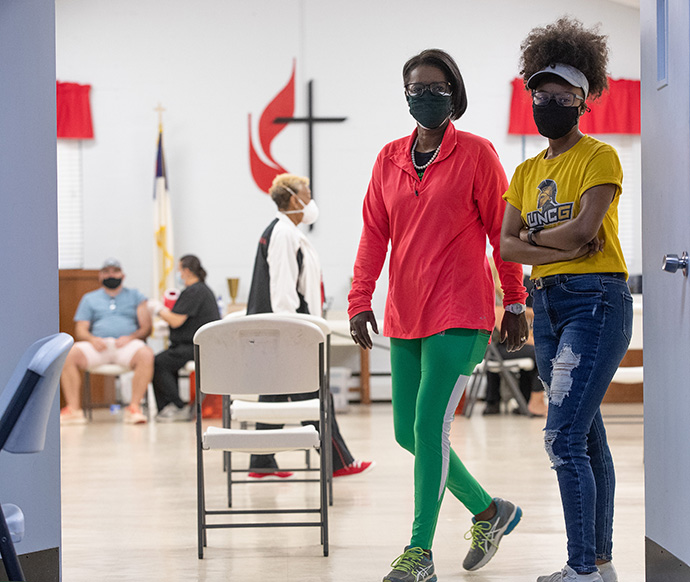 St. Mark's is an African American congregation in a predominantly African American and Latino neighborhood, and both of those groups are being vaccinated at a much lower rate in the U.S. than the white population. Lack of access and medical mistrust are two factors contributing to those numbers, and the church hopes it can help on both fronts.
The church previously hosted COVID-19 testing, and April 30 was its second time as a vaccination site. Before the first clinic, St. Mark's brought medical professionals to worship services to present on the safety of the vaccine and answer questions or concerns anyone had.
"We put it out there that it's a safe vaccine," said church trustee André Dingle. "We try to be that beacon of light in the area and open the church up to everybody; that's our charge."
Church member Tena Armstrong, who worked at the clinic, agreed.
"In order to get hold on this virus, we all need to be vaccinated and wear a mask. The neighborhood has some trust in us and we can be the example for them," she said.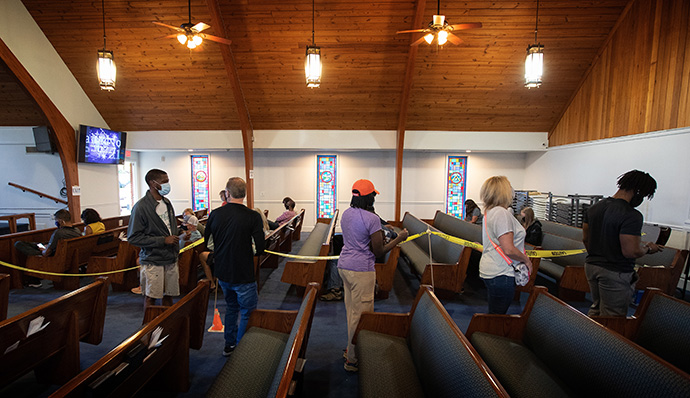 Harris said some people who came for vaccines told him they only came because the church was the host. He mentioned one young man who was hesitant about getting the shot, but was comforted to have someone from the church talk to him while he waited.
Carl Wood, president and pharmacy manager of Vax Van by MVS, the company administering the vaccines, said churches have been excellent partners.
"I think the UMC set the pace as far as reaching the community," he said. "Working with a community partner like a local church gives a certain trust factor. Nobody knows me but they know the pastor. They come here, see people they know and understand those people have vetted us."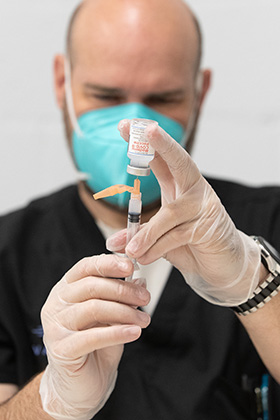 Carl Wood draws a dose of the Moderna COVID-19 vaccine during a clinic at St. Mark's United Methodist Church in Charlotte, N.C. Wood is president and pharmacy manager of Vax Van by MVS, the company administering the vaccines.
If anyone comes in a little hesitant, church member James Horne said it's his job to "pump them up and give them a little courage."
"One lady last time asked if it will hurt and I said no, and she said, 'If it hurts, I'll come back and dance on your feet,'" he said, but she showed up for her second dose and didn't have to make good on her threat.
"She said, 'I'm glad I came back,' and that made my day," Horne said.
Moore Hand, who helped organize the districtwide effort, said it's important to emphasize hospitality and rely on connections to bring out as many people as possible.
"You've got to shake the trees of networks you have in your community and congregations," she said, adding that churches need to reach out to local news outlets and radio. Churches in college towns need to invite students as well, since that age group is currently not getting vaccinated at high rates.
"You need to eliminate as many barriers as possible," she said.
Several of the churches are located in areas with large undocumented populations, and their status makes them less likely to seek out the vaccine. Moore Hand said none of the church sites ask for proof of insurance or ID and all of them have translators on hand.
The Rev. Jonathan Coppedge-Henley, pastor of Cokesbury United Methodist Church, said his church has had to strategize about inviting its multi-ethnic and non-English-speaking community that includes Hispanic, Caribbean, African, Haitian, Eastern European, Cambodian and Nepali residents. It has a vaccination clinic on May 13.
The church works closely with a social worker at the nearby elementary school to promote events like the vaccination clinic, and also gets information out through the school's refugee support services.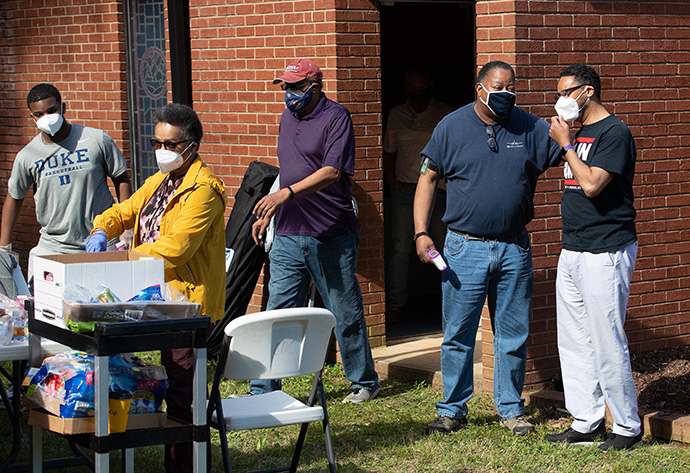 "We've produced a sheet with vaccination information in nine different languages, and posted flyers in English and Spanish," he said. They've sent out messages on WhatsApp, hosted educational events at the church to answer questions about the vaccine and encouraged everyone to promote through word-of-mouth as well.
Moore Hand said that churches should look into partnering with mobile services if they are located in communities with large numbers of homebound residents or if they aren't situated near public transportation. That way, they are going to where people are rather than hoping the people come to them.
"If there are economic, health or educational disparities, show them the church is here to help fill those gaps and understand what the needs are," she said. "We need to show that, as the church, not only are we here to worship on Sunday but seeking a Wholistic lifestyle."
Coppedge-Henley said, "We've got to show up and keep showing up so they know we won't stop showing up."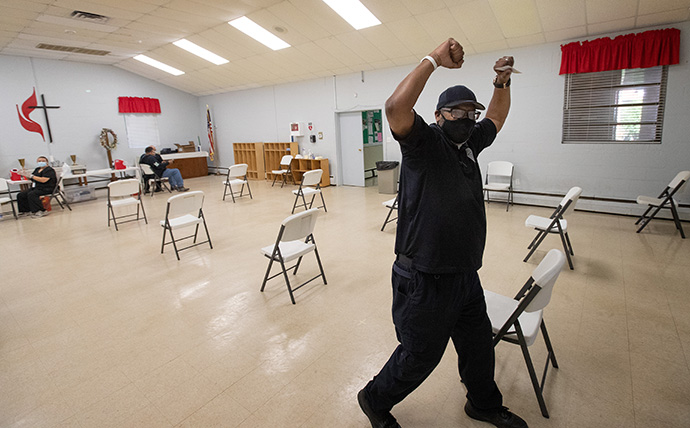 Butler is a multimedia producer/editor and DuBose is staff photographer for UM News. Contact them at (615) 742-5470 or [email protected]. To read more United Methodist news, subscribe to the free Daily or Weekly Digests.
---
Like what you're reading? Support the ministry of UM News! Your support ensures the latest denominational news, dynamic stories and informative articles will continue to connect our global community. Make a tax-deductible donation at ResourceUMC.org/GiveUMCom.