---
Key points:
The Wisconsin Conference has begun a new type of appointment, known as a bilingual appointment, to help respond to the trend of declining Korean and other ethnic churches.
The conference is nearing 50% of its appointments being cross-racial.
There are more benefits and significant synergy for both congregations if a pastor serves in two languages for two congregations in one building.
---
The number of Korean United Methodist churches in the U.S. has been declining steeply for the past 20 years.
According to the Rev. Chan-hee Kim, a United Methodist elder who has been collecting Korean United Methodist data for decades, the number of Korean United Methodist churches dropped from 400 in 2000 to 330 in 2010 and down to only 243 in 2020 — about a 40% decrease.
There is at least one reason that the rates of closing Korean churches are much higher than other United Methodist local churches in the U.S.
If an English-speaking congregation's membership drops to a level where it cannot survive by itself, the annual conference it belongs to has at least three options: merging it with another church, appointing a pastor to serve two churches — known as a two-point charge — or closing it.
However, these alternatives are not always available for a declining church with a Korean-speaking congregation. In most cases, there is no other church nearby to merge with or provide a pastor for a two-point charge, so if any non-English speaking church cannot survive by itself, the church is usually closed.
The Wisconsin Conference has begun a creative new type of appointment, known as a bilingual appointment, to help respond to the trend of declining Korean churches and other ethnic churches and to continuously provide pastoral care and a place of worship to them.
The conference's practice of considering cross-cultural/racial appointments paved the way for bilingual appointments.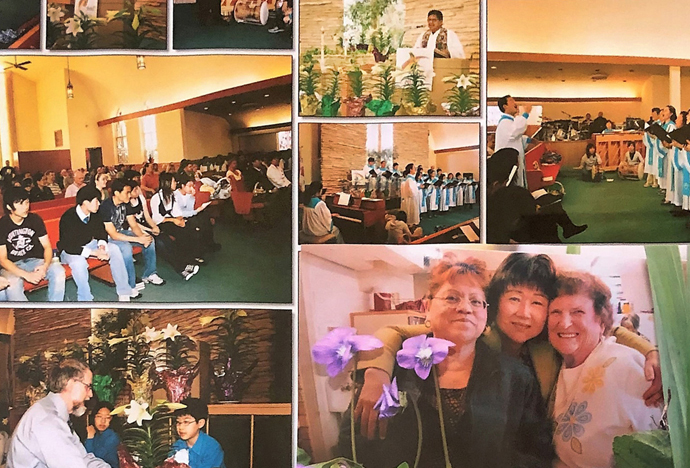 "It is a theological affirmation that we are moving away from tenant and landlord relationships and into a deeper relational ministry 'with' the people God is giving us to make Christ known," said the Rev. Dan Schwerin, assistant to Bishop Hee-Soo Jung of the Wisconsin Conference, adding that nearly half of the conference's appointments are cross-racial.
"Our quadrennial vision to increase racial justice and radical inclusion is not just programmatic but also in our deployment so that the bishop's vision is integrated in our life together," he said.
The Rev. Forrest Wells, Southeast District superintendent, also recognizes the challenges and difficulties of cross-cultural/racial appointments.
"In cross-racial appointments, we can face challenges with some people's response to an appointment," he said. "At times, underlying or hidden racism must be addressed. The cabinet and conference staff attempts to work with congregations in education and transition as a new cross-racial appointment is brought in."
Wells said the Southeast District he serves is very active in cross-cultural/racial appointments.
"At a district clergy meeting yesterday, I had 46 people in attendance and only 21 of those clergy were white, 25 were of a rainbow of ethnicities and languages, most of whom serve a cross-racial appointment."
Another hurdle for a bilingual appointment is finding a pastor who is ready to serve two congregations with different ethnic makeups. Because of the difficulties and challenges, not all clergy are receptive to the idea.
"It is one thing to navigate two cultures, but it is even more challenging to preach and lead in two different languages, particularly in one's second language. I know that such work is exhausting because of the mental, spiritual, physical and emotional demands of shifting cultures and language continually," he said.
"The demands of the pastor's time in those situations makes it hard to serve both an Anglo and a newer immigrant community. For example, the pastor serves as social worker with immigration, employment and other matters in addition to the more traditional spiritual role of the clergy."
The Rev. Sukhyun Jung of Edgerton United Methodist Church in Janesville agrees with Wells.
Jung, who served a congregation in Kansas for more than seven years that was two-thirds Korean and one-third English, said, "I became so exhausted and wanted to serve an English congregation only, so I came to Wisconsin."
Nevertheless, while a bilingual appointment has challenges, there are quite a few practical "pros" to appointing clergy to two congregations with different backgrounds.
Unlike a full-time pastor serving in two languages, two part-time pastors must also hold another job or position elsewhere.
While he shares his experience of a bilingual appointment, the Rev. Hoon Kyoung Lee, Korean Mission director of the North Central Jurisdiction, also acknowledges a bilingual appointment as a direction to go for Korean churches.
Lee shared the example of a Korean United Methodist church in Tucson, Arizona, that had lost enough members that its survival was in jeopardy. The church merged with a nearby English-speaking congregation and the Desert Southwest Conference appointed the Rev. Eunyoung Ko, who had been serving an English-speaking congregation in the Northern Illinois Conference.
From a management standpoint, having full-time clergy is more practical. There are more benefits and significant synergy for both congregations if a pastor serves in two languages for two congregations in one building.
Most Korean churches built or purchased their buildings relatively recently while the members of the congregations were professional and younger, and continuously received new members during an immigration wave from 1990 to 2000.
For the past 20 years, Korean Americans in small- and medium-size cities are moving en masse to large cities and the South after their retirements, and the congregations have been shrinking and getting older.
Property consultant Rick Reinhard said real estate has become a burden to smaller churches because it is "more expensive to maintain, with hikes in utilities, insurance and capital repairs." It is more difficult financially for declining Korean churches to maintain and keep their buildings because of the mortgages they are paying on top of maintenance expenses.
The Rev. Sungkeun Kim, pastor of So Beautiful Korean United Methodist Church in Milwaukee, acknowledges that his church struggles to pay the mortgage, utilities and other bills to keep the church building, and is considering sharing facilities with other churches nearby and a possibility of a bilingual appointment.
According to Wells, one of the best cases of a pastor serving in two languages for two congregations in one building is the Rev. Peter Daekyu Lee. He has been appointed to Immanuel United Methodist Church and Kenosha Korean United Methodist Church, both in Kenosha, since July 2020. The two churches and a Hispanic congregation, Príncipe de Paz, share the building and ministry gladly. They go Christmas caroling, visit nursing homes, feed the homeless, and do spring and fall church cleanings together.
The three congregations recently finished Immanuel's $80,000 building project together, redoing the church roof, painting the church and updating the air conditioner without any debt. They held events together, including rummage sales and others fundraisers.
"It might not be possible to finish the project without debt if Immanuel was alone," Lee said.
Wells, said that Lee has been "fully embraced" and that both the Korean and English congregations have already felt "empowered, revitalized and vital" with the ministry that he has provided.
"Lee is an exceptional bridge and witness of Christ's grace," he said.
Kim is director of Korean and Asian news at United Methodist Communications. Contact him at 615-742-5470 or
[email protected]
. To read more United Methodist news,
subscribe to the free Daily or Weekly Digests
.
---
Like what you're reading? Support the ministry of UM News! Your support ensures the latest denominational news, dynamic stories and informative articles will continue to connect our global community. Make a tax-deductible donation at ResourceUMC.org/GiveUMCom.