On Dec. 22, 1902, 102 immigrants from Korea were allowed to enter Honolulu, marking a very important day not only for Korean immigrants, but also in church history. They were mainly members of Incheon Nae-ri Methodist Church and represented
the beginning of Korean churches in Hawaii
.
Incheon Nae-ri Methodist Church commissioned Pastor Seung-ha Hong to go to Hawaii in 1903 and Pastor Soon Hyun was sent in 1905 to establish a Methodist church there to care for the immigrant congregation. They were the first Korean clergy to serve the Methodist Church in the United States.
More than a century later, a retired Korean American pastor is sharing a project that he began compiling 10 years ago: a comprehensive report of statistics on the Korean United Methodist community as well as a directory of Korean clergy members in the denomination.
"I volunteered to make an address book with the help of the Association of Korean United Methodists 10 years ago," said the Rev. Chan-hee Kim. "It would be a great pleasure if this data was used to strengthen the connections in our community."
According to Chan-hee Kim's data, there are 1,073 Korean clergy members, with 855 men, 218 women and 226 retirees. The total number of active clergy is 831, with 648 men and 183 women.
The Rev. Ju-sam Ryang is called "the Asbury of Korea" because he played an important role in unifying the two Methodist denominations of Korea and became the first Korean Methodist bishop. Photo courtesy History & Information Service of the Korean Methodist Church.
Those numbers represent much growth since
the Rev. Ju-sam Ryang
was ordained as a deacon in 1912, becoming the first Korean clergy ordained in the Methodist Church.
Ryang is called the "Asbury of Korea" because he played an important role in unifying the two Methodist denominations of Chosun — the kingdom that became Korea. He was later elected as the first bishop of the Korean Methodist Church in 1930.
Chan-hee Kim also looked at clergy ordination, appointments and age.
The number of elders in full connection is 750, or 69.93% of Korean clergy members. Of the 750 elders, 609 are men (81.2% of the total), and 141 (18.8%) are women.
The number of active pastors serving Korean churches is 274, accounting for 33% of the total. Among those serving Korean churches, 258 clergy (94.1%) are men, showing a serious imbalance in the number of male and female pastors serving Korean churches. In the case of senior pastors, the gap is even wider, with men accounting for 96.7% (230 out of 238), even though women make up 20.32% of all active Korean pastors.
The Rev. Grace Pak, former director of Cross-Racial and Cross-Cultural Leadership at the United Methodist Commission on Religion and Race, said the small number of female pastors in Korean churches should be viewed as "another form of discrimination" and a systemic problem for the denomination.
"I don't think each conference cabinet is willing or interested in sending female pastors to Korean churches," she said. "In order to send female pastors to a Korean church, the conference and the Korean church must coordinate to prepare, train and work together, instead of labeling Korean churches as sexist but doing nothing."
The Rev. James Chongho Kim, lead pastor of Flushing First United Methodist Church in New York also pointed out that women pastors have had few opportunities for training and ministry to serve Korean churches, and suggested that this should be resolved systemically.
"Women pastors need additional training and preparation to be successful at and appointed to a Korean church, but the conferences have not done it that way," he said.
He suggested a systemic approach, such as creating teams between the annual conference and the Korean community, and deliberately training and preparing women pastors to serve a Korean church so that they can succeed.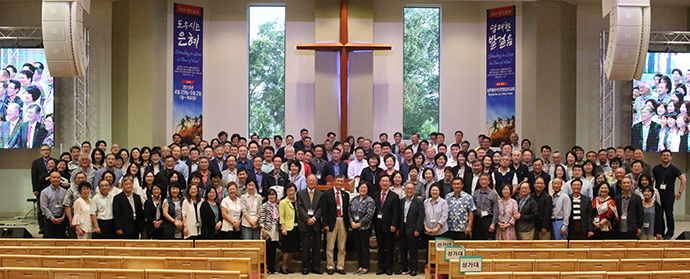 Chan-hee Kim's report also found that Korean pastors are younger than previous research indicated.
Of the 566 active clergy who responded, seven are in their 20s (1.2%); 81 are in their 30s (14.3%); 180 are in their 40s (31.8%); 197 are in their 50s (34.8%); 98 are in their 60s (17.3%) and three are 70 or above (0.5%).
Compare this to
the report from Lewis Center for Church Leadership
, which shows that 56% of all United Methodist clergy members are 55-72 years of age. Based on Kim's data, 66.6% of Korean clergy members are 40-59.
According to Chan-hee Kim, the number of Korean churches has decreased steadily in the past 20 years, with a significant decline in the past decade. There was a drop from 400 in 2000 to 330 in 2010, to only 243 in 2020.
This may be inevitable because of the declining number of immigrants from Korea to the United States.
"This trend of Korean churches is not irrelevant to the decline in immigration and the socio-economic situation of Korean-Americans in the United States," Chongho Kim said. "Korean Americans in small and medium-sized cities are moving en masse to large cities and the South. We (the Korean Community) need to study and counteract this trend."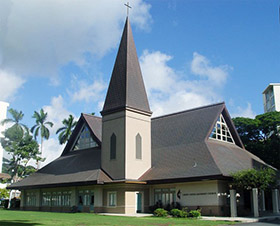 Christ United Methodist Church, Honolulu, Hawaii, was the first Korean Church in America. Photo courtesy of Christ United Methodist Church.
If the 2021 General Conference approves a plan of separation for the denomination, Korean congregations are predicted to split evenly if two denominations emerge.
Although it is not based on scientific data, the Rev. Paul Hak-soon Chang, executive director of the Korean Ministry Plan, shared his prediction of the future of Korean United Methodists at
a Sept. 4 gathering of the Post Separation Korean United Methodist Church
, an unofficial caucus organized to address the concerns of Korean United Methodists regarding any potential denominational split.
"Of the 243 Korean churches, half will join a newly formed Methodist denomination, and half will remain in The United Methodist Church," Chang said. "Of the 831 pastors, about 100 will join the new denomination, and the majority, 700 clergy members are expected to remain in The United Methodist Church."
Chan-hee Kim said that accurate statistics are complicated by a lack of diligent record-keeping.
Since the first Korean church began in 1903, the accumulated number of Korean clergy members served The United Methodist Church in the United States reached 1,550 as of 2020. However, Chan-hee Kim suspects that more than 200 pastors' records could be missing.
"I hope Korean churches manage the church's history, including records of pastors and membership," he said. "It is sad that the historical records of the Korean church are not kept intact more consciously."
Kim is director of Korean and Asian news at United Methodist Communications. Contact him at 615-742-5470 or

[email protected]

. To read more United Methodist news, subscribe to the free Daily or Weekly Digests.
---
Like what you're reading? Support the ministry of UM News! Your support ensures the latest denominational news, dynamic stories and informative articles will continue to connect our global community. Make a tax-deductible donation at ResourceUMC.org/GiveUMCom.