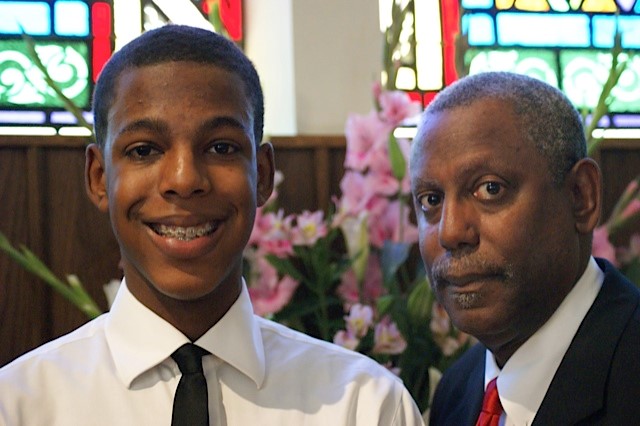 As the U.S. prepares to celebrate Father's Day, we asked dads across the world what they really want for their special day. Guess what?  It's not a new tie!  In fact, the gifts valued by these fathers cannot be bought in a store or wrapped in a box. Here are gift ideas that will save you money and offer rich rewards.
The gift of presence, not presents. It seems that the older a father gets, the more he values time with his children. "The only thing that Daddy really wants on Father's Day is a hug and a kiss from his sons, to hear 'I love you,' and to spend time with them," says Russell Southall Sr., 61, a member of Taylor Memorial United Methodist Church in Oakland, Calif., and the father of Russell II, 22, and William, 16.
Sharing personal passions. The Rev. Paul Perez loves when 8-year-old Joshua and 4-year-old Sofia show an interest in the things that excite their dad. "It's a gift to share with them the things I'm passionate about—from [movies such as] Star Wars and The Avengers to what it means to be a disciple of Jesus Christ and to be a person who stands up for justice and compassion in this world," says Perez, 32, of Livonia, Mich., who coordinates mission and justice ministries for the Detroit Conference. Likewise, he looks forward to seeing his children discover their own passions. "Each of my children is unique, unrepeatable and singular," marvels Perez, whose third child, Charles, was born on April 30.
Appreciating family. While it's natural to go through periods of taking relationships for granted, Father's Day is a reminder of the privilege of fatherhood, especially for dads such as Bo Wilson, who has tried for years to conceive a child with his wife, Mary. In January 2013, the couple from Dallas, Texas, became foster parents to Alli, a 3-day-old girl whom they now are trying to adopt. "The only thing I want for this Father's Day is to have another Father's Day next year with Alli," says Wilson, 34, an attorney and member of Highland Park United Methodist Church. "Daddy was the first word out of Alli's mouth."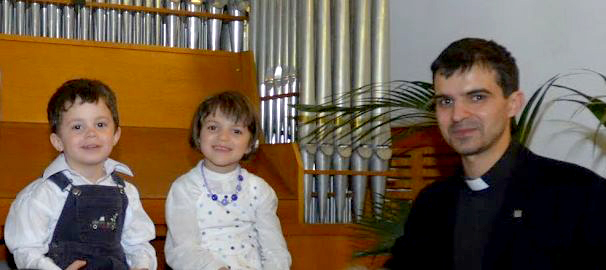 Going to church together. Since Father's Day falls on the day when Christians observe the Sabbath, what better way to honor your earthly father than to worship your heavenly father together! Leading services at Szolnok United Methodist Church in Szolnok, Hungary, the Rev. Laszlo Khaled loves when his children Lili, 5, and Benjamin, 4, express excitement about going to church. "I am happy when I can see my family in the church, among the other children or families, because they want to take part!" says Khaled, 34, who also has a 1-year-old son, Simon.
Doing stuff together. While Father's Day is not celebrated in Switzerland, David Field embraces his role as father to sons Carlo, 15, and Ernst, 12, whether he is swimming with them in the Rhine River, watching football together, or discussing computer technology. Field, whose wife, Caroline, is the pastor of the Münster congregation in Basel, Switzerland, is the primary caregiver at home. "What I want for my sons is that they have a secure and happy youth, that they grow into responsible adults and that they personally discover the meaning and significance of the Christian faith," says Field, 50.
Loving God. When the Rev. Maidstone Mulenga took his oldest daughter to college in 2012, he was overjoyed that she wanted to find a church to attend while at school. "I love that my daughters have come to love God on their own," says Mulenga of Lukonde, 19, and Mukuka, 16. "My wife and I have brought them up in the church, but I am happy they have come to be Christians on their own." Such is the greatest gift a father can experience, says Mulenga, 50, of Columbia, Md., who serves as assistant to Bishop Marcus Matthews in the Baltimore-Washington Conference.
Listening to dad. "The best gift my sons could give me is to keep listening for a little while longer—to keep paying attention to their elders," says the Rev. Scott Hagan, pastor of Epworth United Methodist Church in Columbus, Ga., of sons Sam, 12, and Jack, 9. Hagan wants to share the wisdom and values handed down from his own parents and grandparents. "Parenting is about passing along information, but also about exposing our children to what we believe about life and God's best desires for us," he says.
Litany of Peace for Father's Day
Loving God, we lift this day our gratitude for the loving men who have brought us the precious heart of your Father Love.
We give thanks to you this day:
For those who have shown us kindness,
For those who have shown us courage,
For those who have shown us generosity,
For those who have shown us truth,
For those who have shown us compassion,
For those who have shown us faith,
For those who have shown us love....More»
Love and respect. Ads scream that dad wants the latest gizmos, golf gear or power tools, but what he really wants is the love and respect of his children, says the Rev. Ron Olson, pastor at Bowman United Methodist Church in Bowman, N.D.  Olson, whose sons are 30 and 23, and whose daughter is 11, says this realization was brought home during the last year as his family experienced both joy and adversity—the marriage of his younger son and an auto accident in December, 2013 that left his daughter a paraplegic. "I just want to be the kind of father who has time for his kids and is loved and respected by them," he says.
Sometimes, it's the little things. For Jeremy Strait, the father of seven children ages 6 to 2, including six children adopted through foster care, it's the "little things" they give him that mean so much. "They run up and scream 'Daddy!' when I walk in the door from work," says Strait, 33, assistant director of Wesley Woods Camp & Retreat Center, in Dowling, Mich. "They give me hugs. I find little cards and notes placed under my pillow or in my Bible. I love making memories with each of them."
Don't forget the card. During his military career, the Rev. Tom Petersen often spent Father's Days away from his three children while they were growing up. Today, he still cherishes their handmade cards. "The card I remember most is when my youngest daughter made a card all on her own and would accept no help from her older siblings. She was about 4, I think," recalls Petersen, pastor of United Methodist congregations in Olivet and Scotland, S.D. "The spelling was atrocious, the drawing was worse, and it's one that I've kept forever. It just said, 'I love you, Daddy.'"
See a video that features dads talking about the holiday. Most of these dads had the same message shared by Apelu Po'e who is Samoan, "I would like to see my children be ambassadors of peace."  
​*Marta Aldrich is a freelance writer from Franklin,Tenn.
---
Like what you're reading? Support the ministry of UM News! Your support ensures the latest denominational news, dynamic stories and informative articles will continue to connect our global community. Make a tax-deductible donation at ResourceUMC.org/GiveUMCom.