Three United Methodists say their bishop is using the Ugandan legal system to silence their calls for accountability.
They also are urging the 2016 General Conference, the denomination's top lawmaking body, to approve proposed legislation to increase bishops' accountability — especially on financial matters.
East Africa Area Bishop Daniel Wandabula, whose office is based in Kampala, Uganda, faces a formal complaint under church law that accuses his episcopal area of misusing more than $757,000 in funds.
Meanwhile, Wandabula continues to press charges of attempted blackmail against the three church leaders — the Rev. John Kiviiri, Joseph Kanyike and Joshua Buule.
Two were arrested in September 2011. At the time, Kiviiri was a district superintendent in East Africa Conference, and Kanyike was an intern with the United Methodist Board of Global Ministries. Joshua Buule, Kiviiri's son, was arrested later.
In the nearly five years since, the three have seen imprisonment, release on bail, 63 separate court appearances and attorney fees hovering around $10,000.
At each court appearance, when individuals the court deemed important to the case were missing, the trial was rescheduled.
"We believe these accusations and allegations were meant to bar us from participating fully in the church as leaders, since we have been very vocal in demanding accountability," Kanyike told United Methodist News Service.
"We have become scapegoats in disguise for the bishop's failure to account for all funds given to him for various church projects in the conference as demanded by the GCFA (the General Council on Finance and Administration)."
When asked about the three's allegations that he is persecuting them through the legal system, Wandabula replied that UMNS "has extensively written one-sided, biased stories about it from a mostly Caucasian, Euro-American perspective."
Tim Tanton, director of UMNS for United Methodist Communications, said the bishop "has been given an opportunity to comment every time UMNS has reported on these allegations. We are committed to providing fair and balanced coverage and including African perspectives."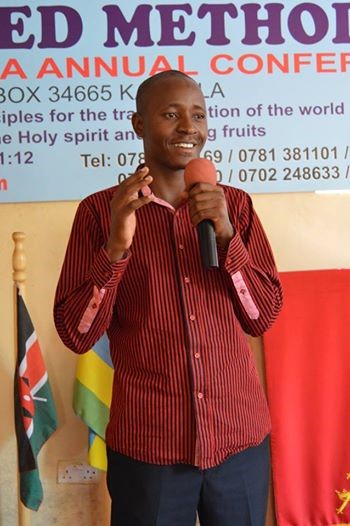 Blackmail allegations
Wandabula complained to the Ugandan police on Oct. 21, 2009, when the anonymous "Journey Jonah" sent an email to the bishop demanding $300,000. A document containing allegations against the bishop was attached.
On Aug. 30, 2011, "Journey Jonah" sent a report with further allegations against Wandabula to the Council of Bishops and several executives at the United Methodist Board of Global Ministries but did not supply documentation or a name and full contact information.
Kanyike, Kiviiri and Buule subsequently were arrested on charges of sending the "Journey Jonah" emails. Kanyike was about to depart for a meeting in Geneva, but the police took his travel documents.
While in prison, Kanyike said, he "was beaten seriously by prisoners." He said he also saw other prisoners die of torture and disease. When he was released on bail, he said he was hospitalized with malaria and typhoid.
Now he says he cannot find gainful employment because of his criminal record.
Kiviiri, likewise, says the charges have affected all aspects of his life. He cannot participate in conference activities and has little or no contact with the churches he planted in Uganda, Kenya and South Sudan. Buule said the legal costs have forced him to discontinue his studies.
If found guilty, the three face a minimum of three years in prison and could serve up to 10. The Board of Global Ministries has paid for an attorney for Kanyike, but the agency is not involved in the cases of Kiviiri and Buule.
"Global Ministries is committed to participate in Joseph's legal defense through 2017," said Thomas Kemper, the agency's top executive. "We provided personal financial support through June 2015. It would be ideal for Bishop Wandabula to drop the charges."
Kanyike said that Wandabula has offered reconciliation to the trio, but only if they admit that they attempted to blackmail him. Kanyike said they would not sign the confession because they are innocent.
Wandabula confirmed that he offered reconciliation. "It is true that in a spirit of prayer, good will and pastoral care, my office focused attention to inviting as well as facilitating both the confession of what is wrong and the confession of what is right because therein lies true healing, wholeness coupled with reconciliation," he said.
Urging General Conference to Act
The three Ugandan leaders and their supporters have appealed for help to the Africa Central Conference College of Bishops and the Council of Bishops, but neither effort has brought an end to the court charges.
Now, the trio is asking General Conference to act when it meets May 10-20 in Portland, Oregon:
They ask General Conference delegates to make Uganda and Kenya, now both part of the East Africa Conference, their own separate conferences. The creation of new conferences does not automatically mean a change in the area a bishop oversees.
The three are also urging delegates to support legislation submitted by the denomination's General Council on Finance and Administration aimed at increasing bishops' accountability.
That proposal sets a timeline of 180 days (roughly six months) for a college of bishops to resolve a complaint in the denomination's supervisory process. If those 180 days expire without resolution or without referral of the matter as a formal administrative or judicial complaint, the legislation would send the dispute to the full Council of Bishops.
The legislation says the Council of Bishops then must select:
A panel of three bishops, one each from Africa, Asia and Europe, if the bishop under complaint is in a central conference, or
A panel of five bishops, one from each U.S. jurisdiction, if the bishop under complaint is in the United States.
Under the finance agency's legislation, the panel would then have the responsibility of adjudicating the matter within 180 days before either dismissing it or referring it as a formal administrative or judicial complaint.
The agency's legislation also specifies that all costs associated with a panel's work must come out of the Episcopal Fund that supports bishops' work. 
Longtime financial questions
Meanwhile, the bishop faces longstanding questions himself about the use of church funds for mission projects.
Among those raising questions are two United Methodist general agencies, whose leaders include some of Wandabula's bishop colleagues.
In addition, members of the Western Pennsylvania Conference have raised their own questions since 2005 regarding whether more than $100,000 that conference members gave to the East Africa Conference were used as intended by the donors. Wandabula, a district superintendent at the time, was the project coordinator for the conference's funds to East Africa.
Since August 2012, the Board of Global Ministries — the denomination's mission agency — suspended mission funds to Wandabula's East Africa Conference through the Advance, the denomination's designated-giving program. The General Council on Finance and Administration — the denomination's finance agency — followed suit, urging all agencies, conferences and churches to halt funding through Wandabula's office.
Wandabula in an October 2012 email blamed the actions of the denomination's mission and finance agencies on a campaign "of malice, mudslinging, character lynching and insurrection." The bishop contended that these agencies were siding with those trying to blackmail him.
The agencies' leaders, however, cite three unfavorable audits from April 2011 to June 2012 of his East Africa Conference office's use of funds. Wandabula's area now also includes the Burundi Conference.
"The financial procedures, record keeping, and internal controls as practiced by the East Africa Annual Conference Office were found to be lacking in virtually every area," said the June 2012 audit by the Board of Global Ministries.
The conference's treasurer disputed the audit findings to UMNS. But months later, Global Ministries' independent audit committee said that the conference still was unable "to provide reasonable assurance" funds had been used for their intended purpose. 
Other bishops have faced auditing questions before, but they also have worked to rectify concerns. Wandabula's situation has been different.
The General Council on Finance and Administration's board took the unprecedented step of setting a lower salary for Wandabula, starting in 2013, until he answered the auditing questions. It also joined Global Ministries in filing a complaint charging Wandabula with disobedience to the order and discipline of the church, immorality and crime.
Last year, the Judicial Council — the denomination's top court — ruled in a split decision that the finance agency had overstepped its authority in reducing the bishop's salary and ordered the lost salary restored.
However, the Judicial Council also supported the decision by Global Ministries to withhold funding from East Africa until its audit requirements are met.
The ruling also called on the Africa Central Conference College of Bishops "to expedite the proper disposition" of the complaint filed by the mission and finance agencies.
A year later, the complaint remains unresolved, according to the finance and mission agencies.  Zimbabwe Area Bishop Eben Nhiwatiwa, president of that college of bishops, declined UMNS requests for comment on the complaint's status.
Last year, Wandabula's office did complete an audit of its use of episcopal office funds. However, both Kemper, of Global Ministries, and Moses Kumar, the top executive of the General Council on Finance and Administration, said Wandabula still has not accounted for the use of disputed mission funds.
Peck is a retired clergy member of New York Conference, and Hahn is a reporter for United Methodist News Service.
Contact them at (615) 742-5470 or [email protected]. 
---
Like what you're reading? Support the ministry of UM News! Your support ensures the latest denominational news, dynamic stories and informative articles will continue to connect our global community. Make a tax-deductible donation at ResourceUMC.org/GiveUMCom.