---
Key points:
In 1972, Bishop Wilbur Choy became the first Asian American episcopal leader elected in The United Methodist Church.
The trailblazing bishop, who led both the Pacific Northwest and California-Nevada conferences, also opened the door to other church leaders.
He died Dec. 28 in Seattle at age 103.
---
A half century ago, Bishop Wilbur Choy made national headlines with his election as The United Methodist Church's first Asian American episcopal leader.
Fellow United Methodists say the bishop did not just a blaze a trail for himself but also opened pathways for more ethnically and racially diverse leaders across the church. Friends also remember him for his great sense of humor.
The Western Jurisdictional Conference elected Choy — the son of Chinese immigrants — to the episcopacy in 1972. He went on to lead the Pacific Northwest Conference for eight years and the California-Nevada Conference for four before retiring in 1984. His episcopal colleagues chose him to serve as the Council of Bishops president in 1983-84.
"I remember him for radiating the joy of the Lord, and his graciousness to all people. It was just infectious," said retired Bishop Roy Sano, who was elected as the denomination's first Japanese American bishop the same year Choy retired.
Choy died Dec. 28 in Seattle at age 103.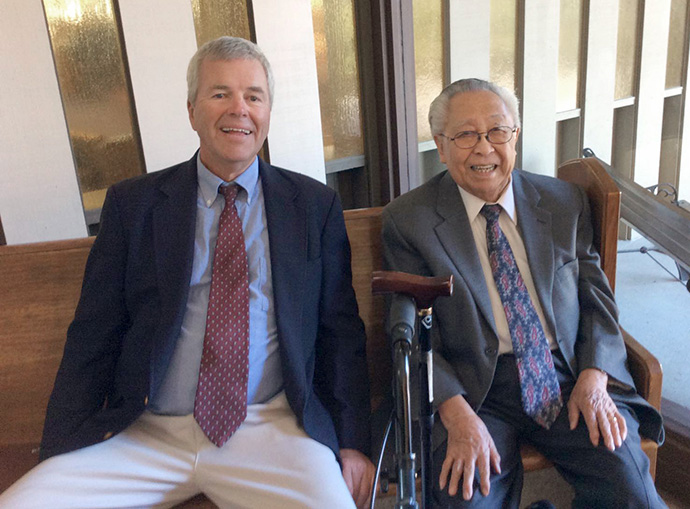 His legacy includes a denomination that, thanks in part to his ministry, has grown more ethnically and racially diverse over the years.
"He brought a powerful emphasis on strengthening the ethnic-minority local church to the Pacific Northwest, acknowledging the variety of people in our communities and the biblical imperative to welcome and include them all," said Greater Northwest Area Bishop Elaine Stanovsky in a Council of Bishops statement. Her area includes the current Pacific Northwest Conference.
"Under his leadership, new lay and clergy leaders from many racial, ethnic and cultural identities rose to leadership in the conference and the general church," Stanovsky said.
The Rev. Edsel Goldson was among the leaders who took inspiration from Choy.
Goldson, who grew up in the Christian Church (Disciples of Christ) in Jamaica, transferred to The United Methodist Church during Choy's tenure leading the Pacific Northwest Conference. Goldson eventually led the conference's ethnic ministries.
"He had a great Christ-like, gentle spirit and a very compassionate heart," said Goldson, who is now retired. "He never took himself too seriously. He always made us laugh with his sermons."
Goldson added that Choy was also a talented cook, who eagerly welcomed people to his table. More than 40 years later, Goldson still vividly remembers a delectable squid dinner the bishop prepared.
Choy gave now retired Bishop Warner Brown his first appointment as a district superintendent.
"He was someone who took his positions with integrity and understood who he was. And so he was not quick to go along with something just because it was trendy," said Brown, interim bishop of the Sierra Leone Conference.
"He was very supportive of inclusion of people and breaking down the barriers. But he also wanted to be sure that we were not losing core values."
Brown said Choy mainly wanted to make sure excellent people were not overlooked as they had been in times past.
Memorial service plans
Council of Bishops President Bishop Cynthia Fierro Harvey described Bishop Wilbur Choy as "a trailblazer, pioneer and a leader in diversifying The United Methodist Church."
His life and ministry will be celebrated at 2 p.m. U.S. Pacific time March 12, at First United Methodist Church of Seattle. Masks and proof of COVID-19 vaccination required. People can join the livestream at FirstChurchSeattle.org/live.
Memorial gifts can be made to any of the following:
First United Methodist Church of Seattle, P.O. Box 19596, Seattle, WA 98109.
Bayview Manor Foundation, 11 W Aloha Street, Seattle, WA 98119.
University of the Pacific, 3601 Pacific Ave., Stockton, CA 95211.
Bishop Wilbur Wong Yan Choy was born May 28, 1918, to immigrant parents in Stockton, California, at a time when countless people faced rejection because of their national origin. Less than 40 years before his birth, the U.S. had passed the Chinese Exclusion Act of 1882 that suspended Chinese immigration for 10 years and banned Chinese immigrants from naturalization. By the time he was 6, the U.S. had passed the Immigration Act of 1924 that excluded Asian immigration altogether.
He grew up in the city's Chinese Methodist Church, and eventually became the congregation's pastor in 1943 while he attended college and seminary. He graduated from Stockton Junior College, what is now United Methodist-related University of the Pacific and the Pacific School of Religion, where he earned his Master of Divinity and served as student-body president.
He initially served as an elder in the California-Oriental Provisional Conference, comprising Chinese, Korean and Filipino churches in the state. He chaired the Integration Committee that guided the provisional conference's 1952 merger with geographic Methodist conferences.
Two years later, he became pastor of a multiracial congregation after he brought together Stockton's Chinese Methodist Church and Clay Street Methodist Church, which had white and Black members. He gave the new congregation the name of St. Mark's in part because the Book of Mark was the most action-oriented of the Gospels.
"The benefits of the merger? The older, declining Clay Street folk got an infusion of youth. The younger people, the Chinese group, gained a building they could not themselves afford at that time," said the Rev. Gaye G. Benson, the pastor of Stockton St. Mark's from 1996 to 2002. "And Wilbur Choy, God rest his soul, had the wisdom and vision to create a new identity for the new
thing being created — a new name for a deliberately new multi-racial, multi-ethnic congregation on Stockton's south side, an area which was constantly receiving new and often poor people."
As he took on other pastoral appointments, he participated widely in community and state life. In 1967, he served as chaplain to the California State Senate.
He became The United Methodist Church's first Chinese American district superintendent of a predominantly white district in 1969.
When elected bishop three years later, he committed to provide for fuller participation of the laity, women, youth and ethnic minorities. He also promised to be bishop to and for all segments of his area.
Retired Bishop Mary Ann Swenson was among the clergy Choy ordained when he served the Pacific Northwest Conference. She fondly recalled how Choy loved to fly kites at church camps and clergy retreats.
As much as he gave kites lift, he also had a way of lifting people's spirits. Swenson is among the clergy who remember how the bishop's stories generated big belly laughs.
"He taught us so much," said Swenson, now vice-moderator of the World Council of Churches. "He also built a strong cabinet and leadership group to guide the conference. The conference flourished under his leadership."
However, his time as bishop also was marked by sorrow. Grace, his wife of 37 years, died on Dec. 26, 1977.
"He was so positive," said the Rev. Bob Ward, who was executive of the conference's council on ministries during Choy's tenure. "But he was also someone who could deal with difficult situations, but do it with an openness and integrity. That made him a pleasure and a privilege to work with."
Ward and other church leaders rejoiced with Choy when he married the Rev. Nancy Adachi-Osawa, a United Methodist clergywoman, in 1982.
When he retired in 1984, the couple moved to Seattle. Hearing loss eventually led Choy to step back from Council of Bishops meetings and travel. He and his wife remained regular churchgoers, attending First United Methodist Church in Seattle.
The Rev. Jeremy Smith, the church's senior pastor and a prolific church blogger, has been their pastor for five years. He said Choy and Adachi-Osawa regularly attended worship until the pandemic shut down in-person services in March 2020.
One of Smith's favorite recollections was when the congregation sang "Happy Birthday" for Choy as he celebrated his 100th. "He stood up unassisted and waved at us," Smith said.
Bishop Grant Hagiya, who was ordained by Choy, got to know the elder bishop in a new way when Hagiya led the Greater Northwest Area.
"Bishop Choy was always so humble yet affirming, and he served as a great role model of what a retired bishop in one's area meant," said Hagiya, who now leads the California-Pacific and Desert Southwest conferences. "I am thankful to God for giving Bishop Choy such a long and fruitful life."
Alongside his wife of 39 years, Choy's survivors include his four children: Randolph W. (Cheryl), Jonathan W. (Linda), Phyllis W. (the late LeRoy Siebert), and Donnell W. (LiangFeng Guo) Choy, and 22 grand, great-grand and great-great-grandchildren. His survivors also include stepchildren Dennis and Tracie Yamasaki (Leo Dela Cruz) and three step-grandchildren.
Hahn is assistant news editor for UM News. Contact her at (615) 742-5470 or [email protected].To read more United Methodist news, subscribe to the free Daily or Friday Digests.
---
Like what you're reading? Support the ministry of UM News! Your support ensures the latest denominational news, dynamic stories and informative articles will continue to connect our global community. Make a tax-deductible donation at ResourceUMC.org/GiveUMCom.