The Rev. Tyler Cantrell leads one United Methodist church in North Alabama, oversees youth ministry at another and co-directs the Wesley Foundation at the University of Alabama at Birmingham.
Despite his vise-tight schedule, Cantrell spent three hours attending a Jan. 25 information session about the possibility — many would say likelihood — of traditionalist United Methodists leaving to form their own denomination.
"It's a very confusing time," said Cantrell, a 35-year-old licensed local pastor. "I'm just trying to get some guidance."
More than 1,000 people, mostly from Alabama but some from across the Southeastern Jurisdiction, attended the meeting called "Why the Best Days in Methodism Are Ahead of Us!"
The Rev. Paul Lawler, pastor of Christ Church United Methodist in Birmingham, and the Rev. Vaughn Stafford, pastor of host church Clearbranch United Methodist in Trussville, convened the event.
They and other speakers answered questions but also made a soft-sell pitch for traditionalists to separate from The United Methodist Church.
"To love people well, particularly as pastors and leaders, is to shepherd their hearts in a transition that is potentially historic," Lawler said.
The meeting came less than four months before the 2020 General Conference, when United Methodist delegates from around the world will gather in Minneapolis, and little more than three weeks after a diverse group of denominational leaders endorsed the "Protocol of Reconciliation & Grace Through Separation."
That plan, intended for legislation at the 2020 General Conference, aims to end decades of internal division over homosexuality that boiled over during and after the 2019 General Conference in St. Louis.
Under the protocol, churches and annual conferences that support current restrictions on same-sex marriage and ordination of gay clergy could leave with their properties to form their own denomination, with $25 million in United Methodist funds.
Lawler said after the Jan. 25 meeting that he is confident some U.S. annual conferences will vote to leave.
"We believe that (North Alabama) probably would vote to be a traditionally orthodox conference," he said.
The big crowd in Trussville apparently owed in part to national news coverage of the protocol, brokered by famed mediator Kenneth Feinberg and involving progressives, centrists and traditionalists.
"Because it hit the mainstream media, that has stirred a desire to ask questions and know more," said the Rev. Jody Hooven, associate pastor under Lawler at Christ Church United Methodist. "We're headed in the right direction to helping people make informed decisions."
The president of the traditionalist Wesleyan Covenant Association, the Rev. Keith Boyette, helped negotiate the protocol, and the organization has taken steps toward creating a new denomination.
Boyette did not attend the Trussville meeting. But a WCA council member, the Rev. Chris Ritter, gave the keynote address. Lawler downplayed the WCA's involvement.
"While this was collaborative with WCA leaders, this was not a WCA official event," he said. "It transcends that."
Ritter stressed that those in the crowd who haven't been part of the WCA could still help shape the traditionalist alternative.
"This isn't going to be the WCA denomination," he said. "The Wesleyan Covenant Association sees itself as the midwife for the new church. A lot of people are going to come to the table who are not at the table now."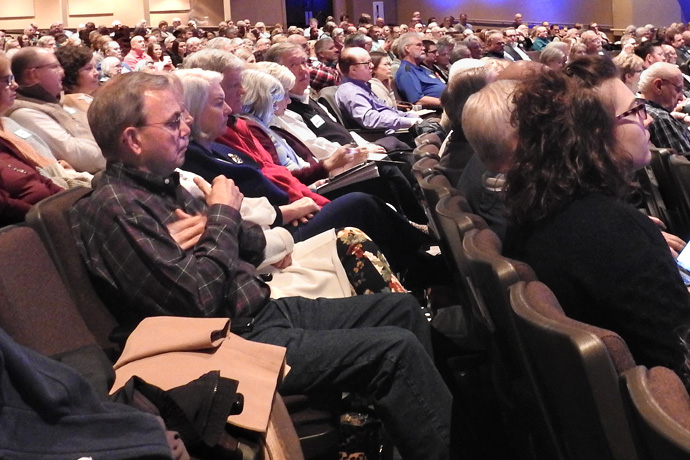 Ritter, pastor of First United Methodist Church in Geneseo, Illinois, and a popular blogger on United Methodist issues, shared details about the protocol, including about the vote percentages necessary for a conference or church to leave.
He also noted the most frequent question he gets: "Why should the ones that agree with the current teachings of our church be the ones to leave?"
That brought applause, but Ritter went on to say that traditionalists are now in a minority in the U.S., and unlikely to prevail in most elections of U.S. bishops or in running the "apparatus" of the denomination.
He said traditionalists would do better to focus on creating their own lean, evangelism-focused church.
"There's going to be a season of messiness, a season of building, but that's also an opportunity," Ritter said.
Ann Lee, a North Alabama Conference lay delegate to General Conference, got her own round of applause by emphasizing a streamlined general church and lower apportionments.
But she insisted that a traditionalist denomination would not back away from relief and justice work.
"That social justice part of our DNA doesn't go away," Lee said. "That's where we started, building orphanages and schools."
Stafford warned that a traditionalist denomination would face accusations of homophobia.
"Don't do anything that gives validity to that story," the Trussville pastor told the crowd. "We're going to love every person that comes through the doors of our churches."
That reassured Cantrell, especially given his college and youth group work.
"I'm in ministry with every type of person possible," he said. "I hope that is the sentiment we take if there is a new denomination."
Thoughts and emotions about a separation varied at the Trussville gathering.
The Rev. Adlene Kufarimai, pastor of West Huntsville United Methodist Church, remains in a period of research and discernment.
"I'm just waiting to see where God leads us. There's still a lot of questions," she said during a break at the meeting.
The Rev. Matt Mobley believes the church he leads, Mulder Memorial United Methodist in Wetumpka, Alabama, may well choose to join a new denomination.
"We're traditional," he said. "That's where we stand."
But the prospect of separation doesn't gladden his heart.
"It's a grievous time. There's some relief that there's been agreement from diverse parties in the protocol. But it's also sad — very sad. I love The United Methodist Church. I've served for 20 years in The United Methodist Church."
Hodges is a Dallas-based writer for United Methodist News. Contact him at 615-742-5470 or [email protected]. To read more United Methodist news, subscribe to the free Daily or Weekly Digests.
---
Like what you're reading? Support the ministry of UM News! Your support ensures the latest denominational news, dynamic stories and informative articles will continue to connect our global community. Make a tax-deductible donation at ResourceUMC.org/GiveUMCom.