A few months ago, United Methodist leaders trying to break the denomination's long, divisive impasse over homosexuality sought help from a famous lawyer-mediator.
Kenneth Feinberg — who oversaw the 9/11 victims' compensation fund — not only agreed, he said he'd do it for free.
A Feinberg-mediated proposal for The United Methodist Church, titled "Protocol of Reconciliation & Grace Through Separation," went public last week and made international news.
Some of the diverse, 16-member team of United Methodists who joined Feinberg in the negotiating room consider him heaven sent.
"To receive the help of a mediator with Mr. Feinberg's experience, on a pro bono basis, is a sign that God is making a gracious provision to The United Methodist Church," said the Rev. Tom Berlin, who represented centrist groups in the talks.
The Rev. Keith Boyette, a lawyer-turned-clergyman, elaborated on Feinberg's role.
"He was able to use his expertise to help us hear one another, see possibilities that no one had seen or been prepared to admit, and understand what was really at stake," said Boyette, who represented traditionalist groups.
Feinberg redirected praise to Berlin, Boyette and the other United Methodists.
"The right people were at the table — that was the key," he said. "The group came together at great personal cost, expense and political exposure to get to 'yes,' and they did."
Working with Feinberg, the negotiating team — consisting of bishops and advocacy group leaders from markedly different perspectives on LGBTQ inclusion — arrived at a plan that would let traditionalist-minded United Methodist churches separate to form a new denomination, keeping their properties and getting $25 million in United Methodist funds.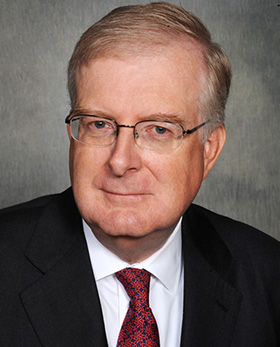 Rick Godfrey.
Photo courtesy of Kirkland & Ellis LLP.
The plan is still being drafted as legislation for the 2020 General Conference, set for May 5-15 in Minneapolis. Delegates there would have to give their approval. However, the plan at least holds the possibility of ending decades of denominational infighting and avoiding the kind of litigation other dividing mainline Protestant churches have experienced.
Mediation team members say Feinberg was indispensable.
"He kept us at the table when walking away seemed imminent," said Bishop LaTrelle Easterling, a lawyer as well as leader of the Baltimore-Washington Conference. "He defused tense moments with just the right balance of humor and hard truths."
Jan Lawrence, a progressive representative in the talks, said she began skeptical that any agreement could be reached. Then she met Feinberg.
"After our first meeting with him, I knew that if anyone could get us to 'yes,' it was him," Lawrence said.
Feinberg, 74, has a resume full of high-profile mediation work. Along with the 9/11 fund, he oversaw compensation plans for victims of Agent Orange, the BP Deepwater Horizon oil spill, the Aurora, Colorado and Virginia Tech shootings and the Boston Marathon attacks.
He's the author of two memoirs, "What Is Life Worth: The Unprecedented Effort to Compensate the Victims of 9/11" and "Who Gets What: Fair Compensation after Tragedy and Upheaval."
The contentious 2019 General Conference prompted various behind-the-scenes talks about The United Methodist Church's future and led one group, including Berlin, New York Conference Bishop Tom Bickerton and Sierra Leone Area Bishop John Yambasu, to decide a top mediator was needed.
Feinberg was the first choice.
Meanwhile, Richard "Rick" Godfrey had reached the same conclusion. Godfrey is a longtime Chicago-based partner of the Kirkland & Ellis law firm, serves pro bono as chancellor to the Northern Illinois Conference of The United Methodist Church and attends First United Methodist Church in Oak Park, Illinois.
Godfrey — himself subject of a Leading Lawyers magazine article titled "The Counsel to Call in the Depths of a Crisis" — had represented BP in the oil spill litigation and knew Feinberg from that and earlier cases.
"He's the best of the best at what he does, and hence the most qualified for this type of challenging mediation assignment," Godfrey said.
At Northern Illinois Bishop Sally Dyck's request, Godfrey asked Feinberg if he would mediate. He got on board right away.
"Part of it was just my interest in modern America, in preserving some church impact and influence in an increasingly secular society," Feinberg said. "Plus, you try saying 'no' to Rick Godfrey."
Godfrey and Wendy Bloom, another Kirkland & Ellis partner, would support Feinberg and the negotiating team, taking notes on the discussion and helping with wordsmithing as the protocol took shape.
Feinberg and Bloom are Jewish. Both said Judaism's "give back" ethic was a reason to donate time to The United Methodist Church.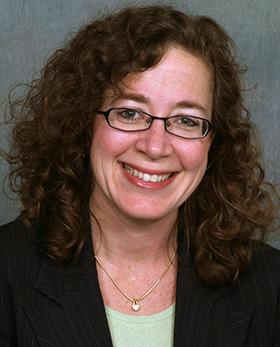 Wendy Bloom.

Photo courtesy of Kirkland & Ellis LLP.
"In our faith the concept of the mitzvah of tzedakah is fundamental, and it means a commandment to do the right thing to help people and causes in need," Bloom said by email.
There were key negotiating sessions on Oct. 17-18, Nov. 11-12 and Dec. 16-17, at Kirkland & Ellis' office in Washington.
Feinberg would not share discussion specifics but did list the main topics.
"Governance, the politics of restructuring, finances — all were obviously objects of the mediation," he said.
United Methodists around the table said Feinberg's reputation and outsider status gave him great credibility as their mediator.
Berlin went further.
"What Mr. Feinberg does well is he helps the group define the nature of the impasse, he then identifies exactly what decision the group must make if it's to overcome the impasse, then he reminds you of your ability and power to make those decisions," Berlin said.
Bloom felt she was part of a special effort.
"As you can imagine, there were some very difficult points in the process, and at each such point one of the members of the mediation team would call for a break for prayer, and a bishop would lead us in a prayer," she said. "I've never encountered pauses for prayer before in mediation, and it really did work. These prayers were inspiring and re-focused everyone on the task at hand."
Feinberg will be part of a livestream event Monday, Jan. 13, in which he and four of the United Methodists who negotiated the protocol will answer questions about it.
He said he stands ready to do more if needed. But already Feinberg is looking back with satisfaction at helping United Methodist leaders who have often been at odds reach a proposal together.
"It turned out to be a labor of love, I must say."
Hodges is a Dallas-based writer for United Methodist News. Contact him at 615-742-5470 or [email protected]. To read more United Methodist news, subscribe to the free Daily or Weekly Digests.
---
Like what you're reading? Support the ministry of UM News! Your support ensures the latest denominational news, dynamic stories and informative articles will continue to connect our global community. Make a tax-deductible donation at ResourceUMC.org/GiveUMCom.