---
Plaza Mariachi is not the family-friendly place it once was.
The faded green paint on the concrete curb surrounding its edges is chipped and worn. Trees don't grow straight up to the sky but instead curve and twist with few branches to offer shade. The ground is bare in most spots. Skinny dogs roam the interior, sniffing and gnawing at the smashed food and litter.
It looks forlorn and forgotten.
The men and women who are converging at its edges at dusk look forlorn and forgotten too.
Most are homeless. Many are immigrants who have found their way to Mexicali after long and terrifying journeys. Some just arrived, and others have been here for a long time.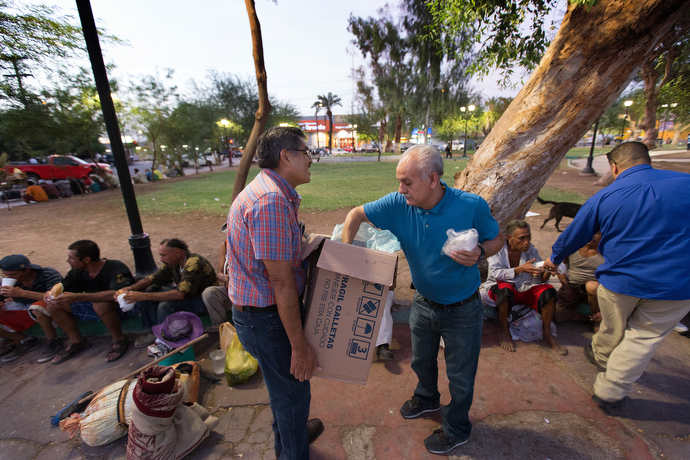 Members of El Divino Redentor Methodist Church arrive and start setting up a sound system and a table. Gospel music spits and stutters then blasts through the early evening air. Men and women in dirty, tattered clothes find their way to the front of the park. They sit on the dusty green curb and wait.
Victor Rodriguez takes the mic. He has something urgent to say.
He tells his audience this park used to be his home too. He was once lost, a mess. He lost his wife and family because of his alcoholism. But he found the love of Christ and he tells them they can also.
He punches his words with his fists, sweat streams down his face. Some of the people clap when he finishes. They stay put because they know food is coming next.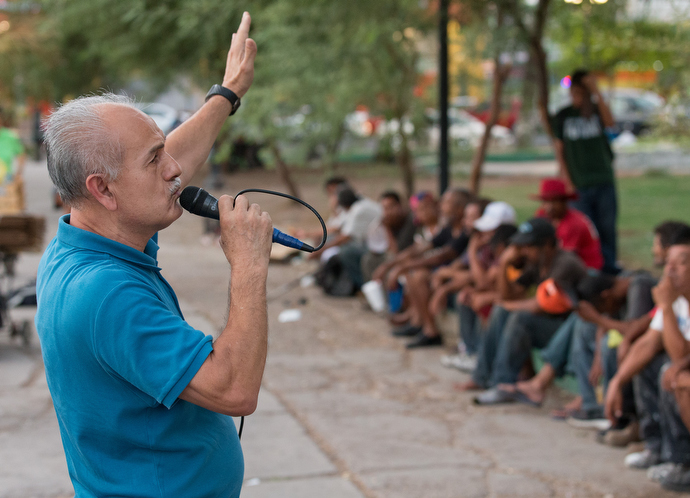 Church members start handing out sandwiches and drinks. One woman wanders over to a church member, pointing at her bare feet and asks if she can get some shoes. The church member assures her she will bring her some next time.
Bishop Felipe Ruiz Aguilar of The Methodist Church of Mexico talks with church members and the men and women who have come for nourishment for body and soul.
"This is service for the kingdom. If we plant a seed in their hearts it is going to mean something in the long run," he said. "Twelve years ago when I was a district superintendent I had one man come up to me and say 'You were the pastor who gave us sandwiches.'"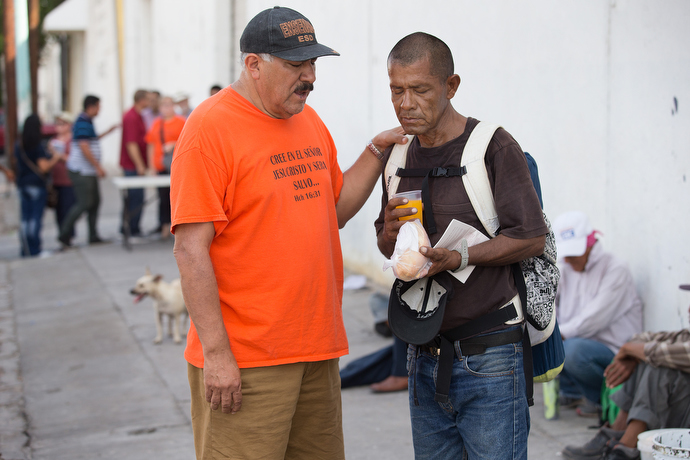 Downtown
Elsewhere, members of La Santísima Trinidad en Mexicali start the day handing out breakfast and the word of God on a corner of downtown Mexicali.
There are men sleeping on this cracked and dirty sidewalk. They prop their heads up on the building at uncomfortable angles. One man meekly walks up to a sleeping man. He wants a bottle that contains a yellowish brown liquid and he tries to ask if he can have it but the man doesn't move. He takes the bottle, walks halfway down the block and begins drinking.
None of this fazes the others lining up for breakfast.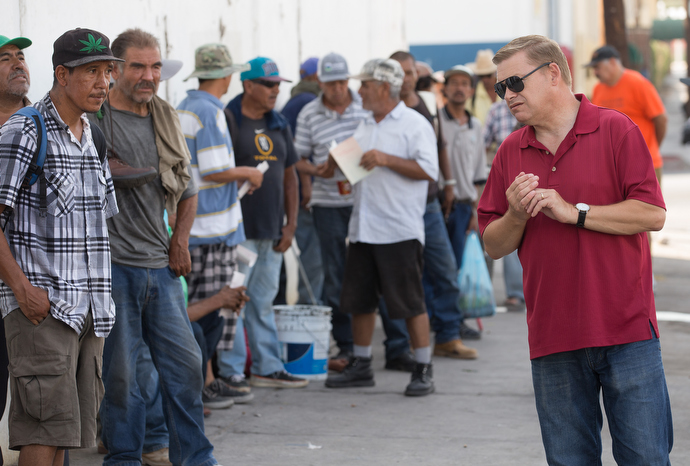 The Rev. Jacob Van Der Schaaf is reading from the Bible. He paces back and forth, preaching. He tells them God loves them even in the worst situations.
"I am telling them God wants to change them. If they open their heart they can be changed," he said.
His wife, Maribel Van Der Schaaf, said, "It is happiness preparing the food. We enjoy communion, drink coffee and then come here. This is amazing, joyful."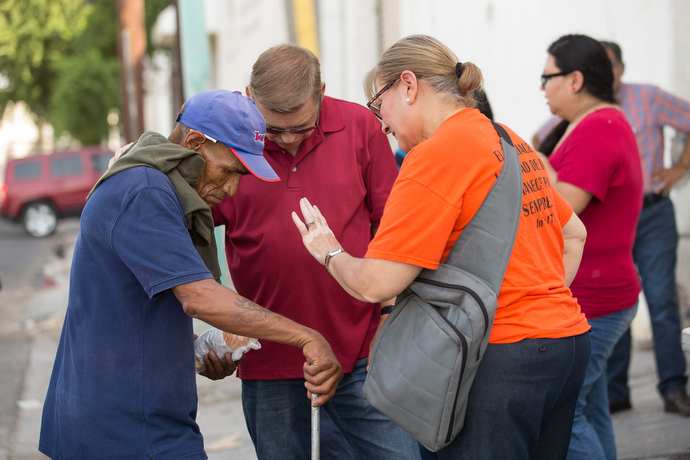 Elly Rodiles said they bring enough to feed around 120 and spend about 30 minutes trying to speak to the men, to pray with them.
What does the church say?
In its Social Principles, The United Methodist Church recognizes all people, regardless of country of origin, as members of the family of God and opposes policies that separate family members from each other.
She explains this street corner is where employers come to find workers for the day.
"Sometimes (the homeless people) ask us if we have money to buy tickets to go back home. Lots of times that is not true. It is to buy drugs."
Rodiles said her work with the homeless is motivated by love in her heart for Jesus.
Van Der Schaaf said there is more to ministry than going to church.
"Wesley said the world is our parish," he said. "We go out to share the word of God."
Rodolfo Hernandez, commissioner for immigrants for the state of Baja California, said it is hard to hear immigrants talk about what they have been through.
"It has been really impacting to hear testimonies from girls that they need to start (taking birth control pills) before they start the journey. They suffer physical abuse, sexual abuse. Criminals kidnap them and some girls are used for sexual exploitation."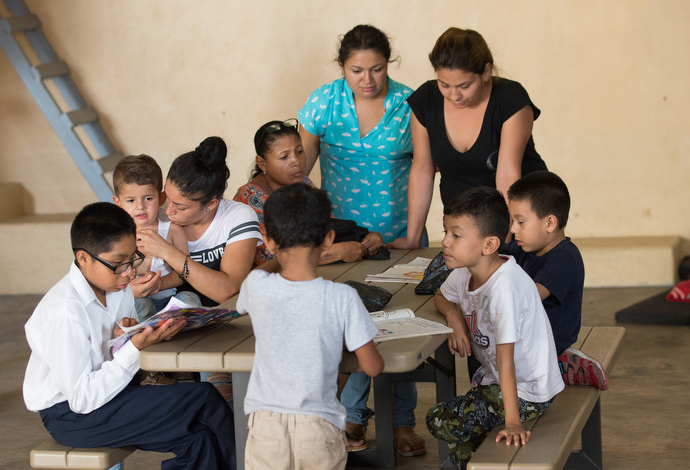 Hernandez said the main concern of the government is the immigration from south to north, from Central America to the border between California and Mexico.
Read more, see photos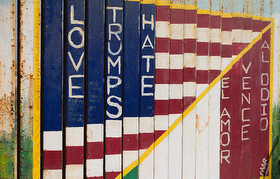 A message of love in two languages decorates the border fence that separates the U.S. from Mexico at El Faro Park in Tijuana, Mexico. Photo by Mike DuBose, UMNS.
"These people have to leave because their lives are at risk," he said. "It's not only the economy, which is bad. There is a lot of political conflict in those countries."
He said it also hard for people who are deported back to Mexico after living in the United States for 30 years or longer.
Tijuana has become a final destination because of the difficulty of entering the U.S. and because going back to Honduras, Guatemala or El Salvador is not an option.
Hernandez said three things would provoke people to stay: jobs, family, and if they know Jesus and find a place where they can receive spiritual food.
"Immigrants are a huge opportunity to share the Gospel. They need Jesus," he said.
Churches and religious organizations have stepped up to help, he said. The Salvation Army opened the first shelter in the area 60 years ago.
"The heroes of the picture here are the churches," he said.
Salvation Army
Various Salvation Army shelters house men separate from women and children.
Little Jose Carlos Villegas was all smiles at Puerta de Esperanza, a Salvation Army shelter. He was excited because his birthday was coming up in a few days. His mother, Jamie Silva Marcella, smiled to see him so happy.
She said she was a single mother and had left Guerrero, Mexico, because of the violence.
"I want a peaceful place to live, so my kids can have a good life."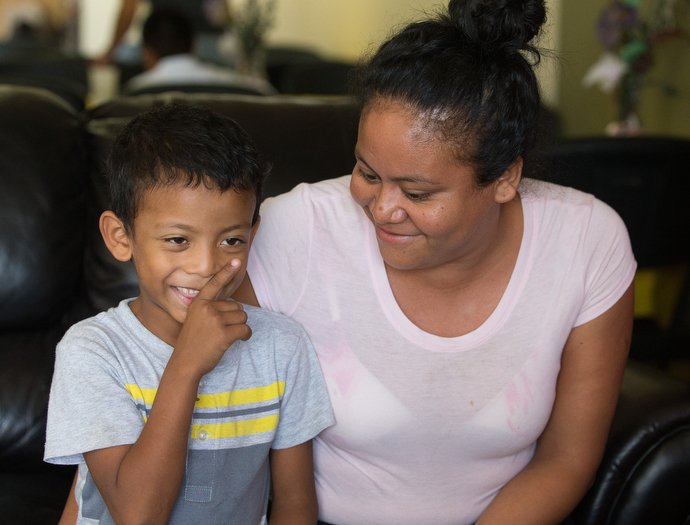 She described the three days she was on the bus traveling here and then the days of homelessness until she found this shelter.
"My expertise is working in the fields," she said. "I will take any kind of work, I will just be happy to have the opportunity."
When someone asked Jose what he wanted to be when he grows up, he enthusiastically and instantly replied, "I want to be a Poppa."
His mother smiles and pulls him close.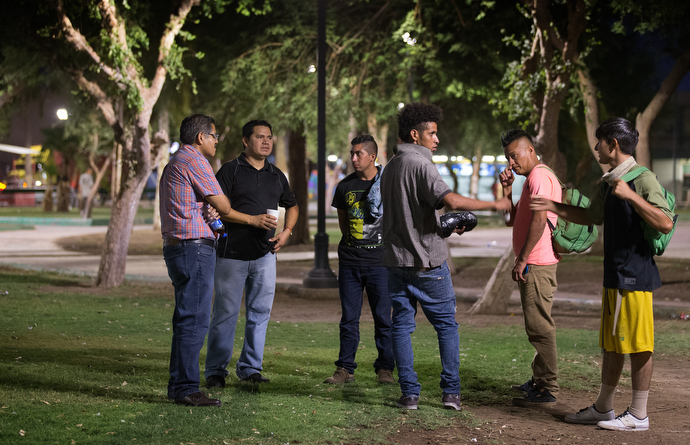 Ruiz-Agular said God has placed a burden on him regarding the lack of attention people in authority show to people living in deplorable conditions.
"I find that there is a responsibility on our part to take care of these our brothers in great disadvantage," he said. "Although we don't have a ministry, such as shelters or community centers, the Methodist Church of Mexico, Northwest Conference, has a very strong participation in border cities."
Back at the park as the streetlights come on, Rodriguez believes everyone can be saved and safe.
"God was so merciful to me, God changed everything."
Gilbert is a multimedia reporter for United Methodist News Service. Mike DuBose is a photographer for United Methodist News Service. Contact them at 615-742-5470 or [email protected]. To read more United Methodist news, subscribe to the free Daily or Weekly Digests.
---
Like what you're reading? Support the ministry of UM News! Your support ensures the latest denominational news, dynamic stories and informative articles will continue to connect our global community. Make a tax-deductible donation at ResourceUMC.org/GiveUMCom.