---
The young woman in a bright red T-shirt sits at the end of the long, white folding table and puts bits of tamales in the mouths of young children like she's feeding little birds.
Her soft murmurs and gentle smiles coax the giggling, jostling children into eating.
They are among the immigrants — many families with small children — who are finding shelter inside Movimiento Juventud 2000, a nonprofit shelter in Tijuana's Zona Norte.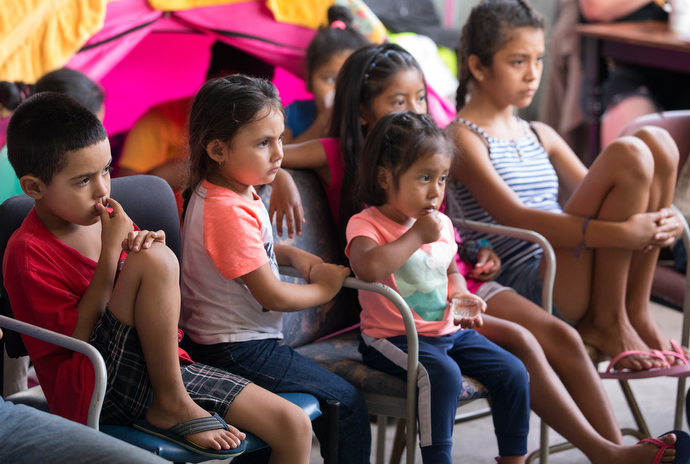 Inside the partly open-air warehouse are rows of colorful pup tents set up on the hard concrete floor. Some sleepy occupants start sticking their heads out through the nylon doors.
Several children and a few adults are sitting in straight-back chairs crowded around an old television set that is blaring cartoons.
One small boy roams up and down between the rows of tents throwing a rubber ball, hoping to entice someone to play with him.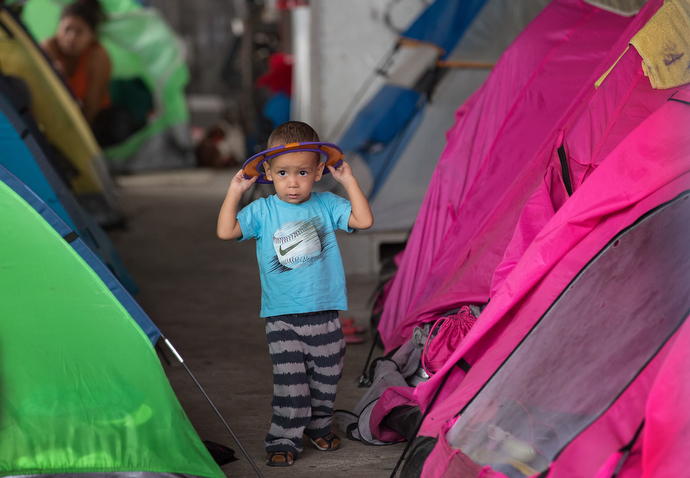 Across the wide, dirty street where the shelter is located, a large tree has "Jesus" painted on its twisted trunk. This neighborhood is known for drugs, prostitution and gritty bars, said the Rev. Joel Hortiales, a missionary with the United Methodist Board of Global Ministries. Hortiales is director of Hispanic/Latino ministry and border concerns in the California-Pacific Conference.
Inside the shelter are families looking for a better life than the one they left behind in countries like Guatemala, Honduras and El Salvador. Some of the families left better lives in the U.S. when they were deported back to Mexico, landing as strangers in this city.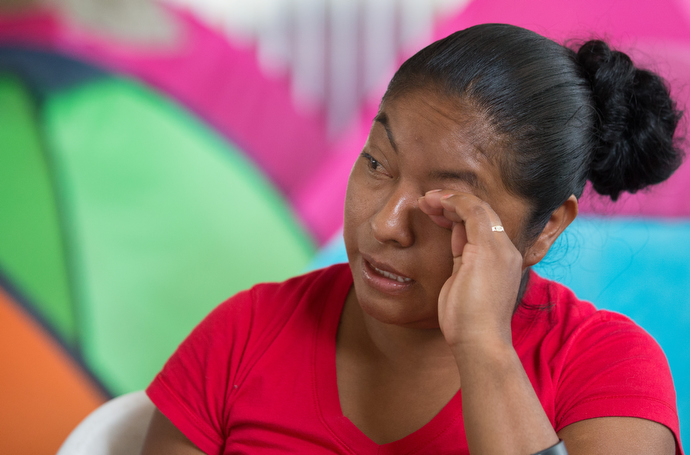 Hortiales sits next to Miriam Magdalena Verdugo Lopez at the table. Eventually, she begins telling him what happened to her and her three little girls, ages 10, 8 and 2. The woman speaks no English even though her children were all born in Florida. She got deported when she came back to Chiapas, Mexico, to attend to her mother who was sick.
She wipes away tears and tells Hortiales that her uncle was trying to rape her. He threatened to kill her if she didn't accept his advances. Her father drinks and is abusive, so she took her children with her when she was deported.
She wants to go back but has no one to sponsor her in Florida. She worked in the fields there and said she was earning enough money to feed her children. Hortiales takes her name and gives her the phone number of someone who might help. He prays with her.
Watching the exchange is Marco Antonio Aguila Rodriguez, who is transgender.
Rodriguez shudders, recalling the trip on board the "beast," an informal network of freight trains that immigrants use to traverse Mexico on the way to the U.S.
"I was hanging on for my life. No restrooms, no food. LGBTQ people are in double jeopardy," Rodriguez said.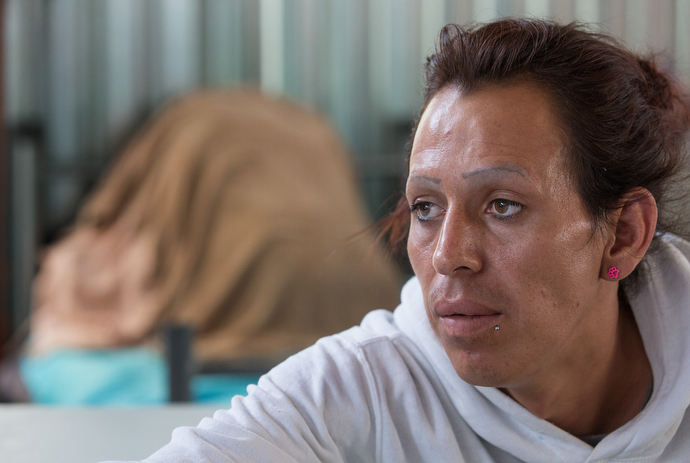 Rodriguez was co-owner of a hair salon with a partner. One day, men came into the salon and asked his partner for protection money. When he refused, they killed him.
"I ran for my life. I work hard for life, I need some help. I am certified as a stylist, want to get a job in the U.S. When I hear a train whistle I get a panic attack." Rodriquez has been in the shelter for four days.
Hortiales prays and also promises to seek help.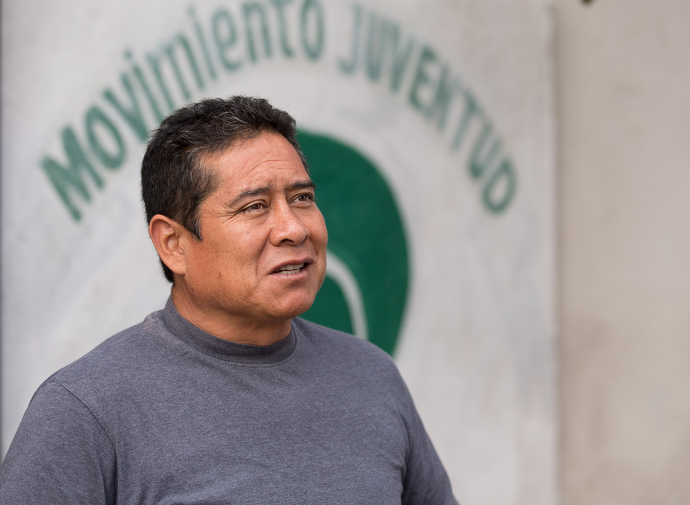 Read more, see photos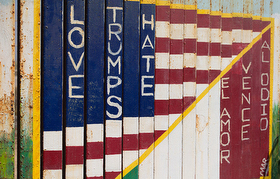 A message of love in two languages decorates the border fence that separates the U.S. from Mexico at El Faro Park in Tijuana,
View more photos from our trip to the U.S.-Mexico border on our Flickr page
Read the first story in the series: Faith communities provide respite, care for immigrants
Read the second story: Paths collide for immigrants, border agents
Read related story: Native Americans pray at child detention center
Jose Maria Garcia Lara, director of the shelter, said there are so many stories. "Lots of women and children are affected by violence," he said.
Lara said he appreciates the help they receive from churches such as Iglesia Metodista Nuevo Pacto in Playas de Tijuana.
Hortiales said the church had a special dinner last December for the shelter. The youth choir came and sang.
"The youth feel connected with this shelter, they are learning about service," he said. The majority of the congregation are upper middle class and he said it was eye-opening for them to come and see children who have nothing.
People are allowed to stay in the shelter for up to 15 days, but Lara said he works with people on a case-by-case basis.
Most of the people in the shelter have slips of paper with a number on it. The numbers are handed out at the border and give them a place in the line to plead their cases.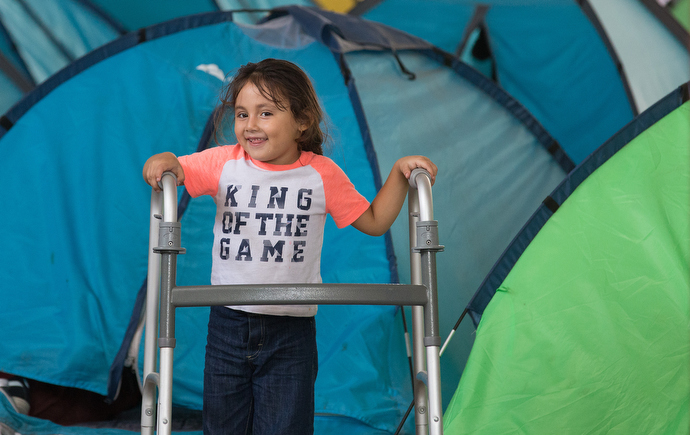 Lopez has number 596. Rodriguez has number 655. On this day, Lopez said they are on number 559.
Lara said people go every day to the border, hoping for asylum.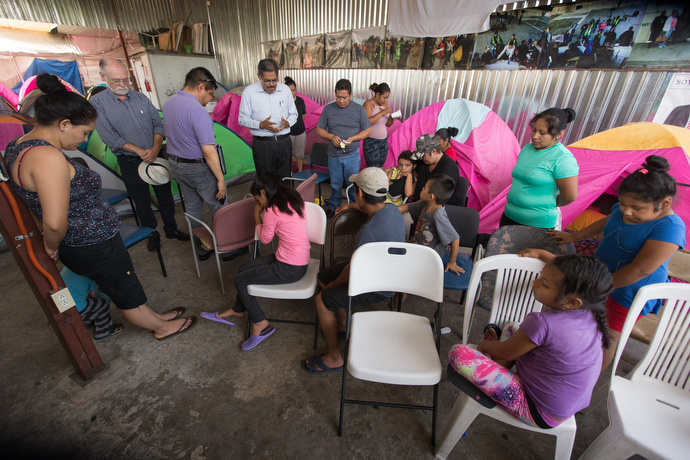 Gilbert is a multimedia reporter for United Methodist News Service. Mike DuBose is a photographer for United Methodist News Service. Contact them at 615-742-5470 or [email protected]. To read more United Methodist news, subscribe to the free Daily or Weekly Digests.
---
Like what you're reading? Support the ministry of UM News! Your support ensures the latest denominational news, dynamic stories and informative articles will continue to connect our global community. Make a tax-deductible donation at ResourceUMC.org/GiveUMCom.