A pandemic of biblical proportions was the top story of The United Methodist Church in 2020.
Voters selected the church's response to the coronavirus as the top story over the role of LGBTQ people in the church, which topped voting in 2018 and 2019 and has brought the denomination to the brink of schism.
The LGBTQ issue fell to third place, behind the church's response to the deaths of Black Americans at the hands of police and the ensuing protests.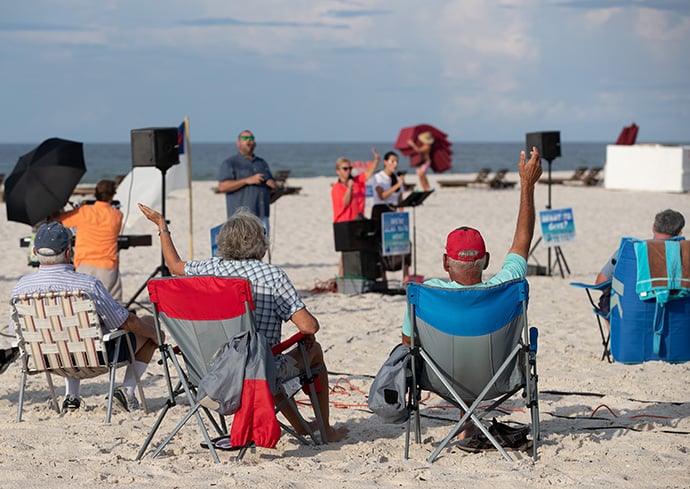 More than 350,000 Americans have died because of the coronavirus, and more than 20 million in the U.S. have been infected, according to the Centers for Disease Control and Prevention. Most churches halted in-person services in favor of online worship. Some congregations met outdoors until cold weather made it too uncomfortable.
Like United Methodists all over the world, members of Hamilton Park United Methodist Church in Dallas are going through a long-term grieving process because of COVID-19, said the Rev. Sheron C. Patterson, senior pastor.
"Grieving being in a prison of our homes, grieving isolation, grieving that COVID has taken away from us the basics of community and fellowship and being in church together," said Patterson in a Nov. 30 UM News story.
Thirty-seven voters from the UM News staff and communicators in the U.S., Africa, Europe and the Philippines selected the top stories. Five points were awarded to their first-place selection, with four points going to the No. 2 story, three to the third choice and so on.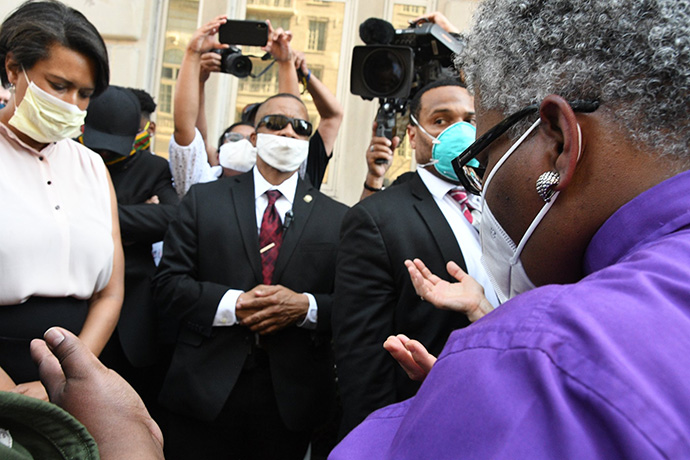 COVID-19 got 24 first-place votes and 153 points. Issues around racism didn't get any first-place votes, but took second place with 95 points. A proposal to end the denomination's decades-long dispute around LGBTQ inclusion, the Protocol of Reconciliation and Grace Through Separation, got three first-place votes and 66 points. The mediated agreement by a diverse group of bishops and advocacy group leaders would preserve The United Methodist Church while allowing traditionalist-minded congregations or progressive churches to leave and form other denominations.
Rounding out the top five were the postponement of the 2020 General Conference to 2021 in fourth place, and the financial toll the coronavirus and LGBTQ issues have taken on the church.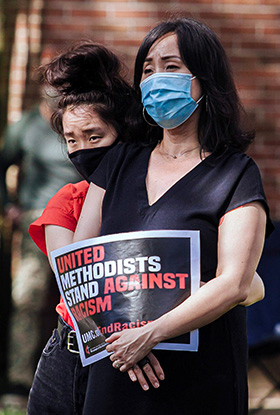 A woman holds a sign saying, "United Methodists stand against racism," during a Black Lives Matter rally in Willingboro, N.J., on Sunday, June 7, at St. Paul United Methodist Church. File photo by Aaron Wilson Watson.
The protocol, if approved at the next General Conference, would provide $25 million over four years to a traditionalist-minded denomination formed by churches that depart The United Methodist Church. Another $2 million would be provided for any other denominations formed by churches departing under the protocol.
The endorsement of progressive, centrist and traditionalist groups gave the plan momentum, but then came postponement of the 2020 General Conference. Late in 2020, African bishops called for renegotiating the protocol.
The killing of Black Americans including George Floyd and Breonna Taylor by police and the ensuing nationwide and sometimes violent protests led to a churchwide anti-racism campaign. The Dismantling Racism campaign included panel discussions, new resources and multiple actions by individuals and churches who supported Black Lives Matter protests or began efforts in their own congregations and communities to address racism.
"There is a crucial question for the church in this current era of racial crisis and tribulations that frankly brings dehumanizing injury, harm and death to all people of color — Black, Hispanic, Native American and Asian," wrote Anne E. Streaty Wimberly, a United Methodist educator, in a Nov. 4 commentary for UM News. "Does the church as a whole really see, hear and care?"
Anti-racism efforts also included Iliff School of Theology's efforts to deal with the history of a Christianity book that was once bound in a cover made of a Native American's skin, and Filipino efforts to aid Lumads, the largest group of indigenous people in the Philippines.
The fourth-place story, with 59 points and no first-place votes, was the forced postponement of the 2020 General Conference in Minneapolis to Aug. 29-Sept. 7, 2021, because of the coronavirus. Not only was it dangerous because the virus might spread there, but travel restrictions would have made it difficult or impossible for many overseas delegates to attend.
"The health and safety of participants, as well as their families and communities, is a primary concern. This includes our concern for the Minneapolis area," General Conference organizers said in a joint email to UM News.
"We also want to do all that is within our power to ensure that all delegates are fully able to participate in the many important decisions we are currently facing as a church."
There has also been speculation about doing the General Conference virtually, which would be a titanic technological challenge because of the worldwide scope of the church.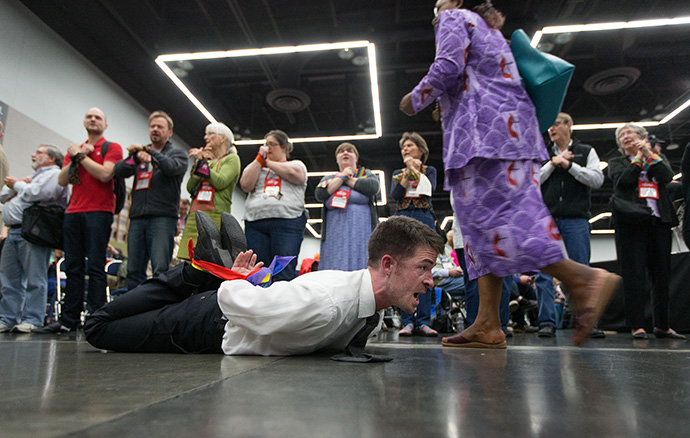 The continuing financial strain on The United Methodist Church due to the lack of in-person worship services and dissatisfaction with the handling of LGBTQ issues by both conservatives and liberals was the No. 5 story of the year, with two first-place votes and 47 points.
Hundreds of United Methodist ministries — including churches, conferences and agencies — found a financial lifeline from the U.S. Paycheck Protection Program, which provided federally guaranteed and potentially forgivable loans to religious organizations. But that revenue did not eliminate financial challenges as ministry needs continued to grow. Most ministries reported they are managing, but it's tough.
"It's not rosy. It's not, 'Everything is great,'" said the Rev. Nate Berneking in an Oct. 12 UM News story. Berneking is the Missouri Conference director of financial and administrative ministries as well as president of the denomination's National Association of Annual Conference Treasurers in the U.S.
"In some conferences, giving is only down 1 or 2%. Some conferences are down a lot more than that."
Other stories receiving multiple votes included: United Methodist response to disasters, food insecurity and the death of Bishop John Yambasu, as well as churches deciding to go ahead and leave the denomination.
Patterson is a UM News reporter in Nashville, Tennessee. Contact him at 615-742-5470 or [email protected] To read more United Methodist news, subscribe to the free Daily or Weekly Digests.
---
Like what you're reading? Support the ministry of UM News! Your support ensures the latest denominational news, dynamic stories and informative articles will continue to connect our global community. Make a tax-deductible donation at ResourceUMC.org/GiveUMCom.