---
Key Points:
The United Methodist Council of Bishops is planning orientation for new bishops elected in jurisdictional and central conferences this fall.
The new bishops will be coming aboard as the denomination deals with increasing church departures and the fallout of the COVID-19 pandemic.
Elections for new bishops in Europe, the Philippines and the U.S. are being planned for November with new episcopal leaders taking office in January next year.
---
United Methodist bishops concluded their online summer meeting with preparations to welcome new episcopal colleagues in tumultuous times.
New bishops elected this fall will be taking leadership as the denomination deals with the fallout of the COVID-19 pandemic and undergoes a fracturing unseen in any current United Methodist's lifetime.
Even amid these challenges, the present bishops also used their meeting's final day to celebrate the ways United Methodists are overcoming internal strife to follow Christ's example.
The bishops heard how the United Methodist Committee on Relief, the denomination's disaster-response arm, has now received more than $27 million to help people affected by Russia's invasion of Ukraine.
They also learned more about the #BeUMC campaign, which highlights why many people continue to live out their faith as United Methodists.
Council of Bishops President Thomas J. Bickerton had a message for all those who remain with The United Methodist Church: "We are in this together."
"It could be easily tagged as a shallow phrase," he acknowledged. "But in reality, it's a phrase that is at the heart of my soul and is the foundational source of my belief in the blessed connection of our United Methodist Church."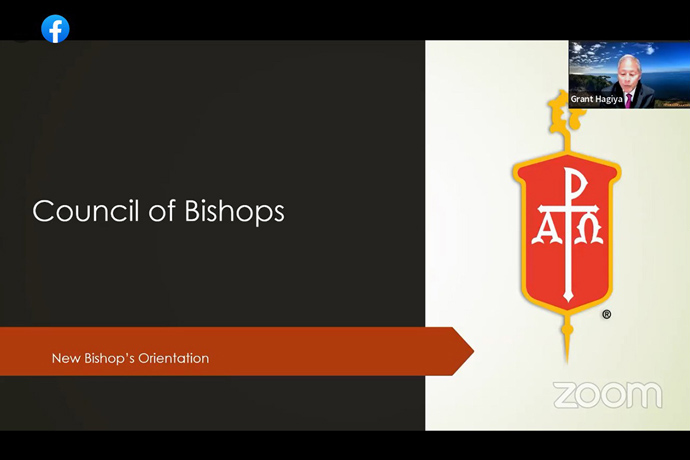 The Council of Bishops originally scheduled the Aug. 22-26 meeting to coincide with General Conference, which was at that point set for late summer this year.
However, COVID-related complications have since delayed the denomination's international legislative assembly to 2024, to allow delegates from four continents to get the necessary visas to meet in person.
The much-delayed General Conference faces multiple proposals for some kind of denominational division after decades of intensifying debate about same-sex marriage and gay ordination.
But after the assembly's third postponement, organizers of the Global Methodist Church decided the theologically conservative denomination would begin operations in May — but with no separation plan in place.
That has left bishops grappling with mounting church disaffiliations and also had them seeking clarity on whether to schedule new bishop elections, which typically occur every four years after each General Conference. Since COVID first forced General Conference's postponement in 2020, 16 active bishops — mostly in the U.S. — have taken on expanded assignments to cover for retiring or ailing colleagues.
Update on bishops' assignments
The Council of Bishops announced plans for continuing episcopal leadership in some parts of the connection where new bishops will not take office for some time.
Episcopal leaders in Africa announced that no new bishops would be elected on the continent until after General Conference, now scheduled in 2024.
Retired Bishop Warner Brown, a former Council of Bishops president, will continue as interim bishop of Sierra Leone until 2024 when new elections will take place. Brown has led the Sierra Leone Conference since the late Bishop John K. Yambasu was killed in a car accident in 2020.
The Council of Bishops also approved that retired Bishop Deborah Kiesey will continue to lead the Dakotas Conference until the end of this year.
Kiesey has been leading both the Iowa and Dakotas conferences while Bishop Laurie Haller has been on medical leave. Haller plans to return to active ministry Oct. 1 and lead the Iowa Conference. However, she announced Aug. 29 that she plans to retire at the end of the year.
Read Council of Bishops press release.
The Judicial Council — the denomination's high court — ruled this spring that with bishops stretched so thin, new elections need to be held to ensure the continuation of the episcopacy.
Jurisdictional conferences hold bishop elections in the U.S., and central conferences hold them in Africa, Europe and the Philippines. But no matter where elections take place, half of the voters are lay and half are clergy. Bishops preside at the conferences and do not get a vote.
Since they only involve people in one geographical region, jurisdictional and central conferences face fewer logistical hurdles to meeting than the globe-spanning General Conference.
The five U.S. jurisdictional conferences plan to elect bishops Nov. 2-5 this year. The Central Conference of Central and Southern Europe plans to meet Nov. 16-20. The Philippines Central Conference has scheduled its gathering for Nov. 24-26. Newly elected bishops will take office Jan. 1, 2023.
It remains an open question how many new bishops the delegates will elect.
The most recent denominational budget, approved by the 2016 General Conference, allotted funding for a total of 46 bishops in the U.S. and 20 in central conferences.
Outside the jurisdictions, the Philippines has plans for electing three bishops and the Central and Southern Europe only one.
However, amid denominational uncertainty and years of trying to shore up funding for bishops, at least some U.S. jurisdictions are considering electing fewer than the maximum allowed.
The South Central Jurisdiction has plans to elect three new bishops, rather than a potential four.
The Southeastern Jurisdiction is also considering electing three new bishops instead of the five allowed, said North Georgia Conference Bishop Sue Haupert-Johnson.
The Western Jurisdiction too has plans to elect three new bishops, said Mountain Sky Conference Bishop Karen Oliveto.
The North Central Jurisdiction recommends maintaining its number of nine bishops, which would mean electing three bishops.
The Northeastern Jurisdiction has not yet reported how many bishops it recommends electing.
Ultimately, each jurisdiction's delegates will determine for themselves how many elections to hold.
Looking ahead to 2024, Haupert-Johnson said the Southeastern Jurisdiction is contemplating a major restructuring of the jurisdictional system.
"We'd like to lead the whole church in the possible discontinuation of the jurisdictions," she said.
Subscribe to our
e-newsletter
Like what you're reading and want to see more? Sign up for our free daily and weekly digests of important news and events in the life of The United Methodist Church.
Jurisdictions formed in 1939 as part of the merger that created what was then the Methodist Church. The system was intended to enforce segregation in the denomination and to prevent northern Methodists from voting on Southern bishops and vice versa.
The situation has changed considerably since then. Today, Haupert-Johnson said, some annual conferences might be more compatible working together across jurisdictional lines.
"And we also wanted to end one of the final, visible vestiges of racism in our denomination," she added.
Changing the denomination's jurisdictional system requires amending the denomination's constitution — a high bar.
For now, the bishops are focusing on nearer-term possibilities.
The Council of Bishops plans to have orientation for the new bishops in mid-January in Dallas.
Bishop Grant Hagiya, who leads the California-Pacific and Desert Southwest conferences, said orientation would include discussions of the denomination's global nature, an overview of legal matters facing the denomination and guidance for running annual conference meetings. New bishops also will receive training on combatting sexism and racism.
Hagiya emphasized that the orientation sessions would include worship and prayer.
Bickerton, the Council of Bishops president, told UM News that episcopal candidates should understand what they will be facing if they are elected.
"These are unusual times that demand excellent leaders who will not only have to quickly understand the complexity of the current context but also help lead the church into its next expression," said Bickerton, who leads the New York Conference.
Even with all the denomination's challenges, multiple episcopal candidates already have thrown their hats into the ring.
Bickerton said that it's important for anyone considering the role to remember they aren't just called to serve the people who elected them or even the annual conferences they lead.
"We are called to be bishops of the whole church who enter into a collaborative model of ministry with bishops from all over the globe," he said.
"Finally, anyone considered for the office should clearly ask themselves, 'How is it with my soul and how might I stay spiritually centered and healthy as I potentially enter this critical role of leadership?'"
Hahn is assistant news editor for UM News. Contact her at (615) 742-5470 or [email protected]. To read more United Methodist news, subscribe to the free Daily or Friday Digests.
---
Like what you're reading? Support the ministry of UM News! Your support ensures the latest denominational news, dynamic stories and informative articles will continue to connect our global community. Make a tax-deductible donation at ResourceUMC.org/GiveUMCom.