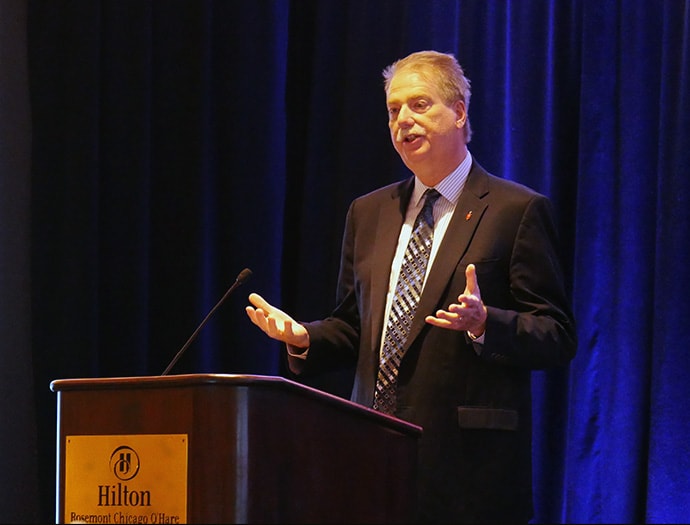 Amid growing questions about The United Methodist Church's future, Bishop Kenneth H. Carter challenged his episcopal colleagues to ask: How can we do the work of Jesus in the way of Jesus?
The answer, he preached, is for church leaders to welcome unconditionally, walk together and worship constantly.
"Friends, we embark on the adventure of a Council of Bishops meeting in the midst of a turbulent and chaotic moment," Carter said
in his opening sermon
to the group he leads as president.
"We need to leave this place different than when we arrived. Something needs to happen."
More than 120 active and retired bishops are meeting this week at the Hilton Rosemont for their first public gathering since
the 2019 special General Conference
saw a majority of delegates reject the plan recommended by a majority of bishops.
Following
a request from the 2016 General Conference
, the bishops had called
the special meeting
of the denomination's top policymaking body to address the decades-long dispute over the role of LGBTQ individuals in the church.
Last year at the same hotel, a majority of bishops
recommended the One Church Plan
that would have left questions of ordination up to conferences and questions of marriage up to churches and individual clergy.
Instead, by a vote of 438-384, delegates adopted the Traditional Plan that strengthens enforcement of bans on "self-avowed practicing" gay clergy and same-sex weddings. Delegates, by a vote of 420-390, also approved disaffiliation legislation that would allow churches under certain conditions to leave with property.
The result is that the denomination has new tools of enforcement and an escape hatch. But it does not have consensus.
Since the February votes, United Methodists across the multinational denomination — including some bishops — have been in closed-door conversations about
possibly splitting the church
. Additional conversations are scheduled later this month.
Carter, who also leads the Florida Conference, told United Methodist News Service that the bishops need to "accompany those conversations, not control them."
During the week, he said, the bishops will have their own discussions about what plans for the church's future are currently emerging. He added that the bishops will also talk about "how The United Methodist Church will need to rebrand itself in some places given the negative publicity and how we can also support bishops in very traditional settings."
Much of the bishops' discussions will not be open to the public.
But the differing views within the denomination were apparent at the dinner that followed the opening service.
Bishop Sally Dyck leads the Northern Illinois Conference that is hosting the bishops' meeting. In greeting her colleagues, Dyck made a point of explaining the conference's history of inclusion.
She said the conference, which celebrates its 180th anniversary this year, ordained two Native Americans shortly after its founding — only years after
white settlers fought Chief Black Hawk's forces
over the land that became Chicago.
The conference, she said, also elected
Frances Willard
as a General Conference delegate when electing a woman violated church policy. The conference would go on to become one of the denomination's first to desegregate and welcome Southern pastors who sought racial justice.
More recently, in 1986, the conference voted to join with the unofficial advocacy group Reconciling Ministries Network to seek LGBTQ equality.
"This annual conference has advocated for the full inclusion of all people in our society as well as the church," Dyck said. "Now this annual conference is struggling to figure out how to live in The United Methodist Church under the Traditional Plan."
Nevertheless, she said, she hoped the bishops had experienced the conference's hospitality. They applauded in assent.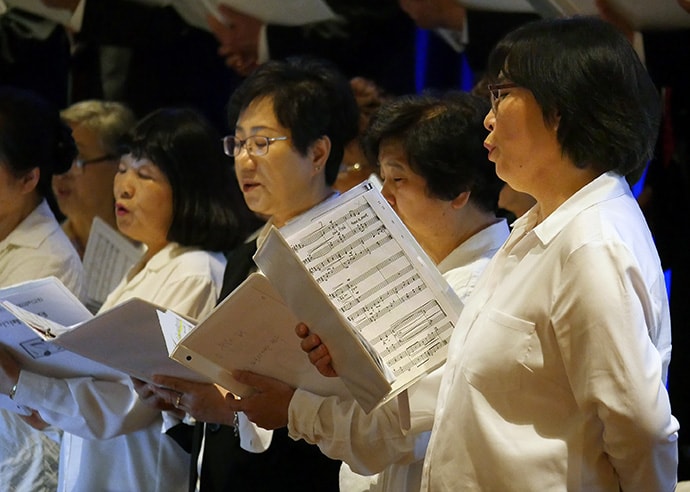 Carter preached to the bishops from
John 21:1-19
, when the risen Christ himself offers hospitality — cooking disciples a fish-fry breakfast and welcoming Peter back into the fold after Peter's three previous denials that he knew Jesus.
The passage also notes the disciples brought ashore a net full of fish, yet the net hadn't torn. Carter interrupted the Scripture reading to point out that the Greek word used for torn is schism.
"Most scholars do believe the spiritual meaning of that phrase is that the church remained united," Carter said.
In his sermon, he stressed that connection, not the tears of schism, "is the heart of Methodism."
"When (John) Wesley says that there is no holiness but social holiness, he is saying there is no way to fulfill the great commandment apart from connection," Carter said. "We cannot be disciples apart from connection."
Bishop Bob Farr, whose Missouri Conference holds a variety of perspectives on the Traditional Plan, took Carter's mention of schism to heart.
"I think we have to define what being together means," he said.
He said he doesn't think The United Methodist Church can stay together in its current form.
"But will we find a way to be together as a people called Methodist? I think so," he said.
Bishop Daniel Wandabula, who leads multiple conferences in East Africa, said he was struck by Carter's mention of welcome.
"We need to welcome all people to a global church in a world that is a global village," he said. "We should walk together, though we have different cultures."
Carter concluded his sermon by urging bishops to still speak to the church whose connection is strained.
"We need to say something to the church, and it doesn't need to be a word from us," he said. "It needs to be a word from the Lord."
Hahn is a multimedia news reporter for United Methodist News Service. Contact her at (615) 742-5470 or

[email protected]

. To read more United Methodist news, subscribe to the free Daily or Weekly Digests.
---
Like what you're reading? United Methodist Communications is celebrating 80 years of ministry! Your support ensures the latest denominational news, dynamic stories and informative articles will continue to connect our global community. Make a tax-deductible donation at ResourceUMC.org/GiveUMCom.