---
Key points:
This year, people called Methodist on both sides of the Atlantic are celebrating the 250th anniversary of Francis Asbury's crossing from England to America.
The future bishop shaped what is now The United Methodist Church in ways church members can still see today.
His documents continue to be unearthed, and they shed light on an extraordinary ministry.
---
With car keys in hand, the Rev. Bonnie McCubbin was about to leave her archiving work for the day — when a box in a stack of old church records caught her eye.
"I saw a label on one that said 'Bishop Asbury,' and I thought, 'That's not a closed church.'"
The United Methodist historian put away her keys, opened the box and began carefully removing the papers from inside.
What she uncovered on Sept. 29 was lost treasure — documents that shed light on a pioneering bishop who played a key role in shaping what is now The United Methodist Church.
The find also comes at an auspicious time. This fall, both The Methodist Church of Britain and The United Methodist Church are celebrating the 250th anniversary of Asbury's crossing of the Atlantic from England to America.
Near the top of the box was an official copy of Asbury's last will and testament from 1813. He bequeathed most of what little money he had to the Book Concern, the predecessor of today's United Methodist Publishing House.
The contents also included a letter dated 1800 from Asbury's mother, Eliza — one of the few missives in her own hand that still survives. She wrote from England to a son whom she would not see again in this life.
Alongside these papers were ordination certificates signed by the bishop himself.
McCubbin, the Baltimore-Washington Conference's director of museums and pilgrimage as well as pastor of Old Otterbein United Methodist Church, is no stranger to long-overlooked records. She has spent the past few months cataloging the papers and artifacts stored at the Lovely Lane Museum and Archives housed at Lovely Lane United Methodist Church in Baltimore.
But on that September afternoon in the museum, she knew she had unpacked something truly momentous.
Based on the notes left in the box by a former conference historian, McCubbin estimates that no one had looked at these Asbury papers in nearly 60 years — and they had never been on public display. She hopes to change that.
So does Ashley Boggan Dreff, top executive of the United Methodist Commission on Archives and History in Madison, New Jersey. After reading McCubbin's Facebook post about the find, Dreff said she was tempted to hop in a car and drive three and a half hours to see the documents in person.
"This rediscovery stresses that our narrative is never quite complete," Dreff said. "Even our founding bishops' stories, like Francis Asbury's, are still being written."
What no one disputes is that Asbury left a legacy far bigger than any dollar amount bequeathed in his will.
He helped shape not only the religious landscape of his adopted country but also the way United Methodists do church to this day. It's no wonder that some 203 United Methodist churches in the U.S. bear his name.
"The Methodist Episcopal Church may have been born from the minds of John and Charles Wesley and Holy Club at Oxford, but it was Asbury who ultimately implemented it and was the driving force behind its success," McCubbin said.
Today's United Methodist Church is an international denomination with about 12.5 million members across four continents. It all started with Asbury accepting the call to go far from home.
Crossing an ocean
Celebrating the crossing
A portrait of Francis Asbury painted by American painter John Paradise (1783-1833) is part of the National Portrait Gallery of the Smithsonian Institution in Washington, D.C. Image courtesy of Wikimedia Commons.
Asbury grew up a laborer's son in Great Barr, England — part of Britain's rapidly industrializing West Midlands, where soot hung heavy in the air and his life hung in the balance.
At age 12, Asbury quit school, and the following year, he apprenticed with a local metalworker. But he also grew in faith.
The Methodist movement initially faced a rocky reception — attracting both mob violence and eager converts. Among those early Methodists was Asbury's mother, who encouraged her son to start attending local Methodist meetings. By age 21, he was a lay preacher himself assigned to travel a circuit — a group of churches.
In August 1771, he broadened his horizons still further — volunteering when John Wesley asked for preachers willing to go to America. Asbury set sail for Philadelphia just a few weeks later on Sept. 4.
During the voyage, he reflected in his journal that he was not setting off for the New World in search of honor or money. "I am going to live to God, and to bring others so to do," he wrote.
He was 26 at the time. He would never return to the land of his birth.
Written nearly 30 years after that ocean crossing, his mother's letter to her well-traveled son is poignant. Eliza writes with pride in her son's ministry and gratitude for his financial help. However, she also indicates she misses him. She notes her own failing health and lists the deaths of loved ones.
"Should you see your native Land before I am removed," she writes, "you may well think I should Rejoyce to embrace you."
Her words help humanize Asbury, said McCubbin, who transcribed the letter for UM News.
"I have two young sons, and I can only imagine what Eliza Asbury was thinking when her young son set out for another country to bring the Gospel message to a people so desperate for Christ," McCubbin said.
Whenever United Methodist pastors and missionaries go where they are called, they are following Asbury's example.
Growing a movement
Methodists already had a foothold in the American colonies before Asbury's arrival on Oct. 27, 1771, but they were mainly concentrated in Philadelphia and New York with a small but growing presence in the South.
Asbury took on the tasks of connecting these disparate groups and reinstituting Wesleyan disciplines such as the Methodist class meetings that had fallen by the wayside in the New World.
He also expanded the Methodist movement far beyond America's urban centers. Asbury understood that America had developed its own culture, and he knew how to connect the Gospel to its people.
Asbury's travels
Map image by the Florida Center for Instructional Technology at the University of South Florida; graphic by Laurens Glass, UM News.
Bishop Francis Asbury played a key role in organizing Methodism in the U.S. What you may not know is that he logged 130,000 miles on horseback to do so.
Learn more about his travels, including excerpts from his diary, and follow along on the map on a typical episcopal journey, traveling from New York to Georgia and back in 1791-92.
All of this work took a lot of travel on horseback. Asbury rarely stayed in one place for very long, living as a houseguest in other Methodists' homes. By the time of his death in 1816, Asbury had ridden over 130,000 miles and crossed the Allegheny Mountains some 60 times.
The continued United Methodist presence in many rural communities around the globe begins with Asbury's commitment.
Birthing a new denomination
With Asbury's organizational skills, American Methodism grew rapidly in the 1780s. John Wesley concluded that what started out as a reformist movement within the Church of England would need to set its own path in the newly independent United States.
After all, it's hard to the stay in the Anglican fold when most Anglican clergy have fled to England — taking their authority to administer the sacraments with them.
By 1784, Wesley determined he must act himself to provide sacramental ministry among American Methodists — ordaining two Methodist lay preachers as elders and Thomas Coke (already a Church of England priest) as superintendent. The three then set sail for the U.S.
Coke had instructions to ordain Asbury as joint superintendent of American Methodism. The two men famously met on Nov. 4, 1784, when Coke preached at Barratt's Chapel, a gathering space near Frederica, Delaware, built on land Philip Barratt had donated to the Methodist Society.
That night at the home of Phillip Barratt's widow, Miriam Sipple Barratt, Coke and Asbury planned the "Christmas Conference" in Baltimore, where the Methodist Episcopal Church had its formal start.
Asbury disagreed with Wesley's instructions in one crucial way. He wanted preachers to vote on the plan to form an independent church as well as his and Coke's appointment to superintendent. That's exactly what happened when 81 people gathered that December at the Lovely Lane meetinghouse.
Beginning on Christmas Day, Asbury was ordained a deacon, an elder and then a general superintendent on three consecutive days.
Coke, in a sermon, told those gathered that he had come to ordain Asbury "bishop." The label stuck. The word "Episcopal" in Methodist Episcopal Church made clear the church had governance by bishops. But in Methodism, bishops needed to be elected by a majority — a tradition that continues to this day.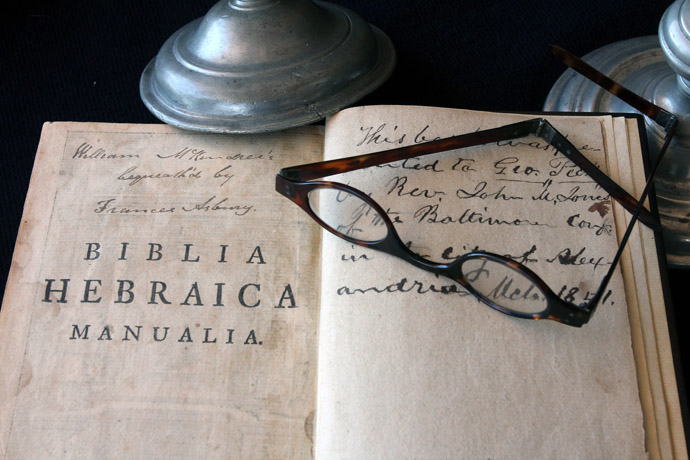 Coke did not stay in the United States for long. Asbury continued his organizing work — now building a new denomination.
"It was Asbury who was able through the organization of the Methodist Episcopal Church to assert some control and direction to the movement to make sure it was adapted to America but also maintained large parts of Wesley's vision of Methodism," said the Rev. Philip Lawton, Peninsula-Delaware Conference historian and a volunteer at Barratt's Chapel for 30 years.
Asbury became so well known that a person need only write on a letter "Bishop Francis Asbury, United States" for that letter to find him.
Compromising with slavery
Want to know more?
Detail from the ordination of Bishop Francis Asbury. Engraving by A. Gilchrist Campbell from a painting by Thomas Coke Ruckle, 1882. Courtesy of the Drew University Methodist Collection (Madison, N.J.) via Wikimedia Commons.
Information and resources on Bishop Francis Asbury (1745-1816) are available from the United Methodist Commission on Archives and History and United Methodist Communications.
Like Wesley, Asbury opposed slavery.
He also worked closely with two African American leaders who helped shape Methodism — Harry Hosier and Richard Allen.
Hosier had a reputation as one of the best preachers in the movement, often drawing the biggest crowds. Allen was an influential leader in Philadelphia and played a key role in fighting a devastating yellow-fever epidemic in the city.
But even as the Methodists preached an anti-slavery message, they also made accommodations for racism. Both Hosier and Allen were at the Christmas Conference, but neither had a vote.
In the South, Methodism's abolitionist message faced increasing hostility. Matters came to a head in 1801 when a mob in Charleston, South Carolina, attacked two white Methodist preachers, killing one of them, because of that message.
Asbury faced a choice between continuing the strong stance against slavery or growth in the South, said historian George Melton in the Archives and History's podcast "Un-Tied Methodism."
He chose growth, deciding that the church officially would remain anti-slavery but the church would not press the issue in the slaveholding states.
"Asbury was a remarkable Methodist, and few persons could have embodied ministry the way he did," said Dreff, the podcast's host. "But he made drastic mistakes, particularly when it came to race, that have long-lasting ramifications for where United Methodism is today."
Leaving a legacy
Ultimately, Asbury was a tough act to follow. He never married and chose voluntary poverty — never owning much more than what he could carry in his saddlebags and giving most of his funds away.
His tireless ministry bore fruit. When he arrived 250 years ago, there were about 600 Methodists in America. When he died 45 years later, there were more than 200,000 (about 1 of every 36 Americans).
Bishop LaTrelle Easterling leads both the Baltimore-Washington and Peninsula-Delaware conferences that are home to multiple landmarks in Asbury's ministry.
"I am inspired by Bishop Asbury because of his humility, his commitment to go wherever he felt God was sending him, and his perseverance in the face of adversity," she said.
McCubbin, the historian who rediscovered his will and other papers, described his legacy as larger than life.
"Our rules, our structure, our Discipline, our model for Holy Conferencing, our passion for justice and piety, our itinerant structure wouldn't be what they are today without Bishop Asbury."
Hahn is assistant news editor for UM News. Contact her at (615) 742-5470 or
[email protected]
.
To read more United Methodist news,
subscribe to the free Daily or Friday Digests
.
---
Like what you're reading? Support the ministry of UM News! Your support ensures the latest denominational news, dynamic stories and informative articles will continue to connect our global community. Make a tax-deductible donation at ResourceUMC.org/GiveUMCom.