Editor's note: This is the second story in a three-part series about food security.
United Methodist congregations in Africa are rallying together to offer support to church members and communities facing the double whammy of hunger and the COVID-19 pandemic, which has led to sweeping lockdowns across the continent.
David Beasley, executive director of the United Nations' World Food Program, told the United Nations Security Council on April 21 that, while the world is dealing with the global pandemic, it also is on the brink of a hunger pandemic.
He said famine is a very real and dangerous possibility for millions of people living in conflict-scarred nations, including many women and children.
According to the 2020 World Food Program Global Report on Food Crises, 135 million people around the world face crisis levels of hunger or worse, and due to the coronavirus, an additional 130 million "could be pushed to the brink of starvation by the end of 2020," he said.
"If we can't reach these people with the life-saving assistance they need, our analysis shows that 300,000 people could starve to death every single day over a three-month period. This does not even include the increase of starvation due to COVID."
The United Methodist Church in Africa is continuing to reach out to those facing food insecurity. In Congo, that includes pastors.
With no church gatherings during the confinement, pastors are facing starvation, said Jean Tshomba, disaster management coordinator in East Congo.
"People are much more afraid of starvation than the coronavirus," he said.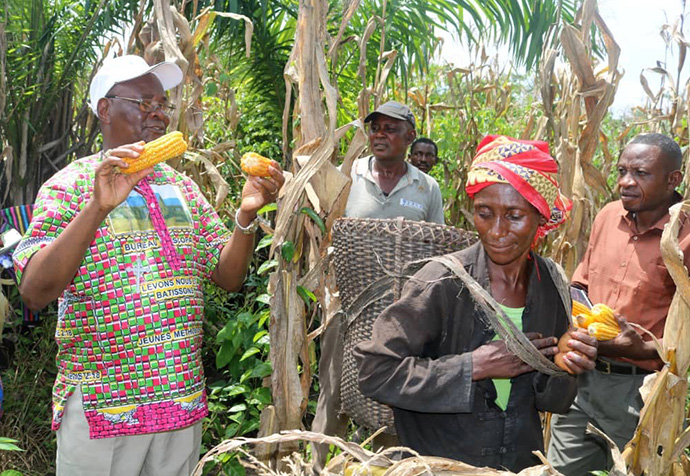 According to the Africa Centers for Disease Control and Prevention, there have been more than 88,000 confirmed cases of COVID-19 on the continent and more than 2,800 deaths.
Tshomba said pastors are supported by worship services and other church activities.
"Our churches have been closed for more than a month because of the coronavirus pandemic and pastors have been going through very difficult times," he said.
Congo was one of the 10 countries that faced the worst food crises in 2019, according to the World Food Program report.
United Methodist Men in the East Congo Episcopal Area has turned to agriculture to help feed pastors, especially those in urban churches.
Mwinyi Taluhumbu, president of the group, said more than 15,000 pounds of corn flour from the fields cultivated by the men were distributed to United Methodists.
"At the end of 2019, we cultivated a two-hectare cornfield … We were planning to sell the corn flour to finance other activities of the organization but decided to assist pastors during this period of confinement," he said.
Caring for malnourished children in Congo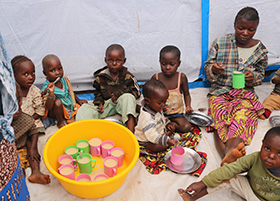 Children eat porridge at United Methodist Irambo Health Center in Bukavu, Congo, during the COVID-19 pandemic. Photo by Philippe Kituka Lolonga, UM News.
Despite the coronavirus and subsequent lockdowns, United Methodists in Congo continue to provide care for malnourished children.

According to the National Nutrition Program, 6 million Congolese children under the age of 5 suffer from chronic malnutrition each year.

Dr. Marie Claire Manafundu, supervisor of the Maternal and Child Health Program in East Congo, said more than 1,000 children are being treated at United Methodist hospitals in Bukavu, Kisangani, Kindu and Bouillis.

The United Methodist Board of Global Ministries' Global Health unit recently issued a $100,000 grant to help care for these children, said Dr. Damas Lushima, general health coordinator for the East Congo Episcopal Area. In addition to food, Manafundu said, the grant will help provide the medicines needed to treat malnourished children.

Dr. Djimmy Kasongo, director of United Methodist IIrambo Health Center in Bukavu, said they are seeing an increase in families seeking food at the hospital.

"With COVID-19, the situation is not good in the sense that the parents who work for the survival of their malnourished children are forced to stay at home following the confinement decreed by the Congolese government. That is why we have several malnourished children who come to (the health center) for food," he said.

He said the hospital is encouraging proper handwashing and doing its best to practice social distancing to keep everyone safe.

Jeannette Liliane said her child has been receiving regular treatment since February and is doing well, but she worries the coronavirus will set back progress.

"If this situation of COVID-19 continues, all the efforts made by The United Methodist Church on the care of malnourished children would risk returning to zero," she said.

The Rev. Mathe Ezéchiel, Bukavu District superintendent, agreed.

"The United Methodist Church in the Congo has done a great job on the care of malnourished children, but I fear the worst (for those) who are starting to observe the economic and monetary crisis that COVID-19 is bringing to the country. (I worry) this will have a negative impact on households and also the church for its support for malnourished children," he said.

— Philippe Kituka Lolonga, Kivu Conference communicator
"We are delighted that the products of our fields have nourished the servants of God during lockdown when they are not working. As a church, we must support the government's call to use agriculture to fight famine."
The support brought relief to the Rev. Paul Ndjeka Shango, a pastor at Tokolote Moto-Moto United Methodist Church in the Kindu North District.
"We are going through difficult times. We live by the grace of God," he said, adding that the assistance enabled him to provide food for his family.
"The help we receive from the faithful and especially the assistance from the United Methodist Men helped us to stay in the house for a long time," he said.
The superintendent of the Kindu North District also received food. The Rev. Mahamudi Ngereza said pastors in urban areas are much more exposed to famine.
"Pastors in rural areas are a little more sheltered because they generally live on agricultural activities," he said.
In the South Mozambique Conference, the Rev. Joao Sambo of Malanga 2 United Methodist Church in the Maputo East District, said his congregation has been donating foodstuffs to vulnerable members of the community in rural parts of Maputo.
"We are mobilizing our members to assist those facing hunger during this pandemic," said Sambo, who also is the director of Lusophone content for UM News.
"Mozambique is not under lockdown, we are in quarantine, only moving from our homes when it is necessary," he said. "The COVID-19 pandemic has resulted in loss of income as those who rely on part-time jobs cannot go out to seek a source of livelihood," he said.
The East Africa Episcopal Area is "encouraging Christians to reach out to one another in as many ways as possible during this pandemic," said Bishop Daniel Wandabula.
How to help
The United Methodist Committee on Relief has established the UMCOR COVID-19 Relief Fund to provide grants to help churches and partners assist vulnerable populations dealing with food security and other needs related to the pandemic.
"We are providing food such as corn flour and beans to the needy in Uganda and Kenya and also giving soap for handwashing to those who cannot afford it," he said.
The Rev. Wilton Odongo, Nairobi District superintendent, said despite Kenya being under lockdown, congregations have been supporting those who need assistance.
United Methodist churches such as Highrise, Kayole St. John's, Riruta and Huruma Tent of Prayers have provided food to the hungry.
"Refugee families who are United Methodists were really grateful for the support. They were in dire need of food," Odongo said.
Even before the coronavirus, many in Zimbabwe were facing acute food shortages caused by persistent droughts, natural disasters and economic turmoil.
In December, the United Nations' World Food Program estimated that nearly 8 million people — half the population — were facing food insecurity in the country.
Zimbabwe has been under lockdown for seven weeks and is currently at level two, where travel movements are restricted, public and religious gatherings are banned, and the informal sector that sustains the majority of the population remains closed.
International students attending Africa University in Mutare, Zimbabwe, who were unable to return home when schools and colleges closed on March 24, are helping the vulnerable in the communities surrounding the institution.
"We sacrificed one meal (lunch) and asked the university to convert the cost into cash, which we used to buy foodstuffs for 12 families," said Fiston Okito, vice president of the student representatives council.
About 100 students decided to forgo their lunch and others donated cash toward the cause. Each of the identified families received groceries worth about $50.
"We are at this institution on scholarship because of donations, and we also decided to become donors," Okito said. "We asked pastors and AU staff to identify those needing assistance and when we arrived at the homes of the beneficiaries, we discovered they were really facing challenges."
The Munyaradzi family, members of Nottingham United Methodist Church in the United Kingdom Mission Area, reached out to elderly members of Seke South church in Chitungwiza, Zimbabwe.
Addressing food insecurity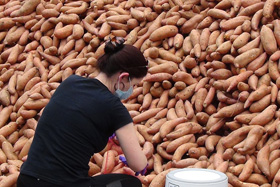 Volunteer Elyssa Bollinger packages gleaned sweet potatoes for distribution to local residents during a socially distanced Society of St. Andrew "potato drop" at First United Methodist Church in Mt. Olive, N.C. Photo by Michael Binger, Society of St. Andrew.
Food-related ministries, a mainstay of United Methodist mission work, have provided a way for the church to respond to food access problems created by the coronavirus pandemic and the continuing economic effects of the crisis.
"We identified three elderly members to provide with basic groceries during this difficult period," said the Rev. Agbeth Mutanho. "We, the able-bodied, are feeling the impact of the pandemic and the lockdown and we realized the aged needed all the support we could provide."
In South Africa, young adult members of Pinetown United Methodist Church in the Ikhwezi District identified a pocket of need in Clermont Township of Durban. About eight young adults opened their hearts and wallets to the most needy by donating food packages.
"It's been about two months now since we under lockdown and our people are starving," said Ntokozo Zimasa, chair of the service delivery project.
Clermont Township is one of the informal settlements in Durban where most people in this community rely on temporary jobs.
"It is very hard in these days in our homes. We can't even look for jobs," said Sindile Magagu, one of the beneficiaries.
"We can't even support adequately our children at this time that schools are closed. It is much easier when schools are open because they eat hot meals every day during lunchtime at school from the government feeding scheme," said the 35-year-old single mother of three.
Sharon Mguzulwa, the young adult organization's national president, said she is thankful that the group has been able to lend a hand to the less fortunate.
"I am so impressed (with) how the young people of my church do things," she said. "They are so kind and united in doing God's works."
She said the members collected money from their own pockets and bought and packed the food parcels in their homes. The donations included cornmeal, sugar, milk, rice, baked beans, tinned fish, onions, butternut squash soup and salt.
"Our food hampers are … served out of love," said Othimna Mkwalo, a youth fellowship member of the Pinetown pastoral charge.
"We prepared 20 hampers for 20 beneficiaries and before handling them, we had to share the word of God for hope and just to remind them that God is with us even in this hard time," Mkwalo said.
Mguzulwa said the national lockdown has left thousands of people unemployed, which places thousands of children at risk of not receiving food on a daily basis.
Faith Mahlope, an 84-year-old grandmother who lives with six of her grandchildren, said her family has been struggling since the lockdown.
"Other family members in my household now rely on my pension grant, which makes thing very hard for me and my family. I appreciate the young people of The United Methodist Church for the generosity and for allowing God to use them during this hard time," she said.
Chikwanah is a communicator of the Zimbabwe East Conference and Londe is a communicator for the East Congo Conference. Nandipha Mkwalo, a communicator for the South Africa Conference, contributed to this report.

News media contact: Vicki Brown at (615) 742-5470 or [email protected]. To read more United Methodist news, subscribe to the free Daily or Weekly Digests.
---
Like what you're reading? Support the ministry of UM News! Your support ensures the latest denominational news, dynamic stories and informative articles will continue to connect our global community. Make a tax-deductible donation at ResourceUMC.org/GiveUMCom.