In the Philippines, COVID-19 is hurting people on the margins, with millions of poor and daily wage earners experiencing "the uncertainty of food supply and the certainty of hunger," said Rubilyn Litao, a United Methodist deaconess.
Litao was among a group of Filipino United Methodists who weighed in on the impact of the global pandemic during a May 16 webinar.
"With the COVID-19 outbreak, the urban poor communities heavily affected by the enhanced community quarantine are the same communities where families lost their loved ones because of the government's policy on (the) war on drugs," she said.
"The imposition of lockdown means they do not have work and yet they need to find ways to have their food. They are not begging. It's just that the daily wage is not even enough for everyday needs."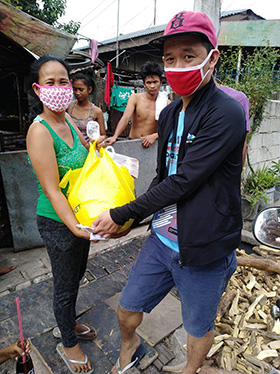 Louie David (right), United Methodist Young Adults vice president, delivers food relief to families in the Balete barangay, inside Hacienda Luisita in Tarlac City, Philippines. Photo courtesy of the Rev. Marlon Magno.
United Methodists from the three episcopal areas have come together to provide assistance.
The Rev. Recto Baguio, superintendent of the Mindanao Central East District, said that his district is poor and they have to ensure that people aren't starving during the lockdown.
"We mobilized and pooled resources for relief goods. (The) majority of the churches are in rural areas. We did not let poverty stop us; we instead braved this predicament to give help so families will have rice to cook," he said.
Baguio said that United Methodists made a call to help the hungry dubbed "Together We Share Food on the Table Amid Pandemic."
They sought help from families, church people, businesses and politicians.
"All their donations made relief goods possible, (for) which we are so grateful," Baguio said.
The district handed out rice, canned goods, noodles, sugar, salt, dried fish and soap.
Litao, who also serves as coordinator for Rise Up for Life and for Rights, said relief aid from the government has not reached many of the poor who need it most. For those who have received aid, she said, the food packs only last three to four days.
"One of the mothers, whose husband was killed in 2017, expressed, that even before the COVID-19 pandemic, the (families of victims) of drug-related killings are living by hand-to-mouth existence," she said during the webinar.
There have been more than 300 complaints and 23 criminal charges related to how relief money is being distributed in the barangays.
The. Rev Feliciano M. Biasbas, superintendent of the North East Central Luzon District, said that there are many ways to help with food insecurity, even during a pandemic.
"In our home, we plant all kinds of vegetables. I have a project called F.A.I.T.H., which stands for Food Available in The Home/House project. We have saluyot (a leafy vegetable), sweet potato, eggplant, pepper, upland kangkong (water spinach), etc. We share these vegetables with the church members and even the community."
Another district project, Tawid Buhay, which means "a meager help to sustain life," provides food assistance for those most in need in the community.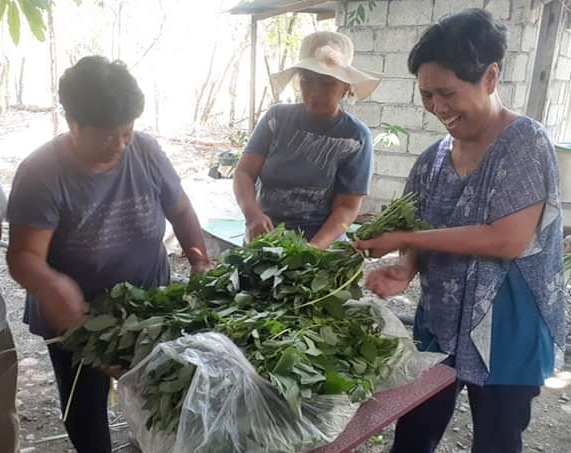 The Tawid Buhay Project, a ministry of the North East Central Luzon District, distributes vegetables to people in need, including United Methodist church volunteers and frontline workers at quarantine control points. Photo courtesy of the Rev. Feliciano M. Biasbas.
"We give them rice, groceries, vegetables, meat and fish. Even among our church workers, we give them cash and food assistance," said Biasbas, who added that the project has continued during the lockdown. The funds come from donations from church members in the Philippines and abroad, he said.
The Rev. Elijah Lorenzo, superintendent from North East Nueva Ecija, said his district is one of the most financially challenged in the Manila Episcopal Area, noting that church workers have been hit hard.
"We came up with the idea of offering a virtual concert to appeal the viewers to be partners in helping the workers financially to survive in this long haul," he said.
Lorenzo said that the goal was to collect at least 50,000 pesos (nearly $1,000 U.S.).
"God allowed us to raise 60,000 pesos. With the pooled resources, we were able to provide cash for each pastor, deaconess and volunteer church worker," he said.
Lorenzo said that some churches in his district also prepared and donated food to frontline workers.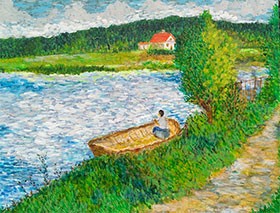 The Rev. Marlon Magno sold his paintings, including the one pictured, to help members of his small United Methodist church in the Balete barangay, inside Hacienda Luisita in Tarlac City, Philippines, during the country's COVID-19 lockdown. Photo courtesy of the Rev. Marlon Magno.
The Rev. Marlon Magno from the Baguio Area used his artistic talent to help families near his church. He sold his paintings during the lockdown.
"We raised funds to provide the mostly needed food, not only to our poorest members, but to those in the community."
He said most of the members of his small United Methodist church in the Balete barangay, inside Hacienda Luisita in Tarlac City, work on a daily wage basis, which means if they don't work, they don't get paid.
"I have a little talent in painting and was able to sell most of my works to augment our social concern fund. We were able to reach out to our neighbors four times in the months of April and May. By God's grace, we can sustain this ministry during these trying times."
Darlene Marquez-Caramanzana, Asia-Pacific area liaison for the United Methodist Board of Global Ministries, said several groups also have mobilized and pooled resources to respond.
The mission agency collaborated with the Scranton Center in Seoul and Wesley Foundation in Tokyo to provide grants for the Manila office of Global Ministries and the Central Conference Board of Women's Work to distribute food to the poorest communities in Metro Manila where some churches are engaged in community outreach programs.
Six churches were provided food packs to feed around 700 needy families.
The recipients were among the poorest and hardest hit by the lockdown, including tricycle and pedi-cab drivers, laundry workers, variety store owners and street sweepers.
The Board of Women's Work also provided relief packs for women living with HIV and their children, migrant workers and families of the victims of the war on drugs in Bocobo, Malate and Manila. About 645 families were served. The relief packs included hygiene kits with bath soap, sanitary napkins, face masks and disinfectants.
How to help
The United Methodist Committee on Relief has established the
UMCOR COVID-19 Relief Fund
to provide grants to help churches and partners assist vulnerable populations dealing with food security and other needs related to the pandemic.
The Manila office also was able to deliver food packs for seminarians from Union Theological Seminary and their outreach community, Lupang Ramos, a community of farmers in Cavite.
Norma P. Dollaga, a United Methodist deaconess, shared a story about a woman who waited in line for nearly 24 hours for relief money.
Dollaga told United Methodist News that the woman earned below the minimum wage.
"As a single mom, she had to endure hardship to raise her children. Come lockdown time, she lost her job in compliance (with the) 'stay at home' policy. The woman said, 'We obey the law, and we were rewarded with hunger and anxiety.'
"The agony of the poor is not a 'new normal' under (the) pandemic," Dollaga said, "but an intensifying normalcy of a society where there are sharp inequities and injustice."
Mangiduyos is a communicator from the Philippines.
News media contact: Vicki Brown, news editor, [email protected] or 615-742-5470. To read more United Methodist news, subscribe to the free Daily or Weekly Digests.
---
Like what you're reading? Support the ministry of UM News! Your support ensures the latest denominational news, dynamic stories and informative articles will continue to connect our global community. Make a tax-deductible donation at ResourceUMC.org/GiveUMCom.