---
Key points:
• United Methodists in western Ukraine are opening their churches and homes to house evacuees from the war with Russia.
• The United Methodist Church in Ukraine operates three shelters to house evacuees, with plans to help them with long-term housing as the war drags on.
• The church shelters care for about 100 displaced people per day, providing shelter, food, medicine and other necessities.
---
Oksana's hands shake as she scrolls through her phone, looking for the photo. It's an image familiar to the world by now: the ruined facade of a bombed building. This particular building is in Kharkiv.
She points to an empty space a few floors from the top, saying, "We just bought this apartment. My home is destroyed."
Now, Oksana lives with about 40 others in a Soviet-era building that once housed a newspaper and book publisher, converted to a hostel operated by several religious organizations for Ukrainians displaced by the war. The United Methodist Church in Ukraine has living quarters on two floors and a clothes closet on the ground floor.
Uzhhorod, where the hostel is located, is a town in western Ukraine near the Hungarian and Slovakian borders. It has not seen any fighting since Russia invaded the country, making it a safe haven for people fleeing areas of conflict. Since the war began, the town's population has roughly doubled.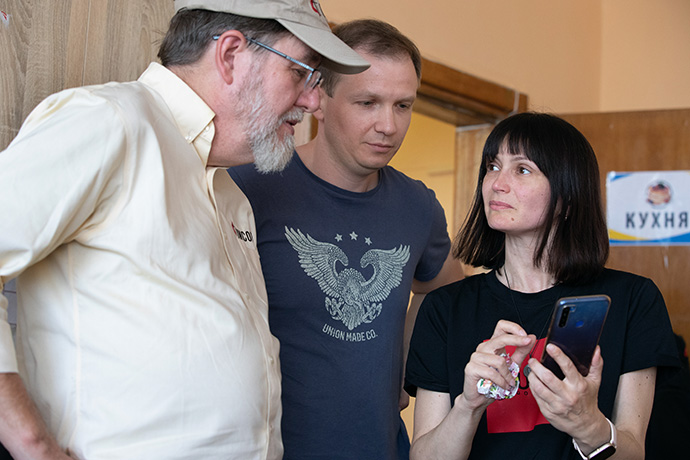 The Rev. Yulia Starodubets and her husband, the Rev. Oleg Starodubets, were serving The United Methodist Church in Kyiv when Russia invaded Ukraine. They are now working in western Ukraine to help evacuees.
"From the first days of the war, it was our goal to find secure places for our people," Yulia Starodubets said.
She said before the church had any shelters set up — now there are three — members formed a network of people willing to take evacuees into their own homes or find places to house them.
At first, they would go daily to the train station to meet incoming evacuees. Now, there are social media pages set up so people may learn about the United Methodist shelters before they even leave their area.
"In first days of the war, we had about 200 people; now (it's) about 100," Yulia Starodubets said.
"Many go back to places if the fighting has moved."
The Rev. Alla Vuksta, pastor of Kamyanitsa United Methodist Church near Uzhhorod, opened up her church and parsonage.
"In our house, we give all the rooms to refugees," she said. "Those people have nothing to go back to. They asked, 'How long can we stay with you?' and we said, 'As long as you want.'"
In addition to the hostel, the Ukrainian church operates a shelter in part of Onokivtsi Secondary School.
Another Oksana from Kharkiv lives in a classroom with her husband and four of their five children. Their 18-year-old daughter stayed behind to care for Oksana's father.
Oksana said her house had not been harmed, but they left due to the constant bombings, which frightened her younger children.
She said she's thankful for the children's programs offered by the shelter, such as physical activities and sightseeing.
"The kids need comfort because they heard all the explosions," she said.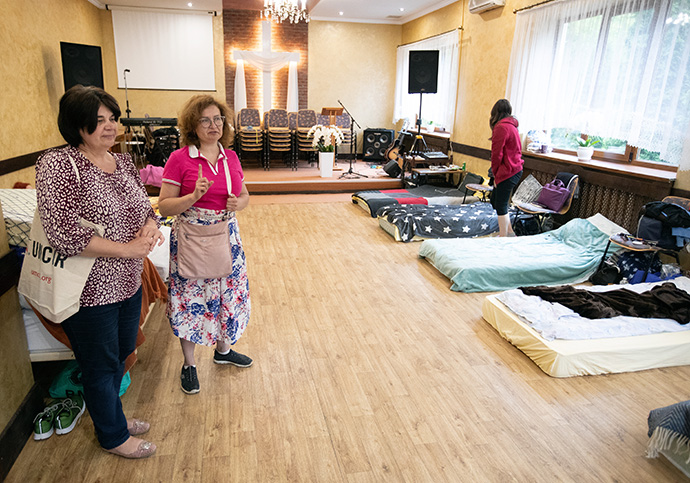 Alexandre fled the Donetsk region with his daughter and her four children. Due to a lost passport, he was unable to accompany the rest of the family, who wound up in the Netherlands. The family has no means to come back to get him, so the shelter has contacted the embassy and is trying to help him recover his documents.
Most of the evacuees are mothers with children. Like Oksana's husband, men with more than three children are excused from compulsory military service.
The school is also helping a number of elderly residents.
Photo essay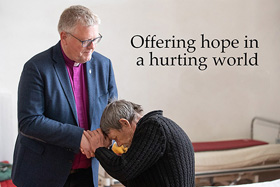 UM News visited Ukraine to help document the church's efforts to aid refugees and those affected by Russia's invasion of the Ukraine.
"He is a man without a country. He has no one, so we help him best we can," said Sergey Shvets, a church leader from Kyiv who now volunteers at both shelters.
The Rev. Volodymyr Prokip, pastor of St. John's United Methodist Church in Lviv, said he met his church's first evacuees while running to a bomb shelter during shelling.
"Before the war, we had regular ministry. The first two days of the war, we asked how we can be the most useful, so we opened the church because a lot of people started coming and we expected more would be coming," he said.
Prokip said the church also became a facilitating center, collecting and distributing donations of food, clothes, sleeping bags and air mattresses not only nearby but also making deliveries to areas further east.
"Every new challenge, more people and more needs, we responded and God was providing everything we need," he said.
In addition to aiding evacuees, many churches found ways to contribute to the fight. Prokip said people learned how to make Molotov cocktails, packed them in cars and sent them to the front lines, though he said his church did not participate.
"We were fighting back, fighting for our freedom and surviving as a country. Every person started being involved somehow," he said. "We knew if the Russians go further, there will be more death and destruction. We knew that we needed to stop them at any price."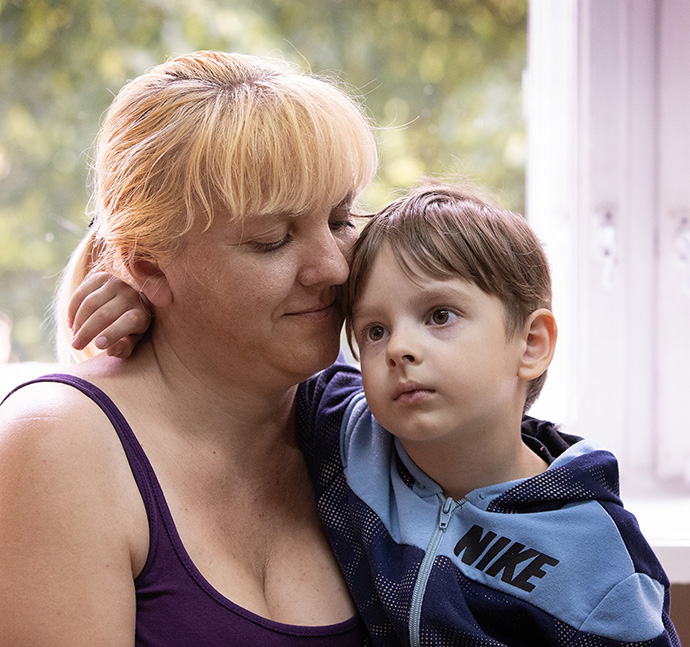 Yulia Starodubets said that as of mid-July, the three United Methodist churches in Ukraine are caring for about 100 displaced people a day, providing shelter, food, medicine and other necessities.
"We believe this is the time for the church," she said.
Long term, she said she's trying to organize a way for psychologists to help those with emotional needs. Another project is to prepare a long-term shelter with the expectation that they will need to house people through the winter.
The United Methodist Committee on Relief has provided the Ukraine Moldova Provisional Annual Conference with two $10,000 solidarity grants to fund immediate needs and a third grant to help purchase a van to deliver humanitarian aid to other parts of the country. The denomination's relief agency is also working with the conference on its long-term shelter project.
Ukraine aid by the numbers
The United Methodist Committee on Relief has provided support throughout Europe for Ukrainians displaced by the war including $1 million in medical supplies, 75,000 meals in the Odessa region and more than 120 shelters.
Read more
To donate, please give to UMCOR's International Disaster Response and Recovery fund,
Advance #982450
.
"I was struck by the grace with which the UMC team rose to the challenges posed by the war with Russia to serve displaced people in their communities," said Katie Hills Uzoka, UMCOR's director of international disaster response. "We observed this in Uzhhorod, but it is happening across western Ukraine as well. People are stepping up to serve their communities by supporting shelters, performing case management-type duties and providing emotional support. Their resilience, compassion and resourcefulness are truly remarkable."
Hills Uzoka said that UMCOR has funded 10 grants to partners in the United Methodist Church in Ukraine and other ecumenical and non-governmental organizations, and has almost 10 more grants in development. She added that UMCOR has been a presence in this area for a number of years through local partners.
"Since 2014, eastern Ukraine has been in conflict; this is more of a resurgence for them," she said. "No one knows how long the war will go on, but it is apparent that the United Methodist Church in Ukraine will be walking with people who are affected by it for years to come."
Bishop Christian Alsted, episcopal leader of the Nordic and Baltic Area, recently became Ukraine's bishop as well after the Northern Europe and Eurasia Central Conference voted to transfer the Ukraine Moldova Provisional Annual Conference out of the Eurasia Episcopal Area, whose bishop is based in Moscow. Alsted visited Ukraine in May to meet for the first time with church leaders.
"It speaks so well about the spiritual strength of this church, the work they are doing," Alsted said.
"It's one of the central parts of our whole identity as United Methodists that we are one church," he added. "No matter where we are in the world, no matter where we encounter the Cross and Flame, we are home."
Butler is a multimedia producer/editor for United Methodist News. Contact him at (615) 742-5470 or [email protected] Urs Schweizer, assistant to Bishop Patrick Streiff, Central Conference of Central and Southern Europe, contributed to this report.
To read more United Methodist news, subscribe to the free Daily or Weekly Digests.
---
Like what you're reading? Support the ministry of UM News! Your support ensures the latest denominational news, dynamic stories and informative articles will continue to connect our global community. Make a tax-deductible donation at ResourceUMC.org/GiveUMCom.