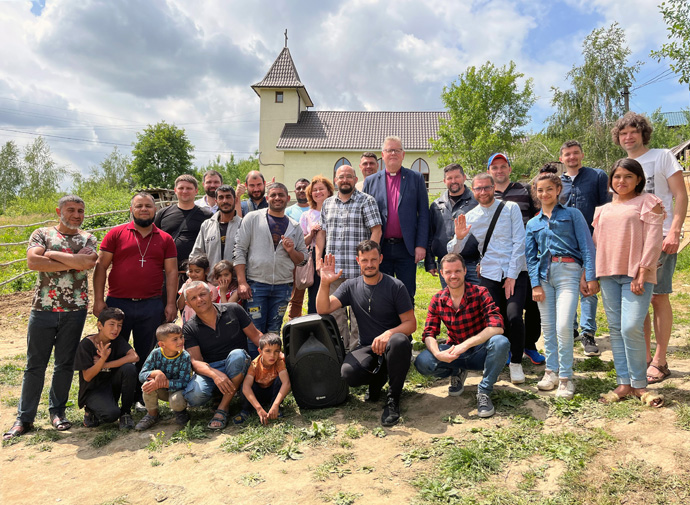 ---
Key points:
Newly assigned bishop of the Ukraine and Moldova Provisional Annual Conference treasures opportunity to meet Ukrainian United Methodists.
Vanload of eight United Methodist representatives travels to Ukraine to assess the situation and the church's response.
The United Methodist Church in Ukraine, composed of only 10 congregations and 350 active members, is accomplishing amazing things.
---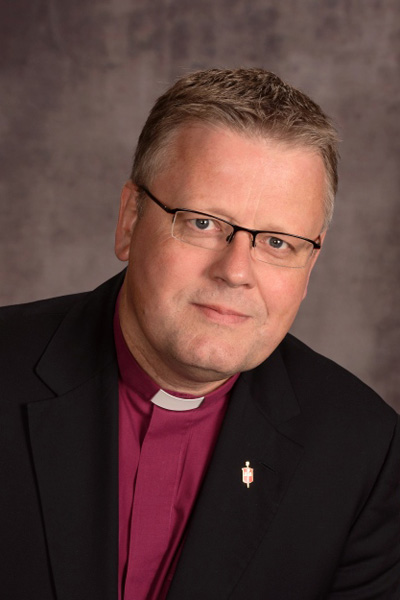 Nordic-Baltic Episcopal Area Bishop Christian Alsted, newly assigned bishop to the Ukraine and Moldova Provisional Annual Conference. Photo courtesy of the Council of Bishops.
Commentaries
UM News publishes various commentaries about issues in the denomination. The opinion pieces reflect a variety of viewpoints and are the opinions of the writers, not the UM News staff.
Load a dishwasher, five tables, food supplies, printer paper, coffee makers, toasters, a bunch of Upper Room devotionals and seven adult United Methodist representatives, along with driver and coffee expert Istvan Pasztor, and you have a jam-packed minivan.
This was my first trip to Ukraine as the newly assigned bishop to the Ukraine and Moldova Provisional Annual Conference. I had hooked on to a trip led by the Europe secretary of Global Ministries Üllas Tankler, who was traveling with Katherine Hills Uzoka and the Rev. Jack Amick (UMCOR) and Joey Butler, Francisco Litardo and Mike DuBose (United Methodist Communications).
Istvan, who has made several trips into Ukraine during the war, had picked one of the smaller border crossings, taking us over the Tisza River on a tiny ferry and then, after some conversations and checks at the border, into Ukraine. We were headed for Uzhhorod in the Transcarpathia region.
Having only communicated through Zoom and phone, it was a delightful moment to greet and hug Ukrainian United Methodist pastors, leaders and volunteers. Led by district superintendent the Rev. Oleg Starodubets, they met us at the Uzhhorod United Methodist Church.
The United Methodist Church in Ukraine is composed of only 10 congregations and 350 active members. Yet, by the grace of God, the church is accomplishing amazing things. We run several refugee shelters: in the church in Lviv close to the Polish border, in a secondary school in the village of Onokivci and in a former newspaper and publishing facility in Uzhhorod. Several churches have refugees living and sleeping in the sanctuary, putting mattresses aside during worship or other gatherings.
More than 8 million Ukrainian refugees have left the country, and the most likely higher number of internally displaced people have millions of stories to share. They are heartbreaking accounts of loss, suffering, separation, fear and despair and encouraging stories of survival, hope, joy and dreams of a peaceful future.
Elena was seven months pregnant when she left from Kharkiv with her husband Andrei and their children, ages 2 and 7. They went through the Kramatorsk railway station a few days before it was attacked by Russian missiles that killed 59 and wounded 110. After their arrival in Uzhhorod, Elena gave birth to a little boy named "Bogdan," which means "gift of God."
In the early days after Russia attacked Ukraine, Ludmilla and Costa fled from Kharkiv with their children Camilla and Artum. Their home is still intact, and they hope it remains so when the war is over.
Anna and Michail left Kharkiv with their son Nicolai. Michail, a trained psychotherapist, helps other refugees at the shelter to deal with their trauma.
Oksana fled with her 17-year-old son from Kupansk to Kharkiv and then to Uzhhorod. Crying, she showed me a photo of her now-destroyed apartment. Oksana, who had had no contact with her parents in Kharkiv for several weeks, finally was able to have a phone conversation with them. A couple of weeks later, Oksana's parents made it to the shelter in Uzhhorod.
More than anything else, connecting with God in prayer can bring comfort and hope in difficult circumstances. Praying with each person with whom I talked at the shelters, I experienced a deep sense of God's presence.
After my U.S travel companions went to Romania to visit refugee centers there, I stayed for another couple of days to visit churches and to get acquainted with pastors and church leaders.
We had passionate worship on a Tuesday morning in the Roma congregation in the village of Serednje. We worshipped and shared communion in a packed church in Kamyanitsa. We talked about the church, the country and the culture and, of course, about the war and how it affects life and families in so many ways. We talked about hope rooted in God's promises and in the strength in knowing that the final word in this world belongs to the risen Christ. And we prayed.
Photo essay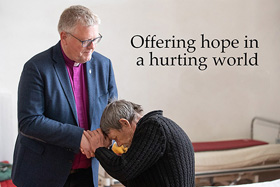 UM News visited Ukraine to help document the church's efforts to aid refugees and those affected by Russia's invasion of the Ukraine.
Many have asked, "Did it feel unsafe?" It didn't. Of course, you could see soldiers in several places, and human-operated machine-gun positions protect the infrastructure. At least for now, however, the Transcarpathia region has only been hit once by a Russian missile. With many refugees, the area population has more than doubled since the war started, and many pass through on their way to Romania, Slovakia or Poland.
Since I left, the attacks have intensified. One weekend, almost 200 missiles were sent, aimed at targets. In Ukraine, some, but far from all, were shot down by the defense system. Many civilians have been killed since the war started in February. Apartment buildings have been hit. Recently, more than 20 people were killed and many injured by an intentional Russian missile strike against a shopping center in Kremenchuk.
People are deeply affected by reports about civilian casualties, destruction, violence and the ongoing information about the numbers of soldiers who have died or are wounded. Many refugees are dealing with trauma. They worry about relatives still staying in the war zones and about relatives who serve in the army. Nevertheless, I heard many speaking about victory, driving out the enemy and rebuilding the country.
These months of meaningless violence, destruction, death and hatred will take years to heal. Right now, our prayer must be for peace, for the protection of the many innocent victims of this terrible war, and for strength for those doing their utmost to comfort and to help.
I am grateful for the United Methodists in Ukraine — for their love, dedication and servant heart. I am humbled by their courage and their tireless efforts to offer protection and care for those in need. Ukrainian United Methodists are true to Christ's calling under extremely challenging circumstances. I look forward to going back soon.
Alsted is the episcopal leader of the Nordic, Baltic and Ukraine Area.
News contact: Joey Butler or Tim Tanton at (615) 742-5470 or [email protected]. To read more United Methodist news, subscribe to the free Daily or Friday (weekly) Digests.
---
Like what you're reading? Support the ministry of UM News! Your support ensures the latest denominational news, dynamic stories and informative articles will continue to connect our global community. Make a tax-deductible donation at ResourceUMC.org/GiveUMCom.