Leaders of most United Methodist seminaries in the U.S. that train clergy for the denomination are stressing their inclusive policies after the special General Conference affirmed the church's LGBTQ bans.
The denomination's top lawmaking assembly
voted 438-384 for the Traditional Plan
during the February gathering in St. Louis. That plan affirms the church's Book of Discipline directive that "self-avowed practicing homosexuals" should not be ordained, clergy could not conduct same-sex weddings and United Methodist churches should not host such weddings. It also added measures to improve enforcement of these prohibitions.
While some African educators and at least one U.S. seminary that trains many United Methodists welcomed the action, leaders at most of the 13 United Methodist theological schools did not.
"I reacted to the decisions (at) General Conference with sobs, which I have not done since my daughter and I distributed my husband's ashes in the Pacific Ocean," said the Rev. Mary Elizabeth Moore, dean and professor of theology and education at Boston University School of Theology. "I am devastated about where our church is at the present moment, and I am also determined to be part of a new wind of change."
Conversely, the Rev. Julio Andre Vilanculos, president of United Methodist University of Mozambique, said he is pleased.
"As far as I am concerned, if (the denomination) wants to follow biblical teaching, there is no way to accommodate the wishes of pro-gay (people) in The United Methodist Church," Vilanculos said. He said he believes failure to follow biblical teachings would mean the church would eventually split.
The president of United Theological Seminary in Dayton, Ohio,
posted a statement
in which he said it "may be time for our leaders to find a way for United Methodist Christians to separate."
"I think the General Conference of 2019 did not glorify God, did not bring people together and did not help the church make disciples of Jesus Christ in the world," the Rev. Kent Millard told United Methodist News Service. "It's not a positive view of United Methodism to the world."
Most of the 13 United Methodist seminaries
posted notes on their websites saying that their policies of inclusion — including LGBTQ individuals — will continue.
"No words can alleviate the pain you must feel, but I pray that the knowledge that Drew remains deeply committed to being a welcoming community for all assures you that your school will never waver on its commitment to you," said Javier A. Viera, dean of Drew Theological School in Madison, New Jersey, in his
message to students
.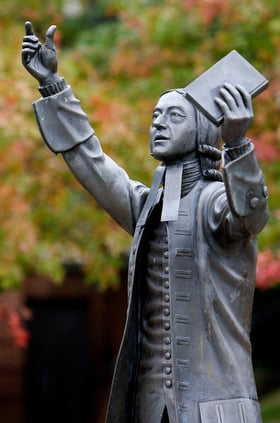 A statue of John Wesley, the founder of Methodism, stands in the center of campus at Asbury Theological Seminary in Wilmore, Ky. Asbury officials issued a statement that said they were "thankful" for the passing of the Traditional Plan. File photo by Mike DuBose, UMNS.
Asbury Theological Seminary in Wilmore, Kentucky, while not one of the 13 United Methodist seminaries, educates many United Methodist elders and deacons. In 2017, the United Methodist Board of Higher Education and Ministry found that of the 418 deacons and elders ordained, 44 were Asbury graduates, second only to Duke, which had 57 graduates who were ordained that year. Sixty-four percent of the new deacons and elders graduated from one of the 13 United Methodist seminaries.
United Methodist Asbury officials
said in a statement
on the school's website that they were "thankful" for the passing of the Traditional Plan.
The Rev. Timothy Tennent, president of Asbury, said in
his blog
that the affirmation of a historic Christian view regarding marriage is "a huge encouragement to so many around the world who have become accustomed to the mainline churches seemingly inevitable march to reposition themselves outside the stream of historic faith."
"The United Methodist Church is the only mainline denomination to date which has managed to maintain the biblical ethic on the definition of Christian marriage," Tennent said. "If this vote holds, and, more importantly, it stimulates deeper renewal in biblical fidelity, then we could be a beacon of hope for all of these older churches who are continuing their precipitous decline at alarming rates."
The Judicial Council, the top court of United Methodism, is scheduled to
review the constitutionality
of some parts of the Traditional Plan April 23-26 in Evanston, Illinois.
"LGBTQ students are certainly feeling the impact of this, though we all know that this is not a decision set in stone quite yet," said the Rev. Thomas V. Wolfe, president and chief executive officer of Iliff School of Theology in Denver.
The Rev. Neil Blair, president of Saint Paul School of Theology in Leawood, Kansas, urged United Methodists to "back off and take a big breath.
"This might be a time for unconditional love to prevail as opposed to judgment. If you feel called to do God's work, hang in there," Blair said.
There has been talk that some conferences and churches might withhold donations to church funds, including the Ministerial Education Fund, which provides some funding to the 13 United Methodist seminaries.
The Rev. Kim Cape, top executive of the denomination's Board of Higher Education and Ministry, asked those considering withholding funds to be "thoughtful."
Cape said withholding funds would be shortsighted. "It might send an angry message and you might feel better in the short term, but the message would be delivered to the wrong address. And do long-term damage," she said.
"We are in serious danger of losing this next generation. Why would we do them harm? We need to do everything we can to keep them. Our future and their future is at stake."
Approved seminaries
The 13 United Methodist theological schools receive about $15 million from the Ministerial Education Fund, a church apportioned fund that supports training of clergy. Of the total money raised in each annual conference for the fund, the conference retains 25 percent to use in its program of ministerial education.
The University Senate, an elected body that oversees theological education for the denomination,
maintains a list of all seminaries approved
for training of United Methodist clergy. That list includes non-United Methodist seminaries as well as the 13 denominational schools.
The 13 United Methodist schools of theology are:
Boston University School of Theology
in Boston;
Candler School of Theology
at Emory University in Atlanta;
Claremont School of Theology
in Claremont, California;
Drew University Theological School
in Madison, New Jersey;
Duke Divinity School
at Duke University in Durham, North Carolina;
Gammon Theological Seminary
in Atlanta;
Garrett-Evangelical Theological Seminary
in Evanston, Illinois;
Iliff School of Theology
in Denver;
Methodist Theological School
in Delaware, Ohio;
Perkins School of Theology
at Southern Methodist University in Dallas and Houston-Galveston, Texas;
Saint Paul School of Theology
in Leawood, Kansas, and Oklahoma City;
United Theological Seminary
in Dayton, Ohio; and
Wesley Theological Seminary
in Washington.
Cape said she told seminary officials to remember that implementation of the Traditional Plan is still unclear.
"Our seminaries are about the work of shaping leaders for The United Methodist Church who obey Christ's command to love God with their minds," she said. "As such, they are heirs of John Wesley's passion for learning. Their voices are critical in shaping The United Methodist Church and we encourage them to remain active in the conversation."
Some students and higher education officials said the church should have listened more to the opinions of younger United Methodists.
"We are looking at losing a generation of leaders from our denomination," said the Rev. Kah-Jin Jeffrey Kuan, president of Claremont School of Theology in Claremont, California. "This comes at a time when we are beginning to see the younger generation come back to seminary. Our students are telling us they are unsure whether or not this is the denomination they want to be a part of."
The Rev. David McAllister-Wilson, president of Wesley Theological Seminary in Washington, D.C., said he felt the debate over sexuality had already hurt recruitment.
"For the last couple of years there's been questions from a growing amount of especially really committed, idealistic students, wondering if The United Methodist Church is where they should be," McAllister-Wilson said.
One of those students, Ellie Crane, is in her second year at Wesley Theological Seminary in the District of Columbia. She is a lifetime United Methodist and feels a strong call to the ministry. She is also gay.
"I was starting to explore ordained ministry, but I did not want to start the process because I was not willing to hide a part of what I am," Crane said. "My biggest hope is that the Judicial Council finds a lot of constitutional problems with the Traditional Plan, and from there there's a regrouping."
Patterson is a United Methodist News Service reporter in Nashville, Tennessee. Contact him at 615-742-5470 or

[email protected]

. Joao Sambo contributed to this story. To read more United Methodist news, subscribe to the free Daily or Weekly Digests.
---
Like what you're reading? Support the ministry of UM News! Your support ensures the latest denominational news, dynamic stories and informative articles will continue to connect our global community. Make a tax-deductible donation at ResourceUMC.org/GiveUMCom.