In Zimbabwe, like other countries worldwide, the second surge of COVID-19 continues to disrupt education as teachers, children and parents shelter at home. With another government-imposed lockdown in place, families are scrambling to adapt to online learning.
The World Health Organization reported 35,222 confirmed cases of COVID-19 with 1,410 deaths in Zimbabwe between March 2020 and Feb. 16. About 850 died in January alone.
The Zimbabwean government extended the country's level 4 lockdown until March 5. Schools and churches remain closed. Some students were able to remain in school until exams were completed at the beginning of February.
The Rev. Munyaradzi Timire, Zimbabwe East Conference education secretary, was grateful that no United Methodist primary and secondary schools had reported COVID-19 cases. However, he said, the pandemic has adversely affected education across the country.
"The education system is heading for a collapse," he said, "unless the government comes up with a strong national policy for alternative-learning modalities, which need massive funding."
Godfrey Chishakwe, headmaster of the church's Arnoldine Primary School, said that COVID-19 affected Early Childhood Development more than other primary grades.
"Reopening of primary schools was done in phases, with preferences given to (the) grade seven examination class," he said. "The government instructed all headmasters to stagger the learners' attendance to adhere to COVID-19 preventative measures. Each class would attend classes twice a week and ECD only once a week, but due to limited resources they ended up not attending."
The national Grade 7 pass rate for 2020 was 37.11%, compared to 46.9% recorded in 2019. Arnoldine Primary School is not an exception, said Chishakwe. "We did not do well."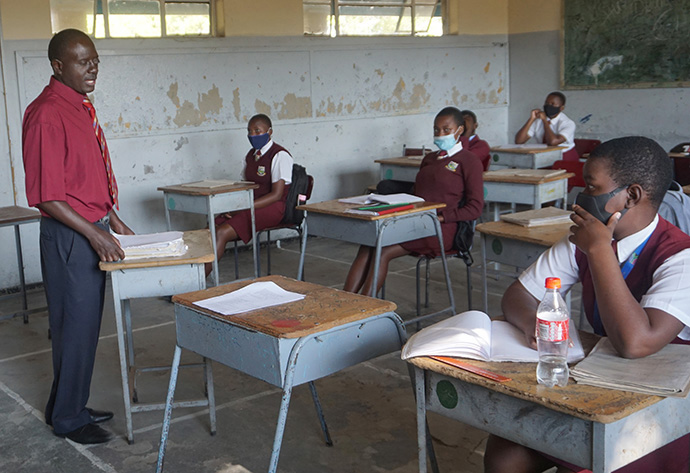 Justice Chamunorwa, United Methodist Clare Central Primary School development chairman, is the parent of three children who attend the school.
"Some have forgotten what they were taught," he said, "while others lost the zeal due to COVID-19 uncertainties." Families struggle with food insecurity, and parents use children to do work formerly assigned to paid laborers, he said.
Misheck Rwizi, Nyakatsapa United Methodist High School headmaster, said extended absences from in-person school have affected student behaviors and attitudes.
"Early marriages, unwanted pregnancies, promiscuity and lack of interest in education forced three girls and four boys out of school" during the third term last year," Rwizi said. Some boys went to work in mines, where drug abuse is often prevalent.
"Parents have become cynical and are not paying school fees," he added. "We can no longer afford to pay salaries, electricity bills, food for boarders and running of examinations."
Leona Mukangara, 17, became pregnant but decided to take her Ordinary level exams at the church's Chinyauhwera High School. "I swallowed my pride and went back to school," she said. Ordinary level students were allowed to return to take their exams.
Headmaster Philip Padhuze said United Methodist Marange High School tries to adhere to COVID-19 protocol, but limited resources complicate matters. Students formerly shared science equipment but no longer can do so because of COVID-19 guidelines. Dormitories and other facilities accommodate fewer students to allow for required social distances.
"The education standard has gone down tremendously." Padhuze said," and it will be very difficult to recover."
To curb the transmission of COVID-19, most boarding schools have reduced enrollment for 2021, said Padhuze. "We have reduced by 70 students in our usual enrollment of between 200 and 210," he said.
Sydney Mapisaunga, headmaster at Murewa United Methodist High School, agreed that the pandemic forced priority shifting, but he noted some unexpected and promising results.
"The school had ample time to renovate two teachers' houses, and a state-of-the-art-administration office is now available," he said.
"We managed to develop a school online program that was approved and rolled out this February," Mapisaunga continued. "The school now has improved internet connectivity and purchased six laptops to allow video conferencing for administration members."
Personal health and hygiene also have improved. "Innovatively and creatively, we managed to prepare ministerial-approved sanitizers and face masks for the school of 1,250 learners, 30 workers and 55 teachers," he said.
"As our church's obligation," Mapisaunga said, "we paid our 15% levy to the conference."
However, he admitted, face-to-face instruction was interrupted, the syllabus was not completed and practical subjects were neglected.
"Projects that were supposed to take a year to complete were fast-tracked to finish within a few months," Mapisaunga said. Sports, clubs and other extracurricular activities were halted.
Eighteen-year-old Unice Jakaza, a student at United Methodist Nyamacheni Secondary School, expressed sorrow that 27 girls and 23 boys had dropped out of school through urban migration to relatives' homes, early marriages and gold mining.
"As Form 4s," she said, "we are writing examinations as a formality because we were not fully prepared. The motivation and enthusiasm for schooling has been lost."
The Rev. Maxwell Mugari, Dendera High School station chairman, said school fees and uniform sales bolster school development, pay staff and support the church.
"Now that not all learners are now coming to school," Mugari said, "the parents have stopped paying school fees, and this has paralyzed the school and the church. The welfare of pastors stationed at mission schools has been drastically affected."
George Miti, dean of students and director of advancement and public affairs at Africa University, said many students and parents faced challenges of converting their homes into a learning environment, noting that the cost of data added to the pressures.
However, he said, the negatives have led to some positives.
"The pandemic," Miti said, "pushed those forces that were generally against online education to embrace it and discover the many possibilities it offers. Critical equipment was bought and or upgraded. It brought the university community closer."
Juliet Sithole, a third-year student at Africa University, agreed.
"As students," Sithole said, "we have already adapted and became digitally independent. We no longer rely much on lecturers but rather work on our own with less supervision."
James Salley, AU associate vice chancellor for Institutional Advancement, said the pandemic has made day-to-day activities at Africa University challenging.
"Our budget has been stretched beyond limits to put into place virtual learning and to keep on campus 300 students who could not go home because of the lockdown. It's been difficult keeping the lights on,"
Still, he added, the Africa University farm has provided food for the dining hall and the university's researchers invented and patented a hand sanitizer and PPE mask.
"In the midst of all that is going on," he said, "God continues to bless us."
Chingwe is a communicator for the Zimbabwe East Conference.
---
Like what you're reading? Support the ministry of UM News! Your support ensures the latest denominational news, dynamic stories and informative articles will continue to connect our global community. Make a tax-deductible donation at ResourceUMC.org/GiveUMCom.