As a 74-year-old retired United Methodist elder still serving a rural church, the Rev. Jackie Wheeler has seen people through a lot of crises.
Now he's dealing with one of his own.
Wheeler choked up describing how a tornado that tore through Putnam County, Tennessee, destroyed his home and the other buildings on his four-acre farm, just outside the county seat of Cookeville. He survived by hunkering down in a bedroom closet, but later in the exhausting and emotional day had a bad fall requiring 16 stitches.
Much worse was hearing an insurance agent declare a total loss the home his parents built in 1958. His father nailed many of the boards as main carpenter, and Wheeler has lived there on and off for 62 years.
"I'm taking one hour at a time. That's all I can do," Wheeler said by phone on March 5. "The Lord saw me through it, and he'll see me through the rest of it. It's going to be very difficult."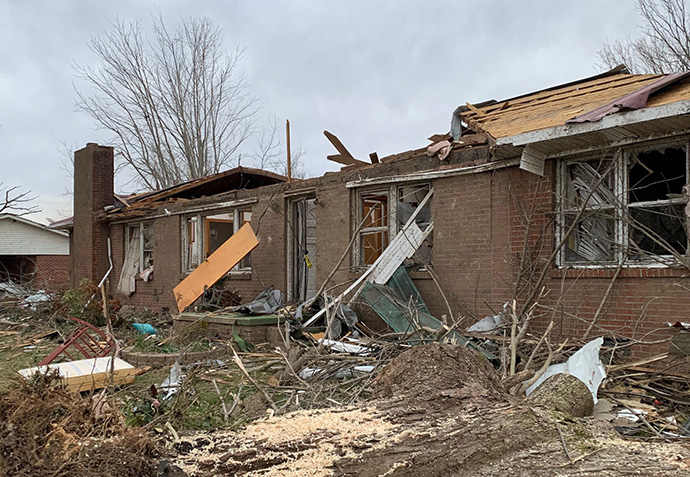 The early morning of March 3 brought horrific, fast-moving storms to Middle Tennessee, and early news attention focused on Nashville and its suburbs. There, scores of structures —
including United Methodist churches
— were destroyed or badly damaged.
News from Putnam County, 80 miles east of Nashville, was slower in coming, due to the extent of tornado devastation there, and to loss of power and phone connections.
"It was sobering to realize how few pastors I could reach," said the Rev. Donna Parramore, superintendent of the Caney Fork River District of the Tennessee Conference, which includes Putnam County. "We didn't have cell service for the majority of that day (March 3)."
By late the next day, authorities reported that of the two dozen or more deaths associated with the storms, 18 had occurred in Putnam County.
United Methodist congregations there are dealing with some of those losses.
At Gainesboro First United Methodist Church, a member's grown daughter was among those killed. Another woman, who was well known to the church and spoke there last year as a graduate of a drug rehabilitation program, lost her 6-year-old son.
Helping through the connection
"We had some church members who were on the missing list, but we found them," said the Rev. Tim Dunavant, pastor.
Dunavant went to a temporary morgue with the church member whose daughter was killed. He's been thinking ahead to the sermon he'll preach Sunday.
"I am not one to ever change my sermon based on current events, but I don't see how I cannot do that this week," he said.
The Rev. Tommy Harris, pastor of Zion Hill United Methodist Church, and his wife, Robbie, had two family members and a close friend among the fatalities.
Harris spoke about the tragedy at a March 4 church service.
"We need to trust God and just know that he's with us in these times," Harris said is his continuing word to congregants.
Cookeville United Methodist Church reported that among its members, one family of five suffered injuries in the tornado and lost their home.
"We are actively caring for them and seeking temporary housing," said the Rev. Kevin Conrad, pastor.
Albert Willis, pastor of Algood United Methodist Church, got a call from his daughter and son-in-law soon after the tornado struck.
"'Can you come get us? We have nothing,'" Willis recalled his son-in-law saying. "Their whole house was obliterated. They have four children. Just a horrific night for them, but they got out alive."
United Methodist churches in and near Putnam County appear to have escaped major property damage, Parramore said, though assessments continue.
Volunteer response to the disaster has been strong, and United Methodists have been part of that, with First United Methodist Church of Cookeville deploying a trained disaster response team right away.
"The chaos of the initial shock is starting to clear and the city, county and state are starting to organize relief efforts," said Conrad. "The outpouring of goods, services and funds is absolutely amazing."
The Rev. Robert Craig, disaster response coordinator for the Nashville Episcopal Area, confirmed that United Methodist teams trained by the United Methodist Committee on Relief have made a difference already, helping with debris removal, covering house damage with tarps and other mitigation tasks.
Subscribe to our
e-newsletter
Like what you're reading and want to see more? Sign up for our free daily and weekly digests of important news and events in the life of The United Methodist Church.
On March 5, the teams were told to hold off, due to power lines being restored in the west Cookeville area where damage was so severe. But Craig expected conference teams to be working again on March 6.
Longer term, he'll be looking for help beyond Middle Tennessee.
"Once everything is opened up, and we're out of the rescue phase, we'll extend the invitation for some of our neighboring conferences to send some of their UMCOR-trained personnel to come and assist," Craig said.
Parramore said UMCOR hygiene kits are already being handed out. She's had many calls and emails from United Methodist churches wanting to help as soon as it's practical.
"We're going to be working in the area for a long time," she said. "After the news cycle is over, there's still going to be United Methodists helping to restore healing and hope to this community."
Parramore expressed concern for Wheeler, the pastor who lost his home, calling him a beloved longtime member of the Caney Fork River District clergy.
Wheeler — who in retirement serves as pastor of Curry's Chapel United Methodist Church, where two of his great-grandfathers were founding members — is staying at a cousin's house nearby.
His church's lay leader has taken over the preaching duties for now, and he has had offers of help from other friends and family members.
"There were about 12 people that came to my house and started packing up things that were salvageable — dishes, glassware, fine china that my mother had," he said.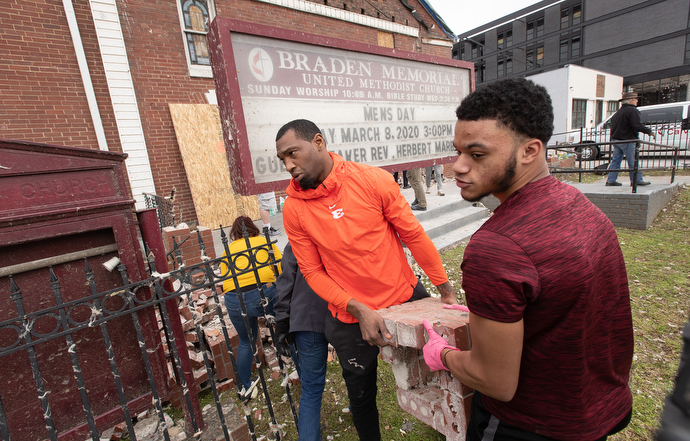 But he's grieved that the house itself has been deemed a total loss, as have the barn, tool shop, garage and shed.
"It's all got to be bulldozed," Wheeler said.
Meanwhile, cleanup of tornado damage has begun at Braden Memorial United Methodist Church in East Nashville. Crews from two nearby United Methodist churches — Belmont and Calvary — are helping clear brick scattered across the grounds.
The sanctuary was spared direct impact because it was protected by surrounding buildings, but there are structural concerns, so the city won't allow people to enter.
The Rev. Sheila Peters, Braden Memorial's pastor, said the congregation will hold a combined worship service on Sunday at Gordon Memorial United Methodist in North Nashville. They will remain at Gordon until they're able to make decisions about the damaged sanctuary.
North Nashville
, Germantown and East Nashville were the hardest hit areas in the city. The suburbs of Mt. Juliet, Donelson and Hermitage also had severe damage.
"We may eventually do our own service at Gordon but right now we need to be in a position to receive support and deal with shock," Peters said. "We have no idea when we'll be able to return."
She said the prayers, support and offers to help coming from other churches have made her appreciate the connection shared throughout the denomination.
"Our faith becomes even more real when we deal with adversity," she said.
The Rev. Paul Purdue, senior pastor of Belmont United Methodist, said 12 of his members responded immediately to a request to work.
"What if it was our church, how would we respond? Jesus calls us to love our neighbors as ourselves," Purdue said. "It's what we do. We belong to each other."
In the historic Germantown neighborhood, the Rev. Rosemary Brown can't quite figure out why Monroe Street United Methodist Church — which sustained significant damage from the 1998 tornado that tore through Nashville — was left intact and nearly untouched by this one, except for a broken basement window and debris blown onto the property.
"Germantown looks like a war zone and our little church is standing there like always," she said.
Brown is particularly distraught
over the fate of Church of the Assumption
, a historic Catholic church directly across Monroe Street. "It's just devastated," she said. "I couldn't keep from crying looking at it."
Hodges is a Dallas-based writer for United Methodist News. Staff members Joey Butler, Jim Patterson and Linda Bloom contributed. Contact them at 615-742-5470 or

[email protected]

. To read more United Methodist news, subscribe to the free Daily or Weekly Digests.
---
Like what you're reading? Support the ministry of UM News! Your support ensures the latest denominational news, dynamic stories and informative articles will continue to connect our global community. Make a tax-deductible donation at ResourceUMC.org/GiveUMCom.