Three area United Methodist churches — East End and Braden Memorial in East Nashville and Dodson Chapel in Hermitage — were heavily damaged by tornadoes that swept parts of Tennessee early on March 3.
The nighttime twisters also claimed at least 24 lives, particularly in Putnam County, about 80 miles from Nashville. More than 150 of those injured were taken to hospitals in the Nashville area, according to CNN.
The tornado, which reportedly cut a 10-mile path through downtown Nashville and into its eastern suburbs, caused significant damage in the neighborhoods of Germantown, North Nashville and East Nashville and the suburb of Hermitage.
East End United Methodist Church had weathered storms before. When an F3 tornado ripped through East Nashville in 1998, it only managed to blow the sanctuary doors open. This time, the damage was more severe.
"It's in our DNA to be a church of open doors," said the Rev. Judi Hoffman, East End's co-pastor, "but they flew right off the hinges this time."
Hoffman, who lives in the parsonage attached to the church, had only enough warning to wake her husband, Matt, and dive into the bathtub.
"You could hear it coming like a train," she said.
When they ventured outside, they saw one exterior wall of the sanctuary completely gone, the children's wing destroyed and part of the steeple laying in a yard across the street. The enormous stained-glass window on the front of the sanctuary, recently refurbished, is shattered. A 1907 organ original to the building was crushed under a fallen ceiling, its pipes in a chaotic tangle.
Hoffman said church members and neighbors were on site at 4 a.m. clearing debris and cutting fallen trees. A neighbor returned one of the church's crosses that had landed in her yard.
East End member Sharp Emmons was one of the first to arrive.
"My daughter was crying and I told her, 'Honey, the church isn't the building. The church is us,'" he said.
Melissa Bahan, a member and leader of a Girl Scout troop that meets at the church, helped direct a group of Scouts and neighborhood children with the cleanup, reminding them of a popular Girl Scout saying: "Many hands make light work."
"The compassion oozes out of this church and fills every space," Hoffman said. She expressed gratitude that she could talk to the children about "how God is with us through all of this."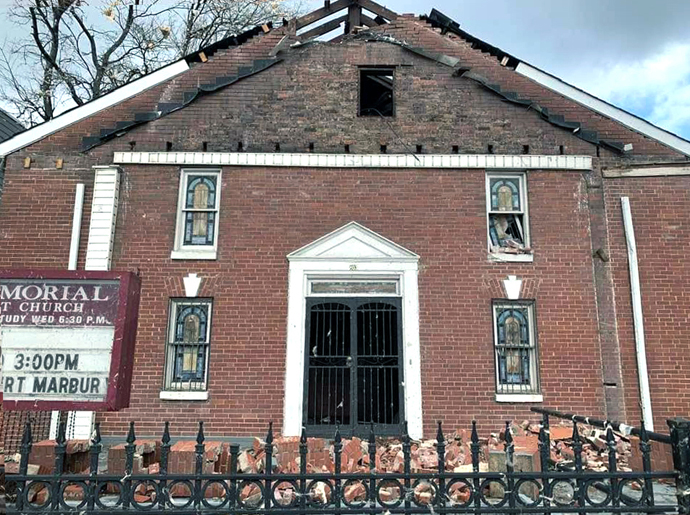 Braden Memorial United Methodist in East Nashville, a historic African American church, also felt the force of the tornado.
"I'm sitting inside the church where there's a great deal of debris," said Ricky V. Cole, lay leader, in a phone interview. "The windows to the front door were blown in."
Cole said the church lost its steeple and some of its stained-glass windows, and had exterior damage, particularly in the front.
Besides debris that blew into the sanctuary, the back parking lot is full of debris from nearby townhouses blown down in the storm, Cole said. A wrought iron security fence was "taken out of the ground" he added.
But the lay leader said Braden Memorial's damage doesn't appear to be nearly as extensive as that experienced by many other buildings in and around Nashville.
"We realize we were blessed," he said. "It could have been a whole lot worse."
The Rev. Sheila Peters, Braden Memorial's pastor, said the church would be feeding relief workers and volunteers at lunchtime on March 5.
"We appreciate the compassion and concern of so many," the pastor said. "Our faith shines brightly in times of adversity."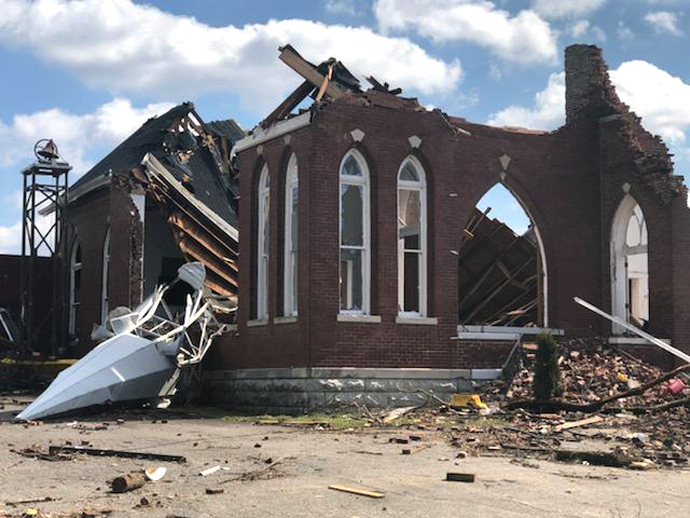 In Hermitage, the tornado proved particularly devastating for historic Dodson Chapel United Methodist Church.
"The church building itself is pretty much gone," said the Rev. Chris Seifert, senior pastor of Hermitage United Methodist Church, a partner to Dodson Chapel. "It's heartbreaking to look at."
Seifert said a former school building that has been home to the Dodson Chapel Childcare Center also was destroyed. He said the childcare center is vital to the community, serving about 150 children, some from low-income families.
"It's going to hurt a lot of people in that way," he said.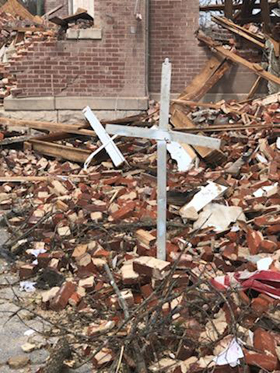 A cross stands amid rubble at Dodson Chapel United Methodist Church in Hermitage, Tenn. The church was devastated by storms in Nashville and central Tennessee on March 3. Photo by the Rev. Chris Seifert.
Dodson Chapel United Methodist's roots go back to 1812, and its sanctuary dated to 1906.
In recent years, attendance had dwindled, and most who came were seniors, Seifert said.
Hermitage United Methodist was asked to partner with Dodson Chapel, and Hermitage's associate pastor, the Rev. Tommy Shelton, had been preaching there in recent months. Attendance had lately grown to about 40.
But the tornado presents all sorts of major challenges. "We're trying to figure out what the future looks like," Seifert said.
The Dodson Chapel congregation will worship together Sunday in space provided by Hermitage United Methodist.
Seifert said his colleague Shelton's main job is with the police force of nearby Mt. Juliet, another hard-hit area. Shelton spent the hours after the tornado in search-and-rescue efforts, Seifert added.
In Putnam County, a tornado touched down around 2 a.m. between the city limits of Cookeville and Baxter, cutting a 2-mile path. By evening on March 3, the death toll had risen to 18, with dozens of others treated for injuries. In addition to Putnam County and Nashville, fatalities were report in Benton and Wilson counties.
The Rev. Carl Stiglich Sr., pastor of Friendship United Methodist Church in Cookeville, said he had not heard that any United Methodist churches had suffered more than minor damage from the Putnam County tornado.
No information was immediately available to identify victims of the tornadoes.
Tennessee Conference officials were continuing to reach out to clergy to determine the extent of church-related damage, said Amy Hurd, conference director of communications.
Helping through the connection
At East End, one of the first calls Hoffman received was from Nashville Area Bishop William T. McAlilly. He said he was at the church by early morning "to be a pastoral, spiritual presence for those who are hurting."
McAlilly said he's already fielded calls from other states and from bishops throughout the denomination. The United Methodist Committee on Relief has approved a $10,000 sustainability grant for the conference's tornado response.
"This is a moment when the church is the church, and we will do the right thing, whatever we can. There will be people from all over the country and the world who will respond to our people here, all because we're United Methodists and we're connected and that's what we do," the bishop said.
"People have no idea what the power of the connection is until you have a disaster like this. Where would we be without it?"
Every church in the area has offered worship space to East End, Hoffman said. This coming Sunday, however, the congregation will worship in the church's park adjacent to the sanctuary — the same park where the first services were held before the sanctuary was built in 1907.
Outside the church, neighborhood volunteer Sumant Joshi swept debris out of the street with a broom. He wore a shirt emblazoned with the words "Inspire hope."
"It felt like the perfect shirt to wear to work today," he said.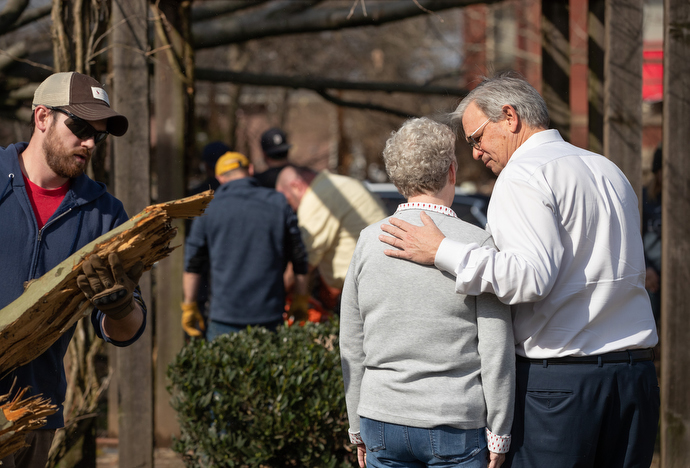 This story was compiled and reported by Joey Butler, Linda Bloom, Vicki Brown, Sam Hodges and Jim Patterson.
News media contact: Vicki Brown at 615-742-5470 or [email protected]. To read more United Methodist news, subscribe to the free daily or weekly digests.
---
Like what you're reading? Support the ministry of UM News! Your support ensures the latest denominational news, dynamic stories and informative articles will continue to connect our global community. Make a tax-deductible donation at ResourceUMC.org/GiveUMCom.