In a plush lawyer's conference room, steps from the White House, 16 United Methodists gathered around a table and set to the hard task of pushing a 48-year-old elephant out of the room.
Led by an expert mediator and two other accomplished lawyers, the group came in representing members from distinct viewpoints over the decades-long feud over homosexuality.
The third and last meeting of the group took place in the Washington law offices of Kirkland & Ellis.
When things got tough, Bishop John K. Yambasu, Sierra Leone, stopped and called for prayer.
Learn more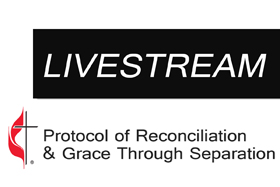 Walking into the mediation, most did not think it was possible for all to agree.
"Peacemaking is hard work," said the Rev. Tom Berlin, who represented centrist groups in the talks. "The real story is the mediation process allowed us to gain the necessary muscle tone to work toward resolution rather than work toward conflict."
Working with
Kenneth Feinberg
, a famous lawyer-mediator, the negotiating team — consisting of bishops and advocacy group leaders from markedly different perspectives on LGBTQ inclusion — arrived at a
plan
that would let traditionalist-minded United Methodist churches separate to form a new denomination, keeping their properties and getting $25 million in United Methodist funds.
The plan is still being drafted as legislation for the
2020 General Conference
, set for May 5-15 in Minneapolis. Delegates there would have to give their approval. However, the plan holds the possibility of ending decades of denominational infighting and avoiding the kind of litigation other
dividing mainline Protestant churches have experienced
.
"Ken Feinberg was excellent. Without his strong leadership and him frankly pushing us, I do not think there would have been a resolution," said Patricia Miller, representing traditionalists and director of the
Confessing Movement
.
"I have been involved in meetings like this for years, and Ken was instrumental in bringing us to a point where we could agree," she said.
Many have questioned why the traditionalists are leaving. Miller said the results of the protocol reflect many concessions, but "when you love something you make sacrifices."
Miller said she uses the analogy of the Judgment of Solomon in which he is asked to rule between two women claiming to be the mother of a child.
"We are not surrendering the position of The United Methodist Church. We are making a sacrifice to preserve what church has believed and practiced for all these years," she said.
She said the conflict within the church over LGBTQ inclusion is a "heartbreak."
"I see traditionalists as loving the church and tired of seeing the destruction," she said. "Some think changing the church is more important than unity of the church and the traditionalists believe that we need to stop the battle."
The Rev. David Meredith, a gay pastor representing progressives, said he is still "awestruck" that the group's members representing distinct viewpoints — who have not been able to reach an agreement up to this point — walked away with just that.
"With the help of an outside negotiator and the movement of the spirit, we found unanimous agreement on shared sacrifice and shared benefit," he said.
Participants in the meetings have said separation of the church is a painful decision.
"Separation is not something I wanted, it pains me. I have worked very hard in the last year to keep us together," said
Bishop Cynthia Harvey in a video
produced by the Louisiana Conference. Harvey was one of the U.S. bishops in the mediation team.
"It is not perfect, I don't think anyone would say 100 percent 'I won,' but it is give and take," she said. "It brought tears to my eyes when we reached that moment when 16 of us could agree."
The collaborative process will only work when each person is as concerned about helping others as they are concerned about their own viewpoints, Berlin said.
"You can't just make the sacrifice, you have to celebrate that others are getting the things they need," he said.
Berlin said the 2019 Special General Conference established everyone's viewpoints. It was an experience no one wanted to repeat, he said.
A mediator was something that had never been tried. "But we knew doing this as a political process was going to lead to something similar to 2019 conference and that would be wounding for so many."
He said Feinberg offering his services was "God's provision."
Meredith believes this protocol is a watershed moment. He doesn't see the plan as ending discrimination for LGTBQ Christians, but feels it "significantly reduces the harm."
"I believe that all persons advocating for the wellbeing of LGBTQ persons should vote for this because this is a very clear and potent harm-reduction strategy," he said.
Meredith is currently
facing charges of violating church law
after marrying Jim Schlacter, his partner of almost 30 years, in 2016.
The protocol calls for holding "in abeyance" administrative or judicial processes related to same-sex weddings or ordination of gay clergy.
Meredith said he wept when everyone around the table agreed to the abeyance.
"I never thought I would see that day … it is not here but it seems more possible than it ever has seemed before," he said.
Harvey said she is hopeful that at the end of this people will find how their greatest expression of ministry can be lived out.
"What really matters now is that we continue to be a light to a hurting world."
Gilbert is a news writer for United Methodist News. Contact her at 615-742-5470 or

[email protected]

. To read more United Methodist news, subscribe to the free Daily or Weekly Digests.
---
Like what you're reading? Support the ministry of UM News! Your support ensures the latest denominational news, dynamic stories and informative articles will continue to connect our global community. Make a tax-deductible donation at ResourceUMC.org/GiveUMCom.