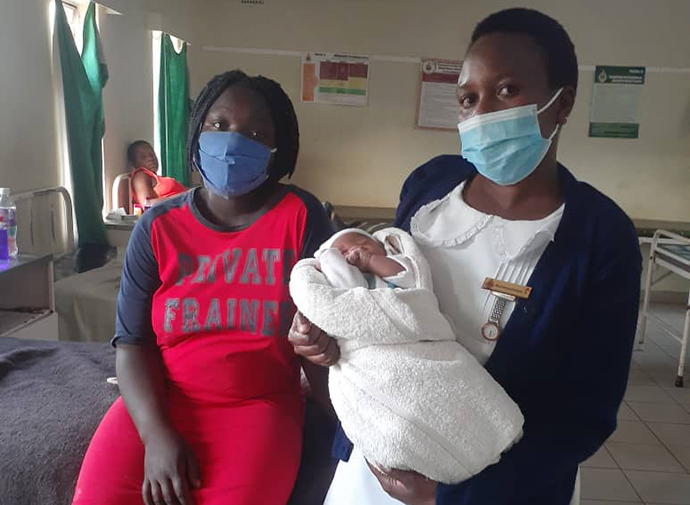 With Zimbabwe's health sector paralyzed by labor strikes and a lack of protective equipment and other supplies, more patients are turning to United Methodist mission hospitals and clinics for care.
Health care professionals called to serve at church facilities remain committed to saving lives despite economic struggles that have been worsened by the COVID-19 pandemic, said church leaders and hospital staff.
Since March, many of the doctors and nurses who work at government-run hospitals in the country have been on strike, demanding better working conditions and pay as well as adequate equipment to protect themselves and patients against the coronavirus.
Despite some of the same issues, workers at United Methodist health facilities remain on the job.
The Rev. Alan Masimba Gurupira, Zimbabwe Episcopal Area administrative assistant to Bishop Eben K. Nhiwatiwa, said health care professionals at church facilities are not on strike because of their dedication to the communities they serve.
"The doctors and nurses at our institutions are living in a set community, which shapes their behavior. The patients they offer service to are close associates in a mission and community setup, which makes a bond between them," he said. "In such circumstances, going on strike disturbs their conscience."
He noted that the services of the chaplains at United Methodist mission centers "mold a very strong moral fabric that finds more sense in rendering service than withholding it as an instrument for change."
The Rev. Onismo Makwasha, station chair and chaplain at United Methodist Old Mutare Mission, said that the COVID-19 pandemic has created shortages of personal protective equipment for all front-line personnel, but they remain committed to doing their jobs.
He said doctors and nurses receive regular spiritual care to help them during these difficult times.
"Daily morning devotions through the chaplain's office are done for spiritual upliftment for both staff members and patients," Makwasha said. "In addition, the availability of free accommodations, water and electricity has maintained confidence to staff. We are not the best, but not the worst."
Angela Macherechedze, sister-in-charge of the family and child health unit at Old Mutare Mission Hospital, said that going on strike did not cross her mind.
"We have developed some resilience, endurance, having patients' lives at heart and being patient that one day our financial constraints will be solved while we are going to work," Macherechedze said of her fellow health care workers and hospital staff.
"There is also that great inner joy and motivation you feel when someone recovers or holds a newborn baby. That alone keeps us going," she said.
The hospital has delivered more than 550 babies this year, seven of whom were stillborn, she said. In July, one of the government hospitals in Harare lost seven babies to stillbirth in one night.
The situation at the state-run facilities has brought more patients to the mission hospitals. Macherechedze said on average, Old Mutare Mission Hospital used to receive 70 expecting mothers per month, but the current average is 100.
"Since the start of the strike, the averaging of expecting mothers has risen to 100, with 112 in August being the highest," she said.
Samantha Sibanda, 18, planned to give birth at a state-run hospital near her home in Harare, but said it was being operated by an overwhelmed, skeleton staff. She said most clinics have closed and she was advised to look for an alternative hospital for delivery or have the baby at home.
She decided to travel more than 160 miles to deliver at Old Mutare Mission Hospital. "I did not regret my choice. The welcome and treatment were out of this world," Sibanda said. "I am so glad I gave birth to a bouncing baby boy … in a friendly and faith-based environment."
Dr. Larry Tanyanyiwa, medical superintendent of United Methodist Nyadire Mission Hospital, said nurses and doctors at the facility did not join the ongoing strikes because as a faith-based institution, they have an obligation to serve those in the margins.
"Most if not all survive from peasant farming activities and cannot afford basic health care," he said. "We live in that community serving the poor and we are part and parcel of that same community as a United Methodist Church family and we cannot go on strike, leaving them unattended."
He said despite facing the same compensation challenges — the government pays the salaries at mission hospitals — Nyadire's motto remains the same: "Put the patient first against all other things," Tanyanyiwa said.
Even before the coronavirus, many in Zimbabwe were facing acute food shortages caused by persistent droughts, natural disasters and economic turmoil. The United Nations' World Food Program estimates that the number of food-insecure people in the southern African nation is expected to surge by almost 50% by the end of the year, to 8.6 million.
Nyadire Hospital employees have benefitted from the mission's partnership with The Nyadire Connection, an all-volunteer group founded by individuals from a network of United Methodist churches in Pittsburgh. The group has been providing food relief to more than 400 families during the pandemic and is working to raise an additional $45,000 so that it can continue to distribute food bundles from November through April.
"The basic foodstuffs (have helped) alleviate the hunger which is currently being experienced by the whole nation because of the drought and the COVID-19 pandemic," Tanyanyiwa said. "The food relief package has also motivated the hospital staff to stay at work."
He said the same package has been extended to staff at the six Nyadire satellite clinics, where workers have remained on the job.
Tanyanyiwa said the mission hospital also received personal protective equipment from a variety of church partners, including the Zimbabwe Council of Churches.
Abigail Kapfunde, senior tutor-in-charge of Nyadire Nursing School, attributes the commitment of the mission's doctors and nurses to their faith and upbringing. She said students learn about the Bible and the church's Social Principles during their training.
"The exposure to a religious environment … has given them every reason to continue saving lives even if the working conditions are unfavorable," Kapfunde said.
Nurse Agnes Chicheko, a graduate of the school, agreed.
"This means I should consider helping the sick first before anything else. This is why you see me at times leaving my plate of food rushing to attend to the sick," she said. "In the Social Principles, we were taught that we are complementing God's work in restoring life to his people."
Chicheko recalled meeting Bishop Nhiwatiwa at her 2016 graduation and said she keeps his words close to her heart as she continues to work during these difficult times.
"He said, 'Demonstrate that you were trained at a mission hospital. People should not ask, but your actions should speak louder than words.'"
Chingwe is a communicator for the Zimbabwe East Conference.
News media contact: Vicki Brown at (615) 742-5470 or [email protected]. To read more United Methodist news, subscribe to the free Daily or Weekly Digests.
---
Like what you're reading? Support the ministry of UM News! Your support ensures the latest denominational news, dynamic stories and informative articles will continue to connect our global community. Make a tax-deductible donation at ResourceUMC.org/GiveUMCom.