The Rev. Kenneth Lewis, a Freeport resident and superintendent of the Grand Bahama Circuit for the Methodist Church in the Caribbean and the Americas, experienced his first hurricane when he was 5 years old.
Of all the hurricanes he has lived through, he declared that Dorian "was the worst by far."
Even in Freeport, 2 miles outside the hurricane's eye, Dorian was a punishing experience, with four days of hurricane-force winds, including a battering 48-hour period as the storm sat still.
About a dozen people — Lewis and his wife, Dularie, and extended family members — rode out Dorian in the house he had built after a hurricane in 2004, with its expandable metal hurricane straps, planted inside reinforced concrete, tied to steel and nailed to the roof's wooden frame. Solar batteries kept the lights on and fans running when needed.
Still, Lewis feared the roof would come off his home, leaving them with no place to go. "I prayed every minute of the storm," he told UM News.
Hurricane Dorian's lingering impact, after first striking the Bahamas on Sept. 1, has been vast devastation, the displacement of tens of thousands of residents and an official death toll of 56. On Sept. 28, nearly a month later, the estimate of those missing
was adjusted from 1,300 to 600
.
"Emotionally, it's going to scar us for some time to come," Lewis said. "I have to deal with members who lost everything. The house is gone, belongings gone, no food, no clothing, no vehicles."
Members of the two Methodist denominations in the Bahamas
have responded to the immediate needs
after the disaster, with initial solidarity grants from the United Methodist Committee on Relief. But they believe that helping survivors with Dorian's psychological impact will be as significant as providing the means for daily survival.
"In my opinion, there's going to be a great need for counseling because many persons have been left traumatized," said Bishop Theophilus Rolle, president of the Bahamas, Turks and Caicos Islands Conference, Methodist Church in the Caribbean and the Americas.
Many of those displaced from Abaco and Grand Bahama islands have evacuated to Nassau. Ongoing pastoral care requests have demanded continual attention from members of the Bahamas Conference of the Methodist Church, including its president, the Rev. L. Carla Culmer.
In the midst of delivering supplies to shelters and households who have taken in evacuated family members, the conference has set up a daylong retreat Oct. 5, to help church leaders and evacuees learn to deal with trauma. Several representatives of the United Methodist North Alabama Conference will lead the retreat.
Through Bahamas Methodist Habitat, its disaster response ministry, the Bahamas Conference has extensive experience with rebuilding homes after hurricanes. That work eventually will be part of its Dorian recovery work.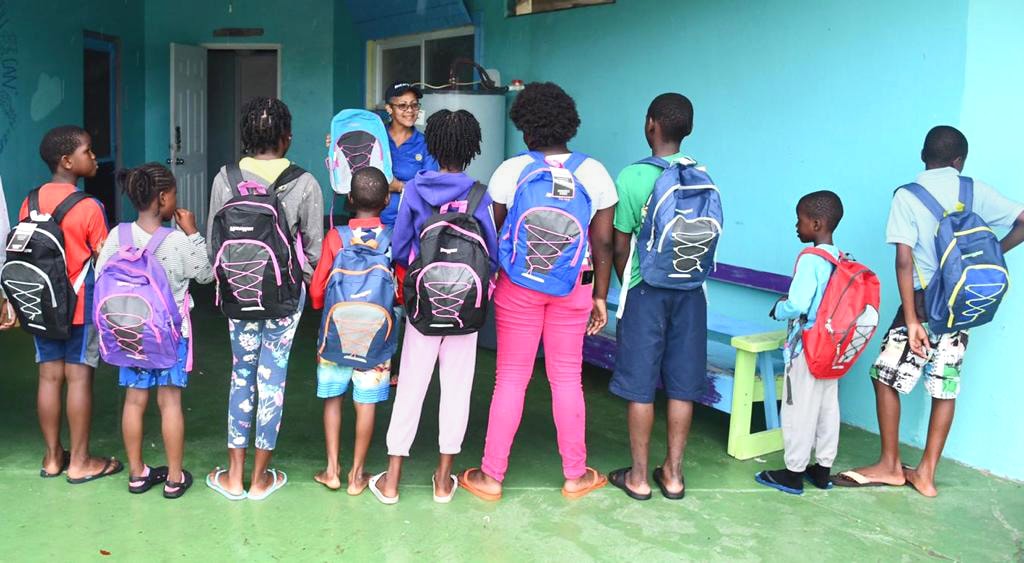 "I want to get back to rebuilding," Culmer said as she prepared to preside over the funeral of someone who died after suffering the trauma of the storm. "But you've got to rebuild lives first."
On Eleuthera Island, where
Bahamas Methodist Habitat
is based at Camp Symonette, more than 70 people used the shelter set up there for evacuees and displaced persons.
Life remains very unsettled for those affected by Hurricane Dorian, said the Rev. Stephanie Gottschalk, the organization's executive director since January 2018. She is a former Volunteers in Mission coordinator for the United Methodist Western Pennsylvania Conference.
"The past few weeks have been a blur," she said. "We are trying to assist evacuees to find a sense of normal in the midst of incredible loss and reassure them that they have support and will not be forgotten."
Bahamas Methodist Habitat is providing temporary support, helping their guests determine their next steps and connecting them to groups and individuals who can provide assistance. "It varies by family whether they're here for 24 hours before moving on or whether it will take a little bit longer to get self-sustainable," she explained. "It's hard to start from scratch.
"Students are starting school and adults are starting to work or volunteer to help one another. Every day, our residents deal with some new image, remember something else that was lost or receive news of friends that were missing, sometimes good news and sometimes confirming worst fears," Gottschalk said.
Representatives of both Methodist denominations met with Katherine Hills-Uzoka, UMCOR's International Disaster Response program manager, when she visited the Bahamas during the last week of September.
Subscribe to our
e-newsletter
Like what you're reading and want to see more? Sign up for our free daily and weekly digests of important news and events in the life of The United Methodist Church.
Gottschalk also was part of a conversation in Nassau organized by the National Emergency Management Agency of the Bahamas.
Management assistance with volunteers will be key when those teams eventually arrive, she said.
"We are in the process of setting up the volunteer support system on Abaco and Grand Bahama, but we will also continue our disaster mitigation outreach on Eleuthera and other islands," Gottschalk added, noting that some islands still have damage from Hurricane Matthew in 2016.
Dorian's effects are obvious, she said, but healing is happening day by day as well. Time to worship and to talk offers an outlet for grief and releasing stress, if only momentarily.
"The church at all levels has made it clear that we are committed to walking with people in this season of recovery and healing and have great hope for the next chapters of life on Abaco and Grand Bahama," Gottschalk said.
Across the islands, Methodists are collecting needed supplies and organizing to support those in need within and beyond their communities.
Students at
Queen's College
in Nassau, a school affiliated with the Bahamas Conference, donated items and assembled hygiene kits Sept. 6 to send to Habitat and elsewhere, and also made deliveries of hot food.
"The school is grateful for the magnitude of the response," said a report on the Queens College website. "Thousands of items came in the very next day. Throughout the day, parents stopped by to assist and to deliver additional items."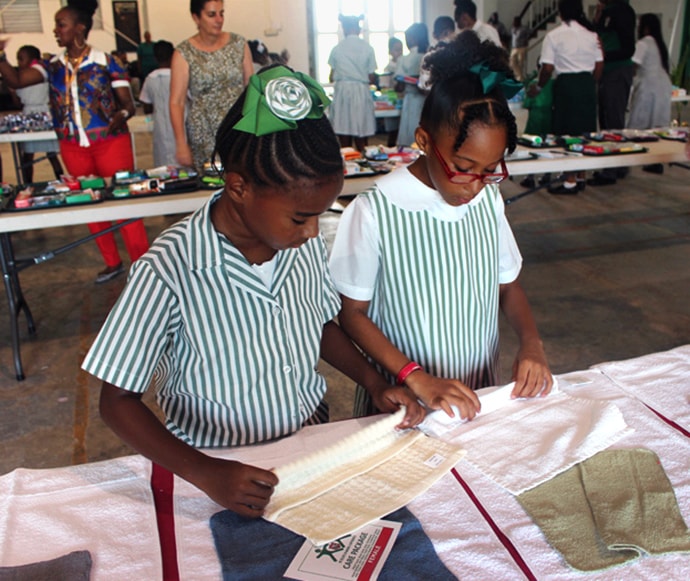 In Freeport, the chapel at St. Paul's Methodist Church, where Lewis is based, sustained significant damage from Dorian but the fellowship hall and the youth building were spared.
The church has been set up as a distribution center and plans were underway in late September to expand existing ministries to help meet the need of residents. Nearly 200 people, for example, showed up Sept. 24 for a water-purification kit demonstration and distribution event.
On that end of Grand Bahama, the infrastructure remains in place. The same is not true of Abaco Island and the east end of Grand Bahama, about 45 miles from Freeport, which Lewis visited on Sept. 23.
"I counted maybe five houses … that you could restore in a reasonable period of time," he said. "The other homes, you would have to rebuild them."
More disturbingly, Lewis said he could "smell the presence of death." Homes closer to the shoreline were destroyed and those lower than 20 feet above sea level were either damaged or inundated by water that swept everything away.
As hundreds of people have moved from the east end of Grand Bahama to live with friends and family members in Freeport, the demand for relief supplies has increased.
In addition, he said, "a lot of the businesses were damaged, so people are out of work. The companies had to suspend operations because of the hurricane."
Most of the immediate relief in Freeport has come in from international donors, partners, friends and family members. Cruise ships have been supplying 10,000 meals a day, but that service is ending, Lewis said.
The Grand Bahama Methodist churches soon may be providing up to 750 meals a day in Freeport, he noted. The churches already have a long-running weekly outreach breakfast ministry for schoolchildren at St. Paul's and St. David's churches, along with a "God's Pantry" ministry at St. Paul's. Details are still in the works, including how and where the resources will come from.
"The demand and the need is tremendous," Lewis reported. "I've never seen it like this."
Bloom is the assistant news editor for United Methodist News Service and is based in New York.

Follow her at https://twitter.com/umcscribe or contact her at 615-742-5470 or

[email protected]

. To read more United Methodist news, subscribe to the free daily or weekly digests.
---
Like what you're reading? Support the ministry of UM News! Your support ensures the latest denominational news, dynamic stories and informative articles will continue to connect our global community. Make a tax-deductible donation at ResourceUMC.org/GiveUMCom.