Austin Harris already had a history of heroic efforts when the coronavirus pandemic threatened services at Topeka First United Methodist Church in Kansas.

Harris, 24, saved Christmas services last December after the church was burglarized twice, the second time the Sunday before Christmas.

"We had none of our (audio-visual) technology left," said Harris, director of worship and communications at the church. "We were sitting on Christmas Eve, prepared to have 800 people in the building and several more hundreds livestreaming throughout the region, and so we had to find a plan to get everything back together."

The quick purchase of two laptops and a couple of late nights of work later, and he managed the job.

"We were able to offer the full worship experience on Christmas Eve and do the livestream," he said.

Harris was among information technology staff and volunteers churches relied on after the coronavirus shut down in-person worship. United Methodist News talked with him and others about the challenges they faced.

When the coronavirus hit, Harris said it was hard to discern how serious the situation was.

"There were so many mixed reports at the beginning that it was either going to be a tremendous outbreak, or nothing at all," he said. "We found ourselves really struggling to find out what exactly we were dealing with."

When large gatherings like NCAA games were canceled, church leadership acted. In-person services were canceled for the time being with a livestreamed service at 10:30 a.m. each Sunday as a substitute.

The Rev. Jeff Clinger, senior pastor, said Harris was "quick to jump to creative ways to help keep the congregation connected.

"Austin immediately launched a couple of podcasts, resourced groups in the church with ways to connect, and began to think creatively about virtual worship experiences for Holy Week."

The church had invested in equipment to do high-quality livestreaming a couple of years back, Harris said.

"That's really come to fruition. … It runs every Sunday to an audience of upper 400s, lower 500s mostly, which is more than we had on in-person attendance on our best Sunday last year."

Livestreamed services are planned indefinitely.

"How long will people choose to stay at home, even if the building is open and the church is available?" Harris said. "Every week brings a new set of challenges and opportunities."

Pastor Molly Fiore

When it became apparent that United Methodist Church of Eagle Valley needed technical help, Pastor Molly Fiore didn't really have the credentials to step up.

The COVID-19 crisis had closed the church's sanctuary in Eagle, Colorado, with no certainty about reopening.

Fiore said no one in the congregation had technology as their "sweet spot."

"I was doing zero of that. None of that was on my radar," she added.

But Fiore had long ago proved her versatility. She started college studying biology and environmental studies, then shifted to medicine and became a medical assistant. From there she earned an MBA and managed medical offices for 12 years. When she tired of that, she became a life coach, published the self-help book "Opting In" and did some motivational speaking. From there, she shifted into a career in suicide prevention and became a trainer in that field.

Off and on, Fiore struggled with depression and thoughts of suicide as she sought a place to fit in.

Then came a call to the ministry and a return to school at Iliff School of Theology in Denver.

In the midst of her internship at United Methodist Church of Eagle Valley, her mentor and pastor of the Colorado church, the Rev. Sid Spain, was diagnosed with lung cancer.

"That really turned that internship into more of an interim pastor role," Fiore said. "I very quickly jumped in and I really have been serving that church full time since September."

When the coronavirus hit, Fiore stepped in "to handle everything," said Cynthia Sibley, lay leader of the church.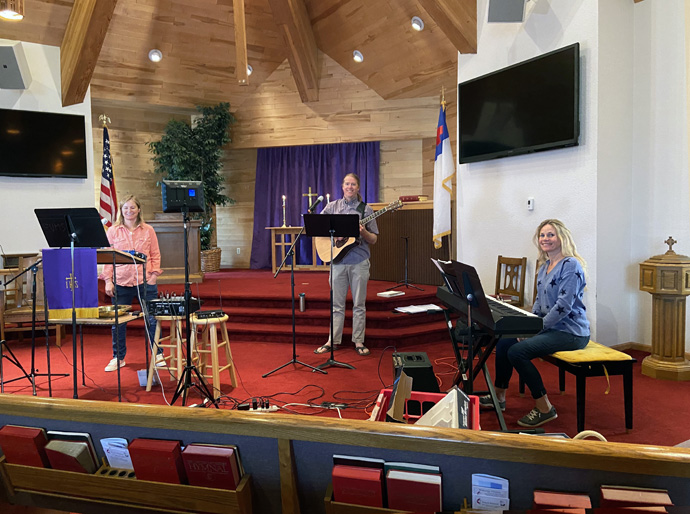 "We moved right into live online worship without missing a beat and she continues to fine tune and develop new ways to engage our congregation," Sibley said.

After leading the revamp to a more interactive church website, Fiore moved church services to Facebook Live, growing the audience from 40 to 700 in a week.

"It was an eye-opener," she said. "I think that we've really been missing something here. This is an opportunity to reach many more people than we have been reaching."

They've since moved services to Zoom.

"It feels like every week there's a new challenge to navigate," Fiore said.

She has kept her depression at bay for a decade now.

"I've felt not just that I'm surviving this, but really thriving," she said, although she concedes it has been stressful.

She says strong mentors and support from the congregation have helped her deal with that.

"I have found ways that really work in my own recovery and my own wellness. Avoiding alcohol, eating pretty healthy, making sure I get outside every day, walking, running, having a stronger support system, and faith has played a huge role in that recovery as well."

Her appointment as official lead pastor at United Methodist Church of Eagle Valley begins July 1. She will balance that with her last year of seminary.

"She is amazing, dedicated and committed to our church in ways we hardly knew we needed," Sibley said. "She is not afraid to jump in to the technological worship venue and make it the best it can be in these times with limited resources and time."

Adhea Grace Atela and John Rasalan

When the first week of COVID-19 stopped United Methodists in the Philippines from gathering on Sunday, a small team at Kamuning First United Methodist Church was able to produce a rudimentary Facebook Live service.

"We went under enhanced quarantine the week after, and could not gather together," said Armin De Pano-Raralio, worship committee chair of the church in Quezon City, the Philippines. "My young adults at home said, 'Ask the kids to help you.'"

Kamuning didn't have any online presence before COVID-19, De Pano-Raralio said.

"All our ministries were live, in-person," she said. "We often continued committee meetings in Messenger threads. … But as far as ministries, nothing was online."

"The kids" turned out to be college student John Rasalan and Adhea Grace Atela. Rasalan is a youth leader at the church, and Atela an accountant.

Rasalan, a civil engineering student The University of the Philippines Diliman, didn't hesitate when asked to help with these videos.

"I do have a lot of time to spare since school was closed due to the pandemic," Rasalan said.

The most frustrating impediment was the slow and occasionally non-existent internet service in the Philippines.

"It was taxing at first as it would take me more or less six hours to finish the entire video cast," Rasalan said. "I only taught myself how to edit through various software and it can be difficult."

Atela spent hours downloading parts of the worship video.

"With God's grace, we were able to finish it in due time, ready for posting during Sundays," she said.


Subscribe to our
e-newsletter
Like what you're reading and want to see more? Sign up for our free daily and weekly digests of important news and events in the life of The United Methodist Church.

Their work inspired other online efforts, De Pano-Raralio said.

"Our other ministries — Sunday school, vacation church school and Bible study groups — on their own developed or organized online programs," she said.

There have been Zoom meetings for the Bible study groups, weekly mini-video broadcasts to replace midweek services and prayer and testimonies posted on the church's Facebook page.

"We encouraged presence and community by encouraging families and individuals to take their photos to post their attendance — color coordinated," De Pano-Raralio said. "We wore green last Sunday."

The church is reaching more people online than it did in person, she said.

"One out of 10 Filipinos lives or works abroad, and these online ministries have allowed many to reconnect with their home church from wherever they are," De Pano-Rarilo said.

"The downside is, our elderly are not tech-savvy and do not have access to our online ministries," she said. "So our ministerial team regularly calls them by phone." Those who live with a younger relative or helper are told how they can stay in contact with church through their mobile phones or tablets.

When the crisis passes, the church will look to enhance and expand use of technology to communicate God's message, De Pano-Rarilo said.

"We have not yet sat down to discuss how we will do this, as physical transitions are top concerns at the moment — protocols, sanitizing, social distancing, etc."

Patterson is a UM News reporter in Nashville, Tennessee. Contact him at 615-742-5470 or

[email protected]

. To read more United Methodist news, subscribe to the free Daily or Weekly Digests.