Key points:
Mission volunteer coordinator for the Methodist Church of Haiti said the assassination of President Jovenel Moïse in July of 2021 has left the country in chaos and ruled by gangs.
The most critical need is food, but the country is also experiencing a cholera outbreak.
United Methodists are providing support but more help is needed.
---
Haiti is haunted by hunger, violence and disease, but its people are comforted by a deep faith that makes them risk their lives to travel through gang-infested neighborhoods to worship God, said David Draeger, mission volunteer coordinator for the Methodist Church of Haiti.
The COVID-19 pandemic stopped international travel, and the assassination of President Jovenel Moïse in July of 2021 has left the country in chaos and ruled by gangs, Draeger said.
Tourism was one of the mainstays of the Haitian economy, along with financial support from the Haitian diaspora, he said.
The country is also experiencing a cholera outbreak because of the shortage of potable water and the inability to purify large quantities of water.
Draeger came to Haiti four years ago as volunteer mission coordinator for the Methodist Church of Haiti. His work has dramatically changed since that time because the increase in gang violence has stopped mission teams from traveling to the country.
The U.S. State Department has issued a Level 4 warning: "Do not travel to Haiti due to kidnapping, crime, and civil unrest." The warning states U.S. citizens should leave Haiti now.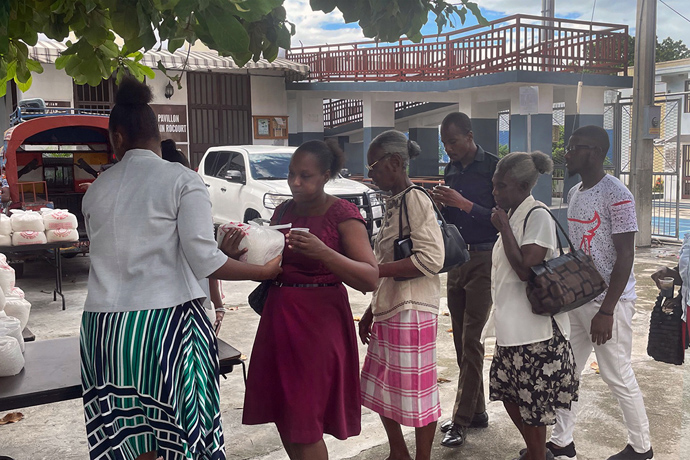 A lifelong United Methodist, Draeger recently transferred his membership to the Methodist Church of Haiti. It is one of eight districts of the Methodist Church in the Caribbean and the Americas, which was established in1967 as an autonomous body of Christians. Both The United Methodist Church and the Methodist Church in the Caribbean and the Americas are members of the World Methodist Council and World Council of Churches.
Draeger spends the majority of his time bringing donations of food to people in desperate need.
He said he walks in faith, works smart and lives by Romans 14:8, "If I live, I live in the Lord. If I die, I die in the Lord."
Draeger lives and works out of the Methodist Guesthouse in one of the safer neighborhoods.
Still, he said, gunfire can be heard several nights per week, and recently two rival gangs murdered three men close to the guesthouse.
In addition to the unrest, Haiti is still reeling from disasters. An earthquake in 2010 killed 300,000 and another powerful quake hit in 2021. Tropical Storm Grace followed on the heels of that quake and many people are still living in temporary housing.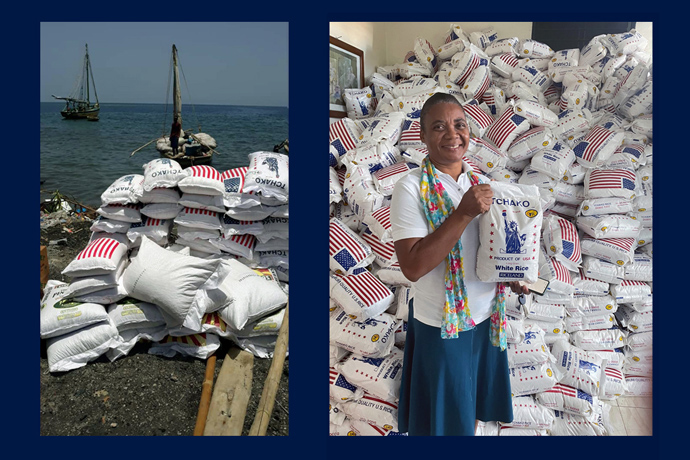 "The largest critical need for Haitians is food," Draeger said.
The Methodist Church of Haiti has qualified for several food grants from The United Methodist Church and other organizations, he said.
"I must put it into perspective with the example of a recent $200,000 grant for food from UMCOR. As large as that may seem, it is a literal drop in the bucket when compared to the need. The food purchased from this grant lasted less than a week because it served over 20,000 people.
"A one-time delivery of three meals to a family of five is greatly appreciated but does nothing to alleviate the hunger pangs in the belly that go on for years."
Living in fear
Ulrick Louijeune, who for many years worked as a translator for Haitian Assets for Peace International and other United Methodist mission teams, now lives in fear at his home in Port-au-Prince.
Learn more
Gangs control the streets and block access to clean water and crops, he said. "It is very common in Haiti for the gangs to kidnap people," Louijeune said. "Negotiations can last for one year. If you create a business, you can become a victim."
Louijeune struggles to send his son to school because he cannot afford tuition. He is trained as an electrician but is afraid to go out.
He said Haitians can grow rice and other vegetables, but gangs block access to the fields.
"I know God is always with me, but I don't work. I am no longer living as a human."
Ministries continue
The Rev. Tom Vencuss, serving as the Florida Conference early response coordinator and coordinator of Mountains of Hope for Haiti, said, "Things in Haiti are beyond description — worse than when Haitian President Jean-Bertrand Aristide was forced out in 1992."
Mountains of Hope operates under the auspices of the Caribbean Mission Partnership of the New York Conference. Mountains of Hope has served with rural communities in the mountains of Haiti since 2004.
"There is no rule of law; the terms of the entire congress ended (in January) and so there are no legitimately elected officials currently in power. Not to mention cholera, gangs and rampant hunger."
Church ministry partner grows in Haiti despite hardship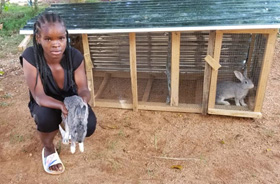 HAPIGro is a youth animal husbandry initiative that trains youth to raise and care for animals.
Haitian Assets for Peace International will soon be receiving two echocardiogram units from CardioStart International. The program joins HAPI's Heart2Heart initiative, which aims to B.E.A.T. women's heart disease. (B.E.A.T. stands for basic training, education, awareness, treatment.)
In addition to the healthy heart initiatives, HAPI includes maternal care (Felisane Health Center and Start Right), vocational education (HAPITech) and an animal husbandry program (HAPIGro).
The program has come a long way since its founding in 2007, said Valerie Mossman-Celestin, director of HAPI.
Vencuss said work continues in the Furcy community about 30 miles southeast of Port-au-Prince, however, no teams have been able to go there in three years. Vencuss coordinates help for the community through Draeger.
"He and I talk almost weekly, trying to coordinate the states-based groups still functioning there."
Vencuss said he also stays in touch with many of the volunteer groups from the 2010 earthquake.
Thomas Food Project
James Orphio Lazarre, a Haitian, has taken over the work started by United Methodist Warren Mcguffin and the California-Nevada Conference to build The Thomas Food Project, which launched 12 years ago
The Thomas Food Project takes a holistic approach to nurturing the body, mind and soul. It includes schools, businesses and churches.
"The Haiti situation is dire. However, where our work is located is less violent than Port-au-Prince. The Thomas Food Project will be transferring our remaining funds to James this month," Mcguffin said.
"It has been an incredible experience to have mentored James Lazarre for these past 12 years. I have spent four years of those 12 in Haiti. I truly have had a faith-building adventure and have experienced weddings, birthdays, funerals and even a voodoo ceremony. Over those 12 years, I was welcomed into the community and made many friends there," Mcguffin said.
Lazarre is working to finish a bakery furnished by The Thomas Project, which will put two young women through culinary academy to take over the operation. He and his wife founded an orphanage in 2017, New Vision for a Better Life, which they continue to support.
He also is working with a community program to educate people about cholera. They are mobilizing trucks that broadcast information about how to stay safe, and have plans to build hand-washing stations.
Lazarre said he would welcome help from the Biden administration to build infrastructure, electrify the country and help Haiti become a welcoming place for entrepreneurs to come and invest and create jobs.
Louijeune prays for help disarming the gangs and then bringing in teams to work in construction, build mobile clinics, invest in agriculture and clean water.
"We need Haiti to be clean; we need Haiti to be free. Too many people are living in fear," Louijeune said.
Grace Children's Hospital
"Grace Children's Hospital, located in the Delmas neighborhood of Port-au-Prince, has remained open during these trying times, which has not been easy considering that most of the hospitals have closed," said Len Middleton, board treasurer of Michigan-based International Child Care.
Grace Children's Hospital was started more than 40 years ago as a small clinic for boys and girls with tuberculosis. The 2010 earthquake destroyed the building but staff continued to see patients in a tent community. The hospital moved across the street where offices were previously held. In 2014, a second floor was added onto the hospital for new offices and an education and training center and conference room.
"For the most part, the hospital is fully functioning. Occasionally, when the country has major strikes, we reduce services for the day because of staff safety issues with traveling to work," Middleton said.
The hospital receives support from the United Methodist Advance designated-giving program, a relationship that started in the early 1970s.
"A recent grant from United Methodist Global Ministries Global Health will help the hospital purchase new eye clinic equipment, a new microscope for the diagnose of tuberculosis, and medical supplies for the next six months as we can't really buy local supplies," Middleton said.
Grace Children's Hospital has about 100 health care workers and in the past year, they had six ophthalmology residents help with the eye clinic, he said.
"Last year, Grace treated 151,000 patients and approximately 2,000-5,000 per month at the eye clinic."
Work must continue
Draeger said one way people in The United Methodist Church can help is by maintaining personal relationships with people they met on mission trips to Haiti.
Pastors, lay leaders, doctors, nurses and teachers need to know someone in the world cares for them, he said.
"The good news is that, in spite of the hardships, in spite of the difficulties, the Church of Haiti is alive and well … sanctuaries are full every Sunday. People risk their lives to travel through violent, gang-infested neighborhoods to worship God."
Gilbert is a freelance writer in Nashville, Tenn.
News media contact: Julie Dwyer at [email protected]. To read more United Methodist news, subscribe to the free Daily or Weekly Digests.
---
Like what you're reading? Support the ministry of UM News! Your support ensures the latest denominational news, dynamic stories and informative articles will continue to connect our global community. Make a tax-deductible donation at ResourceUMC.org/GiveUMCom.