For much of the past decade, a group of United Methodists from New York has trekked to a small mountain village in Haiti and left behind a piece of their hearts along with a fair amount of blood, sweat and tears.
Furcy is not a place for the weak of spirit or knees. But it is a place of radical hospitality.
About 30 miles southeast of Port-Au-Prince, Furcy is a village of farming families who have carved beautiful gardens out of steep mountainsides. Furcy Methodist Church is the center of community life, and there is a Methodist medical clinic and a primary school.
The Revs. Wendy and Tom Vencuss, United Methodist pastors serving at Wethersfield (Conn.) United Methodist Church, made their first trip to Haiti in 2002. And they found their mission and the passion they would share.
"We started talking with the resident missionaries, in particular Charles Maddox, about finding a site for long-term mission work," Vencuss said. "We came out here and just walked into this valley and immediately fell in love with it."
Wethersfield started sending volunteer teams. Other churches in the district heard about Furcy and soon also started sending teams. Eventually the Furcy project was taken over by the New York Annual (regional) Conference and renamed "Mountains of Hope," with three or four teams annually making the rugged trek.
Rugged? A four-wheel-drive vehicle will get you close. In the absence of street signs, a small house on the roadside has "FURCY" and a big arrow pointing to the right painted on its tin roof.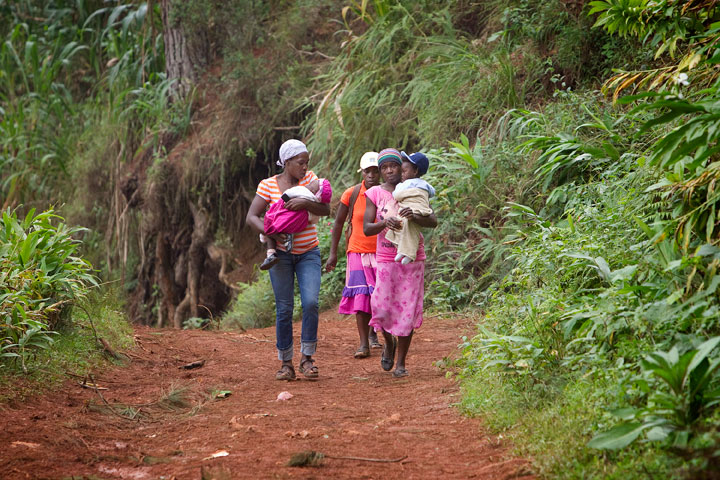 After parking the vehicle, a long hike remains down and around the mountain to the church and clinic. The school, perched on a jutting rock slab, is even further down a very steep mountain.
The slightest rain changes the dirt trails into a giant, thick-red-mud Slip 'N Slide.
Mission teams sleep on air mattresses on the cold concrete floor of the church. There is no electricity, no running water and very little food. The work is back-breaking, soul-wrenching &ellipsis; and faith-affirming.
'Another world and time'
Furcy is "breathtaking," said Terry Temple, chairperson of the mission commission at Hyde Park (N.Y.) United Methodist Church, who has made many trips to the village.
Equally awe-inspiring are the people, she added.
"I don't think that many Americans realize that only one hour flying time away from Miami is a country where so many people live in such an impoverished situation," she said.
Leigh Bak and her daughter Emily, 19, took their first trip to Haiti in November, when they traveled to Furcy with Temple and others from the New York Conference.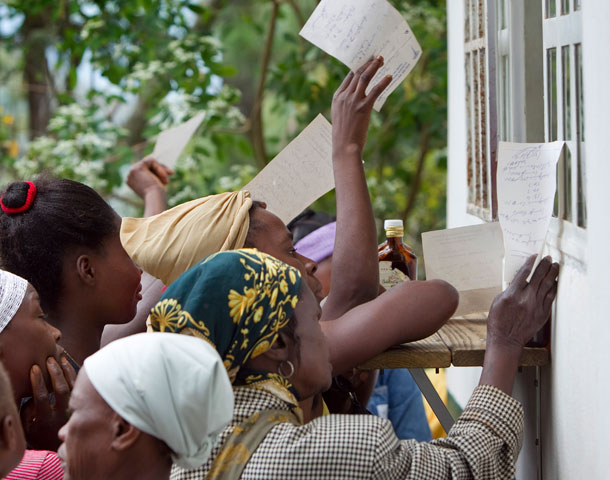 "At first, it seemed that we had landed in another world, or at least another time. The devastation of the earthquake was heartbreaking, superimposed on an already struggling country. But at the same time, there was such beauty in the people and the physical setting of Furcy," Bak said.
The people are faithful, joyful and industrious, she said.
Emily was a little overwhelmed by the pleasure they found in simple things like a soccer game in a field of "cow pies."
As an avid soccer player herself, she said her normal aggression in the game was tempered by the manure. "I refused to fall in the cow pies," she said. "The kids in Furcy did not even seem to notice the mess the cows had left. One of the boys slipped and was completely covered in the stuff and he didn't even seem to mind." She said it broke her heart to leave the children, but she looks forward to returning on another mission trip.
The kids and adults worked as hard as they played, Bak said.
"They worked alongside us in building a latrine at the school, and could literally run circles around us in carrying heavy loads on the steep mountain hillsides, regardless of whether they were 5 years old or 75 years old."
Medical need and poverty
Bak, a diabetes clinical nurse specialist, worked in the clinic with another nurse from the conference and counseled patients, filled prescription, taught health and gave medication advice.
"We treated some things that we see often in the U.S., like bronchitis, pneumonia, diabetes and hypertension; but I also saw conditions and diseases that I had only read about in textbooks before this experience."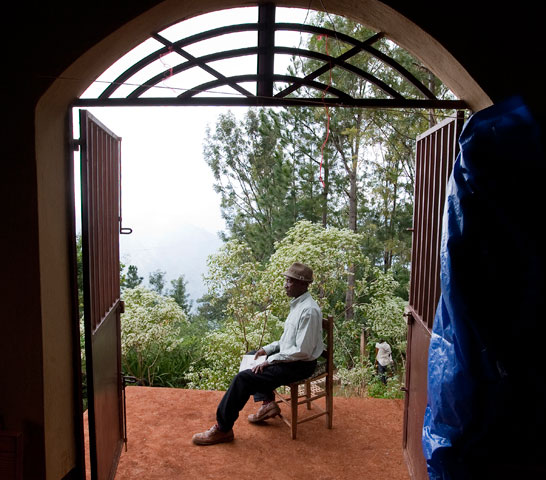 She was also struck by the level of poverty.
"Many residents eat only one meal a day, with much of the food (plants and animals) grown locally on the very steep mountainsides. How fortunate we are to live in a country where we can turn on a tap to brush our teeth with water that we know is safe, use a flush toilet &ellipsis; turn on the lights &ellipsis; open the refrigerator to find safe, preserved food to nourish our bodies. I hope I never take safe water and electricity for granted again," she said.
The VIM team spent a lot of time with the children in the village, teaching English in the school, and holding vacation Bible school in the afternoons.
One incident during VBS left a lasting impression on Bak.
"One of our team members was helping a toddler eat the last bites of rice and beans. I asked our interpreter to tell the young woman with her how beautiful she was," she said. "Her response broke my heart because she asked me to take the child home with me."
She wanted the child to have a life with opportunities.
"It is situations like that that make me determined to return and be a part of helping to improve the lives of people in Furcy in ways that they can sustain on their own."
*Gilbert is a multimedia reporter for the young adult content team.
News media contact: Kathy L. Gilbert, Nashville, Tenn., (615) 742-5470 or [email protected].
Related Video
Haiti One Year Later: Quake Survivor
Destruction in Haiti: Now and then (New York Times)
Related Articles
Volunteers build relationships in Haiti
Quake survivor focuses on Haiti recovery
Haiti: Shaken but not broken one year later
A Year later, Haiti struggles back
UNICEF: Year after quake, thousands of Haitian children still suffering
Resources
Earthquake in Haiti: The Church Responds
---
Like what you're reading? Support the ministry of UM News! Your support ensures the latest denominational news, dynamic stories and informative articles will continue to connect our global community. Make a tax-deductible donation at ResourceUMC.org/GiveUMCom.