When the Rev. J. Denise Honeycutt, head of the United Methodist Committee on Relief, visited Haiti in September, she was impressed by the evidence of new construction in Port-au-Prince.
Just five years ago, on Jan. 12, 2010, a 7.0 earthquake nearly leveled the capital and left more than 200,000 dead; displaced 1.5 million throughout the island nation and damaged or destroyed some 300,000 buildings.
"There was a sort of feeling of vibrant life and even brightness about the city," Honeycutt recalled. Still, she could find a few remaining piles of rubble. "It was striking to see a community, a country and a people who were moving forward…and yet this reminder of this earthquake is just around the corner."
United Methodists — who donated some $45 million to UMCOR for the earthquake response — have participated collectively and individually in relief and recovery efforts for Haiti.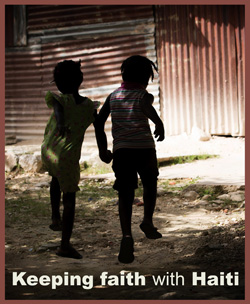 UMCOR's strategic plan through 2017 is to have a maximum impact on sustainable development in partnership with the Eglise Méthodiste d'Haïti, or the Methodist Church of Haiti. The denomination's earthquake response has focused on shelter and reconstruction, education, health and hygiene, livelihoods and capacity building.
Many other UMCOR partners have played a significant role in the five-year recovery. "We don't need to do it on our own," said Honeycutt. "There are partners out there who do want to be a part of the solution and have expertise that perhaps we might not. Or we can leverage our expertise with their expertise."
Concerns over housing, jobs
Included in the earthquake's death toll was Jean Arnwine, a United Methodist volunteer, and two executives from the United Methodist Board of Global Ministries – the Rev. Sam Dixon, who then led UMCOR, and the Rev. Clinton Rabb, head of Mission Volunteers.
The Rev. Jim Gulley, who was trapped with the men in the wreckage of the Hotel Montana, now serves as the mission agency's adviser and partner coordinator for the work in Haiti.
Both he and the Rev. Gesner Paul, president of the Methodist Church of Haiti, acknowledged overall concerns about unemployment and inadequate housing.
Paul said he has found the recovery process to be "very slow," lamenting that more than 70,000 Haitians still live in tents. He believes many nongovernmental organizations "did not reach the targets or goals they were supposed to achieve."
For various reasons, including ownership of property, "there has not been enough housing rebuilt," Gulley said. "That is the big failing of the whole response of the whole international community."
An approach taken in last few years to provide rent money and let people find their own housing has helped reduced the numbers of those displaced, he added.
Both Paul and Gulley agree that new jobs are crucial to progress in Haiti. With 60 percent unemployment, Paul said, "most of the people are self-employed. They survive with the little things they can do."
A recent USA Today story also cited concerns over slow progress on reconstruction and job opportunities and quoted former U.S. Senator Richard Lugar, a United Methodist, who said, "The amount of poor construction and the lack of urban planning is evident."
Successes and challenges
Haiti has always had its challenges and responding to the earthquake was no different, Donna Derr, director of development and humanitarian assistance for Church World Service, pointed out.
"From our perspective, as expected, there were both some real clear successes and there were some things where we clearly felt an impact was made in the moment (without) any long-term results," she said.
One of the "huge" successes for CWS — made possible by support from UMCOR and others in the ACT Alliance, a network of faith-based relief agencies — is a relocation project for 500 families who had been living on a soccer field in Léogâne, one of many makeshift communities formed around Port-au-Prince after the earthquake
As new housing, water systems and livelihood programs were put in place in their damaged communities of Ganthier and Boen, Haitian church leaders provided "really amazing leadership" to help prioritize the development and relocation process.
"It's gone just amazingly well," Derr said. "Many of them (residents) are now income earners who weren't before, even before the earthquake."
Another success was a program designed specifically for people with disabilities, including those disabled from earthquake-related injuries. Recently, CWS was able to connect their local partner in that program with the U.S. Agency for International Development, she added.
A relocation program in rural Haiti fell short, however. "We saw a huge influx of displaced persons who moved up to the northwest of Haiti with family members in really rural areas where we work on food security programs," Derr explained. But only about 30 percent stayed permanently, with the rest eventually migrating back to Port-au-Prince.
The many schools operated by the Methodist Church of Haiti remain "the most important thing," Paul said, but education also "is where we have most of the problems." 
UMCOR just released funds to the Haitian church to help pay the arrears in teacher salaries and Honeycutt agreed that the church needs a sustainable plan for education. "The church is responsible for a number of schools throughout the country," she noted. "Continuing to pay those teachers' salaries is an issue they are struggling with even today."
Financial commitments
As of July 2014, UMCOR had spent and made grant commitments in excess of $32 million. A general breakdown of that spending includes:
$12 million for emergency response
$ 2 million for education (school reconstruction)
$4 million for rebuilding houses and churches
$1 million-plus for water, sanitation and hygiene
$800,000-plus for livelihoods programs and agriculture-related work
$1 million for capacity strengthening activities
$53,000 worth of school and health kits
$10 million-plus for continued community development work through 2017.
Source: UMCOR International Programs Unit 
Another priority for the Haitian church is the re-opening of a training center for rural young adults at Vialet in Petit-Goâve Circuit. The center is being revamped in a way that requires less administrative overhead. "It's a vital ministry in terms of creating community leaders," Honeycutt said.
A major effort is underway to mobilize resources over the next three months to allow the center to re-open after Easter, Gulley added.
Lessons learned from tsunami
The overwhelming international response after the Haiti earthquake, as with the Indian Ocean tsunami five years earlier, "far outstripped the ability of the country to absorb it," said Susan Watkins, Haiti Head of Mission for UMCOR.
Improved procedures, regulations and standards have brought some progress, she noted.
"Overall, we expect accelerated development in the coming years based on the lessons learned (and the) partnerships and foundations for working relationships that have been set."
One lesson that CWS was able to apply from its tsunami experience was to "be aware of what your strengths are as an organization and work from there," said Maurice A. Bloem, executive vice president.
At the outset of the earthquake response, Derr explained, CWS decided it was not going to engage in areas where the agency did not have an established presence. The only exception was with its people with disabilities program.
UMCOR also followed a strategy in Haiti similar to its tsunami response, said Sharad Aggarwal, director of international programs, by allocating some funds for the emergency response, recovery, and reconstruction phases, while reserving the remainder to support transitional development programs down the road.
"Our emergency response planning had to be sensitive to long-term development needs, given the history of development in Haiti and the role of other humanitarian actors," he explained. "Fundamental to the Haiti strategy is capacity-building of both staff and local partners."
Bloom is a United Methodist News Service multimedia reporter based in New York. Follow her at http://twitter.com/umcscribe or contact her at (646) 369-3759 or [email protected]
---
Like what you're reading? Support the ministry of UM News! Your support ensures the latest denominational news, dynamic stories and informative articles will continue to connect our global community. Make a tax-deductible donation at ResourceUMC.org/GiveUMCom.