The Rev. James Gulley survived the Haiti earthquake that claimed the lives of two of his colleagues. But it wasn't until he returned five weeks later that he realized the devastating toll the disaster had taken on the small Caribbean nation.
"At that time it seemed that people were almost in a daze," he recalled. "People were moving, but it seemed as if not much was really happening. Some people were chipping away at rubble. People had set up tents in the streets. All the open spaces seemed to be filled with people who no longer were able and willing to go into their houses, even if they were still standing."
Gulley spoke about his ordeal, his determination to assist in relief efforts and his admiration for the people of Haiti during avideo interview with United Methodist Communications.
He is resolved to fulfill his original mission: assist the people of Haiti with agricultural and community development.
A consultant for the United Methodist Committee on Relief, Gulley was in Port-au-Prince on Jan. 12, 2010, for meetings. He had just walked into the Hotel Montana lobby with his colleagues – the Rev. Sam Dixon, who led UMCOR, and the Rev. Clinton Rabb, head of Mission Volunteers for the United Methodist Board of Global Ministries – when the walls collapsed around them.
For 55 hours, the three men were trapped in a small space with Rick Santos, Sarla Chand and Ann Varghese – colleagues from IMA World Health, who were meeting them at the hotel for dinner. French rescue workers finally freed them, but it was too late for Dixon and Rabb, who died from their injuries.
"I've really reflected a lot upon our time under the rubble of the Montana Hotel," Gulley said. "…We did everything we possibly could, but it just made us recognize that we couldn't do most what we wanted to do and that was to help our colleagues be free."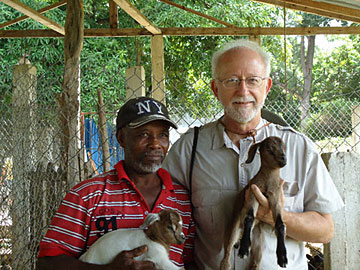 Doing something
His personal approach to Haiti's earthquake recovery is shaped by that recognition. He can't do everything, but he can do something.
"I've had people ask me, 'Well, didn't you find it hard to go back?' And I had to say no, I didn't find it hard to go back. In fact, I would have found it hard not to go back because I was doing what I was called to do when I was there.
"Even though my contribution might be small, might be like a drop in the bucket, we need every drop that can be put in place in order to make the transformation of Haiti what it has to be and needs to be for the people of Haiti."
No one can answer the question of why this tragedy occurred, Gulley pointed out. "What I can answer is that I found myself renewed in my own faith that God is not a God that is out somewhere in the far distance or away from the earth, but is very present with us," he said.
While some may have felt forsaken during the earthquake, Gulley said he sensed "the presence of God with us," trying to provide strength to those who were trapped and to relieve their pain.
Last fall, he was able to get back to his mission as he helped oversee a Haiti agriculture emergency assistance program in cooperation with the Methodist Church of Haiti -- in the areas most affected by the earthquake.
An agronomist will oversee the project and the six technicians who are implementing it. "The biggest challenge that we've found in trying to get that project under way has been to be able to hire some new staff to take care of it because there are a lot of nongovernment organizations working in Haiti, and many of them have hired staff away," he said.
Other church-related projects include building schools for children living in temporary tent camps; creating income-generation programs and providing scholarships for students. "It's the funds from Methodists throughout the United States that are helping to support that work and make a difference," he added.
Resilience and determination
While the Haitian people have been frustrated with the sometimes slow pace of the recovery, "they have exhibited a tremendous amount of resilience and determination to make Haiti a better place in the future," Gulley said.
Emblematic of that spirit, in his opinion, is the owner of the Hotel Montana, whom he met recently when he stopped by the site to reflect on his ordeal there and the lives of Dixon, Rabb and the hundreds of thousands of Haitians who died in the earthquake.
An older woman, the owner was trapped in the hotel's rubble for 100 hours. Now she is planning to rebuild the hotel and create a memorial there, open to people of all faiths.
Gulley has a challenge for those who want to know what they can do to help Haiti recover from the earthquake: learn the country's history; continue to donate dollars as well as health, school and layette kits; participate on volunteer teams and use the power of prayer.
"Something that every one of us can do is to pray for the people of Haiti," he said. "Pray for the leadership of the Methodist Church of Haiti. They have tremendous burdens to carry for the church.
"Pray for the political process there. Those folks need political leadership that really reflects taking care of the country as a whole, and not just the small elite upper class. Pray for UMCOR and UMVIM and the leadership of those two organizations that represent United Methodists in Haiti, and I think are doing it well."
*Bloom is a UMNS reporter based in New York. Information for this story was taken from a December video interview with the Rev. James Gulley.
News media contact: Linda Bloom, New York, (646) 369-3759 or [email protected].
Related Video
Destruction in Haiti: Now and then (New York Times)
Related Articles
A Year later, Haiti struggles back
UNICEF: Year after quake, thousands of Haitian children still suffering
Resources
Earthquake in Haiti: The Church Responds
---
Like what you're reading? Support the ministry of UM News! Your support ensures the latest denominational news, dynamic stories and informative articles will continue to connect our global community. Make a tax-deductible donation at ResourceUMC.org/GiveUMCom.