Key points:
The Nyadire Connection teamed up with Carnegie Mellon University students to install a biogas digester at a United Methodist mission school in Zimbabwe.
A biogas digester converts animal and plant waste to methane used for cooking, offering an inexpensive solution to deforestation.
The new innovation reduces cooking time at the school and allows more meals to be prepared at once.
---
Students from Carnegie Mellon University in Pittsburgh have engineered an environmentally friendly solution to a problem facing a United Methodist mission school in Zimbabwe.
For decades, Nyadire Central Primary School had been using firewood for cooking, costing $400 per term, and the practice was contributing to deforestation.
To address the dangers to the environment and subsequent climate change, the students with Engineers Without Borders installed a biogas digester, which converts animal and plant waste to methane used for cooking.
The Nyadire Connection, a faith-based nonprofit organization based in Pittsburgh, teamed up with the engineering students for the project. The nonprofit has been offering support to Nyadire Mission since 2006.
Drew Harvey, Nyadire Connection program leader and travel and cultural mentor for Engineers Without Borders, arrived in Zimbabwe Jan. 3 accompanied by four students.
"Our main objective of coming to Nyadire Mission was to ensure the biogas digester had been installed properly and to commission it for operation," Harvey said.
"Complex community issues rarely have a single solution. EWB's approach integrates different engineering disciplines and exhaustively considers alternative solutions. The most important part of any such project is continuously engaging the community since they will ultimately be accountable for ongoing and sustainable operations," he said.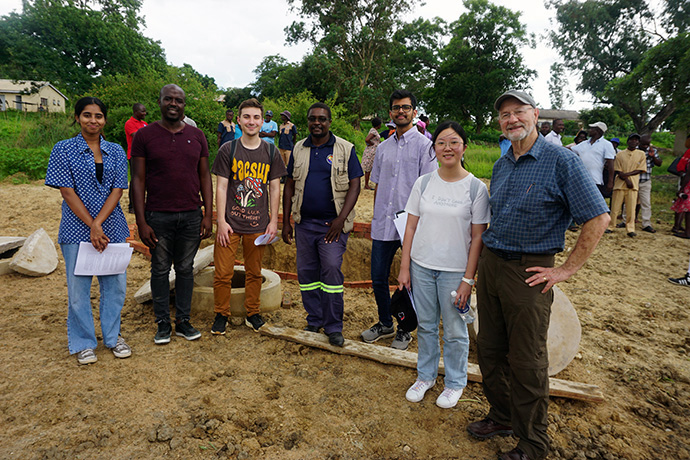 Shivank Joshi, 21, a chemical engineering student who graduates this year, touted the project and the difference it will make.
"After a successful implementation of solar street lights in 2019 (at the mission), we were driven to construct a biogas digester and our team raised funds towards this project through a combination of individual donations, scholarships and grants.
Subscribe to our
e-newsletter
Like what you're reading and want to see more? Sign up for our free daily and weekly digests of important news and events in the life of The United Methodist Church.
"A total of $25,000 made it possible for our team to cover the construction of the digester and travel to Nyadire," Joshi said. "After meeting with the people at the school, I am very proud of our team for the lasting difference the biogas project will make in their lives."
Engineering student Keerthana Karthikeyan, 19, described the biogas digester as a facility that uses waste to produce energy and fertilizer. It consists of three chambers for collecting biogas, slurry and liquid byproducts.
"The feed into the digester usually consists of cow manure, pig manure and food waste," said Karthikeyan, adding that in the digester, the organic matter fed into the tank breaks down into methane, a colorless, odorless, flammable gas that is used for cooking.
"The liquid waste is a rich fertilizer that can be used for the plants and the crops that are grown around Nyadire," she added.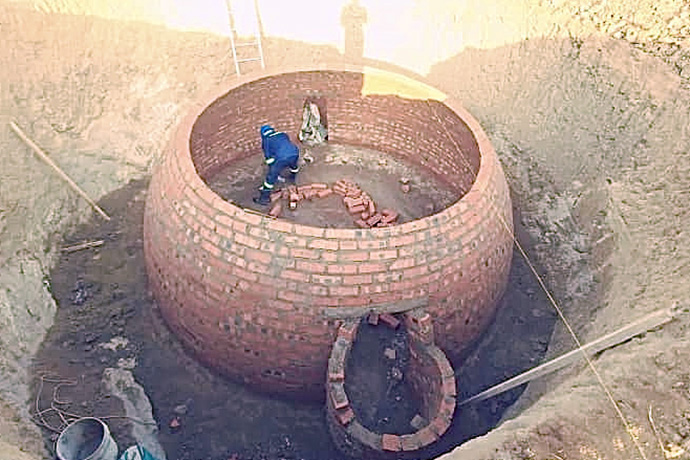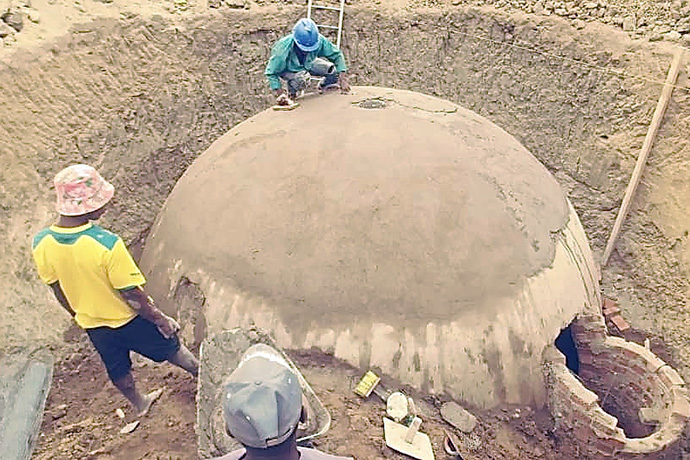 Shiyu "Judy" Zhu, 20, who is studying civil and environmental engineering, said the digester has significant environmental benefits.
"It reduces deforestation thereby preserving more trees to absorb greenhouse gasses, and less air pollutants would be generated from eliminating burning firewood.
"I think the project is an ingenious idea that solves so many problems in a relatively cost-efficient way," Zhu said.
Nyadire rural health clinic update
The Nyadire Connection has been refurbishing rural medical clinics surrounding Nyadire Mission for the past decade. The nonprofit has finished five clinics to date and is raising funds to compete the sixth and final clinic.
"Ten years ago, we began a brick-by-brick journey with the local communities to refurbish these clinics, which were in disrepair with no running water or electricity. At the time, we had no idea how — or if — we could raise the necessary funding, about $1.8 million," said Ralph Duckworth, the Nyadire Connection's chairman and clinics program leader. "But we were driven by the faith that these clinics would improve the standard of health care for tens of thousands of residents, especially mothers-to-be who walk miles to have their babies there."
Duckworth said to complete the clinic by year-end, the nonprofit needs to raise $250,000, and they are now beginning the campaign to meet that objective.
To learn more about the Nyadire Connection and its rural health clinic project, visit
www.nyadire.org
.
Mechanical engineering student Isaiah Lerch, 21, said the design of the biogas digester is meant to reduce the amount of maintenance required. There are no moving parts and this allows it to have a much longer lifespan than many other energy alternatives, he said.
"The main component is a 25-cubic-meter brick dome that stores the waste. This sits completely underground to protect it from the weather elements and eliminate the smell. The lifespan should be well over 25 years," Lerch said. "The material is durable and there are no valuable parts which could be stolen."
He said the process is more efficient, cheaper and less labor intensive than collecting firewood.
"Our goal was to create a reliable source of energy that is sustainable and allows the school to cook many meals at one time," Lerch added.
Tendai Mushapaidze, Nyadire Central Primary School headmaster, said he is excited that the biogas digester will reduce costs.
"Each term, we needed 10 lorry loads of firewood at $40 each. We are very happy to be the pioneers of using a biogas digester in Mutoko District," he said.
Samuel Musareka, the school's head cook, said the staff is thankful for the innovation.
"Cooking time has been reduced and multiple dishes can be prepared at a time. There is no smoke, which was hazardous to our health, and cleaning of dishes is much easier now."
Nyadire Mission chair the Rev. Lancelot Victor Mukundu said the primary school is a low-income earning unit because they have few boarders, so cutting down on costs is important. The United Methodist Church school has an enrollment of 716 students, with 174 boarders.
The digester also will help in other ways, he said.
"Despite the mission being located in a farm, the Environmental Management Authority laws prohibit the random cutting down of trees. Disposal of ashes was another menace to the environment as it can easily cause forest fires," Mukundu added.
Harvey said the engineering students were focused on solving a problem that could make a significant improvement to the community. However, the project also was a learning experience for the students.
"As a partnership, everybody wins," Harvey said.
Chingwe is a communicator for the Zimbabwe East Conference.
News media contact: Julie Dwyer at [email protected]. To read more United Methodist news, subscribe to the free Daily or Weekly Digests.
---
Like what you're reading? Support the ministry of UM News! Your support ensures the latest denominational news, dynamic stories and informative articles will continue to connect our global community. Make a tax-deductible donation at ResourceUMC.org/GiveUMCom.