Whether a tornado, hurricane, flood, wildfire or earthquake, when disaster hits a community - or a United Methodist church - pastors and congregations need to be prepared. This is one of three stories about pastors and congregations who faced the unexpected.
On April 27, 2011, more than 300 twisters slashed through the southeastern United States, killing 321 people. One wrested the steeple from the sanctuary of Ford's Chapel United Methodist Church in Harvest, Ala., and threw it to the ground.
As 200 members and visitors gathered for worship in the damaged sanctuary four days later, they gave thanks that although the tornado destroyed the original chapel - dating to 1870 - and the family life center and left three church families homeless, the congregation was fortunate.
"We were probably as prepared as we could be," recalled the Rev. Dorothy Ann Webster, who served Ford's Chapel from 2009 to 2011. "I don't know that you could ever be totally prepared."
On that fateful Wednesday, with rough weather on the way, the staff had followed a prescribed disaster plan. "Preschool students and staff were brought to the basement level, where the office is, and during a break in the storms, parents were notified to get their children," Webster said. Because of the forecast for more severe weather, they cancelled Wednesday evening activities.
Thankfully, no one was at the church when the tornado slammed into the building.
Along Ford Chapel Road, the twister pulled up giant trees by the roots and reduced once-beautiful homes to rubble. Phone and power lines and cell towers were down. Gas was in short supply. Food spoiled in powerless refrigerators.
The immediate concern was making sure the congregation and neighbors were safe and had a place to stay.
"With power out in the entire county, employers told people to take the time off to help neighbors," Webster recalled. "The influx of volunteer help was almost overwhelming.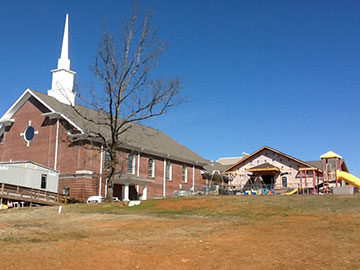 Two years after a tornado tore the steeple from Ford's Chapel United Methodist Church, Harvest, Ala., a new steeple beckons worshippers. A web-only UMNS photo by the Rev. Calvin Havens.
"Our district superintendent and associate superintendent were very supportive, as were other pastors, congregations and community groups. Because the disaster covered such a large territory, and communication was challenging, we all ended up taking charge of our immediate areas."
From tragedy to hope
Eventually, they learned that the twisters had carved a wide swath through the area and that United Methodist Committee on Relief staff was working in the conference, but focusing on other areas. "By that point," Webster said, "we had pretty much gotten folks through the initial couple of weeks.
"I learned later - after power was restored and I was able to read email - United Methodist friends had been emailing news about us and trying to reach us."
Along with the material losses, the congregation also discovered that Webster was moving to a new appointment in the summer. The Rev. Calvin Havens would be the new pastor.
"The tornado made an already tough transition more difficult," Havens said. "The church seemed to be in shock as they were dealt a double whammy. A week before the tornado, they found out that their beloved pastor was being transferred. Then the EF5 tornado destroyed the bulk of the facility, along with hundreds of homes along a 104-mile path.
"People can only handle so much change, especially as it relates to loss. It seemed in my first months, the people were in a daze, and it's taken a while to gain clarity."
However, Havens said, the tornado likely saved Ford's Chapel from closing. "Nine years earlier, the church had incurred a debt load more than five times its operating budget. (The church) was not growing, although in a high-growth area. It took 70 percent of their income to pay on the debt, utilities and upkeep. With the payoff of the insurance, the old debt was erased, as well as a small amount was banked for a new building.
Overcoming disaster
"It took over a year to discern a plan. A 12,300-square foot facility is being constructed. It has a children's wing, multipurpose fellowship hall, along with a youth room and a kitchen. Our debt load is half of that prior to the tornado, with an interest rate also halved."
Before the tornado, the congregation was divided on what to do with the historic chapel, with its ax-hewn timbers from the early 1800s.The tornado demolished the unused building. "Now," Havens said, "its timbers are being recycled to build a pavilion that will be open to the community.
"The tornado gave this church a new opportunity to reinvent itself, learn from the past and embrace a brighter future."
'Promise of new life through Christ'
Now serving First and Oak Grove United Methodist churches in Lineville, Ala., Webster said she continues to play it safe.
"I make sure we monitor the situation when severe weather threatens and provide shelter for those we can during storms," she noted. "I am supportive of districts that have been able to equip vans, trailers or trucks for disaster response, and encourage members of the congregation I serve to be trained for disaster response and to participate in response teams. I, too, try to participate in response teams."
What would she tell other United Methodists who experience disaster?
"I would ask them what they needed," Webster said. "I would want them to know that I care, and many others do, too. I would want them to know I am here if they need to talk through questions, decisions or just unpack the experience.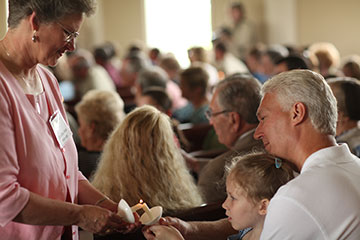 The Rev. Dorothy Ann Webster (left) lights candles during the first worship service at Ford's Chapel United Methodist Church in Harvest, Ala., after a tornado damaged the sanctuary in April 2011. A UMNS file photo by Kathleen Barry.
"Everything does not have to be done on the first day. It is important for all involved to pace themselves, get rest and take care of themselves as they address the needs at hand. Listening is one of the most important skills to employ. Patience is key. Sense of humor really helps everyone. Try to be a 'non-anxious presence' while still providing response as efficiently as possible. Most of all, try to embody the love of Christ for them, so that they remember they are in God's arms through it all."
With the second anniversary of the tornado approaching, Webster said she is reminded "of the power and faithfulness of God to see us through difficult times and of the promise of new life through Christ.
"There is nothing that Christ cannot overcome. Through Christ, we will get through this natural disaster, and move into a new time of greater joy that is deepened through the experience and wiser for having walked the journey."
*Dunlap-Berg is internal content editor at United Methodist Communications, Nashville, Tenn.
News media contact: Barbara Dunlap-Berg, Nashville, Tenn. (615) 742-5470 or [email protected].
---
Like what you're reading? Support the ministry of UM News! Your support ensures the latest denominational news, dynamic stories and informative articles will continue to connect our global community. Make a tax-deductible donation at ResourceUMC.org/GiveUMCom.