---
Key points:
• A longtime United Methodist leader found a new ministry praying with strangers.
• The Rev. Jacqui King's experience can help people reconnect with God and each other as pandemic restrictions lift.
• It all starts with changing the question.
---
A simple question changed the Rev. Jacqui King's entire approach to prayer.
It started one morning when the United Methodist pastor was in line at a busy counter outside Nashville International Airport. The man checking in bags was smiling and polite, but King could tell something was bothering him.
She looked at the man's nametag and was about to silently pray for him. But then, she said, the Holy Spirit nudged her to do something outside her comfort zone.
When she stepped up to the counter, she found herself asking: "Daniel, how can I pray for you?"
That was the first time she remembers directing such a question to a stranger. It would not be her last.
As vaccinations increase and pandemic restrictions lift, people are starting to reconnect with friends and meet strangers in person once again. King sees prayer as a crucial part of connecting with God and each other.
"Scripture says to love the Lord your God with all your heart, soul and mind, and your neighbor as yourself," said King, previously an executive with United Methodist Discipleship Ministries.
"For me, prayer is that love connection."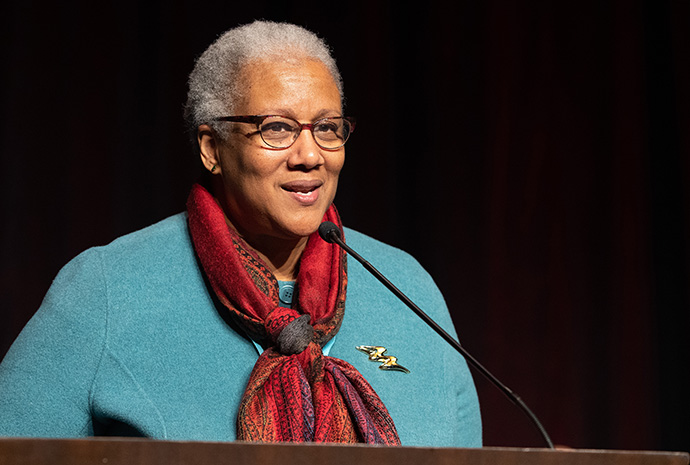 King continues to be in extension ministry as a church coach focusing on community development, leadership, virtual visioning and prayer.
When people pray together, even mundane encounters become miraculous.
That was her experience five years ago across the airline counter from Daniel.
When she asked how she could pray for him, he opened up. He told her that he was worried because his daughter was going on a school field trip that morning — not long after a school-bus crash had killed six children. "Would you pray for her safety?" he asked.
King held his hand and prayed with him. She handed him her luggage and hurried into the terminal — feeling exhilarated that she had done what God asked her to do. "But I never expected to see Daniel again," she said.
She was wrong.
Two weeks later, she was at the same counter at the same time, and Daniel greeted her like an old friend.
He said his daughter had a great trip. He then stunned King by saying, "You changed my life."
His Bible study group had been trying to pray for the Nashville community without much success, he said. Whenever study members asked people "Can I pray for you?" the answer was invariably "no."
He told King, "You changed my life because you changed the question."
From that time onward, King committed to have the boldness to ask people: "How can I pray for you?" And then she actually prays.
King, who grew up in the African Methodist Episcopal Church, had long experience coming to God with a bowed head.
As a community organizer with The United Methodist Church's "Shalom Zone Initiative" and later pastor in the Texas Conference, she frequently asked people for their prayer requests.
However, she often would ask them to jot their requests on index cards to reference in her private prayer time.
"The change for me was I stopped putting prayer in this time period where it was convenient for me," she said. "That's it. People need to be prayed for right now."
Prayer resources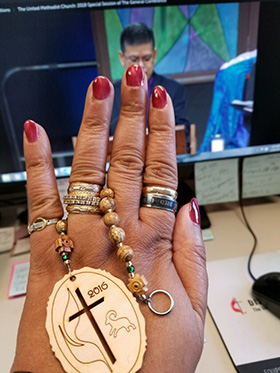 King prays with United Methodist-made prayer beads as she watches a 2019 special General Conference session online. Photo courtesy of King.
The United Methodist Church has multiple resources available to help Christians in their prayer life. The Rev. Jacqui King shares the following:
King also invites people to contact her about prayer ministry at [email protected].
Her approach has left an impression on even seasoned church leaders.
The Rev. Greg Bergquist first met King shortly after he was elected as chief executive of the United Methodist Board of Higher Education and Ministry. King, then at neighboring Discipleship Ministries, introduced herself as Bergquist was walking up the stairs to the agency's entrance.
"She told me, 'I want to be supportive of you and one of the ways I do that is through prayer,'" Bergquist recalled. He asked her to pray for him to be open to God's vision for The United Methodist Church and to lead boldly into that vision.
"I love praying with and for people, but because of my role, it's not often that someone stops me and says, 'I would love to pray for you,'" he said. "It reminded me that I am part of this wonderful community and that we are continuously praying for each other."
King, who travels a great deal for her ministry, acknowledged that she often is hesitant to strike up a conversation with the unknown person sitting beside her.
One night, she remembered, she had a late flight that delays caused to embark even later.
"I said, 'God, I am going to get on this plane, and I am not going to talk to anybody,'" King recalled. However, she said the Holy Spirit had other plans, and she ended up greeting the young man sitting beside her.
Robert Carter told her he was flying to Delaware to see his then-fiancée, and he asked her to pray for his upcoming interview for a job that would allow him to move closer to his wife-to-be.
His conversation with King also led to their discovery that his mother and King's mother-in-law lived in the same Chattanooga neighborhood. The connection went deeper than that. He grew up United Methodist, and his godmother was King's sister-in-law.
He and King kept in touch. Carter got the job as a senior data analyst, and he invited King to his wedding.
"She prayed for us and got me up there, so I wanted to invite her," he said with a chuckle.
King has long seen her role as helping to connect people to the wider church and help them in their Christian discipleship. Her offer to pray with people often also serves as evangelism.
On one trip, when King asked how she could pray for the woman next to her, the woman confided that she was searching for a church home. King remembered bulletins she had received from a United Methodist church near where the woman lived.
"I pass that church all the time. That's where I get the bus," the woman told King. "God has told me that I need to check out that church."
When King landed, she called the church's pastor to be on the lookout for a new visitor.
It's not always easy to talk to strangers, much less pray with them. Whenever she asks to pray with someone, King said she has to get out of her head, screw up her courage and trust God.
"Every time I pray for somebody, it's a humbling of my soul to listen," she said. "If you believe that prayer is a means of grace, how can you not act?"
Hahn is assistant news editor for UM News. Contact her at (615) 742-5470 or [email protected]. To read more United Methodist news, subscribe to the free Daily or Weekly Digests.
---
Like what you're reading? Support the ministry of UM News! Your support ensures the latest denominational news, dynamic stories and informative articles will continue to connect our global community. Make a tax-deductible donation at ResourceUMC.org/GiveUMCom.