The days of rioting that followed the April 29, 1992, verdict in a trial against four Los Angeles police officers accused of beating a man named Rodney King was not the kind of disaster to which the Rev. Joe Hyun-Seung Yang normally responded.
But Yang, a United Methodist pastor and experienced American Red Cross volunteer, knew he had to do something. So, he organized a relief center for community residents in the parking lot of Oriental Mission Church, in Koreatown. What eventually became known as the Shalom Community Center still operates today.
His denomination realized it had to respond as well. The Rev. Joseph Sprague and a small group of church leaders at the 1992 United Methodist General Conference, meeting in Louisville, Ky., created the Shalom Initiative, adopted as a denomination-wide program of "shalom zones" designed to address the justice issues and root causes of the anger and destruction triggered by the verdict.
The concept has spread beyond the United States to countries like Malawi, where the shalom zone has a successful poultry project and a goal to assist households headed by children.
What grew into Communities of Shalom now provides an "assets-based approach to community services," said the Rev. Michael Christensen, director. "We don't choose the issues, the needs or the context," he explained. "What is the same for all is this particular approach to ministry."
It remains an initiative of The United Methodist Church, but as a strategy, not an institutionalized church program. "From the very beginning, it's always been intended as a neighborhood-focused initiative," he explained. "We mobilized congregations, but the focus is on the community."
October summit in L.A.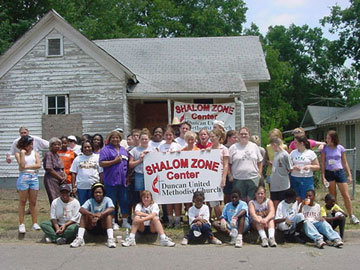 Duncan and Pulaski Heights United Methodist churches co-sponsor a shalom ministry in Little Rock, Ark., including this rehabilitation community development project in an economically depressed area of the city.
Communities of Shalom will return to its roots in Los Angeles for the Oct. 3-6 Shalom Summit 2012, a time of sharing, networking and training.
The summit marking the 20th anniversary is both local - highlighting ongoing work in the Los Angeles area - and global, with international shalom trainers participating from Uganda, Malawi, Zimbabwe, Ghana, Haiti and Northern Ireland. A grant from the United Methodist Committee on Relief and the Board of Global Ministries is supporting the international participation.
In 1992, the initial response in Los Angeles focused on immediate needs: housing, food, clothing, even water. Then, over time, church leaders began to think strategically about what it meant to create a shalom zone in a specific community, focusing on needs and assets.
On a denominational level, the secondary goal was to spread this effort across the connection, said Bishop John Schol, who was involved from the start as a staff executive with the United Methodist Board of Global Ministries and now serves as chair of the National Shalom Committee.
Healing was needed for neighborhoods, like those in Los Angeles, broken by poverty and neglect. "What we knew was that what happened in Los Angeles was a symptom of what really was happening in communities across the United States," he explained.
Because Communities of Shalom is not a prescribed program but a strategy for doing ministry that "builds on the community and what it's facing," the concept has been adapted by communities in large and small cities and rural and suburban areas, both inside and outside the United States, Schol said.
All follow the core values of spiritual growth, multicultural harmony, economic prosperity and health, healing and wholeness.
A shalom zone, Christensen pointed out, is defined as a manageable geographic area not the world or even a city, but small areas of demonstration "where we can embody shalom, even if it's one square block."
They start with a faith presence within the zone. A local United Methodist congregation might serve as host, inviting others to the table, but the question of how to raise the quality of life for all who live in the community is a multifaith question, he noted.
Training and expansion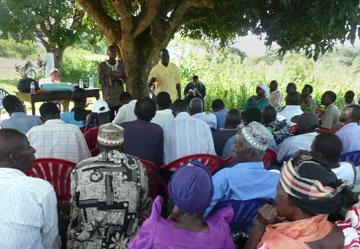 More than 100 Christians and Muslims completed shalom training in 2011 in Jinja, Uganda, and now are working together to produce Shalom Coffee from the Source of the Nile.
Training, a key component of the Communities of Shalom Initiative, provides the skills required to weave the six threads of shalom that offer strategies "that seem to capture people's imaginations," Christensen said.
The Rev. Dennis Singini of Malawi and Dr. Baamu Moses of Uganda were among those participating in a June Shalom Training Certification course in Ocean Grove, N.J.
The Malawi Shalom Zone in Mzuzu, northern Malawi, had a fitful start two years ago, said Singini, who serves as the zone's chairman. "Some of the people thought we were trying to pull them from their denominations to become United Methodists," he explained.
But with representation from 10 different church traditions and a successful poultry project that just resulted in the sale of 150 chicks, that fear has evaporated. "When you see people catching the vision &ellipsis; you see there is power, there is something to push us to accomplish something greater than what we are accomplishing now," said Singini, a former program coordinator with Citihope International.
The Malawi Shalom Zone also is establishing a scholarship program for children unable to afford school fees and tuition. "Our community is full of child-headed families," he noted, pointing to the need for assistance. "This is a big problem, because what type of generation is this going to be?"
Citing Martin Luther King Jr., Singini said that he, too, has a dream: to expand Communities of Shalom in Malawi.
In Uganda, Moses oversees three shalom zones that include participation by Baptists, Pentecostals, Roman Catholics, Presbyterians and Lutherans as well as United Methodists.
The work started after Christensen offered training in Uganda in early 2010. The training led to the realization that "we, the people, within the community, need to identify our problems, need to identify our weaknesses and strengths and move on," Moses said.
One of the problems being addressed is HIV/AIDS. Other projects include education for young girls and microenterprise work for widows, such as making jewelry. Providing clean water, particularly in rural areas, is a future goal.
Moses wants Communities of Shalom to "transform" the areas where it operates. "This is a golden opportunity for The United Methodist Church," he said.
Observing the 20th
Other UMNS stories on
Communities of Shalom
That continuing opportunity was recognized during the 2012 General Conference in Tampa, Fla., which marked the 20th anniversary of the denomination's response to the King verdict.
Soon after, on June 17, Rodney King died in an accidental drowning at the age of 47 and Communities of Shalom has mourned the death of a man who, despite having to deal with his own problems, "called attention to the need to work together," Christensen said.
"Without Rodney King, Communities of Shalom would not exist," he said. "He showed that communities were frazzled and conflicted and in need of wholeness and peace."
Yang, part of the summit planning committee, has wholeheartedly embraced that message and one of his guiding principles in shalom ministry is "respect each other, for we are connected."
In 1997, he formed the Korean-American Religious Council for Peace with other religious leaders. "I believed and learned that conversation and understanding other religions were the first steps to Shalom between religions," Yang writes in a book he hopes to have available at the summit.
The council is sponsoring a summit workshop, "Multifaith Dialogue in Koreatown: Buddist-Catholic-Protestant Shalom," and Yang's church has provided $9,000 in scholarships for summit participants as a gesture of thanks for undergirding the work of the Shalom Community Center. "We have been supported by a lot of people, even some children broke into their piggy banks and sent (money) to us," Yang said.
Schol views the summit as an opportunity to offer thanksgiving to God for the work already accomplished; celebrate church and community leaders and consider "where God is leading us" in the future.
"It's very important that we are in Los Angeles," he said. "The people in Los Angeles were the pioneers."
Part of the initiative's future, the bishop added, will be shaped by its connection to United Methodist-related Drew University in New Jersey, the primary institution that now oversees Communities of Shalom.
The university's development department can help them think about how to cultivate donors, the faculty can assist with research and students can take on internships in shalom communities. "Being associated with Drew really strengthens the initiative," Schol said.
United Methodists can support this continuing effort through financial gifts to the Communities of Shalom Advance No. 742566.
*Bloom is a United Methodist News Service multimedia reporter based in New York. Follow her at http://twitter.com/umcscribe.
News media contact: Linda Bloom, New York, (646) 369-3759 or [email protected].
---
Like what you're reading? Support the ministry of UM News! Your support ensures the latest denominational news, dynamic stories and informative articles will continue to connect our global community. Make a tax-deductible donation at ResourceUMC.org/GiveUMCom.