---
Key Points:
United Methodist bishops in the Western Jurisdiction are facing a complaint accusing them of violating church law with the consecration of the denomination's second openly gay and married bishop.
In a highly unusual move, the complaint against Western Jurisdiction bishops is online and garnering signatures from around the globe.
The complaint comes after each of the five U.S. jurisdictions passed a resolution urging The United Methodist Church to affirm LGBTQ people.
---
A United Methodist pastor in South Carolina has filed a complaint against all Western Jurisdiction bishops, accusing them of violating church law with the consecration of the denomination's second openly gay and married bishop.
The Rev. W. Timothy McClendon, senior pastor of St. John's United Methodist Church in Aiken, South Carolina and former episcopal candidate himself, also has taken the highly unusual step of posting the complaint online and inviting other United Methodists to sign on.
The United Methodist complaint process typically takes place in strict confidentiality, especially when there is no criminal allegation involved. As of this writing, more than 550 United Methodists from around the globe have added their names to the complaint.
"I contend that the action and/or inaction of the Western Jurisdiction College of Bishops has caused significant harm," McClendon's complaint said before listing ways he sees the consecration undermining his and other United Methodists' ministry.
The complaint comes after simultaneous regional meetings of the five U.S. jurisdictions earlier this month signaled a shift, at least among American United Methodists, toward a more LGBTQ-welcoming denomination. It also comes as The United Methodist Church — like other Protestant denominations before it — is seeing mounting church disaffiliations after decades of intensifying debate about the status of LGBTQ people in church life.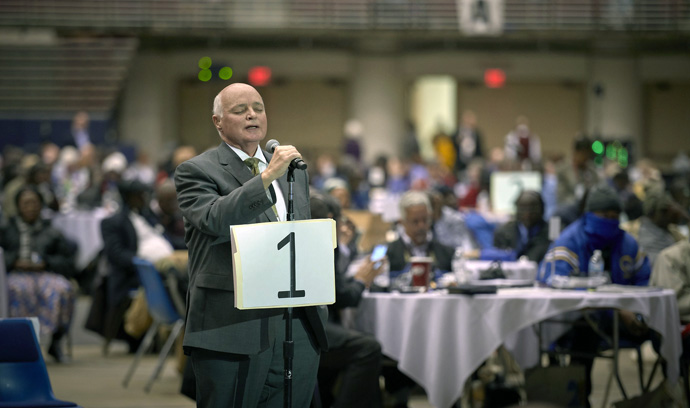 All five U.S. jurisdictions — meeting separately across the country — approved similarly worded resolutions that aspire to a future United Methodist Church where LGBTQ people "will be protected, affirmed, and empowered" including as laity, as ordained clergy, in the episcopacy and on denominational boards.
Each jurisdiction also passed non-binding resolutions requesting that people who plan to leave The United Methodist Church, as a matter of integrity, refrain from serving in leadership roles in the denomination.
The United Methodist Church still bans the officiating of same-sex weddings and the ordination of "self-avowed practicing" gay clergy. Only General Conference, the denomination's international lawmaking assembly now scheduled for spring 2024, can alter those prohibitions.
However, the jurisdictions also elected 13 new bishops — none of whom identify with The United Methodist Church's traditionalist wing that has sought to maintain and enforce those bans. A number of traditionalists expect the elections and resolutions to hasten theological conservatives' move to the exits.
But McClendon's complaint is a reminder that traditionalists who support the denomination's current stance on homosexuality remain part of the denomination.
McClendon and 22 initial co-signers submitted the complaint to the denomination's Council of Bishops on Nov. 8 — just days after Western Jurisdiction delegates elected and celebrated the consecration of three new episcopal leaders including Bishop Cedrick Bridgeforth.
Bridgeforth, an African American, is the first openly gay man to be elected bishop in The United Methodist Church. He is married to Christopher Hucks-Ortiz. The Western Jurisdiction, which has long opposed denominational bans related to LGBTQ individuals, previously elected Bishop Karen Oliveto — the denomination's first openly gay and married bishop.
"We are troubled by those who took this complaint public and are garnering signatures," Oliveto said in a statement to UM News on behalf of the Western Jurisdiction bishops. She leads the Mountain Sky Conference and currently serves as president of the jurisdiction's bishops.
"As we all know, this seriously compromises the confidentiality of the church's complaint process. We continue to hold fast to a vision which was affirmed by every jurisdictional conference, that 'LGBTQIA+ people will be protected, affirmed, and empowered in the life and ministry of the church.' May we be a church where love lives."
Bishops preside but do not have a vote at either jurisdictional conferences or General Conference. But they do participate in consecration services.
Subscribe to our
e-newsletter
Like what you're reading and want to see more? Sign up for our free daily and weekly digests of important news and events in the life of The United Methodist Church.
After Oliveto's election and consecration in 2016, the Judicial Council — the denomination's top court — ruled that the consecration of a gay bishop violates church law. The church court also said the bishop "remains in good standing" until any administrative or judicial complaint process is completed.
The special General Conference in 2019 also passed legislation that prohibits bishops "from consecrating bishops who are self-avowed practicing homosexuals, even if they have been duly elected."
McClendon, a delegate at the 2019 General Conference, made the motion for the vote that ultimately passed the Traditional Plan, which included that and other legislation affirming the church's current bans related to noncelibate gay clergy and same-sex weddings.
McClendon's complaint accuses all living bishops in the Western Jurisdiction — both retired and active — of violating church law, including bishops who did not attend the conference or participate in the service.
McClendon wrote that the consecration undermines his personal ministry "by creating confusion about the United Methodist Church and its legislated laws on the highest ideals of the Christian life, and increasing anxiety, turmoil, and a potential lack of accountability to UM-accepted teaching on every subject."
He declined to answer any UM News questions about the complaint at this time. Leaders of the Council of Bishops also did not respond to a UM News inquiry.
The Book of Discipline, the denomination's policy book, offers a mechanism for the whole Council of Bishops as a body to intercede in complaints against episcopal colleagues. But the Council of Bishops consistently has avoided doing so.
The Rev. Jeremy Smith, a delegate to the Western Jurisdictional Conference and frequent blogger on church matters, expects that practice is unlikely to change now.
After the Traditional Plan passed in 2019, United Methodists in the U.S. elected a significantly different slate of delegates — most of whom opposed the legislation and wanted to work to change it. It was that class of delegates who voted for new bishops and the LGBTQ-affirming resolutions in this month's jurisdictional conferences.
"My hope is that conservative United Methodists remember that every piece of our polity and structure caters to them," Smith, pastor of First United Methodist Church in Seattle, told UM News. "No power or position is denied to them. They can even continue to file complaints like this. But they can no longer abuse the episcopacy against LGBTQ+ inclusion, and I'm hopeful for a return to a more Wesleyan accountability structure."
Hahn is assistant news editor for UM News. Contact her at (615) 742-5470 or [email protected]. To read more United Methodist news, subscribe to the free Daily or Friday Digests.
---
Like what you're reading? Support the ministry of UM News! Your support ensures the latest denominational news, dynamic stories and informative articles will continue to connect our global community. Make a tax-deductible donation at ResourceUMC.org/GiveUMCom.