What would compel you to flee your home?
United Methodist News Service has been exploring this question, reporting from within the United States, Germany and Honduras to provide glimpses into the farthest-reaching humanitarian crisis of our time — the unprecedented movement of immigrants, refugees and other displaced peoples around the globe.
In seeking to understand this, we also are reporting on the efforts of United Methodists to fulfill Christ's mandate of welcoming the stranger and caring for the poor and needy. As the official news agency of The United Methodist Church, we are responsible for telling the world how United Methodists are responding to this crisis.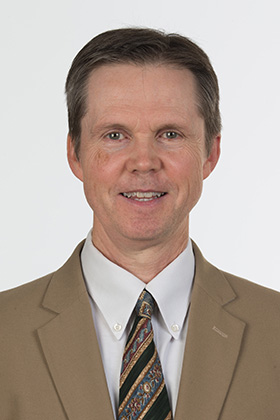 Tim Tanton. Photo by Mike DuBose, UMNS.
Our reporters have interviewed United Methodists in Germany working with Syrian, Iraqi and African refugees. We have walked with pastors in Honduras as they risk their lives ministering in gang-run neighborhoods. And we have spent time with immigrants and Border Patrol agents alike at points along the U.S.-Mexico border.
Today, public attention is riveted on a migrant caravan of people slowly making its way from Central American countries through Mexico en route to the United States. The caravan is being watched with anxiety and concern by many in the U.S., for different reasons. Some are concerned about the plight of the children and adults who are risking their lives to make the journey. Some are concerned about the implications for U.S. security. These aren't mutually exclusive concerns.
Questions keep coming to mind. Why would families leave behind everything and take their children on a perilous journey to a country where they would face hostility, language barriers and other obstacles? Why would a parent put his or her children on a train and send them north, unaccompanied, to a strange country, exposing them along the way to criminals who prey on immigrants?
Perhaps what they are leaving behind is worse than the danger and uncertainty of what lies ahead.
In the New Testament, Joseph is instructed in a dream to take Mary and the infant Jesus and flee for their lives to a foreign country. Just as the Holy Family did 2,000 years ago, families today are fleeing war zones in Syria, oppression in North Africa, and gang violence in Central America because to stay would likely mean death. For José, Maria and Jesús, the threat of violence and death is as real as it was for Joseph, Mary and Jesus.
In Honduras, for example, our reporter, the Rev. Gustavo Vasquez, has spoken with young men who have been threatened with death if they do not join the gang in their neighborhood, and correspondent Carlos Reyes Rodgríguez reported on a young United Methodist who had fled home because of threats. Young girls face coercion into prostitution. Gang rule is so strong that family members do not feel they can go to the police. They have nowhere to turn.
On the U.S.-Mexico border, photographer Mike DuBose and reporters Kathy L. Gilbert and Sam Hodges have captured the stories of families in transition. They have met United Methodist clergy as well as Methodist clergy in Mexico who are working on both sides of the border to ensure dignity and Christ-like care for migrants. They also have interviewed Border Patrol agents who are striving to be faithful in doing their duty under difficult circumstances.
Immigration is a theological issue that The United Methodist Church is directly addressing. In the Book of Resolutions, the church's General Conference — the only entity that speaks for denomination — describes in detail the need for responding to the needs of the migrant and immigrant. The United Methodist Immigration Task Force is working to provide leadership to the church and develop strategies that respond specifically to the need.
At UMNS, we often hear from readers who say the church should stay out of social or political issues. In speaking out, however, the church is continuing the prophetic work of Methodism's co-founder, John Wesley. Wesley, like Jesus, spoke to the issues of the day.
Immigration is a political issue on almost every continent. Whether it becomes a political failure will depend on how societies respond to it. Few leaders, if any, are addressing the root causes of the problem, yet focusing on the symptoms won't resolve the problem. The answers will be complex, but it is certain that wisdom, compassion and vision will be needed, along with sound, level-headed leadership.
Beyond theology and politics, immigration is an issue about our own humanity. At UMNS, we are striving to look past the rhetoric and report on the challenges at a human level. We want to increase understanding of the causes and show how real people are affected. By being better informed, people might be able to see more clearly how to respond.
People of faith and good will have different perspectives on this issue, and those perspectives should be heard and considered without indictment. The demonization of those with differing viewpoints — and the demonization of the immigrants themselves — is one of the first obstacles to overcome.
What would compel you to flee from your home? And if you had to flee, would you turn to the church for help? Let us hear from you.
Tanton is chief news officer for United Methodist Communications. Contact him at 615-742-5470 or [email protected]. To read more United Methodist news, subscribe to the free Daily or Weekly Digests .