---
Key points:
Many churches and affiliated nonprofits are reporting increased appeals for help as the pandemic continues and some government relief has ended.
Inflation, particularly higher gas and food costs, is squeezing low-income folks.
A scarcity of low-cost housing in many communities is another pressure point.
---
The Rev. Ruth Marsh couldn't be happier that the church she leads, Trinity United Methodist in Idaho Falls, Idaho, serves as a day shelter for people living on the streets.
"I've got church leadership that understand this is what God has called us to do," Marsh said.
Still, the shelter crowd keeps growing, drawn by the chance to eat a meal, take a shower, do laundry and even get referrals from Marsh for help elsewhere in Idaho Falls. This summer, the shelter took in 24 people a day on average. Now, the average is nearly 60.
Even with volunteer help, Marsh's work has changed big time.
"I tell folks that I used to have this sweet 50-hour-a-week job as pastor," Marsh said. "I put another 50-hour-a-week job on top of that, running the day shelter."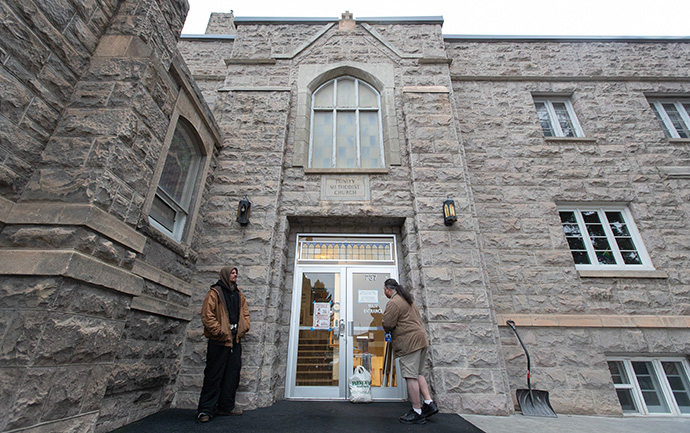 In this second Advent of the pandemic, many United Methodist churches and affiliated nonprofits in the U.S. are finding increased appeals for help with food, shelter and other necessities.
In some places, that owes to a scarcity of low-cost housing. Inflation, especially gas and food prices, is a factor all over. Some of the government relief offered in the pandemic has phased out, pushing people to look elsewhere for help.
Traffic is definitely up at The Storehouse of Collin County, a nonprofit that began at St. Andrew United Methodist Church in Plano, Texas, and still operates on the campus of that megachurch.
"We've been very busy. The need now is bigger than ever," said Ligia Urrego, a board member of The Storehouse.
On Nov. 18, she donned a turkey-shaped paper hat and used her fluency in English and Spanish to help guide hundreds of people who had arrived to get a free turkey and fixings for Thanksgiving.
Among them was Patricia Segura, who described the staff and volunteer teams of The Storehouse as "angels on earth."
Segura said the food she was getting would be shared with families other than her own, and in greater need.
"They got sick," she said. "They lost jobs. They lost houses."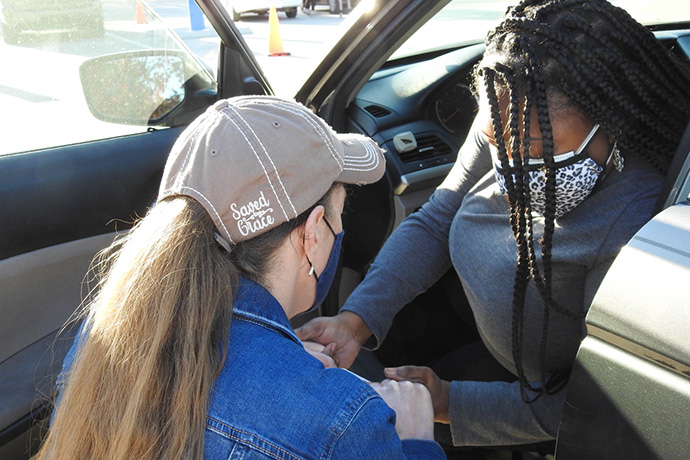 Nearby, Sabrina Lee had arrived to get a food allotment. She ended up praying with volunteer LaTisha Cessna. Inflation has, of late, eroded Lee's buying power.
"I'm on a fixed income, and that makes it very hard," she said.
The Storehouse, which provides free clothing as well as free food, helped about 2,300 needy families in October 2020. This October, the number was 3,500.
"That's a very big increase for us," said Jeff Morton, director of operations. "And we've seen record distribution days."
At Project Suppertime, a ministry of Northern Boulevard United Methodist Church in Independence, Missouri, people arrive on Thursday evenings for drive-thru pickup of supplemental groceries.
The church found that an evening food pantry fills a niche, particularly for the working poor, said Myra Kerr, one of the ministry's coordinators.
Project Suppertime was helping about 50 families every Thursday during the summer. The weekly average has grown to more than 70, with 108 families getting food on the Thursday before Thanksgiving.
"Most of the families we serve are working families," Kerr said. "They're just not quite able to make ends meet."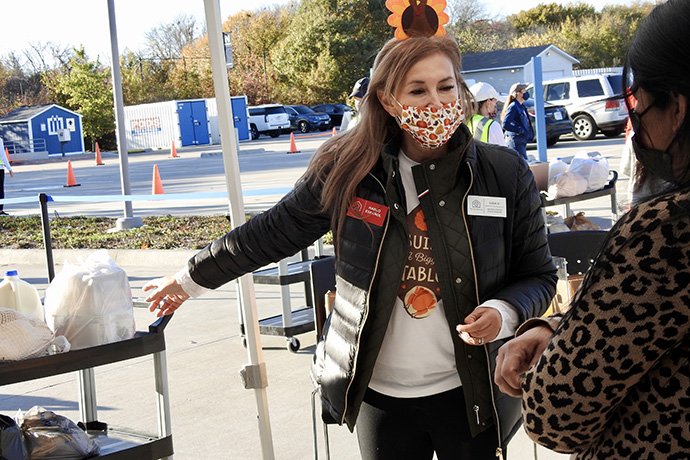 The All People's Fresh Market is a ministry of the United Methodist Church & Community Development for All People, in Columbus, Ohio. The market opens three days a week to provide free fresh vegetables, fruit and other healthful items to families with household earnings under 200% of federal poverty guidelines.
Alex Clemetson helps run the market and says traffic is up there as well. He noted that a recent rise in benefits under the Supplemental Nutrition Assistance Program is welcome but hasn't helped low-income people as much as expected.
That's due to the end of some pandemic aid, and to inflation.
"Inflation has gone up. Even though folks may have SNAP or other benefits, that doesn't necessarily match what they can pay for at the store," he said.
Where residential real estate prices have soared, low-cost housing can be nearly impossible to find, adding to the number of people living on the streets or struggling to pay rent or mortgages.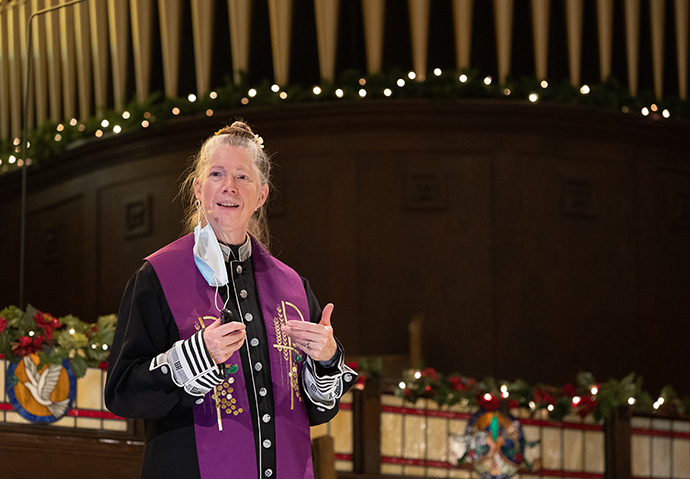 Bend, Oregon — on the eastern edge of the Cascade Range, by the Deschutes River — is such a place.
"It's insane here. Completely unaffordable — $1,100 for a one-bedroom apartment," said the Rev. Jen Stuart, pastor of Bend United Methodist Church.
Stuart's church, through its Open Door Ministries, offers a range of assistance to low-income and homeless people. That includes a mail ministry.
People living on the streets can list the church as their address, and collect letters and packages there. Volunteers do the sorting.
What began as a modest, once-a-week ministry has expanded through the pandemic to five days a week, as word has spread about the opportunity but also as Bend's homeless population has grown.
"We now have over 200 guests who get their mail here," Stuart said.
The pastor added that Bend United Methodist will be focusing on creating low-cost housing, including tiny homes, while looking for other approaches to systemic change.
It's part of the Advent discussion at the church.
"We're really thinking about what are the ways we can make a difference to this community and bring the light of Christ to people who can't even notice the light because they're so dang hungry," Stuart said.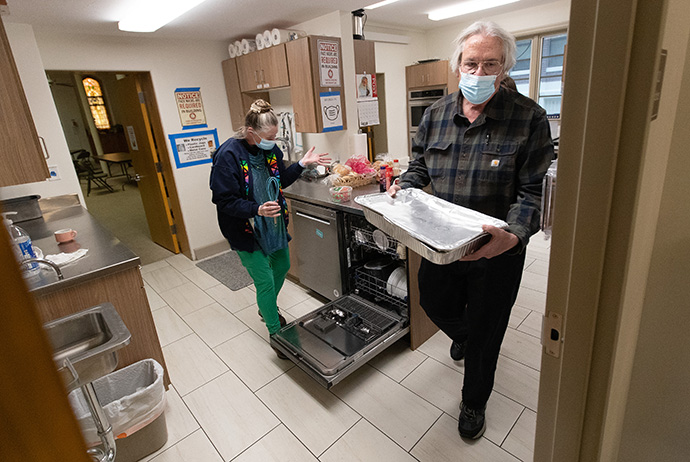 In Orlando, Florida, Mariam Mengistie noted the creative ways St. Luke's United Methodist Church, where she is executive director of missions, responded to early pandemic needs. That included helping abruptly sidelined "gig"workers and those who make a living in the arts, as well as schoolchildren disadvantaged in remote learning by lack of internet access.
But she points to ongoing problems low-income people in the Orlando area have, due to inadequate public transportation and lack of access to healthful food and affordable housing.
"The magnitude of these challenges has really been brought to light because of the pandemic," she said.
Idaho Falls has grown in population and seen a rise in homelessness, tied to an acute low-cost housing shortage.
The homelessness reality is such that Trinity United Methodist works with a local sporting goods store, buying at deep discount tents designed for sub-freezing temperatures.
"We keep them in inventory," said Marsh, the pastor. "When people come in and need a sleeping bag, we hand them out."
Subscribe to our
e-newsletter
Like what you're reading and want to see more? Sign up for our free daily and weekly digests of important news and events in the life of The United Methodist Church.
Trinity opened briefly as an overnight shelter as the pandemic closed doors for worship and other regular events. But the church didn't have the right kind of sprinkler system to meet local regulations for emergency housing.
So Trinity shifted to become a day shelter, which has worked out well, given that a 2019 renovation included a new kitchen, as well as adding a couple of showers and a washer/dryer.
The church is worshipping in person again, and seeing a high level of re-engagement, with members mingling with shelter visitors on Sunday morning and showing up to volunteer at the shelter through the week.
While lamenting the circumstances that have people in need arriving in ever greater numbers, Trinity leaders say the opportunity to respond has been a blessing.
"The tone of the church has changed," said Don Rohde, trustee board chair. "I like to say we've become a working church because the focus now is on truly doing the right thing."
Among those who have found their way to the day shelter is Angi Rogers, who became homeless in October. She is on a waiting list for government assistance with housing.
"I didn't think I was going to be living in the truck, but right now the housing is tight and hard to get into," she said. "I'm just sitting and waiting and not getting anywhere."
But not just waiting. She's become a volunteer cook at Trinity, and is looking forward to helping make the Christmas meal special for all who stop by.
She is quick to say the church has been a gift to her.
"They've helped me with my medicines. They've taken me to the hospital. Whether I have a place other than my vehicle to sleep in, I'll always come here. This is my family now."
Hodges is a Dallas-based writer for United Methodist News. Joey Butler contributed . Contact Hodges at 615-742-5470 or [email protected] To read more United Methodist news, subscribe to the free Daily or Weekly Digests.
---
Like what you're reading? Support the ministry of UM News! Your support ensures the latest denominational news, dynamic stories and informative articles will continue to connect our global community. Make a tax-deductible donation at ResourceUMC.org/GiveUMCom.