In a semi-arid part of the country where crops struggle to thrive, The United Methodist Church has brought hope to villagers whose cattle were previously wiped out by diseases.
Cattle are the main source of livelihood for villagers in Nyamacheni, a rural community some 400 kilometers (248 miles) west of Harare. However, most lost their herds due to tick-borne diseases like heartwater, January disease and Anaplasmosis.
Now the local herd is thriving, thanks to a cattle dip tank built by the church with funding from the Chabadza Community Development Program, a partnership between The United Methodist Church in Norway and Zimbabwe.
A dip tank is a plunge bath designed to immerse livestock in water with pesticides in order to kill ticks.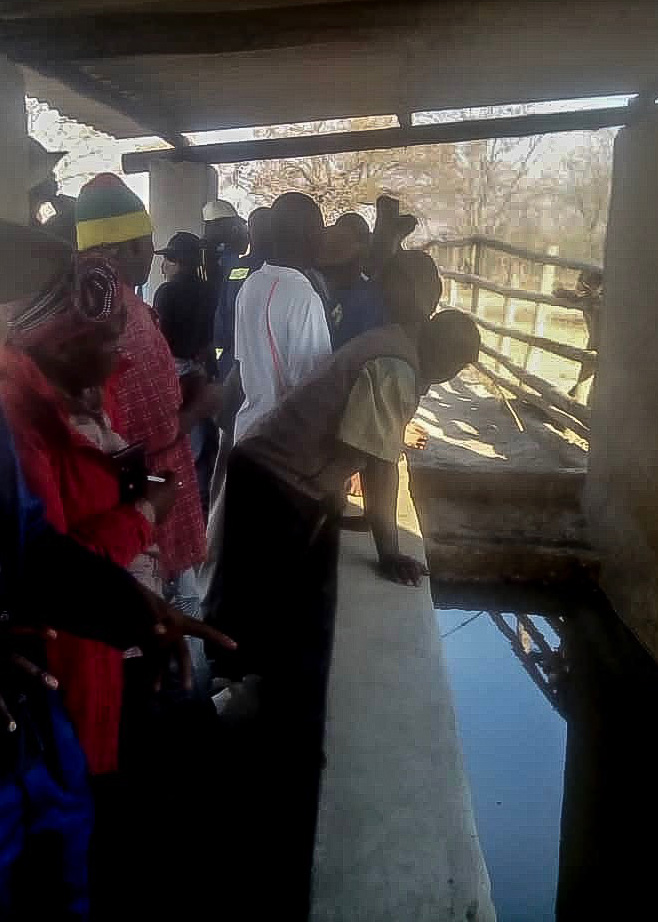 Visitors view the interior of the cattle dip tank in in Nyamacheni, a rural community about 400 kilometers west of Harare, Zimbabwe. Photo by Everisto Gumbo.
Talent Mudyahoto, 48, of Chihobvu village, said the United Methodist dip tank has restored hope to his community.
"Some people had up to 200 cattle but lost many due to disease. Before the church constructed this dip tank, the nearest such facility was 7 kilometers away at Nyamapange. Some villagers lost their cattle on their way there and we had a lot of stray cattle whose owners could not be identified due to the long distances they were traveling for dipping," said Mudyahoto.
"As a community, we could not afford the $10,110, which was sourced by the church for this dip tank," he said.
Mudyahoto is a council member for the area and owns seven head of cattle. He said the elderly were unable to travel the long distances to the previous dipping facilities and therefore left their herd vulnerable to disease. At times, villagers had to walk up to 25 kilometers (about 15 miles) to access a functioning dip tank.
Village headman Onias Chimba thanked the church for improving the health of their cattle.
Dip tank attendant Everisto Gumbo has 372 cattle owners and about 1,700 cattle in his register. He said the cattle are dipped weekly during summer and every two weeks in winter.
Outstanding features of the church-funded dip tank are the office for the attendant and a toilet to ensure hygiene and sanitation are maintained at the facility. "It is the only dip tank with a toilet," said a villager.
John Zvenyika, 43, crafted a poem thanking the church for stepping in to save the local cattle herd.
"Thank you very much UMC. Had it not been for you, our cattle would have died of diseases and we were going to be left penniless," he said.
"These animals are our source of wealth. We sell them and get money for making payments. Thank you for coming to our rescue," said Zvenyika.
The Nyamacheni dip tank belongs to the community and was officially handed over by Zimbabwe Resident Bishop Eben K. Nhiwatiwa in September.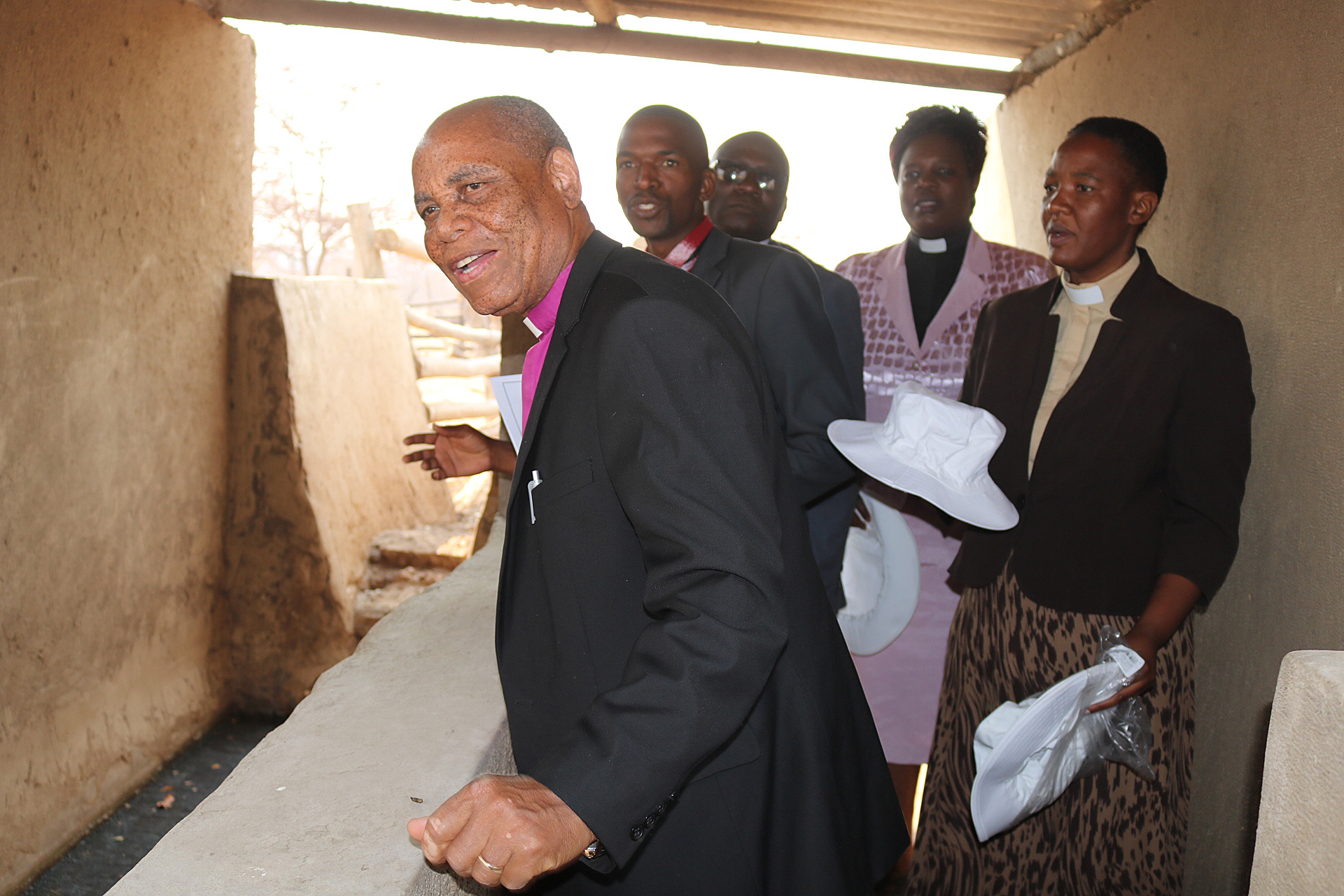 The Rev. Lloyd Nyarota, who was Chabadza director when the dip tank was built in 2015, said the community approached the church with a number of needs, and the dip tank was top of their list. Other requests included a clinic and school classrooms.
"The dip tank was their most urgent need and we trained the community how to engage and work with different government departments. In this case, it was the veterinary services department," he said.
"We worked with government officials such as the district administrator and councilors, and also traditional leaders. The community agreed they needed the dip tank ahead of a clinic and proposed developments at the school," Nyarota said.
The dip tank's dedication was delayed several times due to impassable roads during the rainy seasons in this remote, rugged community.
Nyamacheni is the only United Methodist mission in the country's Midlands Province. In addition to saving cattle, the church also is now quenching the local children's thirst for clean, safe drinking water and education.
At the dedication, Nhiwatiwa also commissioned a borehole, water storage tank and piped water system built with local funding and assistance from the Western Pennsylvania Conference at Nyamacheni Secondary School.
The school also received a boost of $45,000 from the United Methodist Board of Global Ministries, which was used to construct a modern and spacious administration block at the school.
Tawanda Karikoga, Gokwe-Mapfungautsi constituency member of Parliament, thanked the church for investing in Nyamacheni.
"There is no one like Jesus, as we have witnessed by the developments here at Nyamacheni. There are many churches but their focus is not on community development like The United Methodist Church," said Karikoga.
"There are a lot of schools which need assistance in this constituency and we would welcome more help from the church," he said. "I have witnessed the United Methodists' commitment to developing this area, glory be to God."
Norman Matanhire, Nyamacheni Secondary School head, said the school's enrollment had increased and currently stands at 280. The school has no electricity. Another challenge facing the school is the absence of a science laboratory and equipment.
"Every student studies science but they are currently disadvantaged as we do not have a laboratory and the required equipment, which is estimated to cost about $100,000," said Matanhire.
Chikwanah is a communicator of the Zimbabwe East Conference.
News media contact: Vicki Brown, news editor, [email protected] or 615-742-5469. To read more United Methodist news, subscribe to the free Daily or Weekly Digests.
---
Like what you're reading? United Methodist Communications is celebrating 80 years of ministry! Your support ensures the latest denominational news, dynamic stories and informative articles will continue to connect our global community. Make a tax-deductible donation at ResourceUMC.org/GiveUMCom.