---
Key points:
• The top executive of Wespath is retiring at the end of 2021 after 27 years in the job.
• Barbara Boigegrain will leave behind a legacy that includes sure-handed navigation of economic downturns and more socially responsible and environmentally friendly investments.
• Boigegrain's successor will be Andrew Hendren, currently chief legal and governance officer at Wespath.
---
Photos of happy Congolese United Methodists posing with their brightly painted homes are some of Barbara Boigegrain's favorite keepsakes from her 27 years as the top executive of Wespath Benefits and Investments.
As she contemplates her retirement at the end of 2021 from the position entrusted with the safe investment of the pensions of more than 100,000 United Methodists and 130 United Methodist-affiliated institutions, there are many accomplishments to reflect upon. But starting a pension program from scratch that aims to bring a financially secure retirement to United Methodist clergy in Africa is special to her.
"That really was building something from nothing," said Boigegrain, the daughter of a United Methodist pastor. "And now we have people who not only have food and access to medicine, but help for their grandchildren."
In Congo, many homes are constructed of mud bricks with thatched roofs. Heavy rains can wash those homes away.
"If it's painted, coated, then it stands up longer," Boigegrain said. "Being able to paint your home makes all the difference in the world about its sustainability."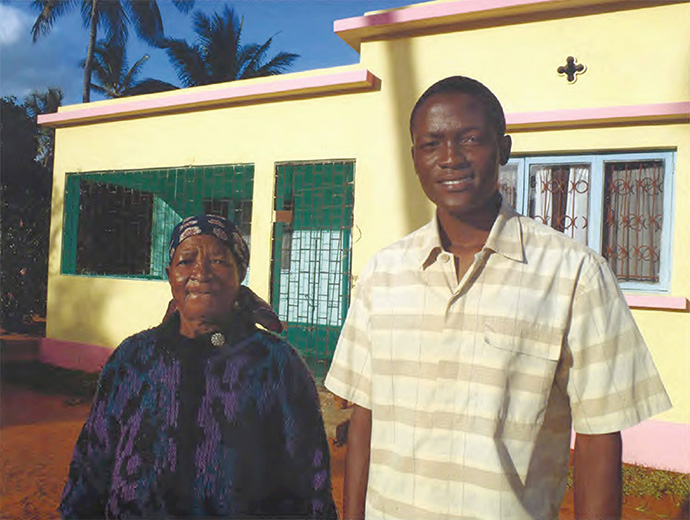 The financial security provided by Wespath's pension plan in Africa and the Philippines is making this mark of success more common among United Methodists there.
But that's not all. Consider that Boigegrain, Wespath's first female top executive, along with her staff:
• Held things together after the technology bubble burst and caused the 2000-2002 recession, and again after the housing bubble popped in 2008, sending the U.S. economy into a tailspin;
• Helped annual conferences and congregations navigate the financial challenges of the coronavirus pandemic;
• Did extensive traveling and research to decide when it was acceptable to invest in companies related to the Palestinian-Israeli conflict;
• Oversaw a move of the Wespath office;
• Continued and expanded a drive to make more socially conscious loans
• Changed policies so investments were more environmentally friendly.
"I'm really proud of where Wespath is," Boigegrain said in an interview with UM News. "It's an organization I personally relish being a retiree of, a customer of."
Andrew Hendren, currently chief legal and governance officer at Wespath, was announced in July as Boigegrain's successor. He begins work in that capacity on Jan. 3.
Rio Texas Conference Bishop Robert Schnase, chairperson of the Wespath board of directors, said in a statement that it was "one of the great privileges of my ministry … to work alongside Barbara Boigegrain and to witness the passion, faithfulness, integrity and leadership excellence she has offered Wespath over her tenure."
More about Barbara Boigegrain
Barbara Boigegrain was born in Westminster, Colorado, where her father was attending the Iliff School of Theology. The Rev. Walter J. Boigegrain went on to become the first full-time pastor at Westminster Methodist Church there.
Barbara Boigegrain graduated from Trinity University in San Antonio with a bachelor's degree in psychology and biology, then went on to graduate school coursework in business at the University of Chicago and UCLA.
"I needed to support myself and I went interviewing," Boigegrain said. "I had gone out to Los Angeles because my fiancé had gone to Pepperdine Law School."
She accepted an entry-level position in benefits at Dart Industries, then moved on to the Towers Perrin consulting firm and also was a tax consultant at Peat Marwick.
"I had no intention of working in the church," she said. "I grew up in it, and I had certainly seen a lot of committees and task forces. I'm not a patient person by nature, so committees aren't my thing."
Boigegrain reconsidered when a corporate recruiter contacted her about an opening at what was then known as the General Board of Pension and Health Benefits, now Wespath Benefits and Investments.
"When I met with the executive committee, I realized what I missed when I was in corporate America," she said. "They were just a genuine, wonderful group of people all working for a good cause."
She was tired of "just making money."
"I think the real joy of working at Wespath is the opportunity to make a difference in people's lives every day," Boigegrain said.
"Her impact on the church is immeasurable and immensely positive," he added.
Dave Zellner, chief investment officer at Wespath, has worked with Boigegrain for 25 years and has "mixed emotions" about her retirement.
"She's had a great career with Wespath, and it's been a pretty hectic job for her," Zellner said. "Barbara's had to spend a lot of time traveling and a lot of weekends at annual conferences, or General Conference, or bishop's meetings or various other meetings, and I know that takes a toll on folks.
"I'm glad that she finally gets to rest and not have to do all that traveling."
Boigegrain and her husband plan to move from Illinois to Colorado, where she was born and they still have family. She also wants to visit her three children in New York and New Mexico. She'll continue to serve on a few boards.
"We'll be doing some entertaining, and I'll be doing a lot of hiking," she said.
There have been some tense eras at Wespath the last quarter-century.
During the 2008 financial crisis, Boigegrain resisted the temptation to sell off assets to cut Wespath's losses. Holding steady was the prearranged strategy of Wespath's board, but it took some fortitude to stick with it.
"Our assets dropped 40% in about a four- or five-month period," Boigegrain said. "We had the plans fully funded and had built up some good reserves, and those all disappeared."
Wespath tripled communications to its clients, making sure the strategy was understood. Still, there were weak moments.
"I will not tell you I didn't go into Dave Zellner's office once or twice and say, 'Are you sure we shouldn't sell something?' And Dave, God bless him, said, 'We're just going to stay put.'"
They were rewarded when the losses were earned back in the market, then returns increased by 29% the next year.
Wespath moved into socially conscious lending ahead of the curve, providing finances for projects like low-income housing and health centers.
The strategy began before Boigegrain's administration, but she significantly expanded it, Zellner said.
"The returns were actually extremely attractive," he said. "The reason why was because it was still nascent and there were a whole lot of people in the market that said, 'Oh, if it does good, then it has to perform poorly. And so we're not even going to look at it.'"
The Native American Health Center in Oakland, California, was a favorite project of Boigegrain. It provides safety-net medical, dental and behavioral health services.
Wespath was the only religious institution at the table when the United Nations put together its Principles for Responsible Investment, released in 2006, Zellner said. More than 1,500 investment institutions have become signatories.
Wespath has surpassed investing benchmarks while putting money into environmentally friendly investments, Boigegrain said.
"This massive shift is underway that says we can't continue to rely as a country or as a world on fossil fuel, and that's showing up in the pricing of the companies and what they're having to expend to pivot their own strategic plan to move to a lower-carbon future," she said. "Alternative energies like solar are becoming cheaper."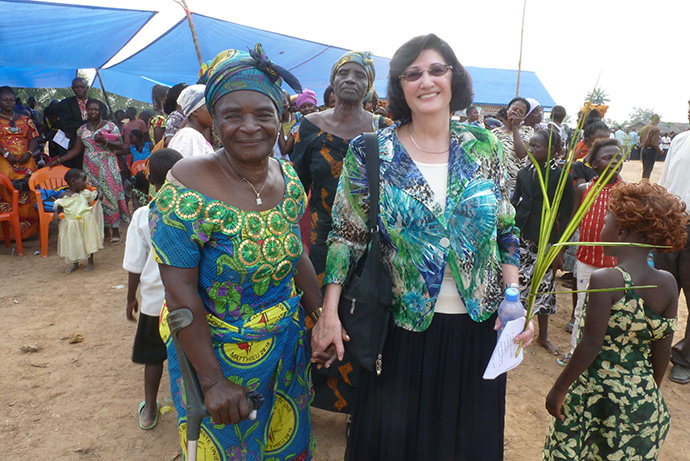 Wespath also has strived to position itself to serve all the entities that might result from the denomination splitting over sexuality issues next year, she said.
Boigegrain set high expectations for her team at Wespath, Zellner said, but she was not a micromanager.
"She's been a terrific leader for the organization. We will all miss her," he said. "We all wish her well in her retirement and we're confident that Andy is going to pick up where Barbara left off."
Patterson is a UM News reporter in Nashville, Tennessee. Contact him at 615-742-5470 or [email protected] To read more United Methodist news, subscribe to the free Daily or Friday Digests.
---
Like what you're reading? Support the ministry of UM News! Your support ensures the latest denominational news, dynamic stories and informative articles will continue to connect our global community. Make a tax-deductible donation at ResourceUMC.org/GiveUMCom.