African American bishops and other members of The United Methodist Church's black caucus recently joined in the many conversations happening in the wake of the denomination's recent General Conference.
At the 52nd General Meeting of Black Methodists for Church Renewal, April 3-6 in Atlanta, Georgia, a panel of seven active and retired black episcopal leaders — known to the caucus as Ebony Bishops — offered their views and responded to questions about the decisions made by the church's top lawmaking assembly in St. Louis.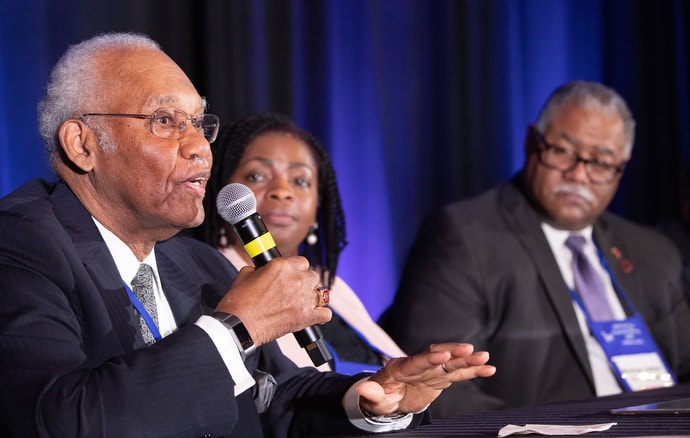 General Conference passed the Traditional Plan, which strengthens enforcement of bans on "self-avowed practicing" gay clergy and same-sex weddings. The church's top court will review the constitutionality of the plan approved at the Feb. 23-26 gathering. The United Methodist Judicial Council, which meets later this month, earlier ruled some parts of the legislation unconstitutional.
Part of the discussion at BMCR wrestled with how black churches should perceive and respond to the decisions from a racial perspective and what objectives they should consider if the General Conference vote results in schism in the denomination — especially if churches are permitted to leave conditionally with their properties and assets. The Council of Bishops also asked the Judicial Council to make a declaratory decision on the constitutionality of a petition that outlines procedures for local churches to disaffiliate from the denomination and retain property.
"A hermeneutics of division sets up a praxis of exclusion, and we know what that leads to," said Bishop LaTrelle Easterling, who leads the Baltimore-Washington Area, in her opening remarks as panel moderator. "To be amongst people who read and interpret Scripture in a way that divides and sets up second-class citizenship — that's what happened to our mothers and fathers when they created the (former, racially segregated) Central Jurisdiction.
"We may claim that we have always been here and we're not going anywhere," she continued to applause and shouts of "Amen." "But that doesn't mean there aren't folks trying to move on without us. Everybody who says the name 'Jesus' doesn't necessarily espouse all that Jesus stands for."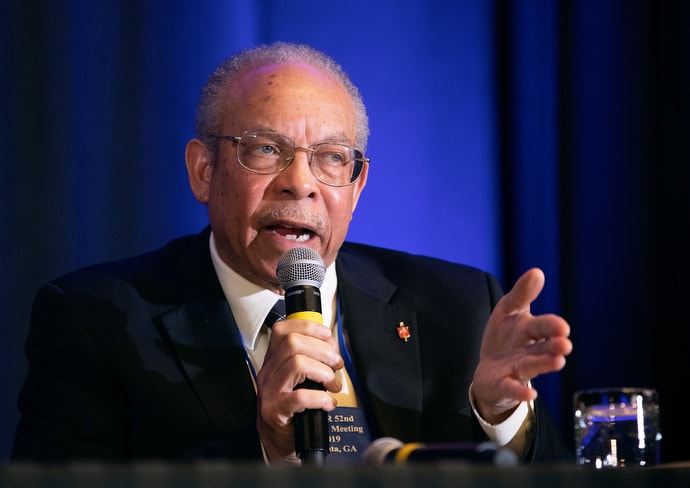 Easterling also raised a concern about those LGBTQ members who are African American, calling them "the marginalized of the marginalized."
"Where are their voices? Are they being heard, and are their concerns lifted up?" she asked.
The Rev. Antoine "Tony" Love, BMCR's vice chair, said the caucus needs to "place itself squarely in the middle of the larger questions being asked in order to help our church honestly deal with the root causes of its disruption and uncertainty.
"Black United Methodists bring a gift to our church of being able to remain connected in the midst of brokenness," he said.
Bishop Julius Trimble, leader of the Indiana Episcopal Area, said General Conference voted "not for a 'Way Forward' but a way backward. Bishops were asked to lead, but their leadership was not accepted."
The Council of Bishops had recommended approval of the Commission on a Way Forward's One Church Plan, which would have allowed annual conferences to decide for themselves whether to allow ordination of homosexual clergy and would have let local churches and clergy decide whether to conduct same-sex weddings.
"There are some people who would benefit from destabilization of The United Methodist Church," Trimble said. "We (black churches) are being left on the sidelines as observers, while the church is being hurt. So, we need to bring healing for such a time as this."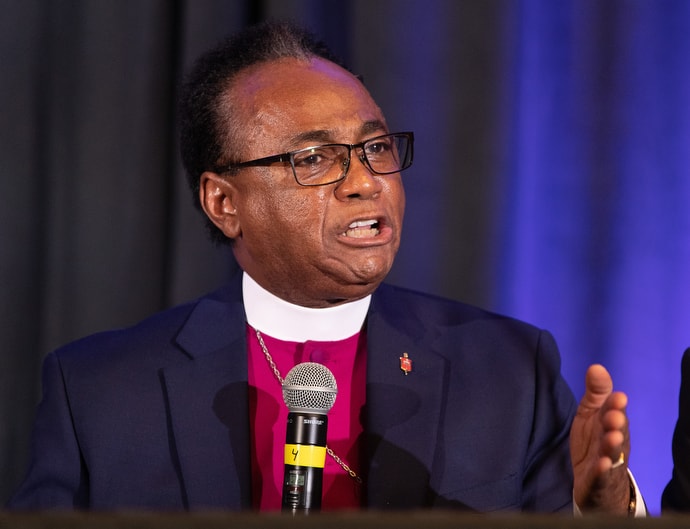 Bishop Cynthia Moore-Koikoi, leader of the Pittsburgh Episcopal Area, invoked the Apostle Paul's complaint of having a constant thorn in his flesh, noting the church's decades-long ordeal of division and discrimination over homosexuality.
Retired bishops Jonathan Keaton, Marcus Matthews, Charles Jordan and James King also addressed the outcomes of General Conference's decisions and the potential outlook for black churches.
Matthews updated the body on the ongoing investigation of voting irregularities at the special session and the constitutionality questions before the Judicial Council.
Keaton lamented the blaming of African delegates for the Traditional Plan's victory. "There's no one group that has a monopoly on pain; a whole bunch of people are in pain," he said. "But the problem of race remains unsolved in the church. Race is still a key element in the room. Yet, I still believe in an inclusive church."
King expressed "deep concern for all of God's people."
"It looks like the denomination is headed for a division, regardless of who precipitates it," he said, citing division even among the Council of Bishops. "But God spoke to me and said, 'This is my church, and I will take care of it.'"
King said his greater concern is that too many churches are declining in members, ministry and influence. "What are we doing with the time we have to build up churches in our neighborhoods and invest in one another?" he asked to resounding applause. "This broken church breaks my heart — to think that we can call on the name of Jesus and still hate one another."
Coleman is director of communications for The United Methodist Church's Eastern Pennsylvania Conference, based in Valley Forge, Pennsylvania.
News media contact: Vicki Brown at (615) 742-5470 or [email protected]. To read more United Methodist news, subscribe to the free Daily or Weekly Digests.
---
Like what you're reading? Support the ministry of UM News! Your support ensures the latest denominational news, dynamic stories and informative articles will continue to connect our global community. Make a tax-deductible donation at ResourceUMC.org/GiveUMCom.