---
Key Points:
Through a partnership between The United Methodist Church's Harare East District and the Western Pennsylvania Conference, 73 Zimbabweans living with albinism recently received sunscreen, hats and food baskets.
The Rev. John Makaniko said The United Methodist Church has lived up to its vision and mission of being a life-transforming church across the world.
The partnership with Johnstown District also recently culminated in the provision of safe borehole water at the Harare East District offices.
---
In Zimbabwe and worldwide, people living with albinism often suffer stigma and discrimination. Albinism is a congenital condition characterized in humans by the partial or complete absence of melanin pigment in the skin, hair and eyes.
Albinism is associated with several vision defects, such as photophobia, nystagmus and amblyopia. Lack of skin pigmentation makes individuals susceptible to sunburn and skin cancers. People living with albinism need sunscreen lotion and creams for protection from ultraviolet rays of the sun.
The United Methodist Church's Harare East District, in partnership with the Johnstown District in the Western Pennsylvania Conference, recently supported 73 people living with albinism. Each person, regardless of religion, received six sunscreen lotions, six sunscreen creams, a sun hat and a food basket.
Beneficiary Tawanda Musana, 37, a member of the Zimbabwe Assemblies of God Africa Church in the Eastview suburb, applauded The United Methodist Church for the gifts and inspirational messages.
Subscribe to our
e-newsletter
Like what you're reading and want to see more? Sign up for our free daily and weekly digests of important news and events in the life of The United Methodist Church.
"The way everyone was communicating with us showed we are recognized as equal human beings," he said. "The church made us feel remembered and loved. We never expected such big gifts."
The Rev. Sung S. Chung, Johnstown district superintendent, said the district hopes to continue its relationship with the Harare East District.
"What's been done in the partnership is the evidence of how God has blessed churches and the people of Johnstown District," Chung said. "Through this connection and partnership, we're fulfilling God's call to be a blessing to all the world."
Bishop Eben K. Nhiwatiwa said ministry with people with albinism is one of the focus areas for the church in Zimbabwe.
"With its policy of open minds and open hearts as the driver of its ministries, The United Methodist Church embraces everyone," he said. "We are thankful to our partners in Western Pennsylvania. This ministry is going a long way in improving lives."
The Rev. Oscar Nyasha Mukahanana, Harare East District superintendent, said the event had touching moments as people with albinism chronicled the challenges they faced, noting that women and children suffer the most.
Mukahanana and the Rev. Gift Kudakwashe Machinga shared messages of love and encouragement to empower people in the fight against stigma, discrimination and demeaning language.
"I chose to share John 3:16, about love," Mukahanana said. "Only love can bring us together. God is love. He loves us all unconditionally. We are the same before him, regardless of our outward appearance or denomination; hence, we need to love one another."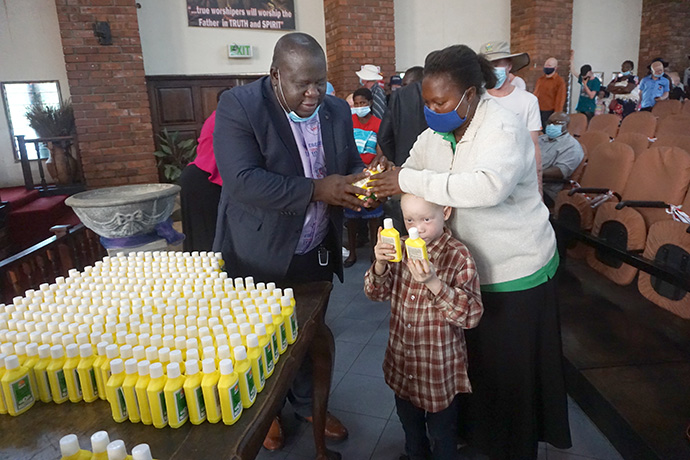 Machinga, pastor-in-charge of Cranborne United Methodist Church, encouraged the beneficiaries to persevere.
"God wants us to be somebody, and he is not interested in nobody," Machinga said. "Let us learn from the lives of Joseph and Jabez in the Bible. They suffered, but never gave up."
Chipo Chitseko, from Damofalls, said, "I was blessed with three children with albinism, and I am very grateful for the support from the church. Lotions and creams are very expensive." A 125 ml. (4 fluid ounces) tube for her three children, ages 14, 8 and 4, costs $15 and lasts less than a week.
"The children cannot see properly because they are visually impaired and do not have eyeglasses," Chitseko said.
Steven Nyamapfeka of the Hatcliffe suburb faces similar challenges. He has four children with albinism. He was grateful for the church support as he cannot afford to buy sunscreen for his children because he is unemployed.
"I was surprised when my first children with albinism were born," Nyamapfeka said. "God has a purpose in our lives, and my wife and I have accepted (our children) as blessings."
Esther Mavura, 25, faces many challenges in her neighborhood due to her condition.
"It is difficult to find rented accommodation as some homeowners evict me after just a few months, saying they cannot live with me," she said.
"Some neighbors are not comfortable with me fetching water from the same facilities as they do," Mavura continued. "They say I should ask others to fetch the water, and I have to pay those willing to assist me. It breaks my heart."
Kudakwashe Dawaka, 22, spends most of his time indoors to avoid the harsh effects of the sun.
"People look down on me," he said. "I have to work extra hard to prove I am capable of achieving anything I set out to do."
Zivorinashe Mujaji chairs Harare East District Missions and Projects. The $6,000 effort, she explained, was supported by the Missions and Projects budget, the district superintendents' Cheer fund and the Western Pennsylvania Conference.
"After the distribution," she said, "we had quality time to interact over lunch like one big family."
The Rev. John Makaniko said The United Methodist Church has lived up to its vision and mission of being a life-transforming church across the world.
"This has been proved by its programs of faith in action," he noted, "especially catering to the needs of people within the church and society, including people living with albinism."
Dadirai Kuwaona is the mother of an 8-month-old baby, Tendai, who has albinism.
"I was very happy to receive the sunscreen," she said. "When I gave birth, I was not sure whether I will be able to look after him, not knowing that God had plans for me and has now brought Good Samaritans to assist. These lotions and creams will last a long time."
Tapiwanashe Nhunhama, 19, from Damofalls United Methodist Church, shared her dreams for the future.
"I have learned to accept who I am and that I define my own destiny. My wish is to continue to preach and praise the Lord through music."
Mukahanana said the Harare East District plans to make this an ongoing program because people living with albinism need sunscreen regularly.
"We want to come up with projects for self-sustenance and assist them in acquiring spectacles and sunglasses."
The late Tracy Nyakupinda, who had two children with albinism, started the Zimbabwe Episcopal Area support for people with albinism in 1998 at Glen View United Methodist Church. She approached her pastor, the Rev. Vienna Mutezo, to consider a program for the marginalized children with albinism within the Glen View and Glen Norah communities.
"Some church members could not attend the inaugural worship service," Mutezo said, "because of the deep-rooted cultural myths about people with albinism. The preacher was a child with albinism; ushers and those collecting Sunday offerings had the same condition."
The money raised that Sunday was used to buy sunscreen and hats.
The partnership with Johnstown District also recently culminated in the provision of safe borehole water at the Harare East District offices.
"Our partnership has been in existence for over a decade now," said Mukahanana. "Harare East District has been benefiting in educational assistance for needy children. A number of the beneficiaries have completed tertiary (third level) education and are now employed."
He continued, "One of the greatest projects ever done is the borehole project at our district offices, which has helped alleviate water challenges. The supply of water by the city council was erratic. Normally, we would have running taps two days per week over the weekends when the offices are closed.
"Lack of water had been threatening the closure of the premises, and buying water from private suppliers proved expensive. The borehole has become a source of clean water to our members as well. When they visit the office, they can fill their containers."
The initial partnership between Western Pennsylvania Conference and the Zimbabwe Episcopal Area was signed in 2010, said the Rev. Austern Chepiri, area board of trustees and projects coordinator,
Since then, Western Pennsylvania has supported such Zimbabwe projects as the Pass a Goat to the Next Child program to empower orphans in Mutare District, constructed sanctuaries and parsonages, and rebuilt clinics through The Nyadire Connection of Pittsburgh.
In turn, Zimbabwe has revitalized the church in the United States through its Immersion Program. Through this cultural exchange, Western Pennsylvania clergy and laity visit and learn about how their Zimbabwean colleagues approach church growth, discipleship and leadership dynamics.
Chikwanah and Chingwe are communicators in Zimbabwe.
News media contact: Julie Dwyer at [email protected]. To read more United Methodist news, subscribe to the free Daily or Weekly Digests.
---
Like what you're reading? Support the ministry of UM News! Your support ensures the latest denominational news, dynamic stories and informative articles will continue to connect our global community. Make a tax-deductible donation at ResourceUMC.org/GiveUMCom.