In challenging economic times, faith is helping people in Zimbabwe face unemployment, poverty and anxiety. While many struggle to make ends meet, they continue to give to the church.
"In spite of all the economic challenges in the country, the church is alive," said the Rev. Moore Ganda, Harare East District connectional ministries chairperson. "The church is experiencing God's sustaining grace in many facets of the life of the church."
Zimbabwe has economic sanctions and cannot trade freely. Cash and foreign exchange shortages continue to constrain the country. The economy is affected by gross price instability, which led to a three-tier pricing system in which businesses charge different prices based on how the customer pays for the goods.
The Rev. Gift Machinga, Zimbabwe East Conference board of discipleship chairperson, said the economic situation has not spared the church.
"The church is feeling the impact of the rising inflation. Incomes have been eroded with prices going up," he said.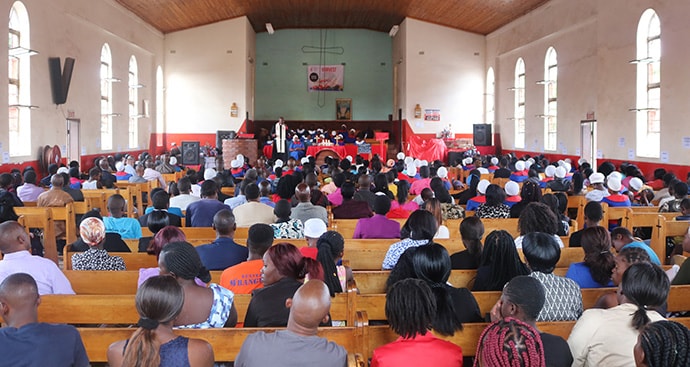 In late February, the government of Zimbabwe introduced a new currency: the real-time gross settlement (RTGS) dollar. Bank accounts and cash bond notes, which were initially pegged at 1:1 with the U.S. dollar, are now determined by market forces.
"Currency devalued and triggered the cost of living to rise, making it difficult to obtain the basic goods and services required for a dignified life," said St. Paul United Methodist Church treasurer Robert Kaisi. "We no longer can afford three meals a day."
Fuel shortages also have hit particularly hard. Winding queues outside service stations stretch for miles and public transport costs have skyrocketed.
"Salaries have not risen to meet the changes," said Kaisi. "People are losing jobs. There is unrest among working Zimbabweans. Many youths have no career ladder to climb."
Some churches were building savings toward long-term projects such as the purchase of vehicles or the construction of parsonages.
"All the church savings have been eroded," said Machinga. "Some churches have been making some savings in a bid to buy parsonages and some other projects only to wake up one morning with their funds devalued. The instability and volatility in the recently adopted currency reforms has had devastating effects on the church."
Purchases for big projects, including cars and building materials, require U.S. dollars. That has become a challenge for the church, which rarely receives foreign currency.
"Now, it's a big hassle to get foreign exchange funding from the banks," Machinga said.
The Zimbabwe Episcopal Area is in the process of constructing two head offices. The Zimbabwe West Conference completed construction in Harare at the cost of about $1.2 million (U.S.), and the Zimbabwe East Conference is in the process of construction in Mutare at the cost of about $2 million (U.S.).
Construction started at a time when the nation was still using U.S. dollars as the main currency.
"The building project has been progressing very well and much of the work has been completed. It is unfortunate that we are now faced with a great challenge in getting foreign currency to complete the construction," said Mutsa Mujaji, Zimbabwe East Conference finance and administration chairperson.
"We need about $80,000 U.S. dollars, excluding work that can be done in local currency."
Despite the financial crisis, some circuits have grown their incomes.
The Rev. Duncan Charwadza, Zimbabwe East Conference connectional ministries director, compared the faith of the church in Zimbabwe to that of the church of Macedonia in the Bible.
"At a critical point like this, faith and love is being expressed in the abundance of giving," said Charwadza.
Machinga said tithes have increased by 63% and offerings by 42% at Cranborne United Methodist Church. "However, incomes are increasing at a lower rate than inflation," he said.
The church has embarked on an intensive program to teach members more about giving, which has led to increased tithing and donations from members who had previously not given.
St. Paul United Methodist Church attributed its increase in income to the tangible results of church ministries.
"There is a lot of motivation in people seeing projects done by the church, and members strive to participate in different ways just to be part of the achievement," Kaisi said.
"The donation spirit is very high and that is closing gaps in expenditure needs. Some people do not actually give in monetary terms; they give in kind form of what they have already.
"Recently, the church was in need of a printer and one member donated a new printer … Members are donating their services for free in different areas. When we need plumbing, members are just offering themselves," he said.
Members are modeling the early church spirit of sacrifice and sharing with their neighbors. That was demonstrated after Cyclone Idai ravaged parts of the country in March. Church members donated food, clothing, blankets and utensils to the affected communities.
"God is blessing the little that is given to the church and it is able to do wonders in the church," Ganda said.
Churches also are teaching positive money management techniques to help individuals and families adapt to tough economic times.
"We all need to be positive with the current situation and be contented with what we have," said Ganda. "Knowing how to adjust our lives in order not to sink in economic frustrations is important."
Financial troubles also tend to amplify social problems such as drug abuse, divorce and criminal activities, creating more need for counseling ministries.
"There is an increase in the need for counseling due to economic hardships and failing to know what tomorrow holds. Some people no longer see the meaning of life," Machinga said.
He said the mission of the church — giving give hope to the hopeless — continues.
The church is empowering people to start self-help projects to help them earn a living and implementing more programs for youth and children.
The Harare East District recently appointed a full-time pastor to give attention to these vulnerable groups, and some churches have introduced teen ministries. Plans are to intensify campus ministries and vacation Bible school programs.
"The economic crisis has provided the church with some opportunities to start some creative ministries," Machinga said. "The church has to gear up so as to remain relevant to its members and the community.
"Programs that address the total person are drawing more to church and eventually to Christ."
Muzerengwa is a communicator for the Zimbabwe East Conference.
News media contact: Vicki Brown, news editor, [email protected] or 615-742-5469. To read more United Methodist news, subscribe to the free Daily or Weekly Digests.
---
Like what you're reading? Support the ministry of UM News! Your support ensures the latest denominational news, dynamic stories and informative articles will continue to connect our global community. Make a tax-deductible donation at ResourceUMC.org/GiveUMCom.