Whether a tornado, hurricane, flood, wildfire or earthquake, when disaster hits a community — or a United Methodist church — pastors and congregations need to be prepared. This is the first of two parts on how to be ready for sudden natural disasters. For more information, go to Churches Dealing with Disaster.
"One touch of nature makes the whole world kin," wrote William Shakespeare.
If that is true, people in the United States have had plenty of opportunities in recent years to feel kinship as droughts, floods, hurricanes, tornadoes and wildfires hammered the country.
The Los Angeles Times on Dec. 24, 2012, reported that 14 calamities of a billion dollars or more in damages struck the United States in 2011, followed by 11 in 2012.
While Old Man Winter seemed elusive as 2012 ended, he came out of hiding in 2013, crippling parts of the United States with blizzards and record snowfalls. Now, people in places like Fargo, N.D., are worried that melting snow will cause major flooding once winter finally goes away.
United Methodist congregations across the United States have not been exempt. United Methodist News Service asked pastors to share their stories, and three clergywomen — from Alabama, North Dakota and Indiana — responded.
All three women, accustomed to guiding United Methodists on their daily spiritual walk, suddenly had to hone new skills, helping members to cope with multiple losses — and to move on. Their stories, while different, bear striking similarities.
Harvest, Ala., feels rage of tornadoes
On April 27, 2011, several tornadoes plowed through much of the U.S. South. The Rev. Dorothy Ann Webster was in Huntsville, Ala., when she heard a tornado had hit Harvest, where she served Ford's Chapel United Methodist Church.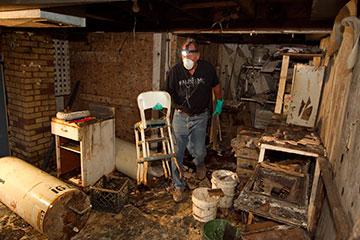 She was at Chase Valley United Methodist Church, where her husband, Fred Webster, was pastor. Even as the storms raged and the couple took shelter in a hallway, she was anxious to check on Ford's Chapel. Whenever she tried to leave, however, another warning was issued.
"We lived about 30 minutes from Harvest," Webster said. "Each time, the warning plotted the track of the storm, and invariably, it would say, 'Harvest in about 30 minutes.' This went on repeatedly until after dark."
Finally, a Ford's Chapel member called to tell Webster that the tornado had slammed into the church. "He took precautions to ensure security of what was left of the building and encouraged me to wait until daylight to come over."
She arrived to find the lovely, white steeple lying on the ground. The sanctuary, just 7 years old, remained intact, except for the hole where the steeple had been. The family life center and the original chapel, built in 1870, did not fare as well. The twisters left three church families homeless.
Read the full story of what happened to the Rev. Dorothy Ann Webster and Ford's Chapel United Methodist Church»
Floodwaters sweep Minot
Two months later, with the river rising and storms in the forecast, 11,000 residents evacuated the city of Minot, N.D. The river, called the Souris in Canada and the Mouse in North Dakota, was already overflowing its banks after a heavy winter thaw and a wet spring. In the following days, the water overtopped levees and peaked at a record-breaking 1,561.72 feet, according to the Minot Daily News.
Driving to work on June 24, 2011, the Rev. Debra Ball-Kilbourne, pastor of Faith United Methodist Church in Minot, said she experienced a weird sensation when going across a frequently used bridge. "I would swear I was riding on water today," she told her co-workers.
And she nearly did.
"All the pilings were scourged. An hour and a half after I drove over the bridge, it was gone."
Floodwaters rushed into the church building. Weeks later, viewing the 1950s-era edifice from the outside, one could see how high the water had surged. Evergreens were brown at the bottom, where they soaked in floodwaters for seven weeks and green where the water did not reach.
Most homes around the church were skeletons of wall studs, with mold and mildew clinging to the remains. Insulation, soggy lumber and other debris littered the curbs.
Read the full story of what happened to the Rev. Debra Ball-Kilbourne and Faith United Methodist Church»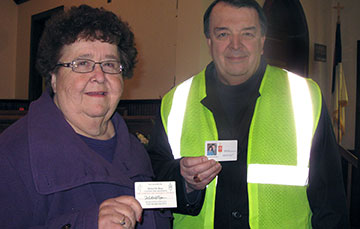 Henryville 'wiped off map'
On March 2-3, 2012, a deadly tornado outbreak occurred over a large section of the southern United States into the Ohio Valley region, claiming more than 40 lives.
The Rev. Wilma Bone was visiting a parishioner at the Clark County Hospital in Jeffersonville, Ind., when — 25 miles away — a tornado hit her church, Henryville United Methodist.
Glued to the TV, she suddenly heard, "Henryville has been wiped off the face of the map." Bone headed downstairs, but a guard blocked the exit. "I tried everything I could think of (to be allowed to leave)," she said."The guard threatened to handcuff me to a chair."
About 20 minutes later, Bone and her husband were permitted to go. On the outskirts of Henryville, an officer pulled them over. "We were told only emergency vehicles were permitted," she said. She told him, "I am a pastor. I need to open the church for a rescue station." He was not buying it.
Then she remembered the little card her bishop had given to pastors to prove their identity in cases of emergency. Showing it to the officer, she said, "I think this makes me part of the rescue team," and he opened the barricade and said, "Let her through."
Read the full story of what happened to the Rev. Wilma Bone and Henryville United Methodist Church»
Nuggets of wisdom
As each pastor shared her story, she offered wisdom gained through coping with disaster.
Remember: God is in control. No matter what happens, God will see you through.
At the very onset of an area disaster, contact your district or annual conference disaster response chairperson.
Contact the United Methodist Committee on Relief immediately.
Develop a disaster-response plan for your local church, so if disaster strikes, you will be prepared to act. Have a drill to see how it works.
Determine a backup location for worship services and church activities.
Make sure your insurance is up-to-date.
Encourage church families to develop disaster plans that designate a contact person from outside the area. This can be a huge help in reuniting families.
Pool resources - facilities, supplies, volunteers - with other United Methodist churches, and whenever possible, work ecumenically.
Form a committee to decide how to distribute financial gifts so the task doesn't fall to one individual. Keep good records.
Take care of yourself. "You cannot work 24/7," Bone said."You have to get some rest; otherwise, you cannot help others. We started at 5:30 a.m. and sometimes did not get home until 10 or 11 at night. You feel as though you can't leave, but you have to."
"People do not recover without support, nudging and compassion," Ball-Kilbourne said. "The bottom line is they need a lot of hope. Whatever we do in Jesus' name is good."
*Dunlap-Berg is internal content editor for United Methodist Communications, Nashville, Tenn.
News media contact: Barbara Dunlap-Berg, Nashville, Tenn. (615) 742-5470 or mailto:[email protected].
---
Like what you're reading? Support the ministry of UM News! Your support ensures the latest denominational news, dynamic stories and informative articles will continue to connect our global community. Make a tax-deductible donation at ResourceUMC.org/GiveUMCom.