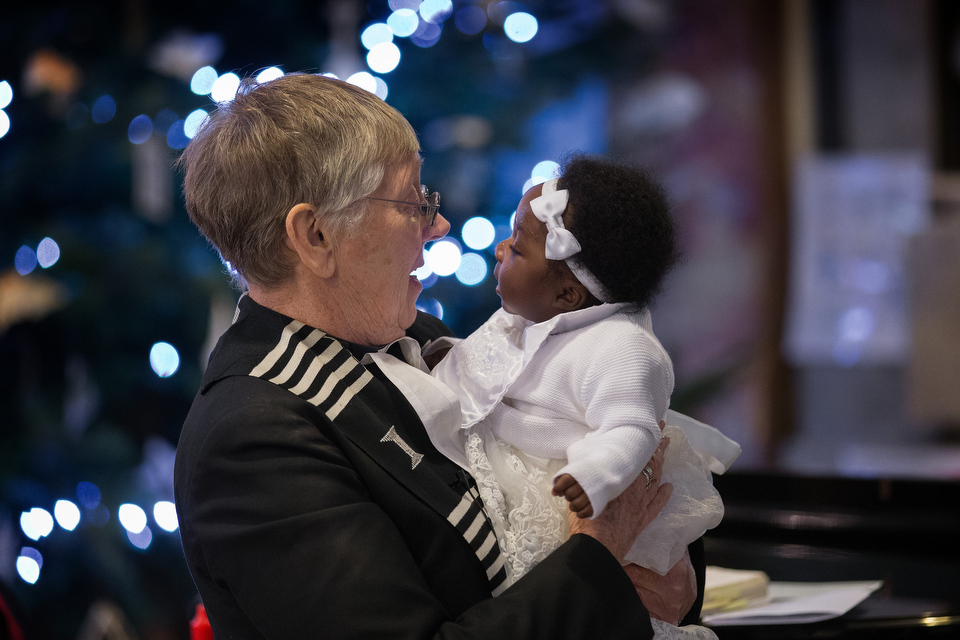 The Rev. Jennifer Potter holds Abigail Bedu Addo during her baptism at Wesley's Chapel in London. The congregation, with roots in the 18th century, draws Methodists from around the world.
Editor's note: The final story in an occasional series, "British Methodism: Staying relevant in Wesley's homeland," about today's Methodist Church in Britain.
Story by Linda Bloom, Photos by Mike DuBose
May 9, 2018 | LONDON (UMNS)
With John Wesley's study chair, Charles Wesley's organ and the Museum of Methodism on-site, it would be possible to conclude that Wesley's Chapel & Leysian Mission is stuck in time — the late 18th century, to be exact.
That is not the case.
While still welcoming visitors who want to see the church that Wesley — the founder of Methodism — built, the current congregation is firmly focused on the denomination's presence in the community and contributions to global Methodism today.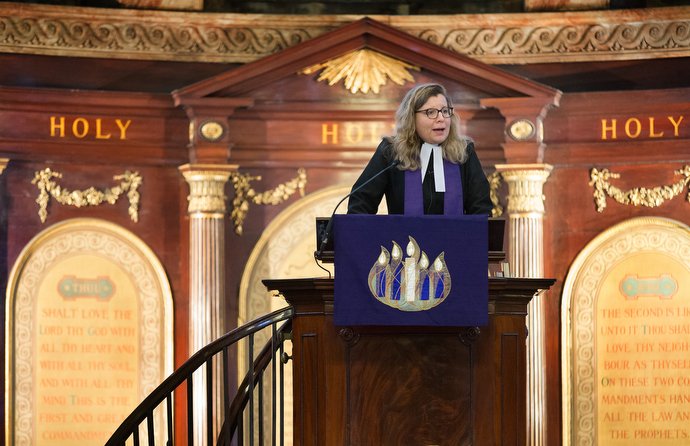 Identity is important, says the Rev. Jennifer Smith, who became the superintendent minister of Wesley's Chapel in September 2017. Smith added that there are riches to conserve and pass along to younger generations.
For example, the chapel is expanding its learning program for school support, the most popular of which is about abolition. "In our museum here, we have slave shackles," she pointed out. "And we have the pen that John Wesley used to write William Wilberforce."
Shortly before his death, the 87-year-old Wesley encouraged Wilberforce, the famed abolitionist in the British Parliament, to continue his fight "till even American slavery (the vilest that ever saw the sun) shall vanish away before it."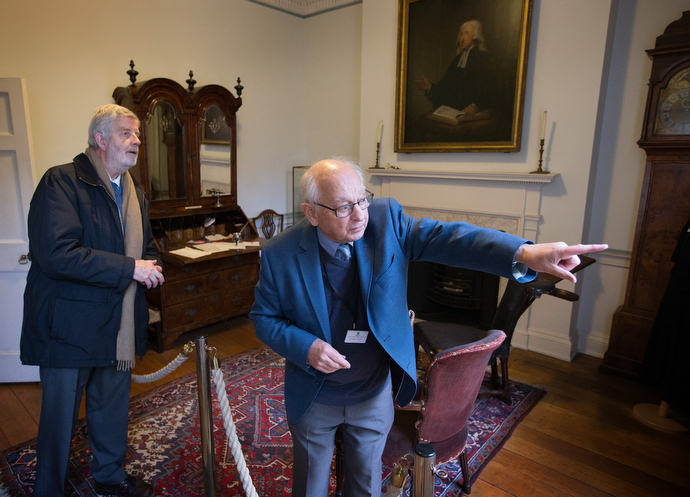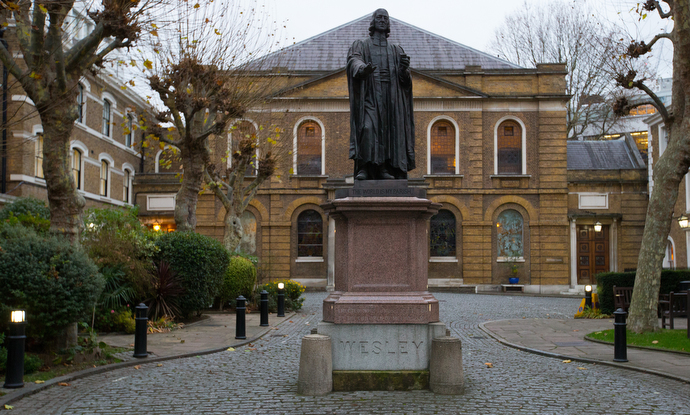 Allen Steel, tour guide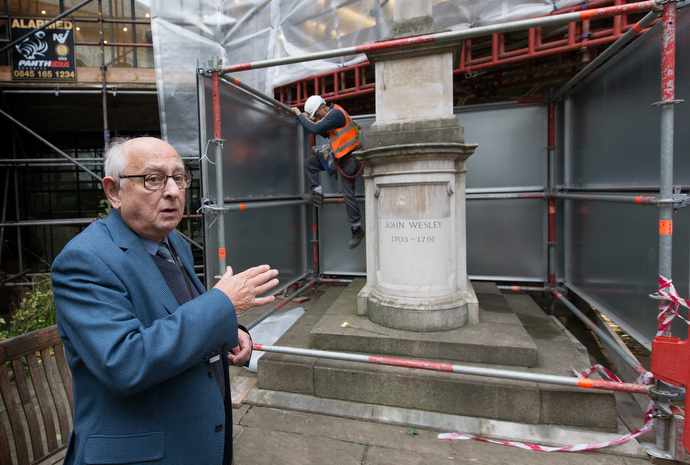 Tour guide Allen Steel points out John Wesley's tomb in the garden at Wesley's Chapel while a worker climbs down from scaffolding erected to protect the historic site from encroaching construction in the area that has become known as the "silicon roundabout" because of the presence of high-tech industries.

Allen Steel has many stories to share about John Wesley and Wesley's Chapel.
"I came here as a visitor one day with my wife. We hadn't been to Wesley's Chapel since we were teenagers," he explained while ushering a United Methodist News Service team through the building. "The next thing I knew, I was taking people around."
He's been at it for some 14 years.
Steel can show you the study chair which Wesley could straddle like a horse since "he was used to reading on horseback"; the "electric machine" designed by Benjamin Franklin that Wesley believed had medical properties; the prayer room where he could be found kneeling and reading his Bible at 4 a.m.; and the bed where he slept and died.
That prayer room wasn't in the original plans. "When he came here, like all Methodist ministers, Wesley complained about the church building and about the house," Steel noted. "He said it was too small."
The trustees built an extra room, next to Wesley's bedroom and study, which became his prayer room.
Then, of course, there is the organ owned by Wesley's brother, Charles, writer of many familiar hymns. "If you poke the average British person, you should be able to get a Wesley hymn, even if it's only 'Hark the Herald Angels Sing,'" Steel declared. — Linda Bloom

Smith recalled watching a primary school group visiting the chapel and re-enacting a Methodist anti-slavery riot from the late 18th century. "As we conserve that heritage, we are telling the young people who come here that they have a history when they want to fight trafficking today."
Wesley's heritage also is reflected in the national flags which ring the sanctuary's balcony, representing the diverse congregation. The upwards to 500 members include British citizens of African descent as well as Methodists from Fiji, Tonga, Hong Kong, China, Japan, South Korea and the Philippines, the U.S., Latin America and Europe.
On a wintry morning in December, the falling snow and slushy streets apparently convince many of the 300 regular Sunday worshippers at Wesley's Chapel to stay home and watch the Advent service via livestream.
Smith preaches and the Rev. Jennifer Potter is the worship leader. The Ghana Fellowship sings and an ensemble featuring piano, cello and violin plays Bach.
A highlight of the service is the infant baptism of Abigail Bedu-Addo. Her family has a long connection with Wesley's Chapel, Potter explains, "although they live some considerable distance away." Despite the weather, the baptismal party fills all four of their reserved pews.
After the ceremony, Potter carries the happy, curious baby around the church while the Rev. Keith Riglin presents the candle used in the baptism to the parents. Riglin, an Anglican priest, is married to Smith. They are not the only ecumenical couple at Wesley's Chapel.
Paul and Cheryl Gurnham became members about 10 years ago when he was a post-graduate student at City, University of London. She is a lifelong Methodist. He comes from an Anglican family and also attends an Anglican church, but likes Wesley's Chapel, he says, because it is "very open and very enthusiastic."
They are among those attending a fellowship time after the worship service, which features a wide array of food to celebrate the baptism.
Also partaking of the festivities is Victoria Yamoah Pedanou, a member of the Ghana Fellowship, which was started about a decade ago. The fellowship meets on the fourth Sunday of the month and about half participate in the choir that sang during the service. "We help those who are in need and we visit the sick," she adds.
While a statue of Wesley beckons people to the chapel, there have been many changes since the chapel was built in 1778.
In fact, problems with a crumbling foundation "nearly ended its life in the 1970s," said Potter. The building was out of commission for about five years, but was re-opened by Queen Elizabeth on its 200th anniversary.
Worship is "a serious business" at Wesley's Chapel, noted the Rev. John Lampard, a retired minister and congregation member. He compared the staffing to that of a United Methodist church in the U.S., with a shared leadership model and two full-time lay workers.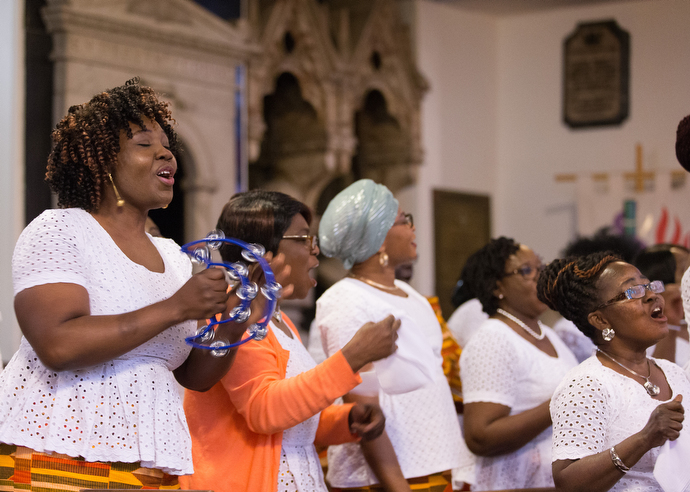 Anglican connections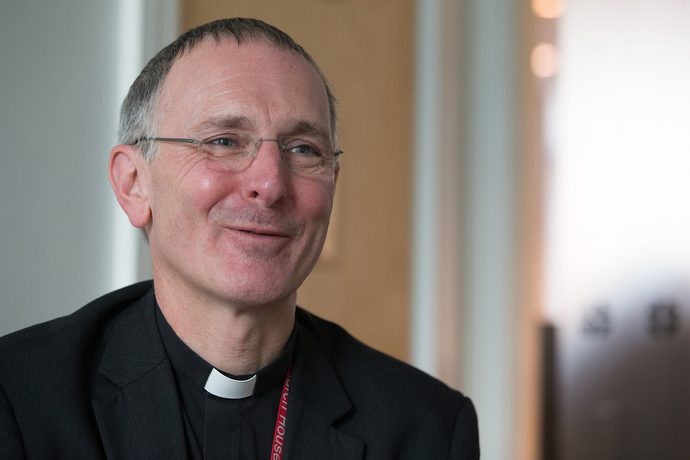 The Rev. Neil Stubbens is ecumenical officer for the Methodist Church in Britain. Photo by Mike DuBose, UMNS.

Wesley's Chapel has relationships with both the local Anglican parish and nearby St. Paul's Cathedral, where the Rev. Jennifer Smith has been installed an honorary ecumenical canon.
Smith also has a very personal connection. Her spouse, Keith Riglin, is a priest with the Church of England and serves as assistant dean at Kings College.
On the local level, many Methodist congregations have connections with Anglicans. The Methodist Church in Britain and Church of England currently are considering a new covenant between the two denominations, building upon an agreement from 2003.
Being a place of pilgrimage remains an important component of its presence, said Lampard, whose wife, Judith, is one of the heritage tour leaders. Every Sunday, they have visitors from around the world and the recently renovated museum has a "top-drawer," full-time curator who trained at the Victoria and Albert Museum, he added. A learning support officer makes the school visits.
"As far as Methodism is concerned, it is a center of excellence," Lampard declared.
Beyond the gates, the church's neighborhood in the borough of Islington has undergone many changes as well. Many people moved out of the area after World War II, Potter explained, but in recent years a more diverse population has moved in, with a resurgence in building. Today, about a quarter of the congregation is local, while others travel in from elsewhere for services.
Through the Islington Faiths Forum, Wesley's Chapel has close links with two local mosques. Joint projects, she said, have included leader development training programs for schools and faith literacy. In recent months, a program to encourage people to report hate crimes has been added.
A tragic incident in June 2017, when a van rammed into a group of worshippers near Finsbury Park Mosque during Ramadan, "actually sparked off a wave of enormous support for the local mosques," Potter noted. The van's driver, Darren Osborne, has since been convicted of murder.
In the past decade, an area not far from Wesley's Chapel has become known as the "Silicon Roundabout" because of the presence of high-tech industries. One of the questions Smith has been pondering is how to relate to the tech crowd, as well as "the hipster Shoreditch culture," as she referred to th trendy neighborhood.
People will attend a 7 a.m. spinning class to seek transformation through a motivational life guru, she pointed out, but somehow the church has lost the skill that John and Charles Wesley had in preaching transformation in the language of their own day.
Smith has had her own journey to Methodism. An American who grew up in a Congregationalist home, she said she was "loosely" affiliated with the Church of England after moving to England at the age of 21. Then, while working as a lecturer at the University of Leicester in her late 20s, she came upon a Methodist-Baptist congregation.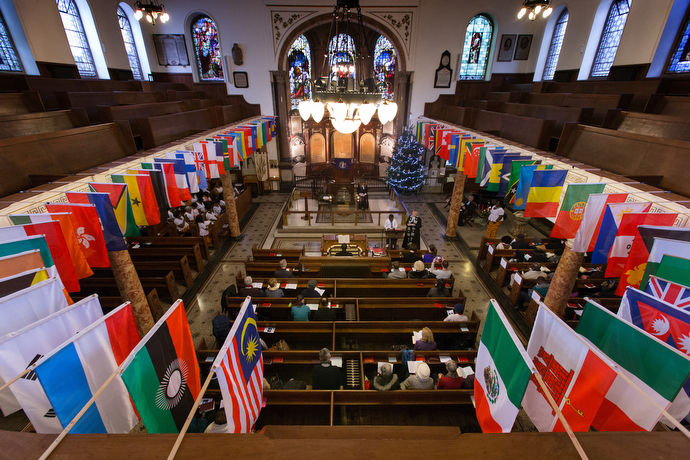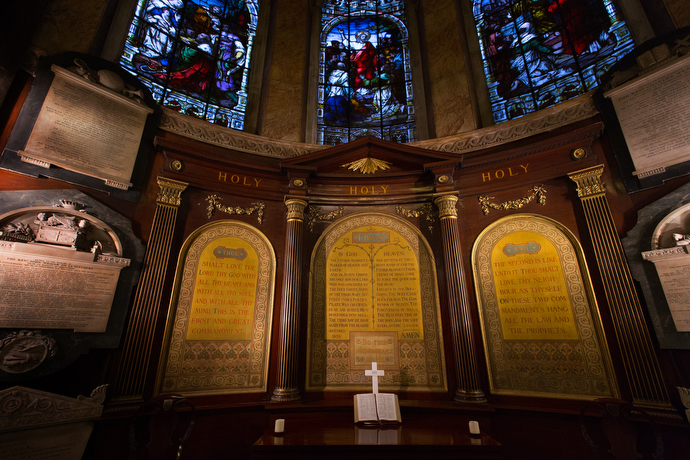 "It was raining and I was really down. I came around the corner and here was an open door," she recalled. Smith left before the last hymn was finished, but when she returned about 6 weeks later, "the guy on the door remembered my name."
That "small thing" led her to join the congregation and, eventually, the ministry. Methodism, she explained, "describes the evangelical zeal and also the full reflective theology and humor that is part of my adult life."
What also gives her perspective, Smith said, has been the opportunity to travel. For nine years, she made an annual trip to Nigeria to spend a month teaching a program in applied evangelism.
Now, part of her vision for Wesley's Chapel is to expand on existing academic partnerships in the United Kingdom and overseas and bring together "working theologians to have cross-cultural conversation together."
 
Bloom is assistant news editor of United Methodist News Service and DuBose is a photographer for United Methodist Communications. Contact them at 615-742-5470 or [email protected]. To read more United Methodist news, subscribe to the free Daily or Weekly Digests. 
---
Like what you're reading? Support the ministry of UM News! Your support ensures the latest denominational news, dynamic stories and informative articles will continue to connect our global community. Make a tax-deductible donation at ResourceUMC.org/GiveUMCom.