Camp Hill United Methodist Church in Camp Hill, Pennsylvania, is helping transform lives and provide opportunities for children in eastern Sierra Leone.
Through the Sierra Leone Initiative — a partnership between the Sierra Leone and Susquehanna conferences — Camp Hill has created a bond with the Panguma community, sharing knowledge and cultural experiences and creating new relationships.
Hard hit by Sierra Leone's 11-year civil war (1991-2002), Panguma was still struggling to recover when church members began visiting the village in 2010.
Teams at Camp Hill started by rehabilitating the local church.
"Then we moved on to United Methodist schools — both the primary school and the secondary school," said Drew Robeson, director of mission and outreach at Camp Hill United Methodist Church, who led a team of eight to Sierra Leone in late April.
During the visit, the team shared news of the church's latest project: the construction of a $53,000 community market. Work will begin in October following the rainy season. Camp Hill will work with the Sierra Leone Conference's Community Empowerment for Livelihood and Development program to build the market.
"If it were not for the Camp Hill people, we would have found it difficult to do such a development project for you," said Bishop John K. Yambasu, noting that the food market will benefit the entire community, Christians and Muslims alike. He urged those gathered to take responsibility and ownership of the new market.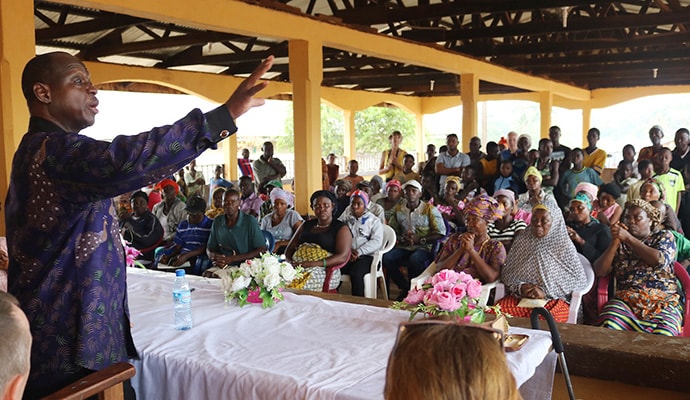 The team from Pennsylvania also launched the construction of a new three-classroom building in an effort to help with overcrowded classes.
"Before Camp Hill's intervention, the school had 150 students with only two teachers," said Leonard Komeh, principal of the Lower Bambara Secondary School in Panguma. "Now, we have 1,288 students with 24 teachers."
He said the school was challenged further last year when a new government free education policy compelled heads of schools to accept all children seeking admission.
"We had to take in 500 more students, leading to overcrowding in the classrooms, thereby swelling enrollment in some classes up to 100," Komeh said.
The youth group from Camp Hill raised almost $75,000 over the past three years to build the new classroom building.
Komeh said the partnership with Camp Hill has been a huge development for the school, noting that teams have been coming every year except for 2014 during the Ebola outbreak.
In 2015, Camp Hill constructed a building that houses four classes, a laboratory and the principal's office. The church also provides scholarships for underprivileged students at the school and sponsors about 153 children whose parents cannot take care of educational supplies and other needs.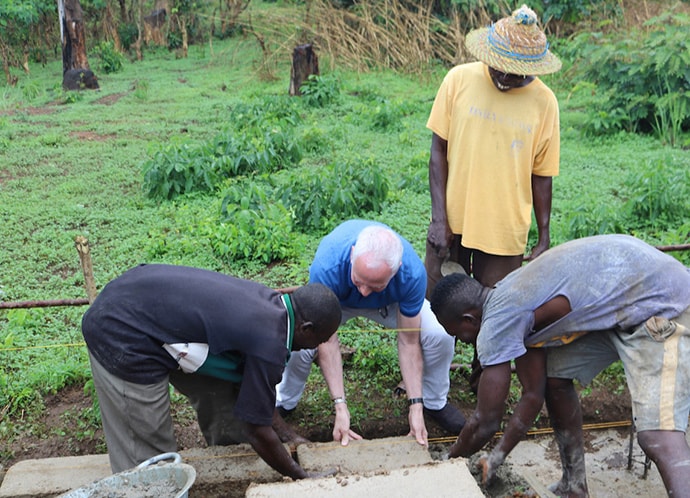 "We pay hospital bills for such children out of the Camp Hill support. In October alone, we received 187 million Leones (an equivalence of $21,000) from Camp Hill. Out of the money, we pay stipends for 21 teachers who are not on government payroll. We have to also buy uniforms, books and bags for the children," Komeh said.
The Pennsylvania partnership also has benefitted the local hospital in Panguma and the patients it serves.
"One team arrived in 2013 and they heard some very disturbing news about a woman who needed a Caesarean section, but the doctor at the local Catholic hospital had just left a few months ago. And she was not able to get the procedure in Panguma," said Robeson. "She took a motorbike to Kenema and she died in the process. She did not survive the journey."
He said the team brought that information back to the United States and church members wanted to help. They hired a resident surgeon for Panguma Hospital and arranged to pay his salary through the end of 2019.
"So, he's been literally saving people's lives. Every cent in the Panguma Hospital has been a bright spot in the community," Robeson said.
Camp Hill member Bob Sturman, a first-time visitor to Sierra Leone, said the partnership is a team effort.
"We are a small group of eight people here on our team today. However, there are many, many other people back home that share the same vision. We all have left our families. However, I now have found a new family here today. I will be back," he said.
The team divided into groups of two after the groundbreaking ceremony to visit homes in the community and learn more about the people they serve.
"I both respect it and my heart breaks," Robeson said. "The fact that the opportunities are not equal around the world gave me compassion. It gives me energy and motivation to continue to invest my heart and invest our church's financial support of this community."
His team had just come from the home of a man who was trying to take care of his family as best as he could.
"The opportunities that he has and the opportunities that I have are literally two different worlds. I think he works harder than me. I think he is competent, respectable. He's a leader in the community and yet he's so constrained and cannot provide the opportunities to his family that he wants," he said.
Despite the challenges, Robeson said he is amazed to see how the community has changed over the years.
"We are excited to see how much the community has grown and changed: Houses are being built. It's just been exciting to be part of the community's development."
And while it often seems like Camp Hill has been the one helping the people of Panguma, he said, the relationship helps the church and its members as well.
"It helps Camp Hill grow in discipleship, in our relationship with Jesus Christ. And the reality is, it's not Camp Hill … but it's Jesus Christ that has continued this partnership that has brought us together. He deserves all the honor and glory to his name."
Jusu is director of communications for The United Methodist Church in Sierra Leone.
News media contact: Vicki Brown at (615) 742-5470 or [email protected] To read more United Methodist news, subscribe to the free Daily or Weekly Digests.
---
Like what you're reading? United Methodist Communications is celebrating 80 years of ministry! Your support ensures the latest denominational news, dynamic stories and informative articles will continue to connect our global community. Make a tax-deductible donation at ResourceUMC.org/GiveUMCom.