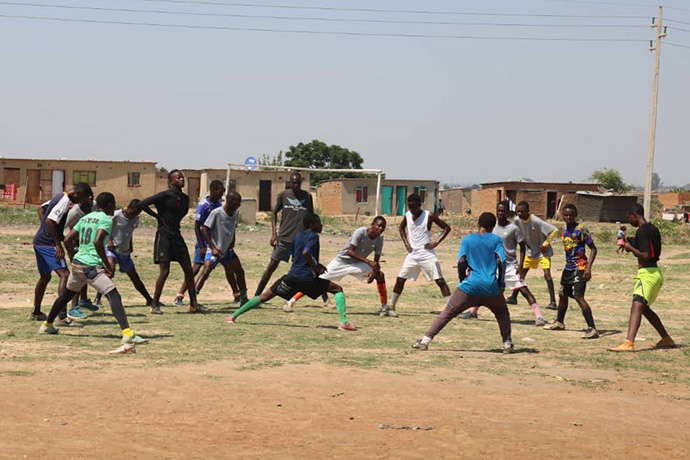 ---
Key Points:
In Zimbabwe and Liberia, church ministries reach out to youth to keep them off the streets.
The Glen View Football Academy in Zimbabwe rehabilitates young people by teaching soccer. Some go on to play professionally.
Through Metro Harvest in Liberia, the Rev. Caleb S. G. Dormah and Malichi Queniah care for abandoned children in a safe house.
---
Boys race on a dusty, makeshift soccer field. Dressed in an assortment of clothes, some run barefoot on the sand, pausing to listen to instructions from their coaches.
This is Glen View Football Academy, the brainchild of Raymond Maravi, 71, and his wife, Elizabeth, 69, members of Macedonia Glen View 7 United Methodist Church.
"In 2013, I noticed that one of our young neighbors appeared to be using substances," Elizabeth Maravi recalled. "He was hardly at home, and we would be asked to help in searching for him when he went missing for days as these boys are orphans.
"What we witnessed spurred us to find a way to assist the youth in our neighborhood," she said. "We wanted to give them a meaningful pastime in order for them to steer clear from abusing drugs."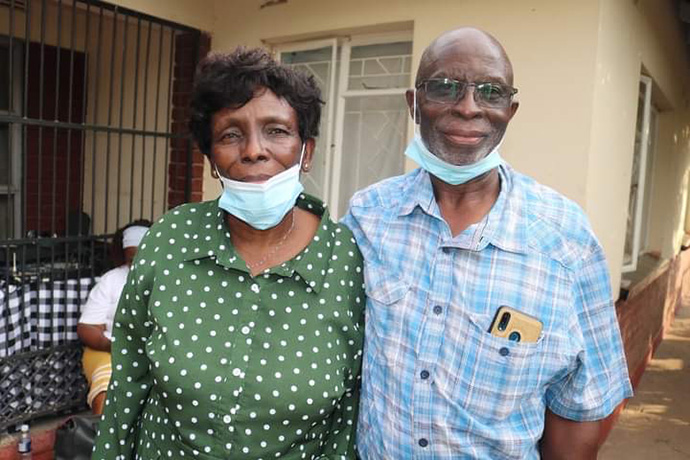 The academy was founded in 2014, and the Maravis' neighbors, twins Tafadzwa and Tatenda Chikwanha, now 24, are regular members.
Struggling with the aftermath of drug abuse, Tafadzwa is not as physically fit as his brother or other team members. His speech is slurred, and swollen hands tell a story of possible violent spurts during his days of addiction.
Locally abused drugs and substances include cannabis, cough medicine, crystal methamphetamine ("ice") and antidepressant medications. Some youth steal in order to purchase a fix.
"Soccer is my passion and has helped in my rehabilitation," Tafadzwa said. "I used to abuse 'mix' (a combination of cannabis and locally made cigarettes), which I bought from suppliers in our community. My habit was a result of succumbing to peer pressure."
Then he discovered a love for soccer.
Tatenda described the academy as a help center, especially for those youths battling drug addiction.
"The academy unites the community," Tatenda said. "It builds relationships and instills discipline. It gives us a source of entertainment, which takes us away from the streets where we may be lured to use dangerous drugs, and provides a safe environment under the watch of sekuru (grandfather) Maravi and the coaches."
Jackson Dube, the program's administrator, said the academy aims to remove youth from drug and substance abuse, identify those with football talent and train them to earn a living through playing for top clubs.
"Most youth in Glen View and the neighboring Tanaka informal settlement are school dropouts, unemployed, and some suffer from mental illnesses due to substance abuse," he said.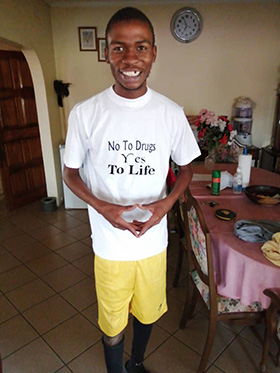 Tafadzwa Chikwanha, a former drug addict, wears a shirt displaying the academy's motto: "No to drugs, yes to life." Photo courtesy of Raymond Maravi.
The academy currently caters to boys and young men ages 10 to 24. When resources permit, the program will include girls as well. Four qualified volunteers take the players through their paces, dedicating three hours every weekday to coaching the team.
Parent Tsanzirai Muroyiwa, 57, has benefited from the academy.
"My son Ishmael would leave home regularly to come and play here," she said. "I thought it was just a hobby but later learned there are professional coaches and our children were also being groomed to become responsible adults.
"Ishmael became more disciplined through his association with the academy," Muroyiwa continued. "He has now joined the development program of the country's top team Football Club Platinum. We hope he will become one of the country's top players."
After Muroyiwa's husband abandoned her and their 10 children, Ishmael found father figures at the academy who helped to instill discipline in him.
Four players were offered places at top clubs in the country and in neighboring South Africa. One declined the offer as he lacks a birth certificate and a national identification card.
"The lack of IDs is a major problem in our community," Dube said. "Some of the youth are orphans, and their guardians do not acquire the documents for them."
From humble beginnings in 2014, the academy has grown beyond Raymond Maravi's capacity to fund from his meager pension and allowances from his children. The junior and senior groups now include 66 regular players.
"Some of the children will be hungry and cannot train properly so mbuya (grandmother) Maravi sometimes provides food for them," said Dube. "The club does not have enough soccer boots and uniforms, and some of the youngsters play barefooted."
The coaches, all volunteers, are not paid. "We cannot afford to pay them," Dube said.
Other costs include registration fees with the country's soccer governing body, transportation for away matches, and balls and nets.
"Five years from now," Raymond said, "I see these children playing for big teams within and outside the country. I also look forward to enrolling new members. Some local teams have promised to offer places to our youth, but they cannot go if they do not have identification documents."
"Drug and substance abuse is considered a worldwide menace, especially among the youth," said the Rev. Pedzisai Nyamudzura, youth director for the Zimbabwe East Conference. He credited The United Methodist Church with training children and youth to become activists.
"The church is not silent on fighting drug and substance abuse," Nyamudzura said. "We provide a referral ministry to psychiatrists for those who need rehabilitation. Counseling training for pastors and youth leaders was conducted in July 2021, and awareness is also being conducted in our mission schools. Our local churches and districts are also conducting lessons given to them by the conference in relation to drug and substance abuse."
In Liberia, young lives are also being disrupted by drug and substance abuse.
The Rev. Caleb S. G. Dormah said that if care is not given to drug addicts in Liberia, "we will wake up one morning and these Liberians will cease our liberty since we have neglected to attend to their early stages of addiction," he cautioned.
He told United Methodist News that often the attraction to drugs and illegal substances is greater than the desire to go to school.
If the state is not willing to take steps that will help to curb this trend, Dormah added, the lives of the young people will be destroyed.
"If each religious institution can rescue five young persons from the streets and from drugs and substance abuse," he said, "we can win the war on drug addiction."
Many addicts sleep in cemeteries, Dormah noted, because most of the damaged structures that housed them are filled. Because people tend to fear cemeteries, addicts feel a sense of security there.
He worries about children born to addicted young women. Without intervention, Dormah warned, "these children will be the next generation of addicts in Liberia."
He and Malichi Queniah, a woman who helps him care for abandoned children in a safe house, now have over six children. The youngest is only 5 months old. Most of the male children are named after Dormah, since the parents cannot be traced.
"In most instances, when the mother abandons the child, we are called by the police or anonymous persons to come and rescue the child," he said.
Dormah runs organized worship services in ghettos around Monrovia and other parts of Liberia.
"Our church is called Metro Harvest," he said. It is a church "without walls. All are welcome to worship with us."
Through Metro Harvest, Dormah and his team feed residents of various ghettos in and around Monrovia every week. A United Methodist pastor, he serves in ministry outside the local church and under the appointment of Bishop Samuel J. Quire Jr. of the Liberia Episcopal Area.
Chikwanah and Swen are communicators in Zimbabwe and Liberia, respectively.
News media contact: Julie Dwyer, news editor, [email protected] or 615-742-5469. To read more United Methodist news, subscribe to the free Daily or Weekly Digests.
---
Like what you're reading? Support the ministry of UM News! Your support ensures the latest denominational news, dynamic stories and informative articles will continue to connect our global community. Make a tax-deductible donation at ResourceUMC.org/GiveUMCom.